It isn't often that you can say watching TV can save somebody's life, but there is one episode of The Office, in which the folks at Dunder Mifflin learn how to do CPR, that is credited for saving the lives of at least three people. Also, a squirrel.
You may have read about some of these stories already; at least some made national headlines. But in The TV Professor's ever-vigilant mission to improve our lives through watching TV, I thought a look at the episode "Stress Release" would be in order.
Who knows? Maybe reading this blog post will help you save a life.
Today's "TV Lesson" Breakdown:
A Little About The Office Episode "Stress Release"
So the main gist of this episode, as far as the CPR part goes, is that Dwight Schrute decides to teach fire safety to his colleagues at the Dunder Mifflin Paper Company branch in Scranton, Pennsylvania.
People can learn in a lot of ways, but "experience is the best teacher," Dwight says to the TV audience (well, the documentary crew filming The Office).
Dwight plans to start a fire, so his coworkers can learn from the experience.
Bad idea.
Dwight sets a fire in an office trash can with a cigarette, and, well, panic ensues. Dwight, you see, unbeknownst to everyone, has locked everybody in the office, so nobody can get out, and there's smoke coming into their workspace.
And things really get out of control. In the melee and panic, the copy machine is destroyed. Michael Scott tries to smash a window. Kevin Malone smashes the glass on the snack machine. Oscar tries to climb through the ceiling and get out of the building but ends up falling through the ceiling onto the floor.
Everybody (except Dwight and maybe Kevin) is truly terrified, and you really feel for everyone. Meanwhile, Michael displays his keen leadership skills when he shouts: "We're trapped! Everyone for themselves!"
And after learning from Dwight that, hey, never mind, this has all been a drill, Stanley has a heart attack.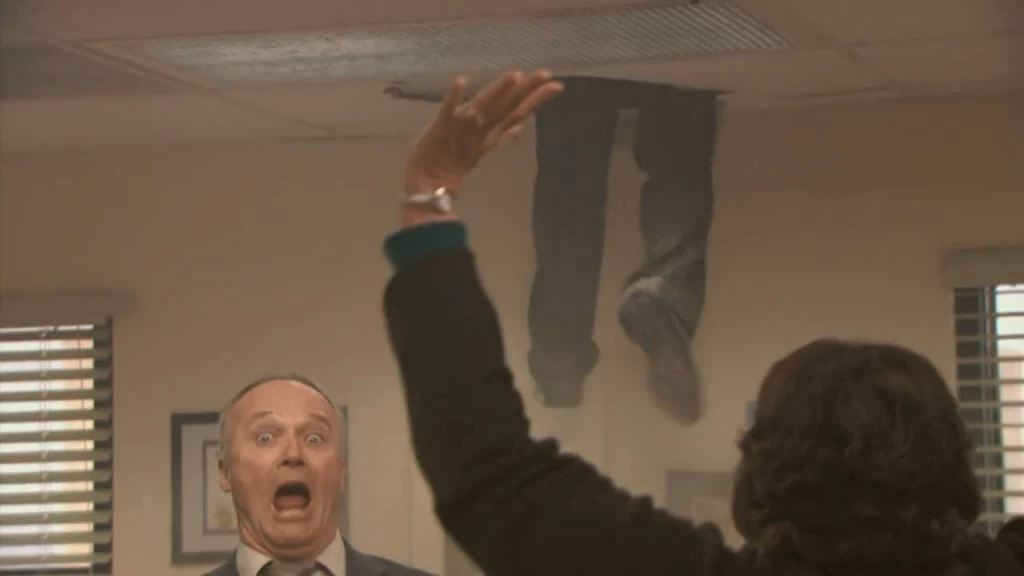 Michael tries to save Stanley but doesn't know what to do. Fearing Stanley will "swallow" his tongue, Michael attempts to jam his wallet in Stanley's mouth to keep it from going down his throat.
(Evidently, if somebody is in need of CPR, you shouldn't waste time worrying about the victim's tongue, according to experts.)
The Office theme song comes on, and then we break to a commercial. Fortunately, we quickly find out that Stanley lives to work another day, and Dwight is called to the carpet by the corporate office (and miraculously isn't fired). Meanwhile, Michael wisely decides that the entire office should know how to do CPR.
Michael may not be very bright, but he has his moments. In fact, he requests the American Red Cross to send over an instructor to teach CPR.
Well, I'm giving Michael a little too much credit. He just wanted the Red Cross's dummy, but the Red Cross would only lend it out if an instructor showed everybody how to do CPR. Michael calls this "a racket."
Still, this CPR seminar was probably one of the most responsible things that Michael ever did on the show, so we'll give him some credit for this one.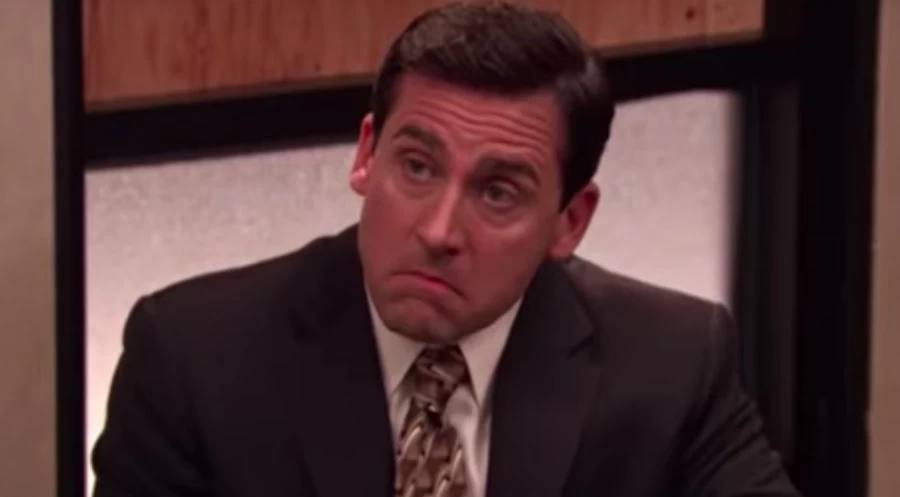 How to Do CPR, According to The Office
Rose, the Red Cross instructor, tells the Dunder Mifflin crew that if somebody goes into cardiac arrest, they should remember their ABC's.
ABC, Rose says, "stands for Airway, Breathing and Circulation."
"OK," Michael says, "but that could be a little confusing because in sales, ABC means Always Be Closing."
Nobody really responds to that because, well, it isn't worth responding to.
So Rose has some of the office workers try to resuscitate the dummy, which has sensors and lights and basically will basically react so you know it's come to life – if you successfully resuscitate it.
Kevin complains to Rose that he can't get the dummy to come back to life.
"It's been 20 seconds," Rose says.
Kevin gives up. "Call it," he says.
(Helpful hint: Do not have a heart attack if Kevin Malone is the only other person in the room.)
Rose asks if somebody else would like to try to learn how to do CPR, and Michael makes Stanley – who just wants to rest – do it.
Michael wants Stanley to learn CPR, so that if Stanley ever has another heart attack and his heart stops, Stanley will know how to do CPR on himself. (Oh, Michael, never change. Still, in Michael Scott's defense, if we could all manage that trick, that would solve a lot of of problems...)
Eventually, the episode gets to the important CPR stuff, however.
Rose says that you should do compressions at 100 beats per minute.
Unfortunately, we don't see Rose teach everyone how to actually do compressions, but according to WebMD.com, you should...
...place the heel of your hand (the inside of your hand, near your wrist) on the center of the person's chest.
Then place the heel of your other hand on your top of your first hand, lacing your fingers together.
Then keep your arms straight, with your shoulders directly over your hands.
And push hard and fast, compressing the chest at least two inches.
Let the chest rise completely before pushing down again.
And you should do these compressions at least 100 times per minute.
Michael can't quite figure out how to know if he's doing the compressions at 100 times per minute, and that's when Rose says, "Well, a good trick is to pump to the tune of "Staying Alive" by the Bee Gees. Do you know that song?"
Yes, Michael says, and then starts singing, "I Will Survive," by Gloria Gaynor.
Rose corrects him and sings, "Ah, ah, ah, ah, stayin' alive, stayin' alive."
It's actually great advice – real advice that the Red Cross encourages -- but, of course, as soon as Michael starts singing it and doing the compressions, Andy Bernard (Ed Helms) starts singing "Stayin' Alive," and pretty soon, everybody in the room is singing and dancing, and the seminar devolves into madness.
Rose, trying to still teach, says that because nobody did compressions at 100 times per minute, the dummy died, and so Dwight ends up stabbing the dummy to harvest the organs.
But in all of that insanity, we should all remember two main takeaways:
If somebody does need CPR, you'll want to do compressions at 100 times per minute.
And do it to the rhythm and beat of "Stayin' Alive" by the Bee Gees.
Everything I'm reading on the internet is that if you aren't trained in CPR, you shouldn't worry much about the airway and giving somebody mouth-to-mouth resuscitation. The hand-on-hand compressions are the important thing to try.
Of course, if you're really interested in learning how to do CPR, there are actually better ways to learn than reading The TV Professor, believe it or not.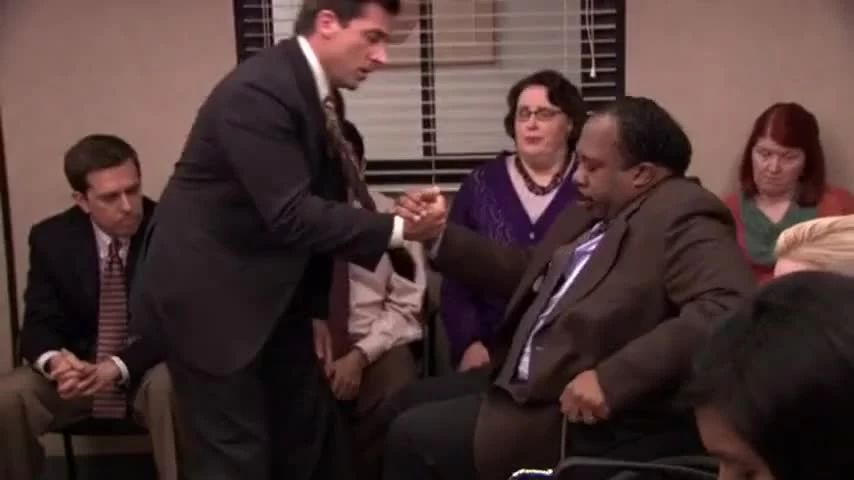 How The Office Has Actually Saved Lives
So it may not feel like you've learned much, and certainly reading about The Office isn't the same thing as watching it, but several lives have been credited for being saved because of the "Stress Relief, Part 1" episode.
For instance…
June 2021. A dad in Indiana, Matt Uber, saved his four-year-old daughter's life when she inexplicably collapsed during a game of father-daughter tag. (His daughter was soon after diagnosed with a rare condition called calmodulinopathy.)
"I'm trying to do the 'Stayin' Alive' thing in my head, and I'm stopping every once and a while to give her a couple breaths," Uber told The Indianapolis Post, and he said that for whatever reason, it was the episode of The Office that he remembered.
January 2019. Talk about being in the right place at the right time. A 21-year-old Arizona mechanic named Cross Scott was test driving a customer's car when he found a woman slumped over her steering wheel, with its hazard lights on. He ends up smashing the car window, unlocks the door and finds the woman without a pulse.
Scott remembered the episode of The Office, where Michael Scott is singing the Bee Gees' "Stayin' Alive" song while doing CPR – and so he did the same thing and saved the woman's life.
August 2016. A 79-year-old retired superintended suddenly became quiet at a gathering in the basement of a men's clothing store in Mount Vernon, Iowa. It was a social event, and a semi-retired businessman named Craig Smith suddenly realized something was wrong. Smith started doing CPR – and had a pretty good idea how to do it because had watched The Office.
March 2018. Natalie Belsito, a Central Michigan University biology wildlife conservation student, was asked to help a squirrel that somebody had fished out of a swimming pool. The poor little animal had drowned – or would have drowned if Belsito hadn't jumped into action. She performed CPR on the squirrel and told her student newspaper: "Honestly, when I was doing it, I was thinking of the episode of The Office when they do CPR. I was literally singing that song as I tried to do it."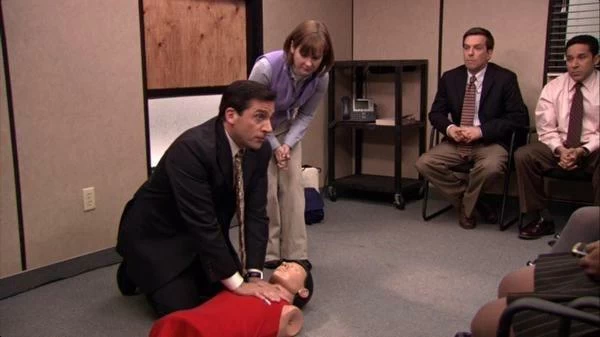 But what if you aren't a fan of Stayin' Alive?
That would be awful, wouldn't it? I mean, you have a person's life in the balance – and you have to hum a tune you don't like?
Fortunately, you could choose a different tune. A couple years ago, New York Presbyterian Hospital put together a song list on Spotify of songs you can sing to yourself – while performing CPR. So if you prefer, say, "Hard to Handle" by the Black Crowes, or "Rock Your Body" by Justin Timberlake or "Say You'll Be There" by the Spice Girls, or perhaps Lynyrd Skynyrd's "Sweet Home Alabama," or about 40 other songs, you'll want to check out this list.
The songs are all 100 to 120 BPM (beats per minute), which is the right beat to perform CPR.
Where to watch this show (at the time of this writing): The Office can be found on Peacock TV.
Articles similar to this one: The TV Professor doesn't have anything else on this blog about saving a life yet, but maybe you'd like to make some new friends? This post, which explores the TV western Cheyenne, will show you how.