If you're a die-hard Columbo fan, as I am, and you've watched and watched Columbo episodes to the point that you can almost say the dialogue along with the characters, you can't help but start to think about the murderers – and begin wishing that they had been as creative as trying to solve their personal problems as they were in coming up with a way to kill people without being caught.
Yeah, yeah, Columbo wouldn't be Columbo without the murders. Watching Lieutenant Columbo going after people who forgot to pay the parking meter wouldn't be half as much fun. But, still… I've been thinking how trying to solve some of the problems these Columbo murderers had and to see if I can come up with better ways to fix their dilemmas, rather than resorting to, say, running somebody over in a car.
My hope is that if you ever find yourself in a similar pickle, where somebody is going to expose you, for instance, for a crime, or somebody is really annoying you, maybe you'll pick up some tips from The TV Professor and not bump somebody off. That's right; this blog just may save somebody's life!
So with that in mind, here are 9 dilemmas (and one tip for Columbo's murder victims), pulled from the case files of one Lieutenant Columbo, along with some suggestions on what these murderers could have done, to keep the streets safer and everyone on a better path.
Today's "TV Lesson" Breakdown:
What to Do When Your Business Partner Wants to End the Partnership
The dilemma: You are Ken Franklin (Jack Cassidy), one of two authors who write mysteries together in the Columbo episode, "Murder By the Book." Unfortunately, you mostly handle the publicity while your very talented partner, Jim Ferris, does 99% of the writing. And Jim wants to strike out on his own.
That's right. You live a lavish lifestyle, and your meal ticket is leaving.
Clearly, before collecting the $250,000 life insurance policy you took out on your partner, you need to kill Jim.
But wait! Maybe there's another way. Yes, Jim breaking up the partnership with Ken was going to hurt him financially, but anyone who has watched "Murder By the Book" can tell that Jim (Martin Milner, of Route 66 and Adam-12 fame) was a really decent guy. So was his wife Joanna (Rosemary Forsyth). If only some inner voice had talked Ken down, asking – do you really want Jim's murder on your conscience? (Granted, by the end of the episode, given what he does to throw Columbo off the trail, it's pretty clear Ken Franklin doesn't have much of a conscience.)
The solution: You have to think that if Ken had explained to Jim and Joanna how this split was going to destroy his finances, maybe they would have come up with a deal to work together for one or two more books, long enough for Ken to get his financial house in order.
Failing that, didn't Ken have an agent? You'd think his agent could have hooked Ken up with another promising writer, and Ken could have had a partnership with another mystery author. Didn't Ken explore that possibility? Ken Franklin presumably had just as big of a reputation as his partner, if not more, since he was the one doing all of the publicity.
Sure, maybe Ken would have had to have sold his luxury cabin and second home, to make ends meet for a year or two, while waiting for his next chapter in his writing career to ramp up, but you'd think, with just a little forethought, he could have come up with some other way to solve his problems than murdering his business partner.
What to Do When Your Older Sibling is Controlling Your Life
The dilemma: You are Beth Chadwick (Susan Clark), an executive at a company in the Columbo episode, "Lady in Waiting." Your brother and boss, Bryce Chadwick (Richard Anderson) is really overbearing and constantly interfering in your life, to the point of threatening to fire your boyfriend, Peter Hamilton (Leslie Nielsen, later of Naked Gun fame) from the advertising firm you both work at and have an ownership stake in. Clearly, you need to kill him.
But wait! Maybe there's another way: Oh, there was definitely another way. Yes, if you have a sibling, you probably can sympathize (to a point) with Beth. Nobody wants a brother or sister micromanaging their life. But you don't kill them. You may want to, figuratively, but otherwise, c'mon.
And for any would-be murderers reading this and thinking about killing someone you don't like, or someone who doesn't respect you (Bryce clearly didn't respect Beth), just remember -- the moment you pull that trigger, poison that food or do whatever you're about to do to snuff that person out, you're proving to this person that they were right to think you're a screw-up.
Bryce says to Beth early in the episode, in defending his interfering in her love life, "If your choice of men friends were more mature, believe me, I would stay out of your life."
Obviously, Bryce thought Beth wasn't very good at making decisions. Well, she shot him and clearly showed him that… he may have had a point.
The solution:  Probably the problem was that Bryce and Beth were adults and still living together at the family home. The father died, and the mother moved to Florida, and so clearly, the two were getting on each other's nerves. And they worked together at the family business, with Bryce in charge. In other words, yes, absolutely Beth needed to make changes in her life, and she was right to think that maybe she needed to remove Bryce from her life.
But figuratively, not literally.
But what about talking things over with Bryce, or involving their mother (Jessie Royce Landis)? What about moving out? I know this was 1971, and women didn't have as many career options back then. She may have felt like she couldn't leave the family business, and she certainly felt cornered when Bryce threatened Peter with being fired if he didn't leave his sister alone.
So Beth hatched a plan in which Bryce would come through a back door leading to her bedroom, and it would look like she shot him, thinking he was an intruder.
Really, Beth could have used a therapist or a life coach. She was practically screaming out for one. Instead, having no idea she was about to match wits with Lieutenant Columbo, she shot Bryce in cold blood and then did the screaming, as part of her elaborate scheme to make the murder look like an accident.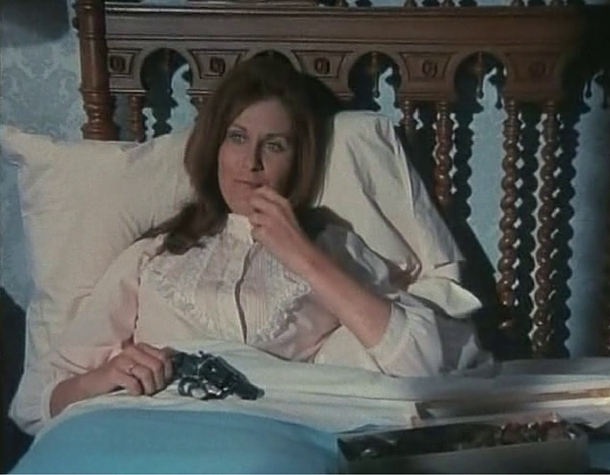 What to Do When Your Lover is Blackmailing You
The dilemma: You are Alex Benedict (John Cassavetes), a conductor of the Los Angeles Philharmonic Orchestra in the Columbo episode, "Étude in Black." You are very rich and extremely talented but unfortunately lacking a moral compass. You are having an affair with a pianist, Jenifer Welles (according to IMDB.com, it's Jenifer and not Jennifer), who is also ethically challenged. She is blackmailing you to stay in a relationship with her.
Either you stick with Jenifer Welles (Anajanette Comer) and divorce your wife Janice (Blythe Danner), or you go back to your wife – but Jenifer promises she will reveal the affair, which will no doubt cause your marriage to rupture, and your will, without a doubt, see your career go down in flames. That's because your mother (Myrna Loy) runs the orchestra – and she has the power to fire you. So if Jenifer is going to go through with this, to make this all go away, well, clearly, you need to kill her.
But wait! Maybe there's another way. This situation is admittedly a stressful one, not that The TV Professor is endorsing murder, not for one second. But assuming Jenifer Welles went through with her threat, Alex was going to lose his wife (who he seemed to love or at least care for, despite being a Lothario) and his career and his reputation.
So there was never going to be an easy fix, but you get the impression, after watching this episode about 900 times, that Janice would have stuck by Alex if he had come clean about his infidelity. And if Janice had been loyal to Alex, maybe her mother wouldn't have fired Alex.
But even if Janice had understandably tossed her husband to the curb, and Alex lost his job as conductor, he might have bounced back eventually. This wasn't a case of Alex needing to murder somebody or see his life ruined forever, but, sure, if Jenifer had gone through with her threat, he probably would have been in for a few difficult years.
The solution: Grovel. Alex Benedict had a huge ego, and so this solution was never going to be in the cards. That said, he should have come clean about the affair and begged forgiveness from his wife and mother-in-law, and then, if his affair somehow became a scandal across the country, entreated for forgiveness from the public.
Granted, this came out in 1972 when people really were scandalized over affairs, but America has always loved a good comeback. Alex could have owned up to his mistakes, vowed to do better, and maybe eventually, he would have.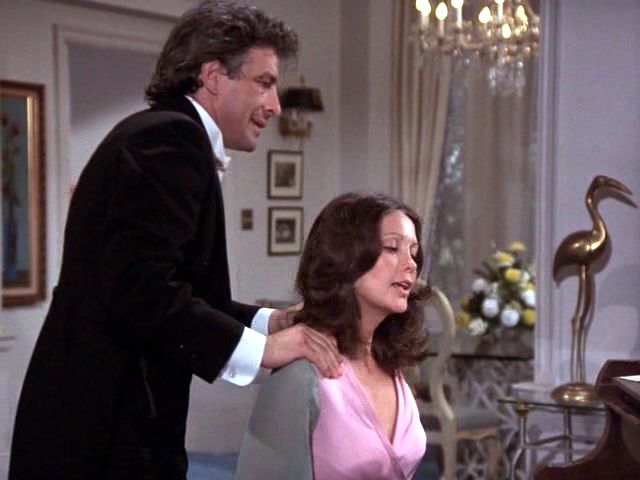 What to Do When You are Being Micromanaged
The dilemma: You are Nelson Hayward (Jackie Cooper), and you are running for senator in the Columbo episode "Candidate for Crime." You are also cheating on your lovely wife, Vickie (Joanne Linville), who has a bit of a drinking problem, probably due to you being pretty inattentive.
Meanwhile, your campaign manager, Harry Stone (Ken Swofford), is determined to make you end your affair. He is also very bossy. Stone also knows your shady past, and so if you fire him, he's going to make life very uncomfortable for you. And if you win the election, it isn't as if it will stop. He will continue to micromanage your life. Clearly, you need to kill him.
But wait! Maybe there's another way: The TV Professor would almost be sympathetic to Nelson Hayward's plight if he wasn't cheating on his wife, another attractive, kind spouse. Harry Stone was an arrogant windbag, and nobody wants to be lightly threatened. As Harry Stone, long before Night Court (oh, sorry wrong show), says to Nelson early on in the episode, "I've put too much into getting you where you are now to take a chance on blowing it. Now whatever affects your political life affects me, and Linda Johnson is a political liability."
When Nelson responds, "Harry, I need her," Harry Stone retorts, in some clever bit of foreshadowing:
"You don't need anybody but me. You could get rid of anybody but me because I know where the bodies are buried. Nelson, I buried them for you. Now, that's why I'm callin' this shot. She's out. Not just until after the election. You're gonna be a happily married senator. Linda's out. Period."
That would be frustrating, to have somebody tell you how to live your life (even though Harry Stone's advice was spot-on), and it's understandable that you wouldn't want your campaign manager pushing you around. But murder?
The solution: Fire Harry Stone, in the nicest way possible. Nelson Hayward was a politician, and what is politics, but the art of persuasion? It seems crazy and stupid that Hayward didn't try harder to convince Stone that maybe it was time to put their partnership to pasture (although, sure, there were likely many of those conversations in the past that the audience was never privy to). If Hayward was afraid Stone would reveal scandalous details about his career, it seems likely that Stone's reputation also would have gone down for the count.
Hayward should have fired Stone but done it in a way that left them friends. Hayward and Stone probably each had a million connections. If Stone had trouble finding another job, Hayward certainly could have steered Stone to lead some other political campaign.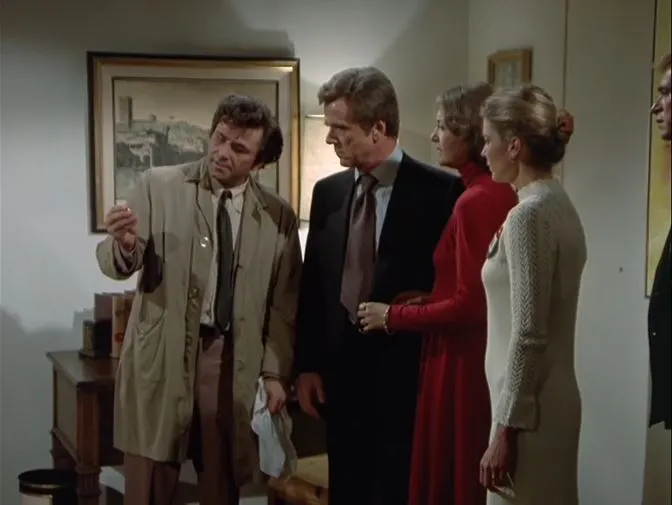 What to Do When You Have Done Something Wrong
The dilemma: You are Dr. Mark Collier (George Hamilton), a psychiatrist in the Columbo episode, "A Deadly State of Mind." You are kind of a sleaze, deep into a relationship with a patient, Nadia Donner (Lesley Ann Warren), and she is married. And you may be using Nadia as research for a book you plan on writing. So, yeah, you have issues. But otherwise, up until now, you've been a relatively decent fellow, and then you decide to spend the night at Nadia's beach house while the husband is out of town.
Unfortunately for you, the husband, Carl Donner (Stephen Elliott), is there, and he is not happy. He threatens to ruin you. But Carl isn't a very sympathetic husband. He slaps Nadia in the face, and you are a gentleman, for at least a few moments. You grab a poker from the fireplace and clobber Carl, accidentally killing him. And, clearly, maybe you did need to kill him.
But did you need to hide the body and cover up the crime?
But wait! Maybe there's another way: OK, maybe you couldn't have helped but kill Carl, with him slapping his wife and going berserk. But now, you have a choice. 'Fess up, or give Nadia a cover story to tell police (that some burglars broke in and wound up killing Carl) while you go create an alibi to disguise the fact that it was actually you in her home who murdered the husband. So what's it going to be? We're waiting.
The solution: Call 911. Yes, things were going to go badly for Dr. Collier if he had called the authorities, and, yes, he may have even spent a little time in prison but probably for involuntary manslaughter. But maybe he wouldn't have gone to the clink for even a night; Nadia would have vouched for him.
Yes, it's probably terrifying to accidentally kill somebody (The TV Professor fortunately has no experience in this), but as they say, the cover-up is always worse than the crime. Although is that really true? It seems like in the case of murder, the crime is worse than the cover-up, though the cover-up is certainly not good.
So it's clear -- if you ever accidentally murder somebody, don't make it worse by covering things up. Come clean. Or else you might have somebody like Lieutenant Columbo pursuing you.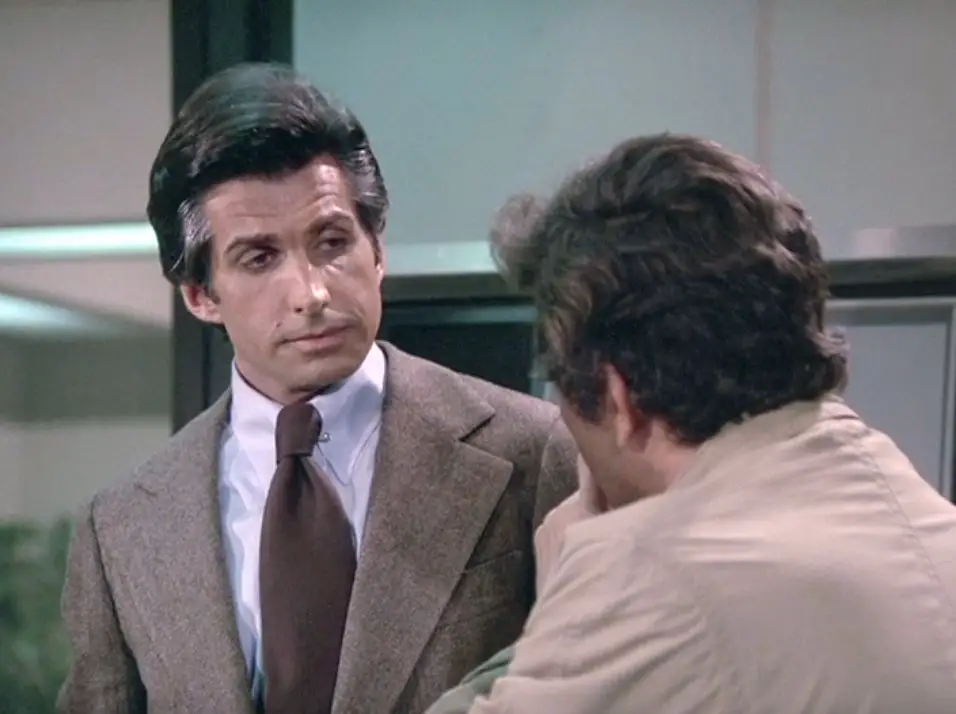 What to Do When Your Business Partner Catches You Cheating Your Clients
The dilemma: You are Oliver Brandt (Theodore Bikel), a genius and an accountant in the Columbo episode, "The Bye-Bye Sky High IQ Murder Case." You have been embezzling funds from your firm because your wife, Vivian, is making you broke; she has expensive tastes, and you've got to pay for her lifestyle somehow.
Unfortunately for you, your business partner and pal, Bertie Hastings (Sorrell Booke), knows what you've been up to – and plans to expose you. If you don't want to possibly go to jail and see your marriage fall apart, you have to do something to make Bertie keep his mouth shut. Clearly, you need to kill him.
But wait! Maybe there's another way: This one is tough. Again, it isn't that The TV Professor condones murder. But Bertie puts Oliver in a very bad spot. Bertie tells his former best friend, "I know what you've been doing in the office, Oliver. I know how you've been stealing from our clients," and a few moments later, he says, "Are you aware that I intend to expose you?"
Oliver is aware. In fact, he is armed and has an ingenious plan to kill Bertie, without anyone knowing it was him. But it didn't have to be this way.
The solution: Oliver should have talked things out with Bertie and tried to come up with a solution that would have involved paying back the clients, as soon as possible. Admittedly, it probably wouldn't have worked. Bertie felt betrayed, and Oliver fully believed he could create the perfect crime and get away with murder. If somehow we had the chance to try and talk Oliver out of murdering Bertie, I don't think he would have listened.
But Oliver didn't even attempt to reason with Bertie. Bertie shares that he's onto Oliver's embezzling plans, and Oliver tickles Bertie (something Oliver has done before, and Bertie hates), and then with Bertie's guard down, Oliver shoots him. Oliver is part of a club, one that is open to people with a high intellect.
You would think, if you're a genius, you could find a way to reason with somebody like Bertie, rather than try to create the perfect murder.
And, of course, the thing that Oliver should have considered is that if Bertie had exposed him for the embezzlement, yes, his career and life probably would have been ruined. But is it better to go to jail for embezzling or cold-blooded murder? Maybe it's just me, but I'm thinking embezzlement. There's going to be a lighter sentence, and people can forgive you for embezzlement. Murder, not so much.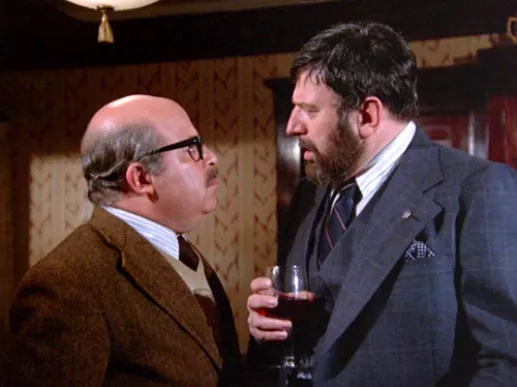 What to Do When You Feel the Police Should be Investigating Someone You Know
The dilemma: You are Abigail Mitchell, an aging famous murder mystery writer in the Columbo episode "Try and Catch Me" (hmm, in the Columbo universe, mystery writers really have a way of getting caught up on the wrong side of the law). Four months ago, your niece, Phyllis, who you adored, drowned in a tragic boating accident.
Meanwhile, you fully believe that her husband, your nephew-in-law, Edmund Galvin, murdered Phyllis. There's no hard proof, unfortunately, and the police think it was an accident. It looks like Edmund will literally get away with murder. Clearly, you need to kill him.
But wait! Maybe there's another way: I think anyone can sympathize with Abigail Mitchell, but might The TV Professor suggest that instead of taking the law into your own hands, which really only works well in the movies and clearly not in real life or Columbo episodes, the mystery author should have kept hounding the police to investigate Edmund.
Heck, Ms. Mitchell could have written a book about her niece's murder. The proceeds could have gone to a favorite charity of the author's or niece's – and with all of the publicity, before you know it, the police would surely be investing Edmund again. Yeah, these things take time, but how satisfying would it have been for her to see her niece get some deserved attention from the public and Edmund arrested (eventually) rather than spend her retirement behind bars.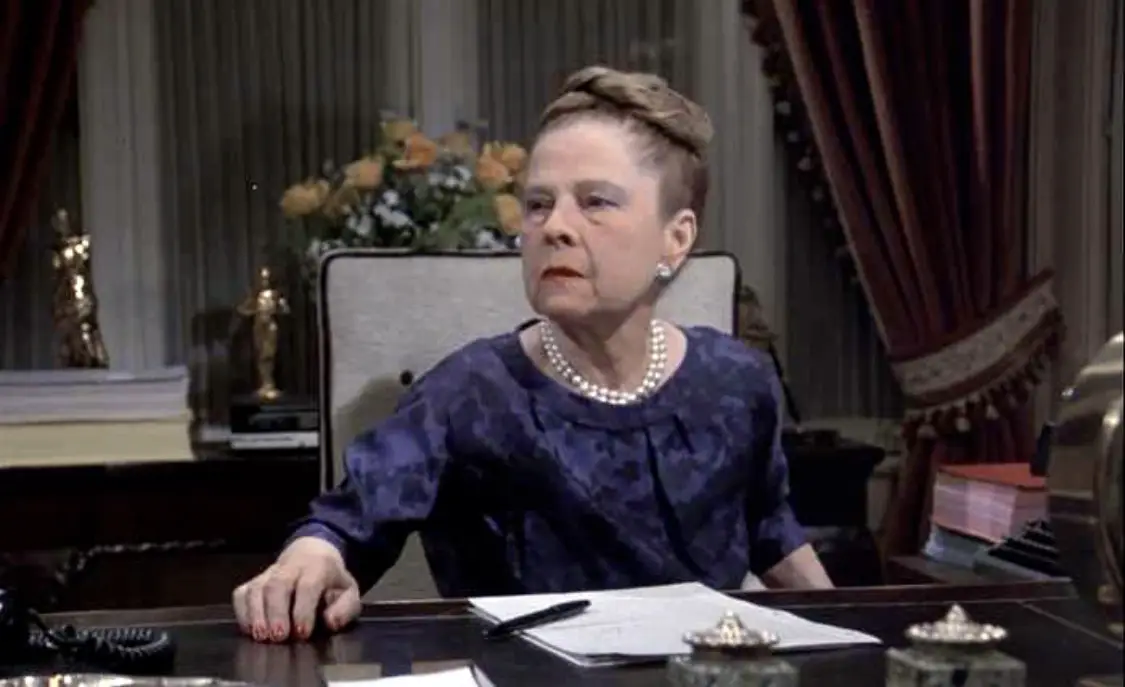 What to Do When Somebody Breaks Up With You
The dilemma: You are Kay Freestone (Trish Van Devere), a talented, Emmy-award winning network TV executive in the Columbo episode, "Make Me a Perfect Murder," and your boyfriend and boss, Mark McAndrews, is moving to New York City and leaving you behind in Los Angeles.
Worse, he isn't going to promote you as you believed he would. He is kind of insensitive about it, in the sense he breaks up with her as casually as someone might break up today with their cell phone service company. But your network executive boyfriend isn't a complete jerk. He does give you a new car as a way to soften the breakup.
Clearly, you need to kill him.
Wait, what?
But wait! There is definitely another way! C'mon! I get it. Break ups are hard, and sometimes really hard. But if you think you need to murder your ex, even one who is kind of condescending, what you need isn't a plan to murder someone. You need a therapist and maybe some medication. There's really nothing else to say. Of all the murders in Columbo, just for the sheer senselessness of the murder, this one may be the most depressing.
Again, this is a breakup. Mark McAndrews is condescending, to be sure, and, well, the way he treats Kay is kind of heartbreaking to watch. Mark shares the good news that he got a promotion to run the TV network that they both work at, and Kay Freestone is all set to go off to New York with him.
"Baby, we did it, we did it, we did it!" Kay says excitedly and asks: "When do we leave?"
"I want you to stay here, Kay," Mark says.
The look on Kay's face is almost heartbreaking, until she suddenly realizes and assumes that she will get Mark's job. Then she looks delighted, for a few seconds, and then things get even worse.
"I can't give you the west coast, babe," Mark says.
Now, it's getting uncomfortable. After all, Kay's wearing Mark's shirt and nothing else. It's a weekend, and they're at his house. It's clear she feels cheap, not valued as a girlfriend or as an employee.
"Well, now. I thought I'd earned something," Kay says.
"At what you do, Kay, you're the best there is. The very best. But you don't make decisions. You make guesses. There's a difference," Mark says, and it's clear that he feels that he is being very helpful, offering this constructive criticism. And it might have been a helpful critique, if they had been in a boardroom, and he hadn't been leading her on for presumably months, or years.
And this is a Columbo episode where you really kind of get a sense of what the murderer squanders by killing somebody to solve a problem. The episode spends a lot of time showing Kay at her job, and you can imagine that if she didn't have the stress of trying to cover up a murder, she might had a real chance to go somewhere at her company.
Of course, we only see her thriving at the network, you could argue, because the guy standing in Kay's way is now getting ready to be lowered into the ground. Also, in this Columbo episode, it's 1978, and career opportunities for a female executive were hard to come by. Kay probably felt like, aside from exacting revenge on Mark, this wasn't such a bad career move. Kill the guy you had been working for and hope that you get his job, which is exactly what happens.
And the thing is, Kay is pretty good at the job, though not quite good enough. She makes mistakes that do not please her boss, the guy who promoted Mark. In fact, Mark was right about Kay's instincts and her making guesses, and when it comes to interacting with and underestimating Lieutenant Columbo, she sure guesses wrong.
But there must have been a hundred different ways she could have handled the breakup better than murdering her ex-beau. Even in 1978, there was a human resources department at the network. She might have started by going there, to talk about the relationship she had, and the shabby way her boss had treated her. Granted, this was 1978, and going there and revealing this relationship could have gotten Kay fired.
But maybe she could have gone to Frank Flanagan (Patrick O'Neal), her boss and Mark's and talked to him. Maybe Mark would have gotten fired, along with Kay. Again, Kay had plenty of other strategies she could have employed after being dumped by Mark, which would have made this a particularly boring episode of Columbo but it would have kept her out of prison.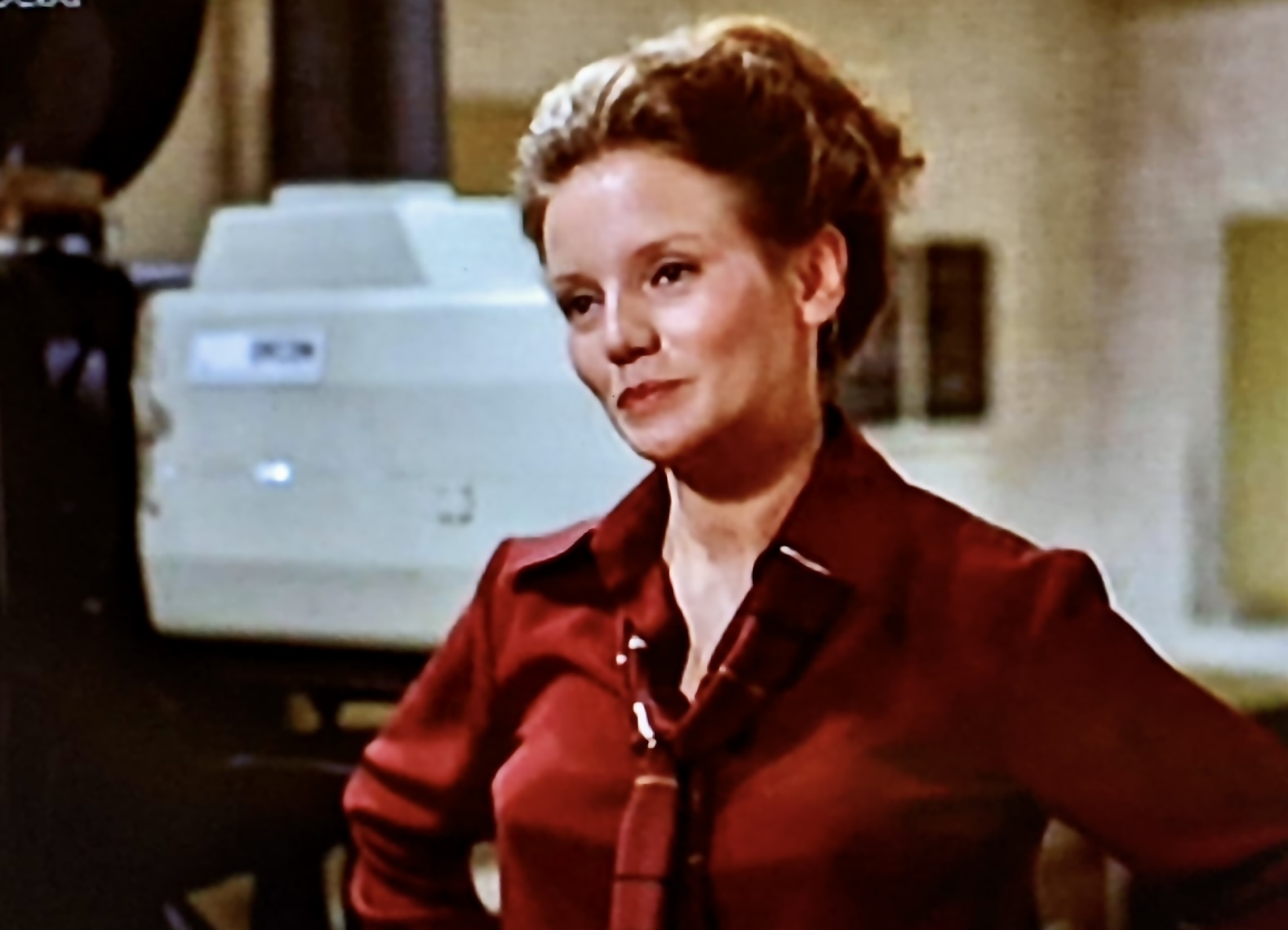 What to Do When You are Caught Cheating on a Test
The dilemma: You are Justin Rowe or Cooper 'Coop' Redman in the Columbo episode Columbo Goes to College. You are in college, and you and your best friend stole a copy of a test – and you have been caught by your criminology professor, D.E. Rusk, who has threatened to flunk you and possibly see that you are both expelled. He hasn't decided yet. He may just flunk you, or he may go to the dean and insist you are booted from the university.
Clearly, you both need to kill him.
But wait! Maybe there's another way: This isn't a defense of Rowe or Redman, but the Columbo Goes to College episode does do a nice job of explaining why each student would team up with each other and resort to murder. Rowe's dad is a high-profile criminal attorney who expects great things from his son, and Redman's father is extremely annoyed that his son has gotten three women pregnant in recent months and is getting weary of paying for their abortions, the script suggests.
So Rowe and Redman know that if they do the right thing and admit to having stolen the copy of the test, they are in for some real trouble that could have a ripple effect on the rest of their lives.
They still should have done the right thing. Obviously.
It's pretty well established that an adult's brain isn't fully developed until age 25 – which doesn't excuse a young person murdering anyone, of course – The TV Professor is just making the point that it's believable that two rich, smart (but academically lazy) and privileged young men might weigh the pros of cons of A) seeing their lives seriously derailed or B) trying to murder their professor in hopes of moving on with their lives, and recklessly pick "B."
But for anyone who winds up in Justin's and Cooper's situation, this shouldn't be a call to murder. It should, in fact, be a wake-up call. If you're thinking of murdering your professor to hide the fact that you were cheating, you've already hit rock bottom. Don't dig any deeper. Confess, fully own your mistake, and if you're expelled, you can apply somewhere else – maybe a nice community college – and eventually get your life on track.
Yes, it's going to be a big setback, but far less than if you wind up in prison for murder.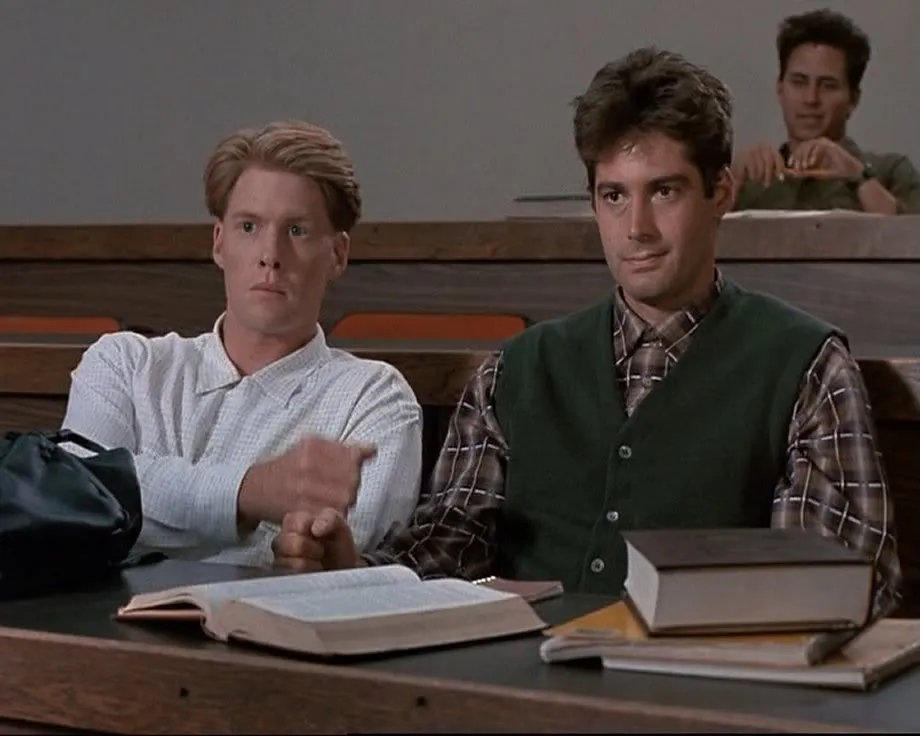 And a Pro-Tip to Potential Murder Victims
A word to the wise. Yeah, yeah, we all know that Columbo is a TV series and not real life, but still, if in real life, you ever plan on ruining somebody's life and career by telling the police or world about what they've been up to, how about you don't give that person a heads up that you plan on destroying their life?
Sure, you may be hoping that the person comes clean, so you don't have to out them, but if somebody is doing something on the sleazy side, and you're going to really turn their world upside down, at least ask yourself if the person might be capable of murdering you. If you think that's possible, absolutely don't warn them about what you're going to do.
Many of the Columbo murders could have been avoided in the first place if the victims had not prewarned the murderers and just kept their mouths shut. Mark McAndrews, however, took things to a whole new level of stupidity. He put the idea into Kay's head that she should murder him.
"You wanna sue me? Shoot me? That make you feel better?" he asks his girlfriend, still shaken up by this breakup, and he gets his own gun out of the bed stand and tosses it on his bed. "Right through the heart. Make me a perfect murder, babe."
For that dimwitted comment, I'm almost hoping Kay Freestone got off with a light sentence.
Where to watch Columbo (at the time of this writing): You can find Columbo on a variety of cable channels or streaming services. I personally like Peacock, which, yeah, there's a subscription fee, but I like watching Columbo on Peacock because the episodes don't appear to be trimmed for commercials the way it sometimes appears to be on cable networks.
Articles similar to this Columbo article: Oh, we've discussed Columbo a few times on The TV Professor. Maybe you'd like this blog post about what health tips we can pick up by watching Columbo.