On November 24, 1971, a guy bought an airline ticket and gave his name as Dan Cooper, later known as D.B. Cooper. As we all know, on that day, he parachuted out of an airplane and landed a television star. In fact, he just made an appearance on the new Disney+ series, Loki.
That may not be how you remember your hijacking history, as a TV star, but it's true. D.B. Cooper is more than an historical figure. He has been a very important character and plot point in quite a few TV series over the years.
So I thought it would be interesting to take a look at some of the TV series where D.B. Cooper has parachuted into over the years. But first, for those who don't know much about D.B. Cooper, a little recap.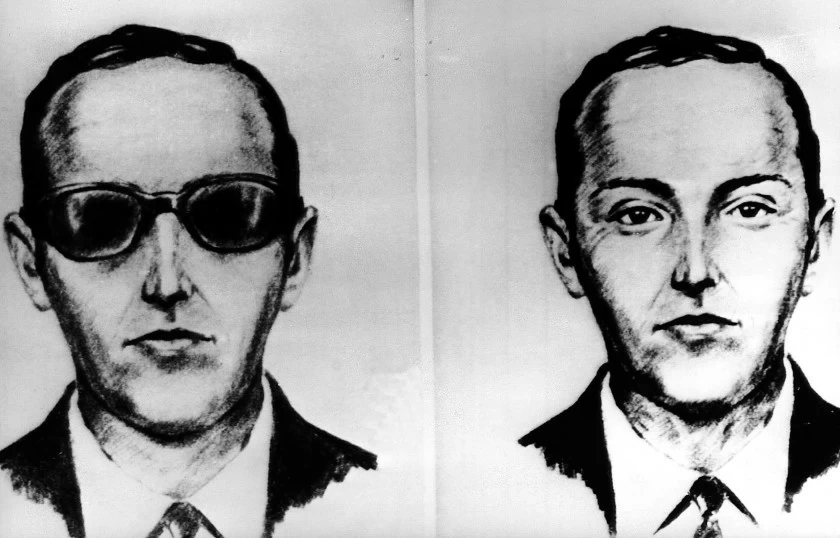 For Those Who Don't Know, a Little About D.B. Cooper
The man gave his name at the airline counter as Dan Cooper, and accounts differ as to how he got the moniker D.B. Cooper. Some sources suggest a news wire put down D.B. Cooper, and the name stuck, and others say that an on-air journalist mispronounced his name. Obviously, whoever this guy was, his name probably wasn't actually Dan Cooper. So D.B., or Dan… what's the difference, really?
What we know is that on the aforementioned date of November 24, 1971, somebody calling himself Dan Cooper hijacked Northwest Airlines Flight 305, and he may reading this sentence right now -- or he may have died years ago. We just don't know.
Cooper sat in the last row of the plane, 18-C, lit a cigarette (you could do that on planes back then) and ordered a bourbon and soda. Shortly after the plane took off, Cooper handed a 23-year-old flight attendant, Florence Schaffner, a note.
She put it in her purse. Schaffner was 23 and attractive and just assumed it was another cocky middle aged guy hitting on her. But the man said, "Miss. You'd better look at that note. I have a bomb."
Indeed, he did, or Cooper had what looked like a bomb. Inside his briefcase was a large battery, wires and six sticks of dynamite.
The airplane landed in Seattle as planned, and the hijacker allowed 36 passengers and two flight attendants to get off. In exchange, he received $200,000 and four parachutes. (In today's dollars, according to the inflation calculator I used, that would be $5 million.)
Cooper told the airline that he wanted to go to Reno, and that's where the airplane went. But Cooper himself never made it there. Before Flight 305 touched ground, Cooper made himself scarce. He parachuted somewhere over southwest Washington, possibly landing safely, or possibly having the worst night of his life.
Either way, so far, he has never been seen again – except, of course, we have seen him, many, many times. He has shown up on TV as well as in books (i.e., Skyjack: The Hunt for D.B. Cooper by Geoffrey Gray), movies (i.e., 1981's The Pursuit of D.B. Cooper starring Robert Duvall and Treat Williams) and music (i.e., Chuck Brodsky's, "The Ballad of D. B. Cooper").
D.B. Cooper as a TV Character or Plot Device
As for some of those TV shows that D.B. Cooper has appeared in, let's take a little tour of some of the highlights.
In Search Of… This was a weekly syndicated TV series that aired from 1976 to 1982. Rod Serling, famous for hosting The Twilight Zone, was supposed to have helmed this one, but he died before it went on the air (way too young; he was just 50). Instead, Leonard Spock of Star Trek fame was brought in. Well, in 1979, In Search Of… did a show on D.B. Cooper, and that apparently started reminding people that, hey, we had this crazy skyjacking almost a decade ago, and where is that guy, anyway? That said, it would be years before TV series really started having fun with D.B. Cooper.
Unsolved Mysteries. The long running mystery documentary show originally aired on NBC and then CBS from 1987 to 1999, mostly starring actor Robert Stack. In 1988, the series took a look at D.B. Cooper, interviewing Ralph Himmelsbach, the FBI agent who led the investigation into Cooper, as well Schaffner.
Twin Peaks (1990-1991 and a third season in 2017). Now, TV starts to have a little fun with the D.B. Cooper legend. As many Twin Peaks fans have noticed, the FBI agent played Kyle MacLachlan isn't just Agent Cooper but Dale Bartholomew Cooper… which could be D.B. Cooper. Meanwhile, Twin Peaks is set in the Pacific Northwest, which is where Cooper was last seen (thousands of miles above the area, of course). The series never came out and said that Dale Cooper was D.B. Cooper, but they never said he wasn't.
Cheers (1982-1993). In the last season of Cheers, in the episode, "It's a Mad, Mad, Mad, Mad Bar," Robin Colcord, ex-multi-millionaire and ex-boyfriend of Rebecca Howe's, comes into the bar after about a two year absence. He's destitute and has a beard and looks a bit bedraggled. At the other end of the bar, Norm, sitting at his usual stool, and Cliff, standing next to him, watch him walk in.
"Hey, Cliffie, take away that beard, and you know who I'd swear that is?" Norm says.
"Oh, yeah, you took the words right out of my mouth, Normie," Cliff replies. "Mr. D.B. Cooper himself. Yeah, I've been tracking him for 20 years now, and now he's found me. The supreme irony."
"No, Cliff. I was going to say 'Robin Colcord.'"
Cliff takes another look, and then he says, "Huh? Oh, yeah. Yeah, you're right. Isn't that something? Well, my search continues."
It's a small little moment in the episode, and even though it was Cliff Clavin's penchant to exaggerate, it is fun to imagine him trying to hunt D.B. Cooper down when he isn't delivering mail or hanging out at Cheers – and being worried that Cooper will find him.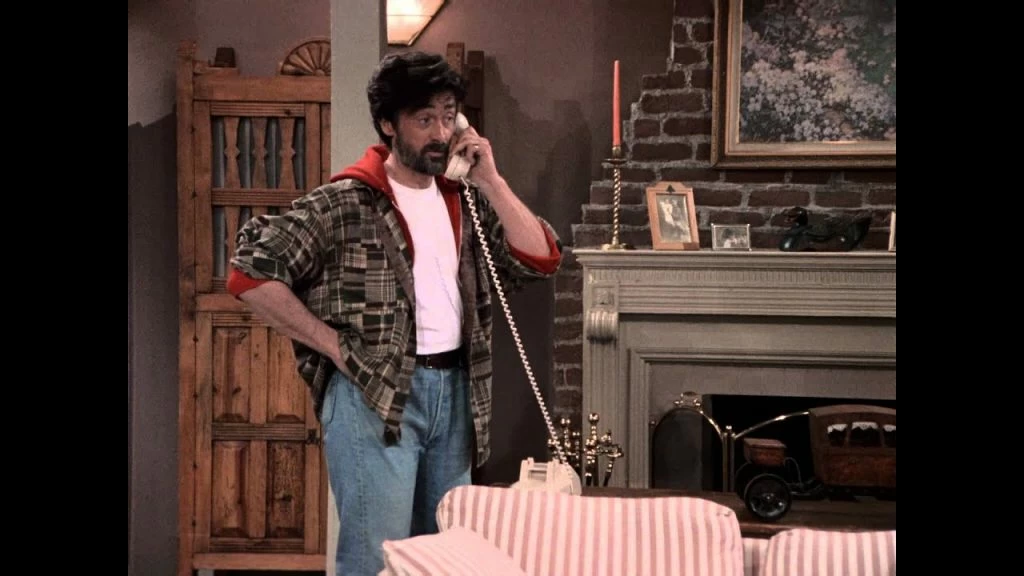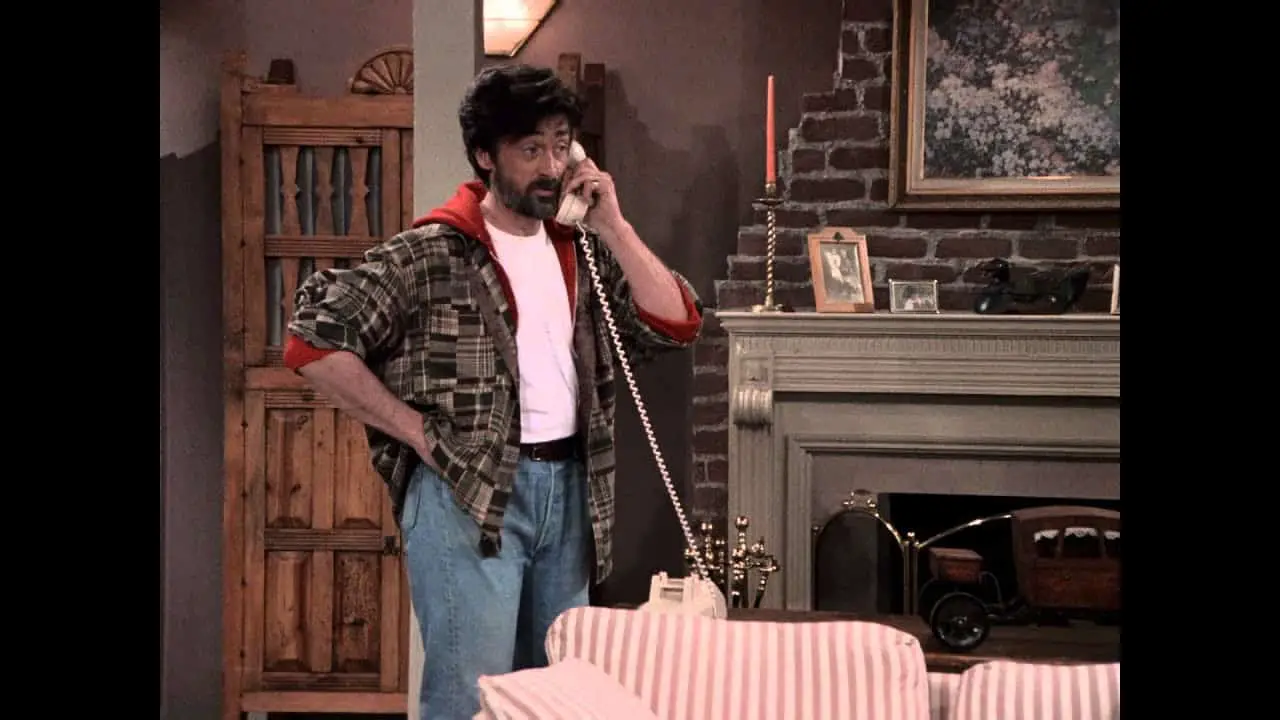 Numb3rs (2005-2010). I never watched this show, but I kind of wish I had. Judd Hirsch, after all, wonderful in Taxi and in more recent fare like "Pop-Pop" on The Goldbergs, was one of the stars. Well, anyway, D.B. Cooper figures in a Numb3rs plot in a 2009 episode called "Old Soldiers." The Eppes brothers and dad, who evidently work for the FBI (as noted, barely familiar with the show), stop a robbery of an armed car full of Federal Reserve money, and they recover bills that were involved in the D.B. Cooper heist. So they invite FBI agent Roger Bloom, who worked on the Cooper case, to help them. Bloom was played by Henry Winkler, a.k.a., the Fonz. Yeah, I guess I should have watched this show.
NewsRadio (1995-1999). Over the course of three episodes in 1998, there's a plot line that involves station owner Jimmy James possibly being D.B. Cooper. But later, when James goes on trial, we learn that the station owner is innocent.
Actually, D.B. Cooper's real identity is… Adam West, the actor who starred in Batman. Jimmy James had only been covering for West, and so he wound up looking guilty.
As West explains his motivations for the skyjacking to the judge, "I was short on cash. I had bad representation. I was desperate."
Mr. West also volunteers the information that for the last 28 years, he has had the hijacking on his conscience, but he adds, "I surrender. I throw myself on the mercy of this court."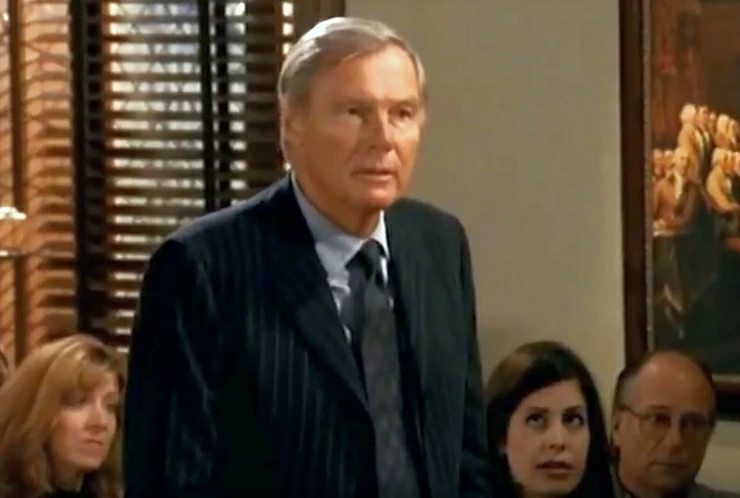 Prison Break (2005-2009, with a fifth season in 2017). If it pains you to think that Adam West was D.B. Cooper, maybe it'll make you feel better that the Fox drama later said, "No. Actually, all this time the FBI should have searched for D.B. Cooper in prison."
The audience discovers in season one that Charles Westmoreland (Muse Watson), the longest serving inmate at the prison, Fox River, is D.B. Cooper.
How D.B. Cooper Turns Up in "Loki."
So D.B. Cooper's latest appearance? Disney+'s Loki. Obviously, some spoilers are ahead – but very light ones and only involving D.B. Cooper.
So, actually, maybe the FBI should have been searching for D.B. Cooper on Asgard, a planetoid where Loki lives. If you don't watch the superhero movies that Marvel does – i.e., Iron Man, The Avengers, Spider-Man and so on – it's pretty hard to explain the plot of Loki. But in some ways, it's not hard to explain at all.
The cliff notes version of Loki is that the six-episode TV series is about a god called Loki (and brother of the god, Thor). Loki is the god of mischief, and as he himself put it, he's a bit of scamp, and he stole the money as more or less a cosmic prank.
"I was young, and I lost a bet to my brother Thor," Loki explains.
Loki is doing the explaining to Mobius M. Mobius (Owen Wilson), an agent of the Time Variance Authority whose job it is to stop dangerous time criminals.
The D.B. Cooper bit plays out as a flashback to 1971, and it plays out as we've all heard over the years. Loki is on an airplane and dressed like D.B. Cooper, and the stewardess asks, "Bourbon and soda?"
"Thank you," Loki says, accepting the drink.
"Absolutely. Is there anything else I can do for you, sir?"
"I suppose we'll find out, won't we?" He hands the flight attendant a note. She smiles. She puts the note away. Doesn't read it.
"Uh, miss?"
"Yes, Mr. Cooper?"
"You might want to take a look at that note."
She looks at him, curious, suddenly aware that something isn't right.
"I have a bomb," he adds.
She then looks at the briefcase that he has his hand on. Cut to a scene where the police are outside the plane, and then another scene where Loki, a.k.a. Dan Cooper, is gathering up the $200,000 that he in his briefcase. He's wearing a parachute. Loki winks at the flight attendant and says, "See you again, someday." (That's interesting. As far as I know, the real D.B. Cooper never said that to the flight attendant. Was Loki just being a charming rogue and being polite, or was he foreshadowing a return visit?)
In any case, Loki as D.B. Cooper jumps out of the plane, and long before he hits the ground, is sucked up into some vortex that returns him to his home planetoid of Asgard. Meanwhile, some or all of that money is blowing into the wind. Which would explain why D.B. Cooper was never seen again, and why some of the money from the heist was found along the banks of the Columbia River in Washington, in 1980.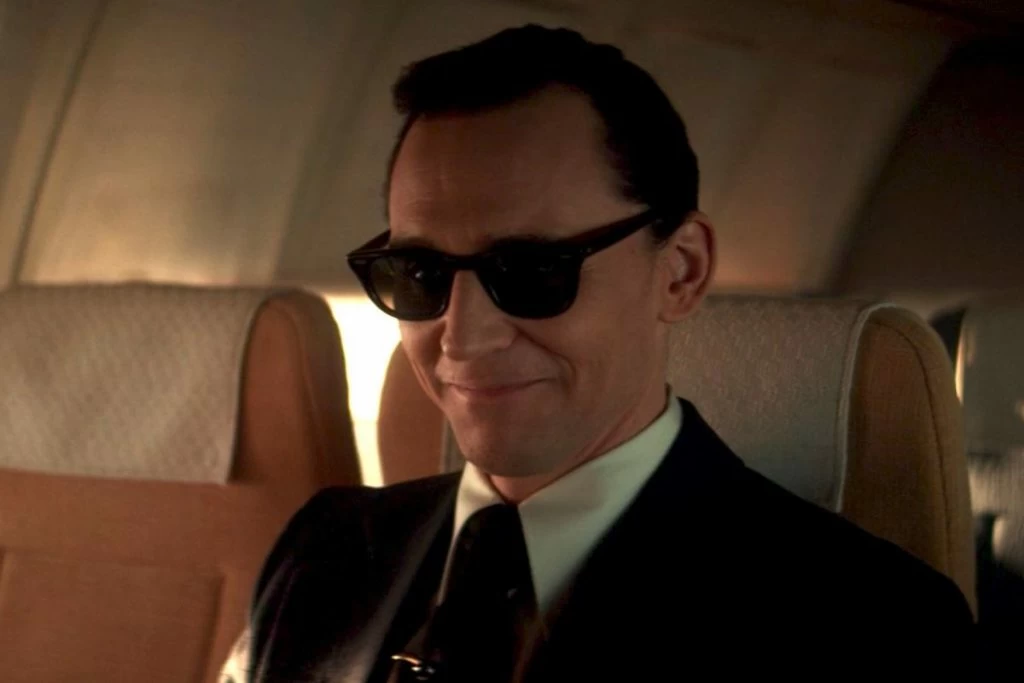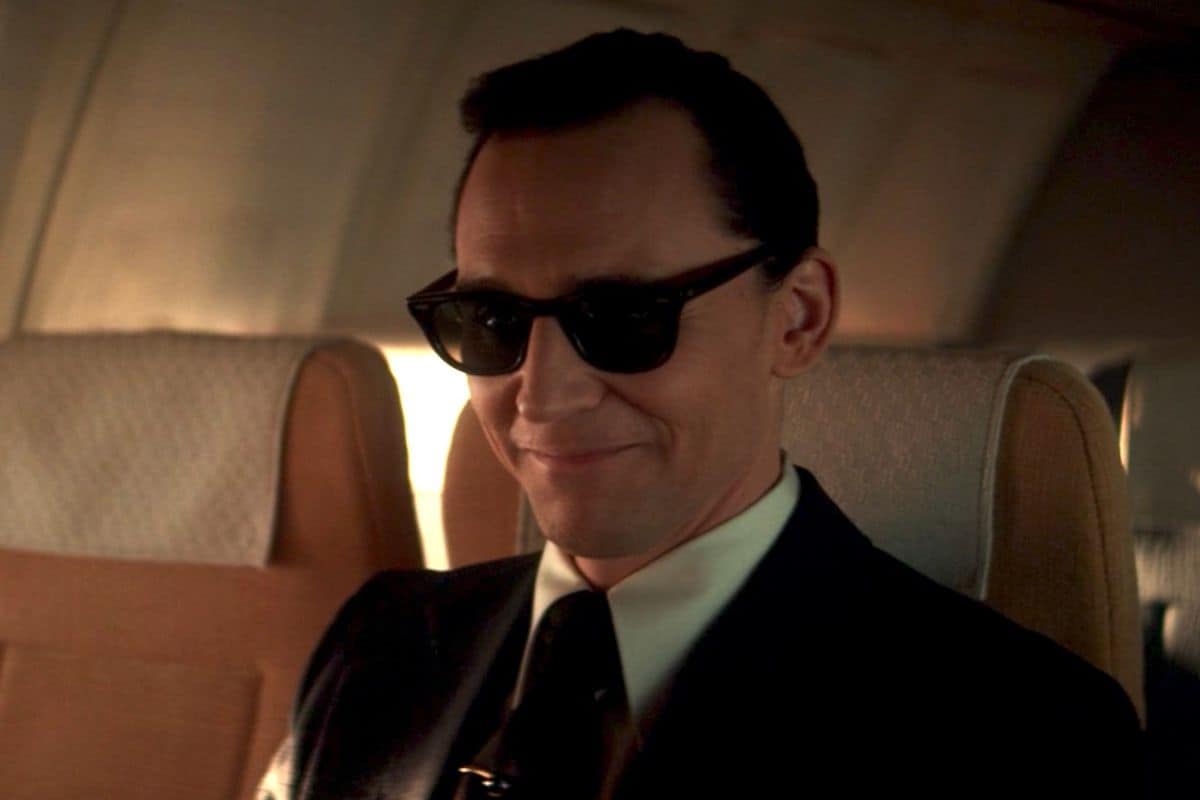 Where will D.B. Cooper Turn Up Next?
Your guess is as good as mine. I can imagine a number of scenarios, as I'm sure we all can.
Maybe a future episode will feature special agents of NCIS casing a nursing home, where they believe D.B. Cooper is hanging out?
Will Olivia Benson from Law & Order: Special Victims Unit learn that her deceased dad, Joe Hollister, was also actually D.B. Cooper? (Hopefully not. He was a serial rapist. She's had plenty of family trauma in her life.)
Maybe D.B. Cooper will turn up as an elderly neighbor on CBS's The Neighborhood, and the Johnsons and Butlers can create comedy gold as they try to decide whether to report their suspicions to the police?
Seriously, the possibilities are endless. Which is why you should stay tuned to your TV. We haven't seen the last of D.B. Cooper.
Where you can watch these shows (at the time of this writing): Loki, which just debuted its first of six episodes, can be found on Disney Plus. The others – well, I mention a lot of shows, but let's hit some of the highlights. In Search Of… doesn't seem to have a home on a streaming channel, but you can find the DVD on Amazon.com. Some Unsolved Mysteries seasons can be found on Hulu.com, and that's where you'll also find Twin Peaks, Prison Break and Numb3rs (I guess I should start watching it). The first two seasons of NewsRadio are on Crackle.com, but where to find the other episodes, alas, I'm not sure – PeacockTV.com surprisingly doesn't have the NBC sitcom.
Articles similar to this one: If you liked reading some about Loki, a show that's actually new – mostly, as you've likely noticed, this blog features classic TV – you may love my 17-year-old daughter's post, "Who are TV's Best Female Role Models?" A lot of newer shows mentioned, including another Marvel Disney+ series, and, sure, I'm naturally biased, but Lorelei is a wonderful writer.