If you've had roommates, you know how wonderful the experience can be. Unless it was terrible. In fact, maybe you have a roommate, and he or she is making you miserable right now. In which case you need advice. Fortunately, if you have nowhere else to turn, you've always got the The TV Professor's handy dandy "how to be a better roommate" guide.
Today's "TV Lesson" Breakdown: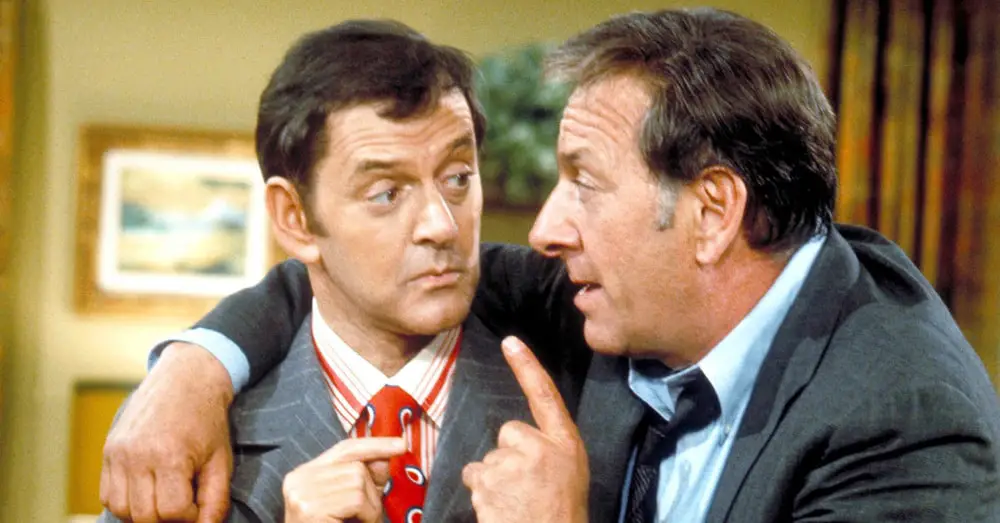 But, first some history on roommates on TV
Roommate comedy has been a big deal on TV ever since The Odd Couple, which came on the air in 1970 and ended in 1975. Not that The Odd Couple was the first TV series to focus on roommates, but you can definitely see how the genre changes B.T.O.C. and A.T.O.C. (Before The Odd Couple -- and After The Odd Couple).
B.T.O.C., the shows about roommates were far and few between. My Friend Irma, a CBS sitcom that ran from 1952 to 1954, was about two twenty-something women navigating their love lives and careers (it was kind of precursor to Laverne & Shirley).
My Favorite Martian (1963-1966) had two roommates: Tim O'Hara and the Martian, who takes on the name Martin O'Hara, pretending to be Tim's uncle.
And while The Monkees (1966-1968) may not seem like a roommate sitcom, Micky Dolenz, Michael Nesmith and Peter Tork (the characters, not the actors, of course) were all living in the same house.
But I'm hard pressed to think of any other sitcoms featuring roommates, unless maybe we count I Dream of Jeannie (who lives in a bottle in Major Nelson's home) or perhaps Gomer Pyle (Gomer and his pals may be in the marines, but they all live together in the barracks).
So, yes, there were roommate shows before The Odd Couple (1970-1975), but perhaps network executives, recognizing the comic possibilities (the ratings were only so-so), A.T.O.C., the sitcom roommate genre exploded. Suddenly you had networks falling all over themselves to get roommate sitcoms on the air, like the aforementioned Laverne & Shirley (1976-1983), Three's Company (1977-1983), Bosom Buddies (1980-1982), The Golden Girls (1985-1992) and Perfect Strangers (1986-1993).
And during this time, there were hybrid roommate-alien comedies (shades of My Favorite Martian), like Mork & Mindy (1978-1982) and ALF (1986-1990), which both featured a roommate from outer space.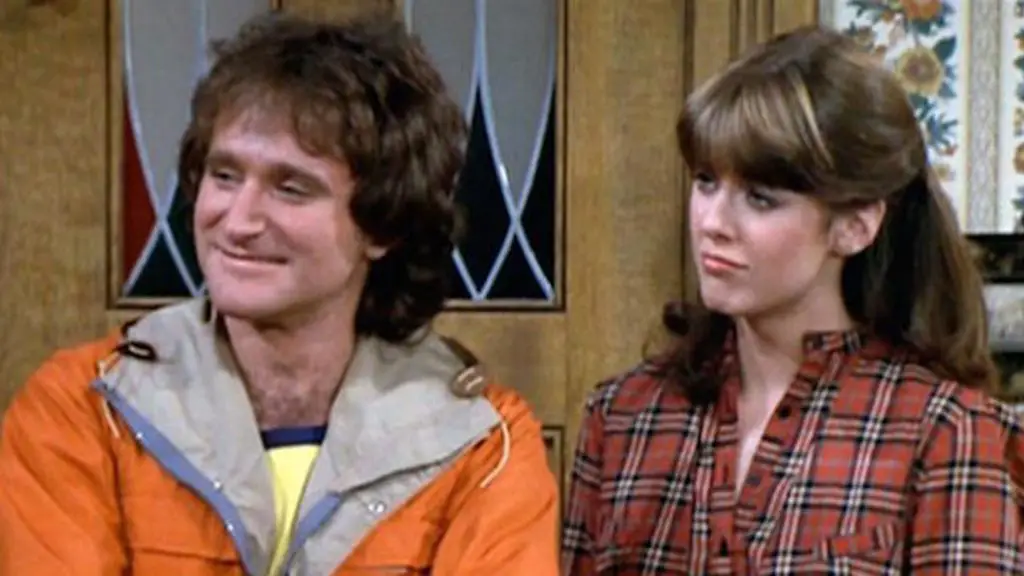 The roommate sitcom explosion after The Odd Couple was so popular that it also inspired The New Odd Couple (1982-1983) starring Ron Glass (Barney Miller) and Desmond Wilson (Sanford and Son).
Even a show like The Facts of Life (1979-1988) may not seem like a roommate comedy at first glance, but of course it was -- especially once the series focused mostly on Blair (Lisa Welchel), Tootie (Kim Fields), Natalie (Mindy Cohn) and Jo (Nancy McKeon).
And if you're familiar with the slightly surreal premise of My Two Dads (1987-1990), that was a roommate comedy and a family comedy. So was Kate & Allie (1984-1989). And, in a way, so was Full House (1987-1995), since Danny Tanner's brother-in-law, Jesse, and best friend, Joey, moved into the house to help him raise his children, though the show was far more about family than roommates.
In more recent years, we've seen from the roommate comedy genre Living Single (1993-1998), Friends (1994-2004), The Big Bang Theory (2007-2019), 2 Broke Girls (2011-2017) and New Girl (2011-2018), TV series in which many or all of the main characters were living together.
So how can you become a better roommate? Taking our cues from the roommate sitcom genre, here are some ideas.
Set the rules first
If you're familiar with The Big Bang Theory, you know about "the roommate agreement," although early on in the series, it was described as a "friendship agreement."
Crazy as the agreement was – Sheldon had it engineered to make life pleasant for himself and not Leonard – it was and is a good idea. You do want to know beforehand how arguments are going to be settled and discussing topics as seemingly minor as the room temperature isn't a bad idea either.
Sheldon designates 72 degrees as the perfect temperature.
Still, if you are putting together an actual roommate agreement, you want to make sure it's fair for both parties. There were some real doozies in the "roommate agreement."
If Leonard ever became a superhero, he had to make Sheldon his sidekick.
If Sheldon were ever to turn into a zombie, Leonard would not be allowed to kill him.
If Sheldon ever needed to destroy somebody they knew had been replaced by an alien pod, Leonard would be obligated to help him.
Sure, those were unlikely scenarios that Leonard probably felt perfectly safe agreeing to, but there were also pretty onerous rules.
Leonard had to drive Sheldon to work and on errands, like to the dentist.
Sheldon liked his routines, and so if Leonard wanted them to do some takeout from a new restaurant, the agreement made clear that that required a public hearing and a 60-day comment period.
If there was ever a disagreement that ended in a tie, Sheldon would get to settle the tie.
On that last point, in one episode when Sheldon invokes that clause, he says, "According to the roommate agreement, all ties will be settled by me."
"But I said no to that," Leonard says.
Sheldon replies: "And I said yes. And I settle all ties."
So, yeah, you don't want your roommate making all the rules. But coming up with the rules together, overall, that's a great idea.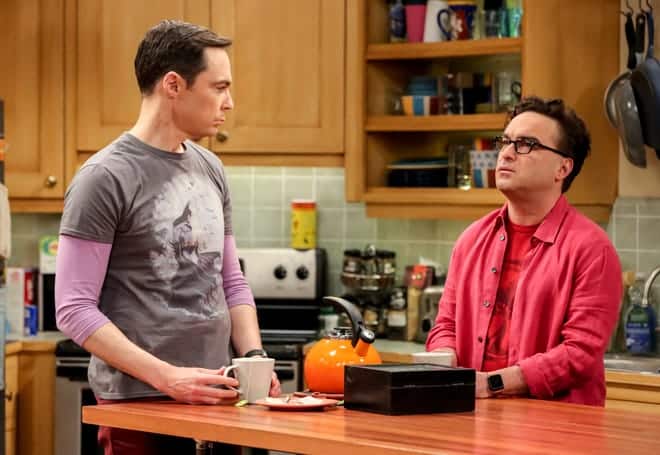 If you're friends first, that helps – but it isn't necessary
OK, yes, that little headline offers some of the most painfully obvious advice ever, but I thought it would be interesting to make a list of many of the roommate sitcoms and then take a look at who knew each other at the start of rooming together – and who didn't know each other.
Maybe it'll tell us something about whether it's better to room with a stranger and hope you become friends, or whether it's better to pick an existing friend as a roommate.
The Big Bang Theory. Sheldon and Leonard didn't know each other before they roomed together, and as fans know, they eventually became very close pals. Interestingly enough, Penny learns in one episode that the roommate Sheldon originally had tried to convince Leonard not to move in." So Sheldon's last roommate tried to warn you off?" Penny asked. Leonard tries to explain why he didn't listen to the guy: "For all I knew, he was the crazy one. He had this really deranged look." Penny's reply: "Well, yeah. He'd been living with Sheldon."
Three's Company. Jack Tripper ends up meeting Chrissy Snow and Janet Wood after a big party at their apartment and, since a third roommate just moved out, moves in. It doesn't take too long before Jack, Chrissy and Janet, and later, after Chrissy leaves, Cindy and Terri, all become close friends.
The Odd Couple. Both of them divorced, they had known each other for years before Felix showed up at Oscar's doorstep.
Friends. Most of the various pairings of roommates on Friends had been pals since their high school days.
Living Single. Pretty much the same scenario. Khadijah James (Queen Latifah) roomed with her cousin Synclaire James (Kim Coles) and her childhood friend, Regina "Régine" Hunter (Kim Fields). Two other roommates in another building, Kyle Barker (T.C. Carson) and Overton Wakefield Jones (John Henton) were also childhood friends before rooming together.
The Facts of Life. None of the girls in the boarding school knew each other before attending. However, the girls knew each other before moving into one room, at least somewhat. They were basically forced to become roommates at the start of the second season (Jo ends up getting the girls in trouble with the law by hotwiring a school van and taking them to a bar, and so the girls are put on probation and made to live in a room next to Mrs. Garrett's bedroom).
Kate & Allie. Kate McArdle and Allie Lowell on Kate & Allie had been friends since their childhood days.
The Golden Girls. Blanche Devereaux (Rue McClanahan) was a widow in need of roommates. She put an ad on the bulletin board of a local grocery store a year before the series began. Dorothy Zbomak (Bea Arthur) and Rose Nylund (Betty White) each responded; later, during the start of the series, Dorothy's 80-year-old widow joins them.
Perfect Strangers. Balki Bartokomous moves in with his cousin, Larry Appleton. Though related, they had never met each other. But they soon did become pals, and were indeed, perfect strangers.
ALF. Totally didn't know the Tanner family before crash landing his spacecraft in their garage and moving in.
There are surely lots of examples I'm forgetting, including some of the newer sitcoms, but those are some of the main TV shows from the roommate sitcom genre.
As much as possible, there should be parity among the roommates.
While it was Sheldon's world, and Leonard somehow managed to live in it, for the most part, other roommate sitcoms show their characters as residents with equal rights.
For instance, in Perfect Strangers, when Balki shows up on Larry's doorstep, it's a complete surprise – and so Balki moves in and understandably doesn't have a bedroom equal to his cousin's. He sleeps on a fold-out sofa. But by the third season of Perfect Strangers, it's clear that the two are going to continue rooming together, and so they've moved into a new place, and Balki has his own room. It isn't mentioned in the script that they've moved, but clearly producers decided that in real life, they'd have moved to a new place by now. And moving to a new place, where each roommate had the same amount of space, would have helped cement Balki and Larry's friendship even more.
Laverne and Shirley share and share alike the space in their apartment. They each have a single bed in the one bedroom.
In Three's Company, Janet shares a room with Chrissy, and then Cindy, and then Terri, and Jack has his room, and so it's not quite fair, but nobody seems to mind, and it is a two-bedroom apartment in an expensive city, so what are you going to do?
Felix and Oscar on The Odd Couple each have their own bedrooms. So do the friends on Friends, and okay, we've exhausted this section. Moving on.
Try not to have bad habits.
This is very important advice. It can kill a friendship in real life, and it almost derailed a few friendships as well in the roommate genre. Obviously in The Odd Couple, Felix's bad habit is being too clean, and Oscar, a complete slob. Felix also has an annoying habit of clearing his sinuses, loudly.
But I'm really thinking in this case about Friends. For instance, in an episode in the second season, Joey had a thing where he would sometimes lick spoons and put them back in the silverware drawer. Chandler understandably wasn't a fan.
"Don't you see how gross that is?" he asked. "I mean, that's like you using my toothbrush."
Joey then has a sheepish look, and Chandler looks horrified. "You used my toothbrush?"
"Well," Joey says, "that was only because I used the red one to unclog the drain."
"Mine is the red one!" Chandler exclaims, further mortified. "Oh, God. Can open, worms everywhere."
That leads to this classic exchange.
Joey: Hey, why can't we use the same toothbrush, but we can use the same soap?
Chandler: Because soap is soap. It's self-cleaning.
Joey: All right. Well, next time you take a shower, think about the last thing I wash and the first thing you wash.
As Chandler looks like he is going to be sick, we move to the theme song.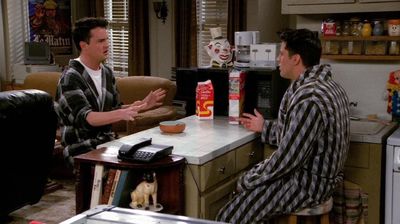 Treat your roommate like a friend.
That's probably the best roommate advice that The TV Professor can give.
And, yes, it's more obvious advice. Still, it isn't always easy. If you're thrown together with a college roommate, for instance, you might have two completely different personalities and run in different circles. The best you might be able to do is be friendly -- and it may not be practical to actually become friends. I have one former college roommate who did become a good friend and who I think very highly of -- he's now a dentist in Kentucky -- and my other former roommates, I remember fondly but we haven't seen each other since our college days.
But maybe I'd still be friends with some of my other former roommates if I had socialized with them more.
Friendship, not the rent money, is the glue that holds most roommate relationships together, and many of the creators of the roommate sitcoms seem to know that. There's a reason the theme song of The Golden Girls is, "Thank You for Being a Friend."
For instance, Leonard and Sheldon on The Big Bang Theory may get on each other's nerves and drive each other crazy, but they hang out with each other frequently -- and with their other friends, like Raj and Howard. Same with Joey and Chandler on Friends, and Chandler is an especially good friend, often lending (or giving) money to Joey, who is often broke on Friends, due to his struggling acting career.
When Laverne is accused of shoplifting and winds up in jail, Shirley immediately goes to work proving her friend's innocence. Now that's a good roommate, the one who gets you out of jail.
One of my favorite roommates as best friends scenes, though, is a Three's Company episode, where a dancing instructor, Michael, tells Janet she has what it takes to be a great dancer. He's actually just a sleazebag who wants to get her into bed.
They have a powerful moment near the end of the episode when Janet sees the creep for who he is – at least, when we were kids, my brother and I always were spellbound by the moment.
Michael says, "Let me level with you. I don't think you've got what it takes to make it as a dancer."
"Well, let me level with you, Michael," Janet says. "I don't think you have what it takes to make it as a human being."
Michael storms off, and Janet tearfully waits to hear Jack say, "I told you so." Instead, he turns on some music and says, "May I have this dance?"
It's a wonderful scene, a poignant moment in a TV series not known for its poignant moments.
Granted, you don't have to be best friends with your roommate and save you and her from a bomb or land an airplane together (Laverne & Shirley) or help your roommates stage a school play when a bunch of kids come down with the measles (The Golden Girls), but if you don't know the person you're sharing living space with all that well, at least try going out to lunch together sometime.
You may not end up as close pals as everyone on Friends but you probably will become friends.
Where to watch some of these shows (at the time of this writing): Too many shows were mentioned in this post to mention them all. But here are a few -- Friends and The Big Bang Theory can be found on HBOMax. Pluto TV, which is free and can be found at PlutoTV.com, has a Three's Company channel that plays the episodes 24 hours a day – and you can find it on the cable channel, Antenna TV.
Articles similar to this one: Well, since there's a big theme of friendship in the episode, you might want to look at this post about what an episode from the TV western Cheyenne can teach us all about making new friends.