After a recent conversation between one of my uncles, my mother and my 17-year-old daughter, I started thinking about the history of women in the workplace. Well, OK – the history of working women holding down fictional jobs on TV.
My daughter, Lorelei, is in her senior year of high school and is applying to colleges, and she plans on becoming a climatologist.
When my uncle heard that, he chuckled and said something along the lines of, "If you had lived back in my day, the only two jobs you would have had would have been a teacher or a nurse."
"Or secretary," my mom spoke up. "You could have been a secretary."
Those are all perfectly good careers, of course, and not to disparage secretaries, who can single-handedly keep a business from going under, but I think we can all agree that teachers and nurses are some of the world's most important jobs – and professions that deserve higher pay. But, still, I know what my uncle, who meant no disrespect, was getting at. Lorelei has a lot more career opportunities available to her having been born in 2004, than she would have had if she had been born in the 1940s, when my uncle and mom came onto the scene.
And, of course, since I write a TV blog, that got me to thinking about TV. I know it isn't all that surprising if you think about it, but I found myself kind of stunned when thinking about the careers that women had throughout a lot of classic TV.
If you think of TV as a reflection that mirrors society, my uncle was absolutely right. The actresses in TV series were generally always doing well, but from a career perspective, many of their characters couldn't catch a break.
You'll see what I mean, in a moment, if you'll come with me through this admittedly incomplete history of working women.
Today's "TV Lesson" Breakdown:
A few quick observations
It probably isn't necessary to say any of this, but I will, anyway.
I'm not slamming any of the TV shows you're about to read about. I completely get that any TV show, classic or modern, are products of their time. I'm not faulting the cast or crew for not pushing to get these female characters different jobs.
I'm also not pretending that what follows is a shocker -- wow, women once didn't have many career options? Gosh, who knew? Of course, we all know.
Still, I think it's interesting to kind of go through the history of working women timeline and see just how women's occupations have evolved over the decades on TV whereas men's jobs – not quite so much.
And, yes, I'm a guy and maybe not the best or most natural tour guide to do a history of women in the workplace. But this feels like something that The TV Professor should cover. So if you'll join me, here we go.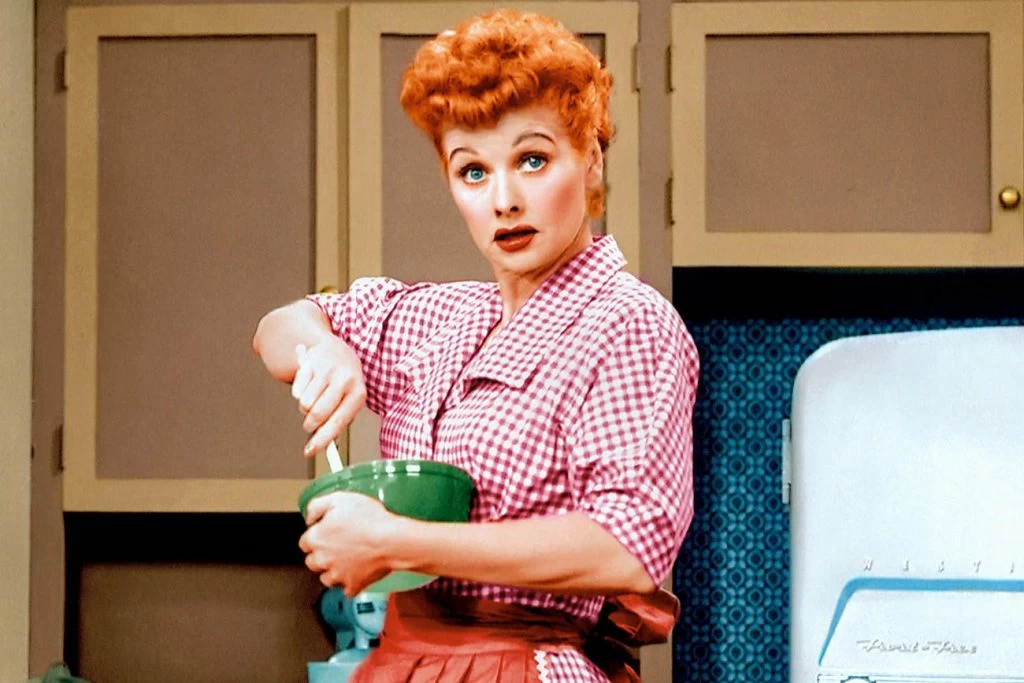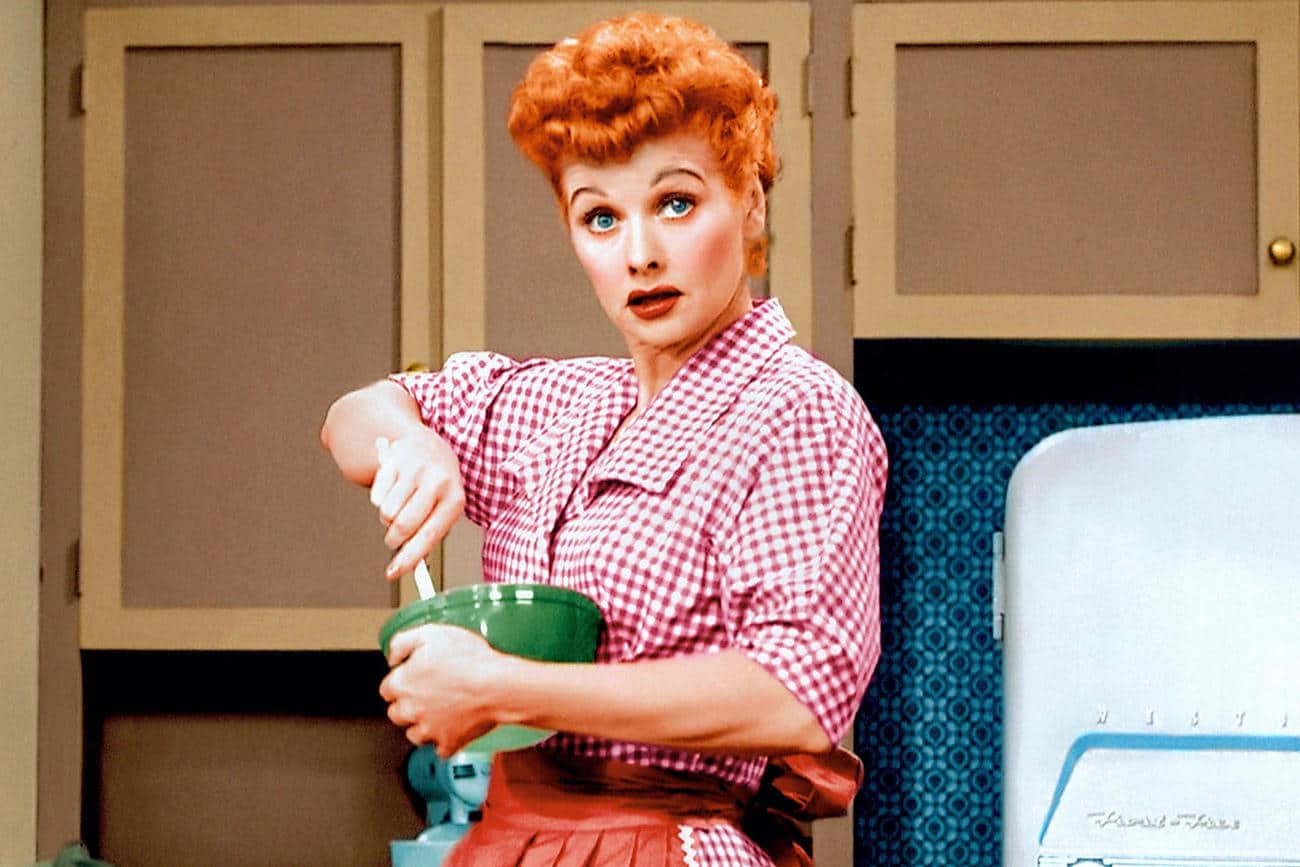 The History of Working Women – the 1950s
The TV character who set the standard: Lucy Ricardo
That Lucy Ricardo was a housewife was baked into I Love Lucy. The TV series was typically about how Lucy yearned to be more than a housewife and expand her horizons – and how she was always trying to break into show business like her husband. Still, you might think… surely there were some career women in 1950s TV? They weren't all housewives.
No, they weren't, but most were – and if they had a career, it was like my uncle and mother said, they were probably going to be a nurse, teacher or secretary. Again, I'm not disparaging those occupations – or that of a housewife. Running a house is hard work. I'm just saying that if you were a girl growing up in the 1950s, and you wanted to do something other than run a house, teach, work at a hospital or be an assistant to somebody in an office, your role models on TV were pretty limited.
For example, consider the following…
Ethel, played by Vivian Vance, was Lucy's sidekick and also a housewife. She had no kids to take care of – just herself and her irascible but ultimately endearing husband, Fred.
Eve Arden played a schoolteacher in Our Miss Brooks.
Beulah was played by several actresses (Ethel Waters, Hattie McDaniel and Louise Beavers) from 1950 to 1953. It was the first sitcom to star an African-American woman, and given the times, the character's occupation was not exactly groundbreaking. Beulah was a housekeeper and cook for a wealthy white family.
Alice Kramden in The Honeymooners was a housewife.
Margaret Anderson in Father Knows Best was a housewife.
So was Margaret Williams on Make Room for Daddy. When her character later died (the actress playing the role wanted out of the show), Danny Thomas's character later remarried -- a nurse.
In the sitcom Private Secretary, you'll never guess the career of Susan Camille "Susie" MacNamara, played by Ann Sothern.
Donna Stone in The Donna Reed Show was a housewife.
Harriet Nelson on The Adventures of Ozzie and Harriet was a housewife.
June Cleaver was a housewife (famous for often wearing pearls and making running a home look so easy) in Leave It to Beaver.
Exceptions to the rule: There were occasional female characters in 1950s TV that had a career that wasn't in nursing, teaching or, uh, secretary-ing. Casey Jones, played by Beverly Garland, in the one season TV wonder, Decoy, was a police officer. The Ann Sothern Show was a sitcom that aired from 1958 to 1961. Sothern, who had starred in Private Secretary, played a new character, Katy O'Connor, who was as close as you'd get to a modern career woman at this point in the history of working women timeline. She was the assistant manager of an upscale hotel.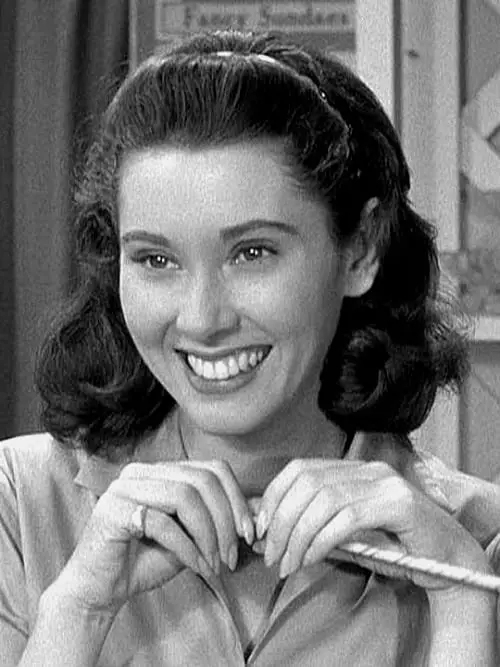 The History of Working Women – the 1960s
The TV character who set the standard: Ellie Walker
Things get better for women in the workforce in the 1960s. Not much better, though at first, things looked promising. Early on in The Andy Griffith Show, which debuted on October 3, 1960, Andy Taylor starts off romancing Ellie Walker, a pharmacist played by Elinor Donahue, who played the oldest daughter on Father Knows Best. It's her uncle's drugstore, and Ellie is often making ice cream sodas for Opie (since pharmacies in those days naturally served ice cream), but her character is smart and often even more of a voice of reason than Andy Taylor.
The relationship unfortunately doesn't last long, though (12 episodes in season one), and over the course of The Andy Griffith Show, Sheriff Taylor has a brief relationship with Peggy, a nurse, and then later, he becomes serious about dating Helen Crump – a teacher.
Barney Fife's girlfriend, Thelma, works in an office – presumably as a secretary – but we never really learn anything about her career.
Most of the female TV characters are still stuck at home during the 1960s, but not all of them. But most. If you were a girl growing up in the 1960s and watching TV, hoping to find a role model, once again, you didn't have a ton of choices. Consider the following:
Laura Petrie in The Dick Van Dyke Show (1961-1966) was a housewife. Now Sally Rogers, one of Dick Petrie's coworkers, was a TV writer, which is nice work if you can find it. But modern as The Dick Van Dyke Show was, it always seemed to suggest that you couldn't have it all as a woman. You either were going to be a housewife like Laura Petrie or their neighbor, Millie Helper, or you were going to work like Sally Rogers and be single.
Jane Hathaway played by Nancy Kulp in The Beverly Hillbillies (1961-1971) was a secretary.
The moms in The Addams Family (1964-1966) and The Munsters (1964-1966) were housewives.
On Gilligan's Island (1964-1967), Ginger Grant had a nice career as a movie actress until she made the mistake of taking a three-hour tour on the S.S. Minnow. Before becoming marooned on an island, Mrs. Howell was a housewife, or probably more accurately, a socialite, putting on charity events and doing some good in the world, hopefully. All we really know of Mary Ann's career is that she worked on her family's farm.
Samantha Stephens in Bewitched (1964-1972) was never gainfully employed. But she was a witch. Who could blame her? Plus, the series did strongly suggest that being a homemaker was a difficult job.
Lisa Douglas in Green Acres (1965-1971) was a housewife.
Marlo Thomas in That Girl (1966-1971) was an aspiring actress who often took temp jobs.
Diahann Carroll played Julia Baker in the sitcom Julia (1968-1971), which was one of the first TV series to star an African-American woman – and with an occupation that wasn't of the usual variety that was often being offered to black actresses. Julia was not, for instance, a maid. She was, however, true to the times… a nurse. She worked at a doctor's office at an aerospace company.
On The Brady Bunch (1969-1974), Carol Brady was a housewife. Alice was a maid.
And in 1969, just as the decade was ending, I have to think a lot of young girls were inspired to go into education because of Denise Nicholas's role as guidance counselor Liz McIntyre in Room 222 and Karen Valentine playing Alice Johnson, a teacher. (That there isn't a cable or streaming channel devoted to playing Room 222 in a loop, all day long, every week, should be a crime.)
Exceptions to the rule: Probably Dr. Maureen Robinson from the 1960s' series Lost in Space. June Lockhart's character was often sort of playing the role of housewife – working on the garden and making the meals for her family – but she was also a biochemist. Still, it was a career barely, if ever, actually mentioned on the series.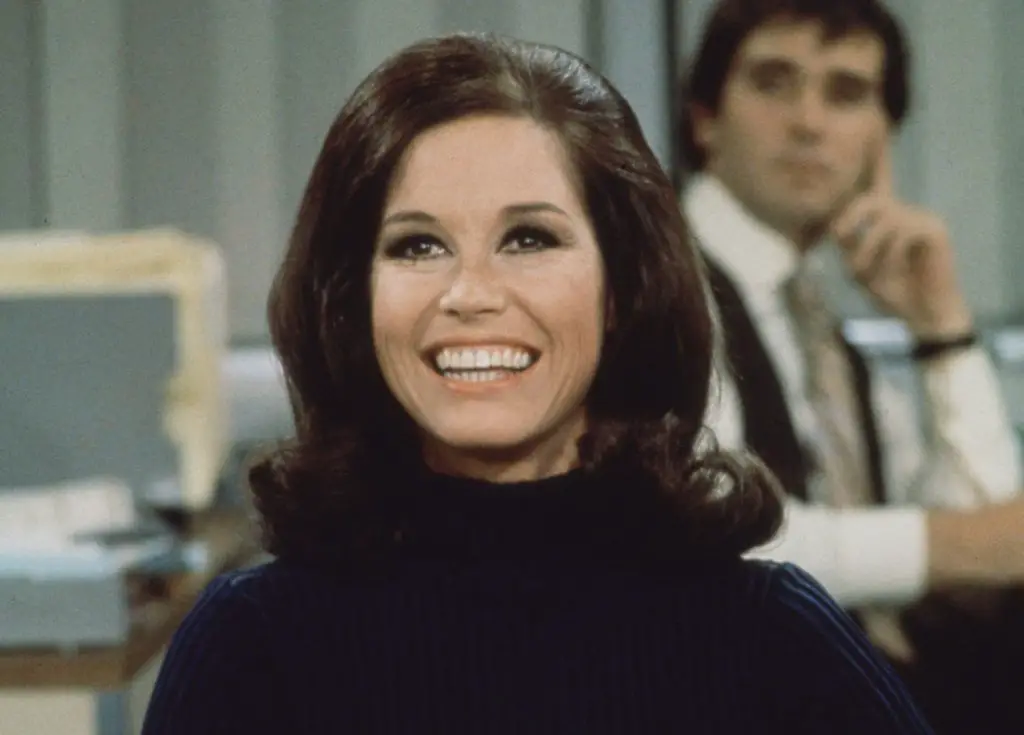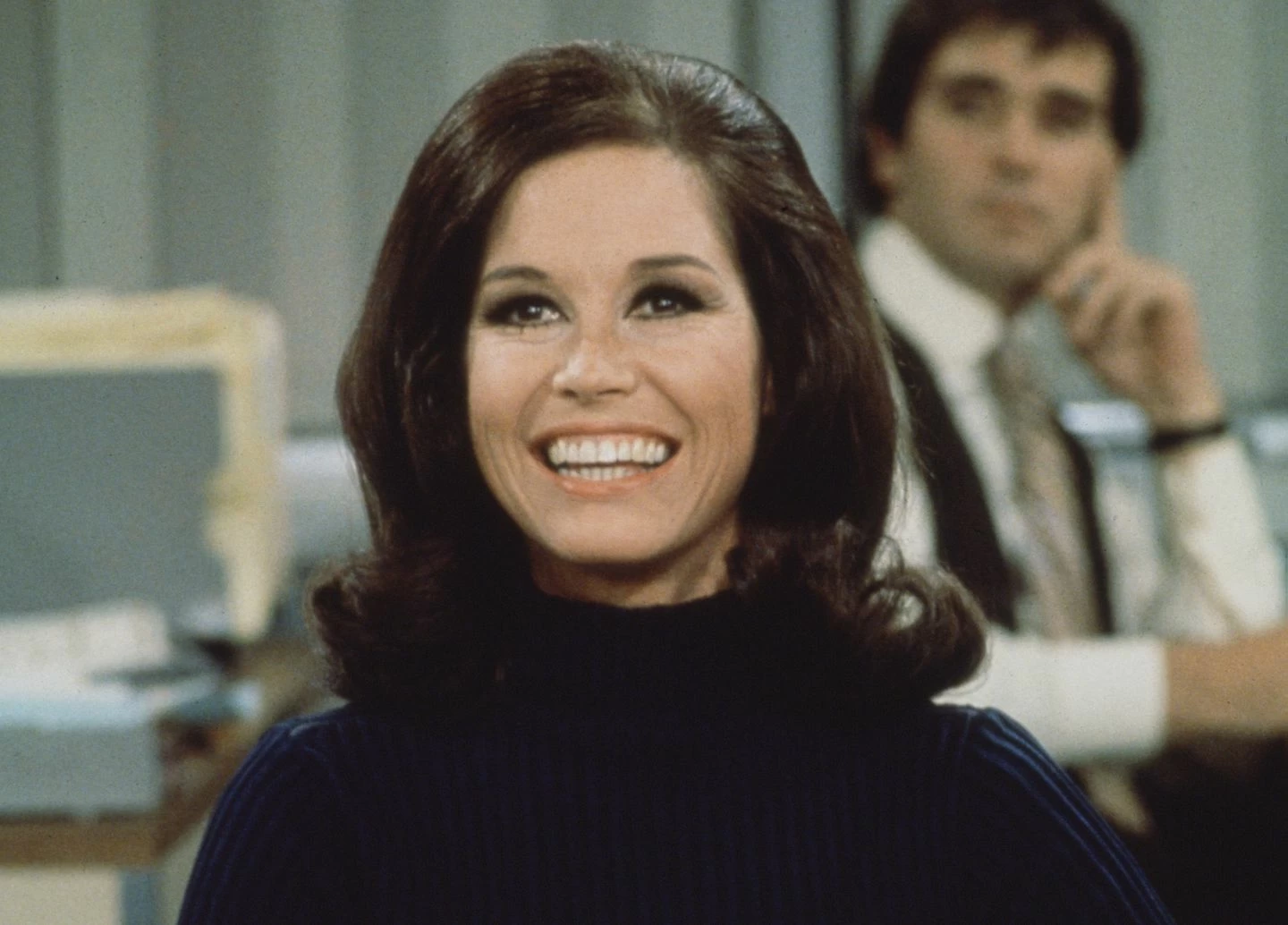 The History of Working Women – the 1970s
The TV character who set the standard: Mary Richards
I tend to think of the 1970s as a pretty modern decade, probably because I was born in 1970, and so I remember at least a good chunk of the 1970s pretty well. One of my earliest TV memories is watching the 1974 TV special Free to Be You and Me, which had the overriding message that boys and girls could be anything they wanted to be. If a girl wanted to grow up to be a doctor, she could. If a boy wanted to be a nurse, he could. It was a very powerful message for its time, although as a kid, hearing that message, it seemed logical and normal to me.
But in prime time sitcoms and dramas throughout the 1970s, gender stereotypes were still going pretty strong – and female TV characters hadn't seemed to get the Free to Be You and Me memo. That said, if you look at female characters' professions in the 1970s, you can start to see things changing. Sort of.
It was Mary Richards (Mary Tyler Moore) who arguably led the way and showed little girls what they might aspire to, if they worked hard.
Mary starts off in the first episode, applying for the position of secretary at the TV station, WJM-TV in Minneapolis. She quickly learns that the job has been filled, but she winds up getting the position of an associate producer – that is, helping to produce the evening news. Later in the series, after Lou Grant is promoted to news director, she becomes a news producer. And Mary really does have a meaty news job. In one episode, to protect a source, she actually goes to jail. It's a far cry from how Laurie Petrie (also Mary Tyler Moore) was spending her days.
But, still, if you take a look at many of the TV series of the 1970s, there were still not a lot of role models for girls wondering what they would do as a career when they grew up. But there were more than there had been in the 1960s:
McMillian & Wife (1971-1977). Rock Hudson played a San Francisco police commissioner, and Sally (Susan Saint James) was, as the title suggested, his wife. She had no job, and for much of the show, no kids. Plus, a maid to help her around their home. But she was an able crime-solving partner with her husband, Stuart McMillan. Sally was a great role model, and it's a fun show. But it probably didn't do much to inspire little girls in their careers.
The Bob Newhart Show (1972-1978). Emily Hartley starts off as a third grade teacher at Tracy Grammar School, but before the series ends, she has risen up the ranks to the school's vice principal.
Emergency (1972 to 1977). Who were the female firefighters? There were none. Who were the female doctors? There were none. The main female cast member was Julie London, who played head nurse Dixie McCall. That isn't a criticism of the TV series. It was being realistic. You typically didn't see a lot of female doctors in hospitals during the 1970s – and you certainly didn't see many women putting out fires. "Female firefighter causes havoc," read the headline of an Associated Press story in 1978, one year after the series ended, discussing what was happening in a city in Florida. The article opened up, stating, "Wives of Gainesville firemen say they're upset because a female firefighter uses the same shower and bunkroom as their husbands." One woman was quoted in the article, saying, "It's completely immoral. The men there sleep wearing only their underwear, and those bunks are only a foot apart. What are the kids supposed to think?"
Police Woman (1974-1978). The show starred Angie Dickinson as Sgt. "Pepper" Anderson.
The Jeffersons (1975-1985). Louise doesn't have a career at first. That's kind of the point of The Jeffersons. They're movin' on up, and George Jefferson is so successful, Louise doesn't have to work, and they even have a maid, Florence. But Louise does, later in the series, do a lot of volunteer work at the Neighborhood Help Center. In many respects, Louise Jefferson was a great role model. So was Florence, who worked hard, despite George's wisecracks, and never let her boss walk all over her.
Laverne & Shirley (1976-1983). Set in the 1950s and then the 1960s, Laverne and Shirley were bottle cappers at a Milwaukee brewery -- until later they got new jobs at a California department store, as gift wrappers.
Alice (1976-1985). Alice Hyatt is a waitress with dreams of becoming a singer. It's a wonderful series but working at Mel's Diner wasn't exactly a glamorous career.
Three's Company (1977-1984). The series was considered a very hip, very modern TV series for its time, and it was. But it was decidedly old-fashioned (or just realistic) when it came to women's jobs in the workplace. Chrissy Snow was a secretary. Janet Wood worked in a flower shop, starting off as a cashier but later was promoted to manager. After Suzanne Somers left the series, we had Chrissy's cousin, Cindy Snow as a roommate for awhile. Cindy ended up taking Chrissy's job until she ends up going to UCLA to study, with plans on becoming a veterinarian. Terri Alden becomes the next roommate, and she is a nurse.
Eight is Enough (1977-1981). Joan, the mom, who was in the series early on (and then the actress, Diana Hyland, passed away) was a homemaker. Understandable that she wouldn't have a career outside the home. I mean, eight kids? Abby, the step mom (Betty Buckley) was a schoolteacher, who, as the series progressed into the very early 1980s, got her Ph.D. and then became a high school guidance counselor.
Mork & Mindy (1978-1982). Mindy worked at her father's music store, but by the end of the series, she was a journalist.
WKRP in Cincinnati (1978-1982). Loni Anderson played Jennifer Marlowe, a secretary but a very shrewd one. You got the sense that WKRP would have had far higher ratings if she had been in charge instead of the amiable general manager Arthur Carlson, whose mother ran the station. But Bailey Quarters was probably the most realistic working woman on the show. She starts off the series as shy and with few responsibilities -- handling billing and station traffic -- but by the end, she's doing news reporting alongside Les Nessman.
Exceptions to the rule: In the 1970s, if you wanted a career role model, you generally were going to look toward crime fighting. Wonder Woman was battling bad guys in the TV series, Wonder Woman, and Nancy Drew was a sleuth on The Hardy Boys/Nancy Drew Mysteries (1977-1979), and, of course, Charlie's Angels starred three bodacious female detectives making short work of bad guys every week. The careers may have not been very realistic, but at least some female TV characters were smashing stereotypes that had been embedded in society for decades (on TV) and, really, for centuries.
The History of Working Women – the 1980s
The TV characters who set the standard: Clair Huxtable, Angela Bower and Elyse Keaton and Murphy Brown, among many.
It's hard to pick one female TV character who represents career greatness in the 1980s because at this point in our history of working women timeline, there are finally a lot of terrific examples of women who were thriving in the "TV" workforce. And, granted, it's challenging to think about The Cosby Show without getting sidetracked by the controversy associated with the series, but it's worth remembering how Clair Huxtable (Phylicia Rashad) fits into the history of working women.
The Cosby Show premiered in 1984, and on the series, Ms. Huxtable was a lawyer. Between her salary and her obstetrician husband's, the Huxtables were doing quite well for themselves. That Clair Huxtable was an attorney was a big deal for the time, and yet, by 1984, it was starting to finally become something of a normal professional for female TV characters. By this point, Ms. Huxtable wasn't the first female fictional attorney on TV.
Not by a long shot, in fact. For instance, Gretchen Corbett was playing Beth Davenport, the attorney for Jim Rockford on The Rockford Files, as early as 1974. In 1975, the comedienne Anne Meara starred in the CBS drama Kate McShane, the first TV series to feature as its main character a female attorney. Unfortunately, the show only lasted about three months.
Then in 1976, NBC tried out a TV show McNaughton's Daughter, about a deputy district attorney played by Susan Clark. The series lasted three episodes.
In fact, by the time Clair Huxtable came on, there had been a number of female TV characters who were attorneys, including attorney Joyce Davenport (Veronica Hamel) on Hill Street Blues (1981-1987) and attorney Pam Davidson (Connie Sellecca) on The Greatest American Hero (1981-1983). But Clair Huxtable was America's first prominent black female TV lawyer, and generally, having a mother and wife as an attorney was still considered somewhat groundbreaking in 1984.
At any rate, if you were a girl growing up in the 1980s, you had a much more wide array of choices when it came to career women who you might see as a role model. Some examples:
In 1980, Polly Holiday, who starred as Flo on Alice, got her own spin-off TV series. Florence Jean Castleberry moved to her hometown of Fort Worth, Texas, and ends up purchasing a rundown old roadhouse. Going from waitress to the owner of her own restaurant. Not bad. Unfortunately, the ratings weren't exactly good, and after two seasons, it ended.
In 1981, The Brady Brides aired, a short-lived spin-off of The Brady Bunch, and Carol had become a real estate agent. Marcia had grown up to become a fashion designer. Jan, like her father, was an architect. Cindy was still in college but later, in another spin-off of The Bradys, we would learn she had become a radio host.
In 1981, Marla Gibbs, who played Florence on The Jeffersons left the series to star in a spin-off called Checking In. She had moved on up, taking a job as an executive housekeeper at a posh hotel. Unfortunately, the series didn't last long, and before long, Florence was back on The Jeffersons as the long-suffering maid.
In 1982, Sally Struthers got a spin-off of Archie Bunker's Place called Gloria. Struthers played Gloria Stivic, taking a job as a veterinarian's assistant. It's too bad the series didn't last longer than a season (it should have, but CBS weirdly canceled it, thinking that because Archie Bunker's Place was going off the air, Gloria should, too, despite high ratings). But it was a good example of how times were changing. In the early 1970s, Gloria was working in retail at a department store while her husband, Mike Stivic, is furthering his education. In the 1980s, Gloria was studying to be a fully qualified veterinarian assistant; you have to think if the series had continued, eventually she would have become a veterinarian.
Elyse Keaton (Meredith Baxter, then as Meredith Baxter Birney) was an architect in Family Ties (1982-1989).
Angela Bower in Who's the Boss? (1984-1992) was a divorced advertising executive and later opens her own ad agency, with Tony Danza playing Tony Micelli, a former major league baseball player who takes on a job as a live-in housekeeper, in order to give his daughter a better life. I have to say, as a teenager and early 20-something, I didn't appreciate this series as anything groundbreaking, but it really was. While you can almost imagine this series airing in the 1970s, nothing like it existed back then, and nothing like Who's the Boss? was on the air in the 1960s and 1950s. The idea of a man working for a female executive and then a business owner would have been unthinkable.
Murder, She Wrote (1984-1996). It was an old-fashioned show, and yet, I'm hard pressed to think of too many female detective series airing back in the 1950s or 1960s. So in a way, Angela Lansbury was another trailblazing career woman, solving murders in and around the idyllic deathtrap known as Cabot Cove, Maine.
The Lucie Arnaz Show. It was a short-lived series that ran in 1985. But it's worth mentioning because by now it was not at all a big deal to TV critics or audiences that Lucie Arnaz (Lucille Ball's real life daughter) was a career women, a psychologist who had a radio show. In her mother's time, the idea would be laughable, never mind that Lucille Ball herself was an astute entrepreneur.
Murphy Brown. She was the quintessential career woman of the 1980s in many ways, and in some ways, there's never been any female TV character like her since. The series debuted in 1988 and lasted ten seasons, and so she is more of a 1990s TV character than a 1980s. Still, when the series started and ended, she was a famous investigative journalist and news anchor for FYI, a fictional CBS TV news magazine. (In the reboot, lasting 13 episodes from 2018 to 2019, the fictional investigative journalist hosts a new morning news show called Murphy in the Morning.)
Exceptions to the rule: Charlie's Angels may have ended its run, but you could still find women solving mysteries. A series that paid homage to the history of working women's past travails and present, Remington Steele offered up Laura Holt (played by Stephanie Zimbalist) as a licensed private eye who was having trouble being taken seriously by potential clients. Nobody would hire her, that is, because she was a woman. So she makes up a fictional boss called Remington Steele and winds up hiring a former thief and con man (future James Bond star Pierce Brosnan) to pretend he is Remington Steele. Suddenly, she is in business.
And, of course, just like would probably happen in real life, Laura Holt and the pretend Remington Steele (we never learn his real name) argue over who is really in charge of the detective agency.
In Conclusion...
The TV Professor will stop here and not go through the history of working women in the 1990s, the 2000s, the 2010s and 2020s. Some of you might have jobs or a life you need to get to.
But the point is hopefully clear. In the early days of classic TV, women in the workforce had a rough go of it.
Still, whatever you think of those early careers, whenever you watch reruns of future TV classics such as Madame Secretary (2014-2019) or Veep (2012-2019), or The Walking Dead (2010-present) with Michonne and Carol and too many female characters to name doing battle, they all owe a debt of gratitude to characters like Lucy Ricardo, Alice Kramden and Liz McIntyre.
The female TV characters of the 1950s, 1960s and 1970s broke glass ceilings (and then true to form, often swept up the broken shards of glass). It's far better to have the last laugh, but it's harder and sometimes a more impressive feat to have had the first.
Where to watch some of these shows (at the time of this writing): I usually try to mention where to watch the series mentioned in my blog posts, but… well, with this post, who's got the time for that?
Articles similar to this one about the history of working women: I would wholeheartedly suggest this post, written several months ago by my 17-year-old daughter, Lorelei. It's about TV's best female role models.