Editor's note: "Streaming Time Capsule" is a semi-regular feature on The TV Professor, looking at some of the unusual and maybe worthwhile, and maybe not worthwhile, TV show oddities that you can find online. Our latest installment? "One of the Boys," a long forgotten, short-lived 1982 sitcom with an amazingly talented cast that starred Mickey Rooney, Nathan Lane, Dana Carvey, and co-starring Scatman Crothers and Francine Beers (not exactly a big name, but you may remember her playing Archie and Edith's neighbor Sybil Gooley on All in the Family). Meg Ryan also had an occasional, recurring role.
If you happen to ever watch a rerun of One of the Boys, the first thing you'll probably notice is the uproarious laugh track, with people cackling at situations that were straining to be mildly amusing – and often guffawing at lines that weren't amusing at all. Once you get past that, you can start focusing on the fact that you are watching a stellar cast – in a show TV Guide once ranked as one of the 50 worst shows of all time.
One of the Boys was one of many sitcoms on network television in 1982, and while it should have worked, given the talent involved, it didn't. For anyone who wants to check it out, five episodes of the series is on the free streaming service, Crackle.com, which carries a lot of classic TV and TV that isn't really classic but just obscure and forgotten. One of the Boys falls into that category, obscure and forgotten but interesting all the same, and so for reasons even The TV Professor can't explain, we're going to take a deep dive and look at it.
Today's "TV Lesson" Breakdown: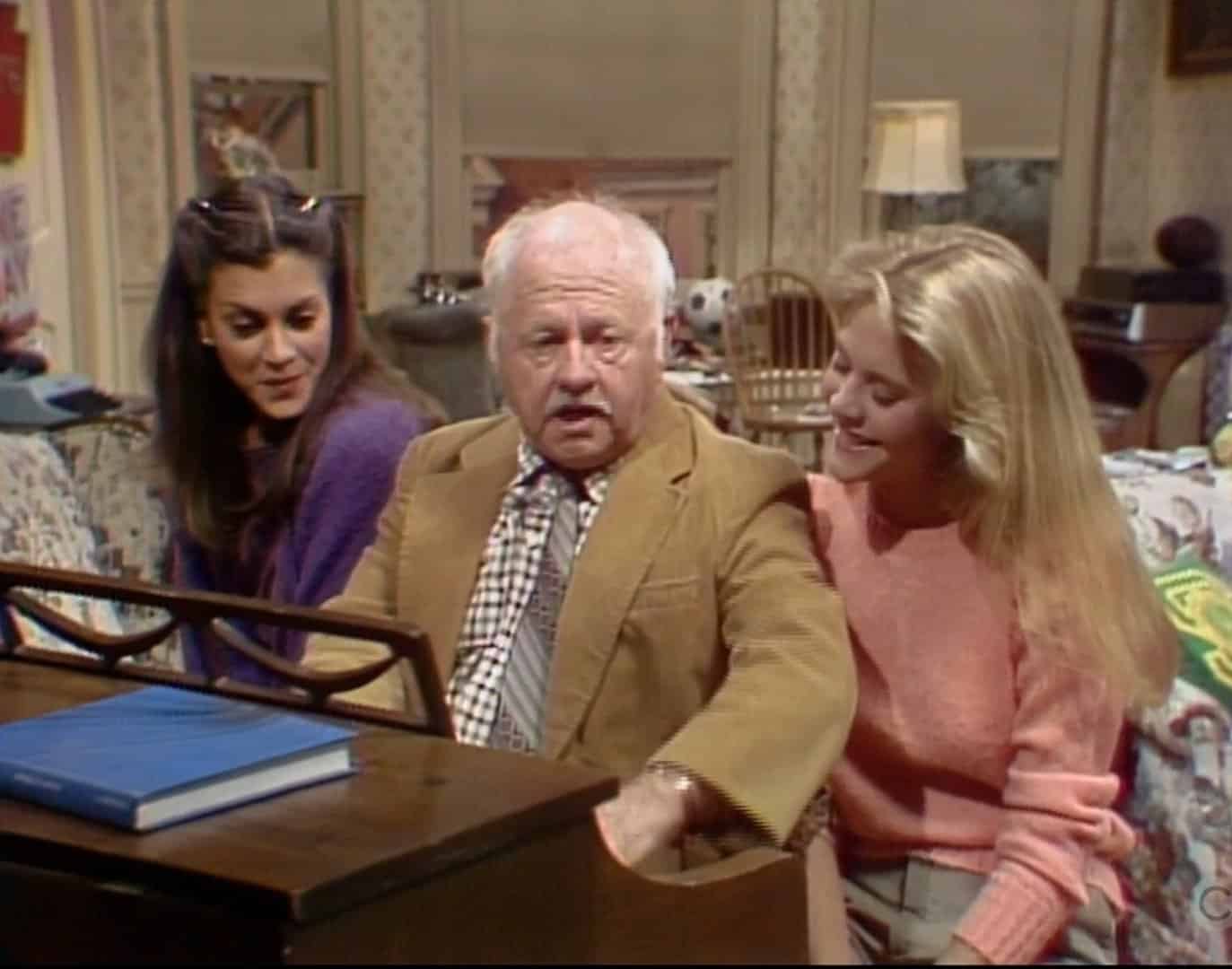 Is One of the Boys Worth Watching?
To cut to the chase, the answer is – it depends. If you're a hardcore Mickey Rooney fan, I would say of course, sure, check it out. If you would take a bullet for Nathan Lane, you're also going to want to watch One of the Boys. If you consider yourself a charter member of the Dana Carvey Fan Club, then, again, yes, go ahead and watch it. Or if you would watch Meg Ryan and Scatman Crothers in anything, well, this is absolutely your chance to watch them in… something.
But if you're looking for a witty, hilarious, charming classic TV sitcom that stands the test of time, to put it diplomatically, there are better options.
Incidentally, when TV Guide ranked One of the Boys as one of the worst shows ever, 20 years after it aired, in 2002, it declared it the 24th worst show ever (in case you are wondering, The Jerry Springer Show was rated the absolutely worst.)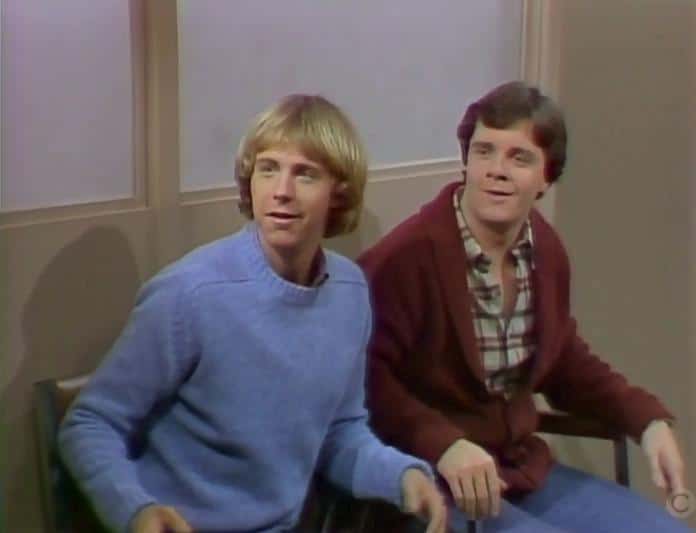 How One of the Boys Got on the Air
First of all, what's fascinating to me is that this show is an intersection of three up-and-coming actors, Nathan Lane, Dana Carvey and (occasionally) Meg Ryan, who would all go onto have phenomenal success in television and movies – paired with the show business veterans, Mickey Rooney and Scatman Crothers. Crothers spent the 1930s and 1940s mostly as a musician and then began showing up in the movies and on TV in the 1950s, with appearances on shows like The Adventures of Jim Bowie, Alfred Hitchcock Presents and Climax!
By the 1970s and early 1980s, Scatman Crothers seemed like the busiest man in show business, appearing in movies like The Shootist and TV shows like Mannix and Kojak, and of course, he was Louie the garbage man on Chico and the Man.
One of the Boys should have worked. It didn't. And kudos to the One of the Boys casting director Patricia Rickey – who also went by Pat Rickey and was also a producer on a number of TV shows, including The Flip Wilson Show and the TV movie Fame. She likely had little to do with Rooney's casting and maybe not Dana Carvey's, from what he has said in interviews, but she was responsible for bringing Nathan Lane onto America's TV sets (at least, Lane said in interviews at the time that he had to audition for the series). Meg Ryan was also in the pilot episode as was Wendie Malick, who would later go onto greater fame in Just Shoot Me (1997-2003). One of the Boys also had some talented guest stars – five years before she hit it really big in Moonstruck, Olympia Dukakis played a college professor on the show. And during the course of the 13 episodes that aired, Cleavon Little (Blazing Saddles), Barney Martin (Seinfeld), Estelle Getty (The Golden Girls) all had guest spots on One of the Boys. Not a bad line up of actors.
But, of course, for the TV audience, Mickey Rooney was the big draw.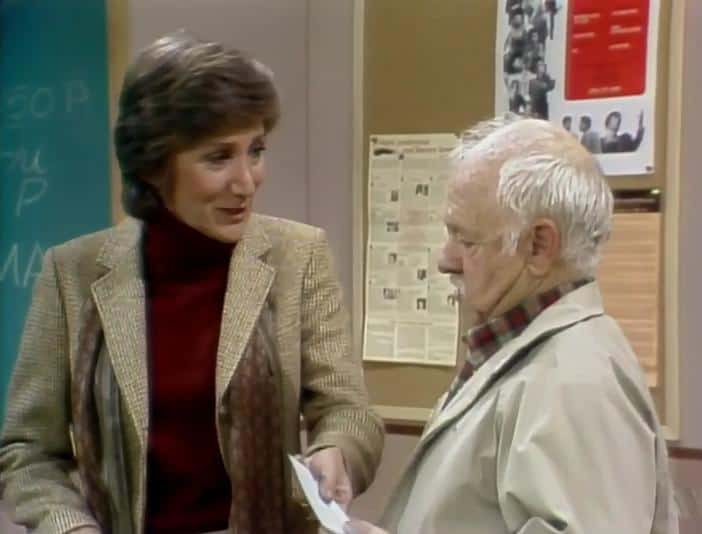 By 1982, Mickey Rooney's career was jammed with a lot of ups and downs. Rooney had phenomenal success in movies during the 1930s and since then had been a continued presence in the movies and, to some degree, on television. But by the 1970s, for most of the decade, he was arguably on the downward slope.
Rooney was working regularly, but in arguably low-profile roles, including a 1971 guest spot on the Burt Reynolds' TV show, Dan August and a small part in a 1976 John Candy film, Find the Lady.
Things began looking up in 1977, somewhat. Rooney appeared in Disney's Pete's Dragon, a hit, and he starred in something that wasn't a hit: a television pilot called Year at the Top. Rooney played Mickey Durbin, the uncle of two musicians (Greg Evigan and Paul Shaffer), who wind up making a pact with the Devil and getting a recording career.
That went nowhere for Rooney, who didn't appear in subsequent episodes (there were only five before it was cancelled). But in 1978, he was one of the stars in the movie blockbuster, The Magic of Lassie, and the following year, he was in the feature-film, Black Stallion, which critics loved (Rooney was nominated for an Oscar for best supporting actor). Also in 1979, Rooney scored big on Broadway in 1979, with the musical Sugar Babies. Suddenly, the actor was in demand again.
In the book, The Life and Times of Mickey Rooney, authors Richard A. Lertzman and William J. Birnes say that the connections made on Year at the Top led to Rooney's being cast on One of the Boys. In any case, the 1982 sitcom was developed with Rooney in mind as the main star.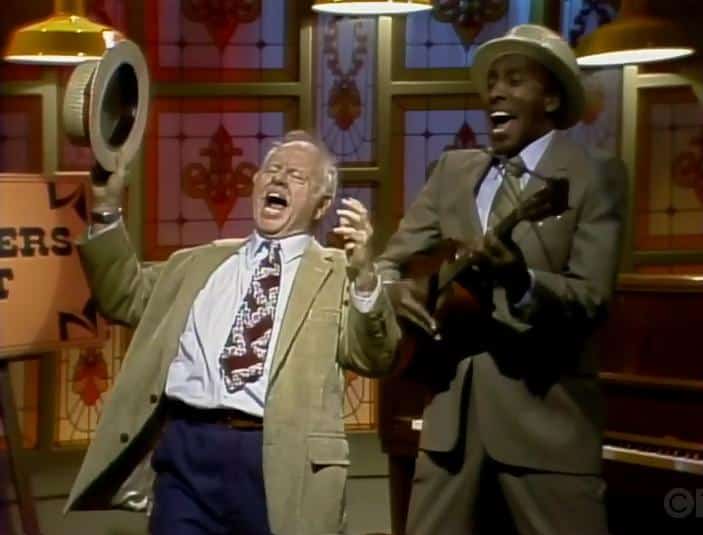 What Was One of the Boys About?
One of the Boys was a series following the misadventures of an elderly nursing home resident, Oliver Nugent (Mickey Rooney) who escapes the facility – and moves into an apartment with two other people: his college-aged grandson, Adam Shields (Dana Carvey) and his roommate, Jonathan Burns (Nathan Lane). Rooney's best friend was Bernard Soloman (Scatman Crothers), a 67-year-old retired cab driver. (Crothers, when this was filmed, was 72.)
Now, let me pause for a moment and reflect back to one of the last blog posts The TV Professor wrote about – the history of aging as seen on TV. In that blog post, I talked about how society's viewpoints on aging have changed over the years, and, well, Exhibit A: One of the Boys.
Granted, better medicine has everybody living and aging in place far longer than they used to, but it isn't as if 1982 was in the pre-antibiotic days where life expectancy was 40. In fact, that was the year there was the first artificial heart transplant. So Mickey Rooney's character is not just a nursing home escapee – he is a mere 66 years old, which may have been considered "old" in 1982, but nursing home old?! (Mickey Rooney, at the time, was 61 years old; the character he was playing was 66.)
Let's put it this way. Three years later, in 1985, according to the Centers for Disease Control and Prevention, the average age of a nursing home resident was 81.1. Sixty-six-year-olds in 1982, unless they were truly in bad health, were not typically residents of a nursing home.
I have to think that the age plot point – which was spelled out in the TV theme song every week – may have been a fairly big part of the problem with the series for the 1982 audiences who tuned in to watch the show. I doubt anybody thought it was very believable that a healthy 66-year-old would be stuck in a nursing home (and Rooney's character was portrayed as reasonably vigorous; he was often jogging in the show, generally at the end of each episode with Dana Carvey's character).
So right there, the sitcom was constructed on a really unbelievable, completely contrived premise. You'd have thought the producers could have come up with some other reason for Mickey Rooney to be rooming with Dana Carvey and Nathan Lane.
But, no, the series was based on the premise of Rooney's character escaping a nursing home and then rooming with his grandson (Carvey) and the grandson's best friend (Lane), who was not a fan of this old codger living with them.
The Lane-Rooney relationship, in a way, was one of the best elements of the series but also perhaps one of the worst. Lane and Rooney seemed to genuinely enjoy sparring with each other, but Lane's character, Jonathan Burns, occasionally truly seemed to loathe Oliver Nugent.
In the episode, "Too Much to Lose," where Oliver tries to lose weight, he leaves the apartment to go jogging and trips over this shoelace and falls down the stairs (off screen), and we hear a big crash. Dana Carvey's character, Adam Shields, shouts for Jonathan to call the ambulance.
Jonathan who had recently told Adam, "I like you, but I don't like him," in referring to Rooney's character, goes to the telephone to make the call to 911, and then he comically pauses, like maybe he won't make the call. Then he thinks the better of it and makes the call, and the television audience claps, supportive that Jonathan Burns just did the right thing. It's meant to be a funny moment that leads into the commercial, and Nathan Lane hams it up just fine, but it's not really amusing. If you were watching the show for the first time and didn't know much about the character, Jonathan Burns might have come off a bit like a psychopath.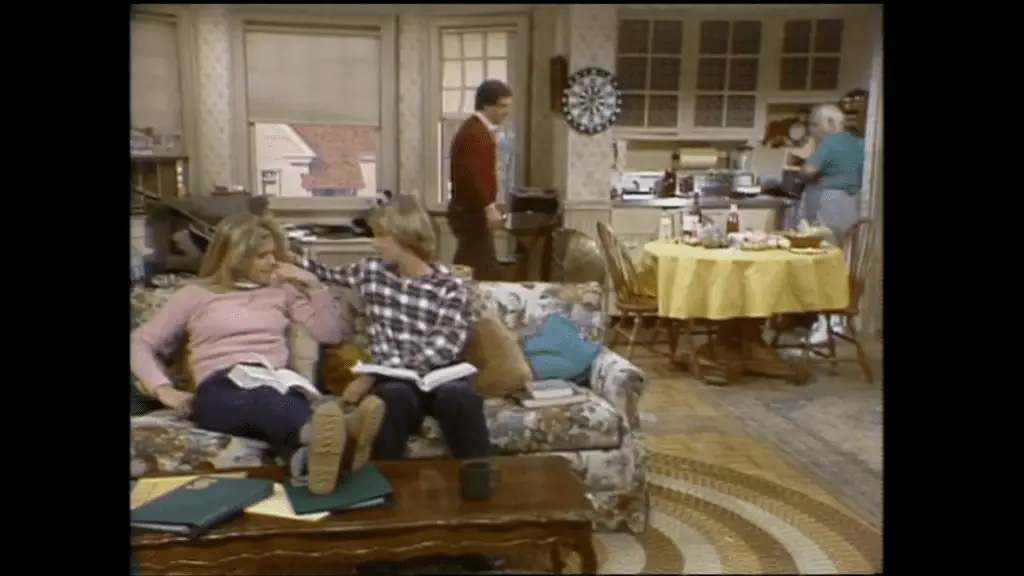 Filming One of the Boys
Judging from what has been said since the TV series aired, Nathan Lane thoroughly enjoyed the experience. Dana Carvey, not so much.
In 1996, The Sioux City Journal interviewed both Lane and Carvey about the show. Why this was the sole topic of the interview, 14 years after the series ended, I'm not sure. It was may have been somewhat connected with Carvey's then-new and short-lived series The Dana Carvey Show.
"I didn't know what I was doing," Carvey said about his stint on One of the Boys. "I was under contract to NBC and Fred Silverman said, 'You're Mickey Rooney's grandson.' 'Yes, sir! Right away, sir.' I wore a sweater and said, 'Where are we going, and what are we going to do?' and that was it. It was not a lot of fun, really."
Lane had a different take. "It was not, you know, classic television," he said. "But it was a great experience. I remember it very fondly because of Mickey, his wild energy and enthusiasm and Dana, who went on to great things afterwards."
Still, Lane shared some surreal memories of the experience. He said that Mickey Rooney kept coming up with "get rich quick" type of ideas. He apparently wanted to go into business with Lane and Carvey, which you have to admit, sounds endearing. Rooney had an idea for "ActoLab," an acting school on cassette tape and "Talent Town," which apparently would have been a summer camp for children who wanted to perform.
"It was an eclectic group," Lane said of the cast. "Mickey never learned the lines, and Scatman was always in the bathroom smoking something. I remember when they did a scene together, it was like, 'Waiting for Godot.' We never knew what would happen. They'd just stare at each other and hope that somehow the dialogue would appear in their heads."
Part of the problem may have been that Mickey Rooney was stretching himself too thin. According to James A. MacEachern's 2017 book, Mickey Rooney: A Show Business Life, the TV series One of the Boys was his day job. At night, Rooney was performing in the stage hit, Sugar Babies, to sold out audiences on Broadway. That didn't exactly leave him a lot of time for learning lines.
And when he did have down time, Rooney was getting to know his castmates – and evidently frustrating the heck out of Carvey. The way Lertzman and Birnes book, The Life and Times of Mickey Rooney, suggests, Rooney took on the role of Carvey's "de facto director. At this stage in his career, Mickey was seeing himself as a mentor, even to those who didn't want his mentoring."
One of the Boys was shot on the sixth floor of the old Letterman studio. Saturday Night Live was on the eighth floor, and as Carvey recalled in 1996, he would go up there and watch rehearsals and think, "God, I wish I could be on this show."
As Dana Carvey fans know, that wish eventually worked out.
Norman Barasch, who wrote an episode of One of the Boys, wrote in his book, The Joy of Laughter: My Life as a Comedy Writer, "I frankly remember little about the show during the short time I spent with it, except that I thought Nathan Lane was very deft with comedy lines, and I was amused to hear Mickey Rooney continually refer to himself in the third person. 'Mickey Rooney would like a cup of coffee.' 'Mickey Rooney would like to rest a little.' One time the director called out from the control room, 'Would Mickey Rooney like to rehearse the next scene?'"
That may sound like Rooney had a swelled head, but he was apparently easy enough to work with (except perhaps for Dana Carvey).
Sal Turteltaub, one of the producers of the series One of the Boys recalled in the book The Life and Times of Mickey Rooney: "We had to uproot ourselves to shoot the program in New York City. However, we were looking forward to the challenge. We were thrilled to be working with Mickey. We were warned that he could be difficult to work with, but we did produce a show with Redd Foxx. They were wrong. He was terrific. He did not disappoint us. He is a pro's pro, offers some solid advice. I think it was Bernie and I that didn't quite grab the situation. What a cast, with Dana, Nathan, Meg, and Scatman. We really had great hopes for the show."
Mickey Rooney did, too. In 1981 interview, Rooney said that One of the Boys "has all the ingredients I, as a viewer, would want to see. It has the qualities of Andy Hardy, and the frivolities and realities of Sanford & Son. It has all the qualities people like."
Except that people didn't like it. Or at least the ratings suggested that.
So Is One of the Boys as Bad as It's Made Out to Be?
Well, it's hard to say that it's good. As a TV time capsule goes, it's pretty interesting and entertaining. But if you were to watch One of the Boys in the way that most people watch reruns of I Love Lucy or Friends or The Mary Tyler Moore Show, it isn't a TV show for the ages. It's a pretty spectacular miss, and yet, in watching the handful of episodes that I did (Crackle.com only offers five of the 13 episodes that aired), you can see how, if things had gone a little differently, it could have been a good show.
Here are a few stray observations from the episodes I sampled:
The pacing was not great. I hate to trash a series for its direction. I wasn't there. I have no idea what went wrong, and the directors were probably talented people. But throughout the episodes I watched, the show had kind of a sleepy quality attached to it. Where shows like I Love Lucy, Three's Company or Friends had a certain energy to the series, One of the Boys simply didn't.
The writing was uneven. As in, the scripts would have some clever and amusing lines, even some where I laughed out loud, but also some lines that give the impression that the writing on the show wasn't a top priority.
For instance, near the beginning of the episode, "Too Much to Lose," Adam's girlfriend or friend Jane (a very young Meg Ryan) refers to Oliver Nugent (Mickey Rooney) as "cute" and says, "I'd give anything to have a cute little roly-poly grandfather." She then leaves.
Oliver Nugent: Did I hear her say I was roly-poly?
Jonathan Burns (Lane): Are shamrocks green?
Lane delivered the line with his usual flair, but even the laugh track working in overdrive wasn't ever going to fool anyone into thinking that that his comment was particularly amusing or clever.
But a little later in the episode, when Adam Shields (Carvey) says, "Gramps, you're 66," I enjoyed Nugent's retort: "I've told you to never, never talk about my age when discussing how old I am."
And a couple other lines that I thought were kind of amusing:
Oliver Nugent: "But remember my old saying: It doesn't matter how sick you are, as long as you are healthy."
And when Oliver Nugent asks a neighbor, Mrs. Green (Francine Beers), if some chocolate cake is fattening, she says, "Only if you eat it."
In the episode, "His Cheatin' Heart," Nathan Lane's Jonathan Burns has a line that isn't really funny at all – it's pretty dumb – but his delivery works so well that it's at least somewhat amusing. When Oliver learns that Jonathan will be in a class that he auditing, Rooney says that that's lucky. And the camera focuses on a pained looking Nathan Lane, who says: "My middle name is Lucky. My first name is Un."
And then some of the dialogue, you're left thinking, "What?" At one point, after two paramedics leave the apartment, after helping Oliver after his nasty fall, Adam says, "Putting the 'fun' back in medicine." That line doesn't even make sense.
Nathan Lane got some pretty lame lines, too. At one point he says of Oliver Nugent to Adam: "Your grandfather can't be quiet. He's the only man in the world whose skin gives off a sound."
And that stupid laugh track. I've mentioned it before, but it is obnoxious. At one point, Mrs. Green (Francine Beers) calls to ask a man to go out with her to a dance. She gets off the phone and tells Oliver, Adam and Jonathan: "Mr. Riley died."
Cue the laugh track.
Rooney looks at the camera and says, "Then I guess he won't be going to the dance."
And now the laugh track goes crazy.
Ah, yes. The hilarity of death.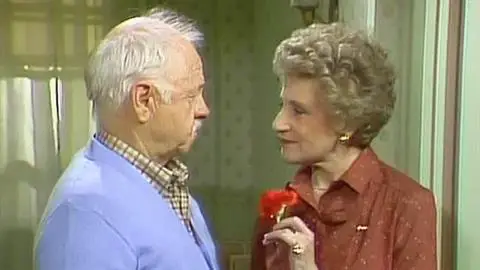 After Mickey Rooney's Sitcom Debacle Aired
One of the Boys first aired on NBC on January 23, 1982. Its final episode aired on April 24. It lasted longer than some duds, but not long enough to make much of an impact.
That said, it did serve as a launching pad for a lot of young talent. Meg Ryan appeared in the pilot and at least one other episode of One of the Boys, but it was her television debut. Before One of the Boys, she had a small part in the movie Rich and Famous, and so she was clearly going places – she soon landed a part on the soap opera As the World Turns, and the rest of her career, you're probably familiar with.
Dana Carvey, before One of the Boys, costarred in an unsold TV pilot and had an appearance in Halloween II. He clearly was starting to go somewhere as well, and if One of the Boys didn't help his career much, it didn't seem to have hurt it. While Carvey didn't get to do much in his role, you did see flashes of the comedian he was and would be – in the episode, "Double Date," he gets to do some pitch perfect impressions of Jimmy Stewart and TV sportscaster Howard Cosell.
Nathan Lane, up to this point, had a role in the TV mini-series, Jacqueline Susann's Valley of the Dolls. He also had a pretty impressive body of theater work behind him. One has to think that One of the Boys likely helped his career, too, or maybe it simultaneously hurt and helped it, since his career didn't really take off in a big way until the 1990s when he was starring in movies like The Lion King and The Bird Cage.
One of the Boys fortunately didn't set back Scatman Crothers' career at all. He co-starred in the TV series the following year, Casablanca, which was based on the movie and also didn't last long -- and Crothers appeared as a guest star on numerous shows, including Taxi, The Love Boat and Hill Street Blues. He died in 1986, of pneumonia and lung cancer at the age of 76.
And fortunately, One of the Boys seems to have had no discernible impact on Mickey Rooney's career. He kept lining up gigs, some that worked and some that didn't. The following year, Rooney would appear in a TV movie called O'Malley, which was a TV-movie and failed TV pilot. He played a hard-boiled ex New York City cop turned detective who lived in an art gallery.
But Rooney kept on keeping on. He was 93 when he died in 2014, performing pretty much up to the end of his life. He starred or costarred in a gazillion more hits, including the movies Night at the Museum and The Muppets.
Still, it took Rooney a little while to get over the frustration of seeing One of the Boys cancelled, a series he seems to have really enjoyed doing. About five months after the cancellation, Rooney told a reporter that NBC "is diligently courting the failure business. Our show wasn't given a bloody chance."
Rooney mostly blamed then Grant Tinker, who had recently become the chairman and CEO of NBC after a long stint as one of the most successful TV producers in the country (among other things, Tinker had his hand in creating The Mary Tyler Moore Show.
"Because Tinker had nothing to do with the series, he wanted to see to it that it failed. I let him know his entire outfit stunk. And I still say they stink. I forgive them, but I won't forget them," Rooney said.
He was also mad at his own series producers, Saul Turteltaub and Bernie Orenstein, telling the same reporter: "They didn't have the guts to come to the fore and fight for us because we only represented one in the long assembly line of turkeys they make -- except ours wasn't a turkey, it was a buildable show."
Six years later, when a newspaper columnist asked Rooney about One of the Boys, he was a little more sanguine, saying: "The show didn't succeed because my constituents didn't want to be reminded that Andy Hardy and the kid that put on shows in a barn was placed in a home. They want to see Mickey jumping around."
(There's that third person reference.)
Maybe Mickey Rooney was right, but maybe, just maybe, there should have been some changes made before the show ever got on the air. If the laugh track could have been fired, that would have been a good place to start.
Where to watch One of the Boys (at the time of this writing): You really want to watch it? If you dare, you can find five episodes of the show on Crackle.com, and you may find some scattered clips on YouTube.
Articles similar to this One of the Boys article: If you enjoyed this, you should read The TV Professor's look at Dusty's Trail, a series that has been described as Gilligan's Island in the Old West. It makes One of the Boys look like Hamlet.