For a longest time, we've heard that age is just a number, and that 40 is the new 50 and various other sayings suggesting we all get too hung up on age. While that's always been undoubtedly true, it's more clear than ever that age is just a number. If you look back at classic television and compare it to television today, we are aging far better than we used to. In other words, if you want to know something about the history of aging, take a look at how TV characters throughout the ages have wrestled with their ages.
Granted, it's to be expected that attitudes toward aging would be different, say, fifty years ago than they are today. Still, it's kind of fascinating to think about how society has viewed aging over the years.
This isn't exactly an exhaustive and comprehensive list of characters on TV wrestling with their mortality, and I'm going to touch on some performers rather than just characters. That said, keep reading, and you'll get a pretty good sense of that for much of how society's views have evolved on aging over the last several decades.
Today's "TV Lesson" Breakdown: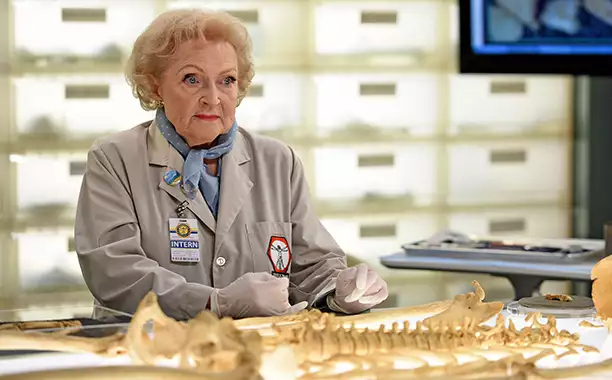 Grandpa Amos McCoy – The Real McCoys
Walter Brennan, the famous character actor, played Grandpa Amos McCoy in The Real McCoys, a sitcom that lasted from 1957 to 1963. When The Real McCoys went on the air, Brennan was 63 years old, but he appeared to be at least 10 years older. He played the part with a limp – he had no such thing – and, of course, his raspy voice and false teeth added to the aura that he was an "old codger," as he referred to his character.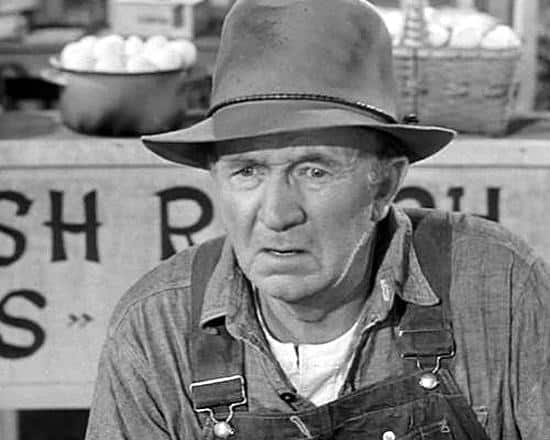 The crotchety old voice was real. Brennan often told contradictory stories about his life, and so nobody seems to know for sure how his voice wound up so raspy, but it has been reported that he was gassed in World War I, which permanently altered his vocal chords. He lost some of his front teeth in the 1930s; depending on the story you want to believe, they came out during a staged fight on a movie, or a mule kicked his teeth out.
But while Amos McCoy may have given people the impression that when you get older, you get kind of eccentric, Walter Brennan had a refreshing take on his advancing years, telling a reporter in 1958: "Age is just a number to me. The secret in staying young is to keep working. If I were to quit, I'd probably dry up like an old weed."
And hard to tell if Brennan came up with the saying, "Age is just a number," or if he was repeating something he had heard, but I am reasonably confident that Walter Brennan at least popularized it. I've gone through a lot of newspaper articles, and "age is just a number" is a phrase that doesn't seem to turn up in newspaper archives until Brennan uttered those words in 1958.
Grandma Connie and Grandpa Hank Brady – in The Brady Bunch
If you're a fan of The Brady Bunch, you might remember the 1973 episode, "You're Never Too Old," in which we meet a couple of the Bradys' relatives.
Grandma Connie Hutchins was performed by Florence Henderson (who usually played Carol Brady) and it was Robert Reed underneath that Grandpa Hank Brady makeup. Usually, of course, Reed played Mike Brady.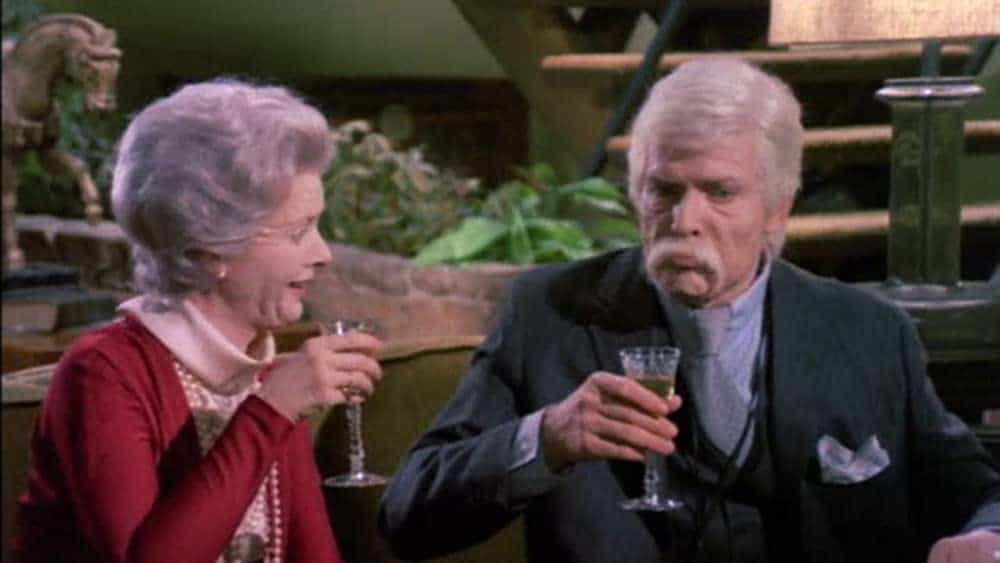 We never learn Connie or Hanks' ages in the episode, but they are Mike and Carol's grandparents – and the kids' great-grandparents. So you'd expect them to be up there in years, and, boy, is Grandpa Hank Brady frail. He moves around slowly, and he is very set in his ways. When some of the kids use language like "far out" and "with it," Grandpa Hank, a stuffy retired judge, makes it clear that he disapproves.
"Children nowadays seem to have trouble expressing themselves with words from the English language," he harrumphs. And when he is told that "that's modern English," Grandpa Hank says, "Well, modern, perhaps. English, no."
Still, if The Brady Bunch leaned in a little hard on elderly stereotypes in this episode, and the show did, you can't argue with the episode's message: you're never too old to fall in love and elope. Connie and Hank may be up there in years, but they aren't about to stop living their lives.
Zeb and Esther Walton – on The Waltons
Zeb and Esther Walton (played by Will Geer and Ellen Corby) on The Waltons (1972-1981) are probably the most realistic portrayal of senior citizens. While Zeb and Esther Walton, the grandparents on the series, do come across as elderly and cantankerous and maybe older than they really were – Geer was 70 when the series started, and Corby was 61 – they feel like completely believable portrayals of how grandparents may have acted during the 1930s. (Not like I'd know how senior citizens acted, back in the 1930s...)
But if two actors were portraying senior citizens in 2023, could they play those roles similarly today? Probably not, and that's (I think) partially my point of this blog post, and which I alluded to earlier: as a group, we're aging far better than we used to. Back in the 1930s, or the 1970s, for that matter, you didn't have 2023 medications to help reduce blood pressure, cholesterol, chronic obstructive pulmonary disease (often referred to as COPD), rheumatoid arthritis and a host of other ailments that would have made older people in the past feel and act really old.
And if you don't think modern medicine hasn't made much of a difference in our lives over the years, well, the proof is in our television sets.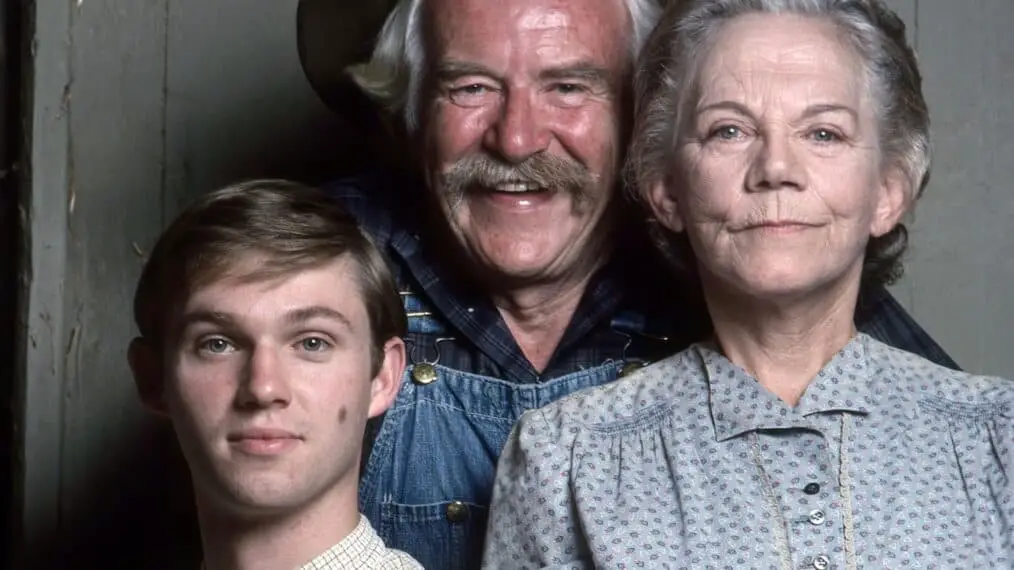 In The Waltons, it doesn't seem strange to see Zeb Walton go fishing on a work day or take a nap. He is living a life of retirement, or semi-retirement, since he often helps with his son's lumber business and isn't a lazy character at all. Esther Walton is busy, too, helping Olivia with the cooking and cleaning and raising of seven children.
But contrast that with Albert "Pops" Goldberg, the late grandfather on The Goldbergs, a sitcom set in the 1980s but started airing in 2013 and is still on (not to be confused with another TV series, The Goldbergs, that aired from 1949 to 1956).
Albert "Pops" Goldberg (played to perfection by George Segal, who passed away from complications from bypass surgery) started off in the series, living with his family, but later, he moved into a retirement community. But "Pops" Goldberg wasn't the sort to spend his days fishing or napping like Grandpa Walton. He had numerous girlfriends and spent lavish amounts of money on cars, a condo in Florida (along with the apartment at Shady Willows) and poker.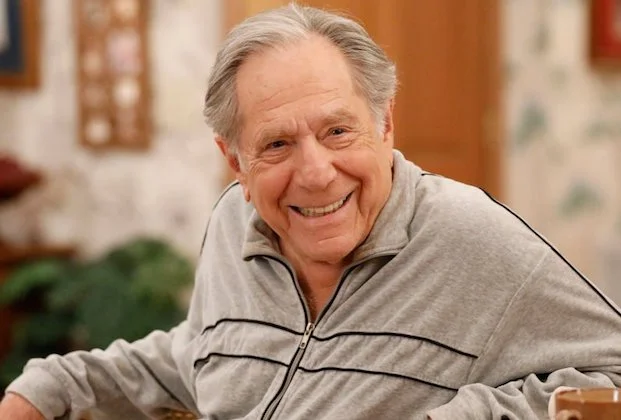 Barnaby Jones on Barnaby Jones
Barnaby Jones was a spin-off of the TV detective series Cannon (1971-1976). The 1970s was kind of this period where network executives appeared to all decide that private eyes needed a visual gimmick. Cannon (1971-1976) followed a detective who was overweight (and early in the show, the series often mentioned Frank Cannon's girth). Kojak (1973-1978) featured a detective who was completely bald. And Barnaby Jones starred an elderly detective named Barnaby Jones.
I know that I'm being a little unfair saying that. They were all entertaining shows that had plenty going for it, starting with talented leads. But as a kid in the 1970s, when I watched these shows, usually with my grandmother, what jumped out at me was that these detectives didn't look like your typical detectives. Now that I think about it, Baretta (1975-1978) kind of hit the same chords -- plainclothes police detective who had a cockatoo.
As for the actor who portrayed Barnaby Jones, Buddy Ebsen wasn't exactly ancient when he first starred in the series. He was 65. On the show, however, people would do a double take, looking at him as if he were a nonagenarian detective showing up at their doorstep. But to be fair to those TV characters, Ebsen did look old (at least to me, when I was a kid), and, sure, in 1973, most people were starting to think about retiring at the age of 65 – and not starring as a lead on a TV show or solving murder cases. Both Buddy Ebsen and his fictional counterpart Barnaby Jones were arguably some excellent role models in the 1970s for anybody who thought that being in your 60s or 70s meant you should be sitting in a rocking chair, sipping some warm milk.
Actually, Barnaby Jones' drink of choice was cold milk, thank you very much. He did admittedly let most of the action scenes go his younger counterparts, a widowed daughter-in-law, Betty Jones, played by Lee Meriwether and in later series, a younger cousin, Jedediah Romano "J.R." Jones (Mark Shera). But you'd see Barnaby occasionally best a bad guy by, say, opening the car door on the guy and knocking him over. Still, usually Barnaby Jones was using his brains to solve crimes – and for him, age was just a number, and he didn't think of himself as old or elderly.
When one woman says to Barnaby Jones, "A man of your age, Mr. Jones? You're a new kind of private eye," the experienced detective says, "It's a nice way of saying I'm an old kind of private eye." But, again, he doesn't see himself as old. "To me, old age has always seemed to be 15 years older than I am."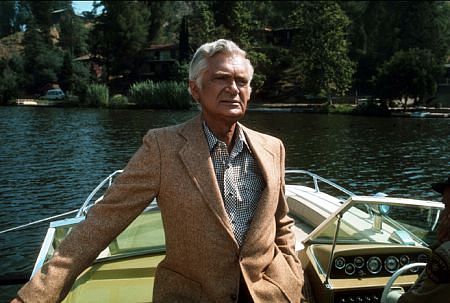 Howard Cunningham – Happy Days
In the Happy Days episode, "Howard's 45th Fiasco," Howard Cunningham (Tom Bosley) is having a mid-life crisis. Yes, folks… he is turning 45.
It was 1975 when this was filmed, and this episode was set somewhere in the late 1950s. Life expectancy in 1975 was 68.8 years old for a man (and 66.6 if it was back in, say, 1958), and so you can kind of see why turning 45 would be maybe a bigger deal back then than it probably seems now. Life expectancy for people living in the U.S. in 2023 is 79.11, for anyone wondering.
And to be fair, for Howard Cunningham, turning 45 seems worse than it is because at the start of the episode, he thinks he is turning 43 – and then realizes he has misremembered his birthday and essentially has lost two years of life. That would get anyone down.
(For those wondering, in real life, during this episode, Tom Bosley was 48 years old.)
In Howard's case, it isn't that he is all that upset about turning 45, but he is upset about turning 45 with little to show for it, he believes. When his son Richie (Ron Howard) says that his father isn't old and Marion points out to him that he is doing the same things now that he did 20 years ago, the patriarch becomes really downcast.
"That's more depressing than being 45," Howard Cunningham says. "Twenty years ago, I had big dreams. I wanted to go to Tahiti and be a great painter like Gauguin."
That would be Paul Gauguin, a French artist. Howard, owner of a hardware store, wanted to be a painter. Who knew?
"Oh, Howard, you wouldn't like Tahiti," Marion says. "You know you hate sand between your toes."
"I'm 45, and I do exactly the same things I did 20 years ago," Howard says.
Things get bad enough that Howard contemplates leaving his family and flying off to Tahiti, and while I don't think the TV audience ever really believes he would do such a thing, the script does suggest that he is insanely close to abandoning his wife and kids. That would have likely devastated Marion, and while Richie would have been old enough to have handled that, Joanie was only 14. It doesn't seem like the scriptwriters were really thinking about character development in this episode. Howard Cunningham would have never actually deserted his family.
"I'm 45 years old, and I'm never going to do anything great," Howard says to Fonzie, who, of course, straightens him out.
"You do something great every day of your life. You take care of business, Jack," the Fonz says. "You take care of your family, your wife and your kids."
"Anybody can do that," Howard says.
"Poppycock," the Fonz responds.
"Poppycock?"
"I know an old man who split when I was four years old," the Fonz says, referring to his own father.
In any case, it takes Fonzie a little longer to reach Howard, but the family man does come to realize that he really does have a legacy – even at the ripe old age of… 45.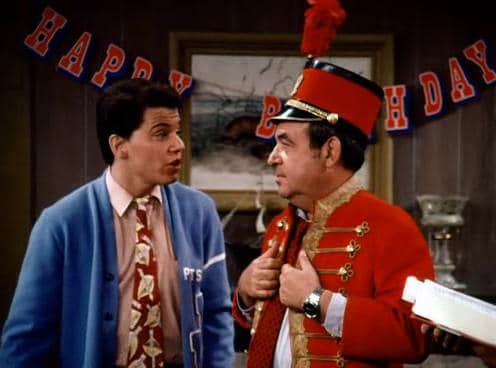 The dreaded 50th birthday.
Something has to be said about how TV has portrayed turning 50, especially throughout 1970s and 1980s television programming. Howard Cunningham clearly felt that 45 was a difficult age, but the consensus among Hollywood scriptwriters was that 50 was practically a death sentence, or at least the time when it was time to consider purchasing a cane or a walker. A few quick examples:
On the series Eight is Enough (1977-1981), which criminally doesn't seem to be available on a streaming service (although you can pay for individual episodes, like on Amazon), there was an episode in 1980 that focused on Tom Bradford's fiftieth birthday -- and a midlife crisis. OK, fine. Not exactly an original idea for a plot, but fine. But then in 1987, there was an Eight is Enough reunion movie – and what was the main plot? The family was getting together because Tom Bradford was turning 50. Again! Van Patten, for those wondering, was 52 when the first 50th birthday episode aired and was now 59. Apparently, advertisers or Hollywood network executives couldn't bear to put the spotlight on a TV character who over 50, and so they just hoped that audiences forgot that Tom Bradford was celebrating the same birthday twice.
In One Day at a Time, Schneider (Pat Harrington Jr.) turns 50 in the 1984 episode Fifty, and while generally he handles turning 50 pretty well, he does refer to it as a "scary" birthday. He also – when an old classmate and former love interest drops by – takes stock of his life when he looks at his mementos, by saying, "My whole life, and what have I got to show for it? I got just a box full of junk." Yes, in the land of sitcoms, nobody is happy to be 50.
In a 1974 episode of All in the Family, Archie Bunker (Carroll O'Connor) doesn't handle turning 50 well at all. For starters, similar to Howard Cunningham, he can't keep his own age straight. He is positive he is turning 49. Once he realizes he will be 50, he's pretty depressed. "Fifty makes me think of all the things I ain't done yet," he tells Edith. "Like what, Archie?" Edith asks. "Oh, I don't know, Edith, a lot of things. Well, for instance, I never rode a horse. I never had my picture in the paper. And I ain't never ate oysters Rockefeller." "But you've been to Disney World," Edith happily points out.
In a 1977 episode, when Edith Bunker (Jean Stapleton) turns 50, in a very memorable and classic two-part episode, she is assaulted and almost raped. The episode's subtext, that it's all downhill once you hit 50, was probably unintentional.
On Maude, Maude Findlay (Bea Arthur) throws a 50th birthday party for Walter, who is miserable by the idea of turning 50. "I'll never be a glider pilot now," he says. "And I'll never be half of a vaudeville team either."
Put Maude down as somebody who also doesn't handle turning 50 well – or aging in general. As she laments in an episode where she is turning 48, she says, "Oh, Walter. Walter, at my age, why do I have to have another birthday?"
But later, in another episode when she hits 50, she really gets depressed. In the episode, "Maude Bares Her Soul," she does just that, to a psychologist.
Maude says, to her therapist, "In six days, I will be half a century old. You know, the road ahead is beginning to look a lot shorter than the road behind, and I can't take it. Because I love this life, I love this... life. I love it, I love it. Ooh, I just had a chill, thinking of the chair that my grandmother used to sit in. She died and... oh, How empty it became. You know, that's what dying is. Leaving an empty space, where you once were."
It's an excellent episode, but as a viewer consuming TV in the 1970s, you could be forgiven for thinking that, yep, life after 50 is a toxic wasteland.
Maybe the one exception to the "It's all over when you're 50" rule is an Alice episode in which Mel Sharples of Mel's Diner turns 50. He is actually happy about it. He's in a great mood – and even bakes himself a birthday cake – and tells Alice, Vera and Flo that it's his birthday. When Flo asks him his age, Mel is evasive at first but then says, refreshingly, "Why should I be hiding it? I should be proud. This is the big one."
Vera replies with: "You're 100?
And, oh, the incredulous and annoyed look on Mel's face is priceless. I took a screenshot of his expression and somehow lost it on my computer and then couldn't find the video online, so we'll have to go with this photo.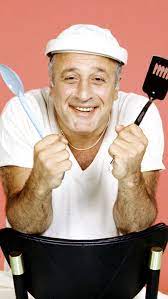 Anyway, Mel is delighted to be 50. Of course, there has to be a little drama in the episode – he hints to Alice, Vera and Flo that he would like a surprise birthday and is disappointed when that doesn't seem to be in the cards for him. But then, gee, surprise! – the whole gang throws him a big bash that evening at his diner, and overall, the episode is a celebration of turning older. So if you're not looking forward to aging and need somebody to cheer you up, look to Mel Sharples for inspiration.
The Golden Girls
The Golden Girls is a terrific show, and one that The TV Professor should take a long look at one of these days, but we'd be remiss to not mention the beloved sitcom in this look at the history of aging on TV.
In many ways, The Golden Girls was an admirable and refreshing take on being a senior citizen in that it made clear that if you were older, you could still have as active and nutty a life as the younger crowd.
In fact, the show's mantra could have been a line that Rose Nylund (Betty White) once delivered, "The older you get, the better you get. Unless you're a banana."
But it seems unlikely that a similar show would today be called The Golden Girls (unless there's someday a reboot hoping to capitalize on the fame of the series). For starters, there's the title of the show. I've never met a senior citizen who seemed excited to describe their lives as "the golden years." (Fun factoid: "The golden years" was a phrase that's been around since at least the 1800s, but it was only first attached to the senior years in 1959, when a marketing firm was trying to encourage seniors to pay to live in an upscale retirement community.)
The Golden Girls premiered in 1985, and it focused on three women who were roughly the same age – Rose Nylund (played by Betty White), Dorothy Zbornak (Bea Arthur), and Blanche Devereaux (Rue McClanahan). Dorothy's mother was Sophia (Estelle Getty). When the series started, Betty White and Bea Arthur was 63 years old. Rue McClanahan was just 51 years old.
To call somebody 51, today, a "golden girl," as in, somebody in their golden years, is just laughable. I hope so, anyway, as a 52 going on 53-year-old.
Estelle Getty, incidentally, was playing someone much older. She donned a wig to make her look like a senior citizen and was only 62 when the series started.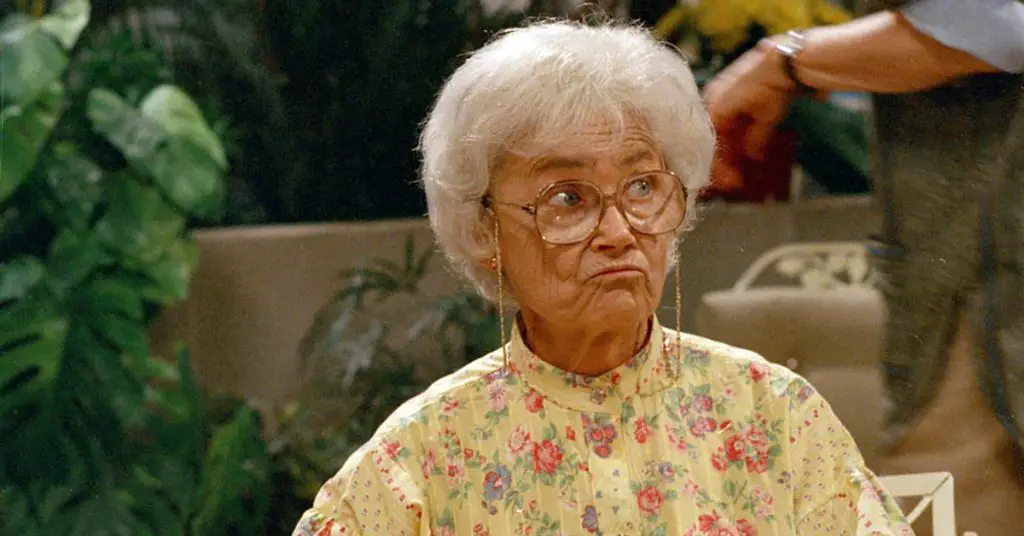 Maybe I'm crazy, but I think if The Golden Girls were cast today, instead of finding a 60-something woman to play an 80-something-year-old, I suspect television producers would find an 80-something-year-old actress to play an 80-something-year-old. There may have been a dearth of 80-some-year-old actresses in 1985, but there are quite a few women in their 80s now, starring on TV series or having recently starred on one, such as Lily Tomlin, 83, and Jane Fonda, 85. Ellen Burstyn is 90 and starring this year in an updated version of the Exorcist. And while she is sadly no longer with us, Golden Girls star Betty White was acting in TV shows, throughout her 90s, starring on Hot in Cleveland (2010-2015), when she was 88 until she was 93, and appearing on other series later, including two guest appearances on Bones when she was 93 and 95 years old.
So, yeah, I just don't think sticking a wig on a 62-year-old and making her older would fly these days. And that's a good thing.
A Word About Bob Hope, George Burns and Lucille Ball
As a kid and then teenager, my role models on aging better or aging well or whatever were probably Bob Hope, George Burns and Lucille Ball. (One of these days, The TV Professor will have to do a lengthy blog post on both Bob Hope and George Burns though we do have a blog post on Lucille Ball's long forgotten TV special, Lucy Calls the President.)
During the 1970s, Bob Hope, Lucille Ball and George Burns were essentially TV royalty, past their heydays but legends who were constantly knocking out TV specials, especially Bob Hope, who was still cracking jokes on TV -- albeit looking at cue cards -- in his 90s.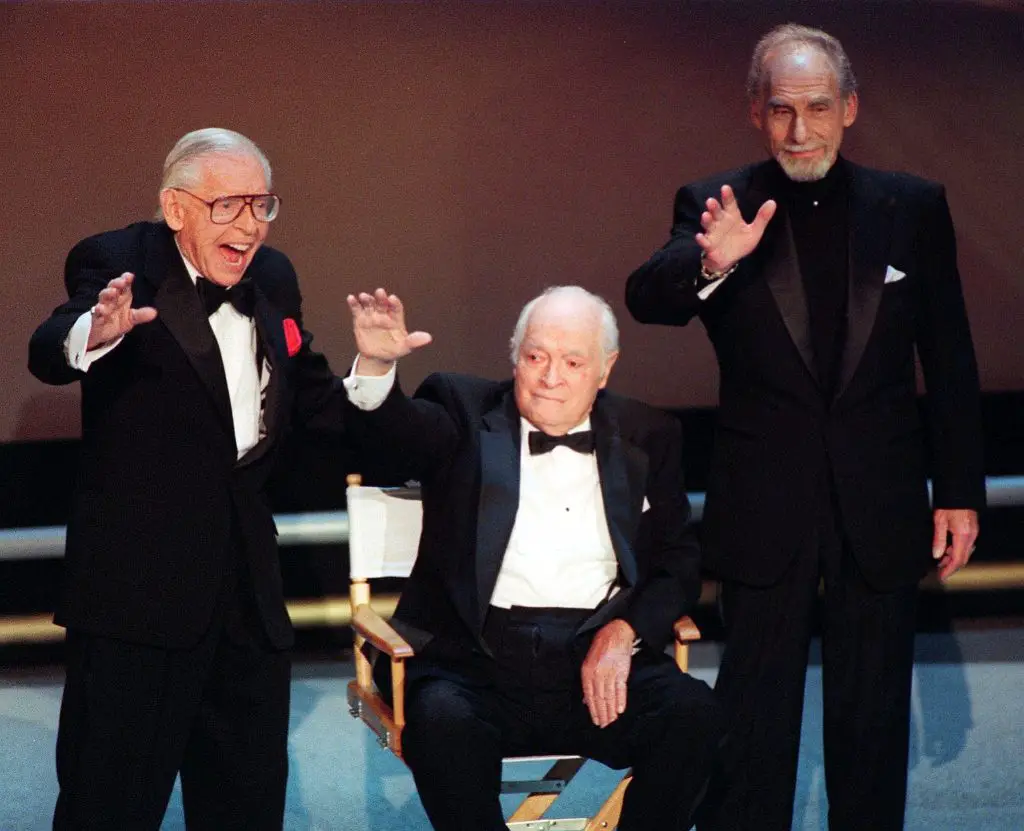 Much of George Burns' stand-up act revolved around his age, offering one-liners, like:
At my age, the only thing hot waiting for me in my dressing room is a bowl of soup.
I get a standing ovation just standing.
Nice to be here? At my age it's nice to be anywhere.
In what other business can a guy my age drink martinis, smoke cigars and sing? I think all people who retire ought to go into show business. I've been retired all my life.
I would go out with women my age, but there are no women my age.
Burns was genuinely funny -- with or without the age jokes -- and he definitely did the country a service by showing people that you could hit your 70s, 80s and 90s and keep living the life you had always been living. But, still, I just find it interesting to think how far we've come as a society. In 1975, when George Burns starred in the movie The Sunshine Boys, about washed up vaudevillian comedians in their 80s, he was 79 years old, and that was really the start of his TV and movie comeback and career resurgence, after about a decade of being less in demand.
But if George Burns were 79 years old today, instead of starring as a comedian ready for the retirement home and then making a lot of self deprecating jokes about his age, he might instead have been thinking about running for political office or seeing if he could get a part in an action movie. Harrison Ford, after all, filmed the upcoming Indiana Jones movie when he was 79.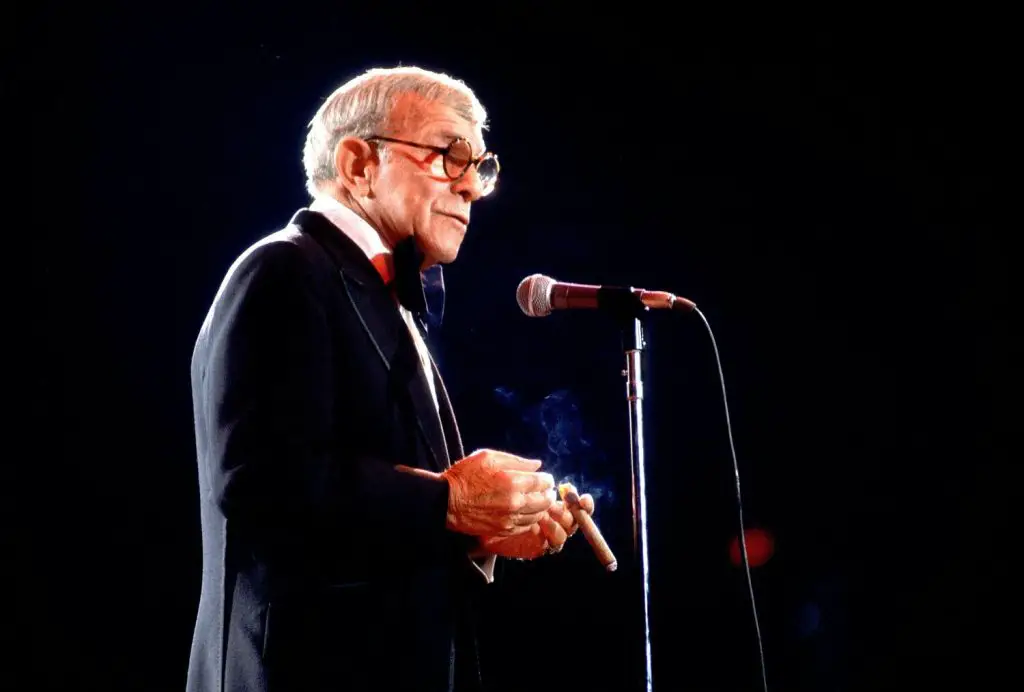 And then there was Lucille Ball, who really got a lousy reception due to her age when she starred in her final sitcom, Life with Lucy, which aired briefly in 1986. The series tanked, and if ABC did give it much of a chance, it didn't seem like it to this TV viewer. Life with Lucy, as I recall, was, if not laugh out loud funny, at least amusing and enjoyable, but critics kept marveling that this 75-year-old legend was going to do physical comedy. And -- as I recall from watching the show -- granted, this is, like, a 37-year-old memory -- she would receive thunderous applause from the audience whenever she did anything somewhat physical. Of course, the audience was happy to see Ms. Ball perform, but even to my teenage self, the attention and focus about her age came off as condescending.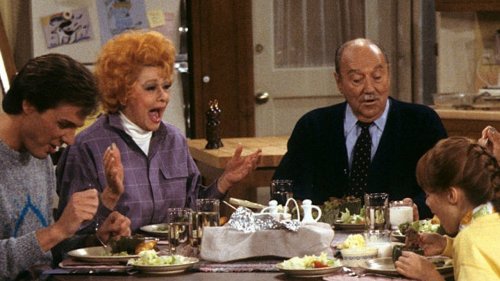 Eventually, on TV, Age Did Just Become a Number
On the TV series The Middle (2009-2018), in 2016, there was an episode called "Floating 50," where Frankie Heck (Patricia Heaton) turns 50, and there is no midlife crisis. In fact, it turns out that, as a TV audience, we've actually missed Frankie's birthday.
"My 50th birthday was two months ago, and I never got a present, so consider this my gift," Frankie tells her family, when she fights to get pineapple as one of the toppings on her pizza. "One measly half a pie with pineapple on it."
Then the family objects that Frankie would get to have pineapple on half of the pizza when three of the four family members isn't a fan of fruit on their pizza, and it becomes a whole thing.
Later, Frankie's husband Mike (Neil Flynn) starts regretting that the family never did anything special for Frankie's birthday party and proceeds to throw a surprise party that, of course, goes terribly wrong. But actually stressing about turning 50? That isn't an issue.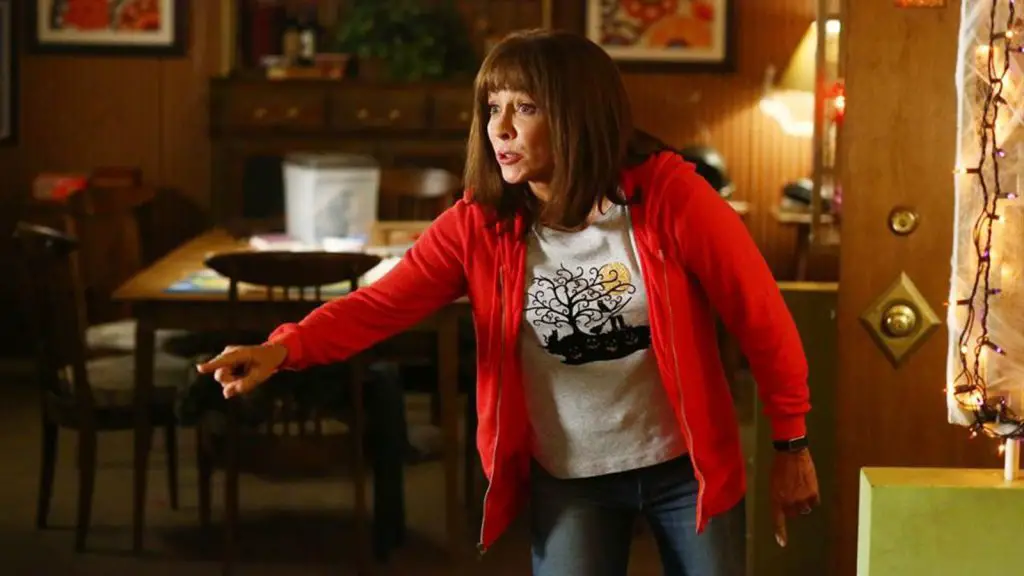 That nonchalance was also the tack that Modern Family took when it aired "A Year of Birthdays" in 2019, the 22nd episode of the 10th season (the series ended after 11 seasons, in 2020). In that episode, Phil Dunphy turns 50.
As Phil Dunphy (Ty Burrell) tells his family, "Okay, okay, okay. Settle down. Um… it's hard to believe I'm 50. As of today, I'm middle aged."
Then there's this great aside between some of the family members.
Cameron: What's he been the last 10 years?
Mitchell: Delusional. He thinks he's a millennial, like us.
The joke being, of course, that Mitchell (Jesse Tyler Ferguson) and Cameron (Eric Allen Stonestreet) are not exactly not middle aged. And then there's this bit of dialogue, between Phil and his not so bright son, Luke (Nolan Gould).
Phil: I've thought a lot about what's next.
Luke: 51.
"Thank you, buddy," Phil says, continuing with his speech. "And it's important that I continue to grow and that I stay mentally challenged. Which is why I am starting -- piano lessons, so that by next year's birthday, I'll be good enough to perform in public."
"Oh, great. Another thing to go to," gripes Phil's father-in-law, Jay (Ed O'Neill), who is married to Gloria (Sofía Vergara).
"Also," Phil says, "I'm gonna learn how to speak Spanish."
"Excelente!" Gloria says.
Phil looks confused. "Uh, I… I haven't started yet," he says.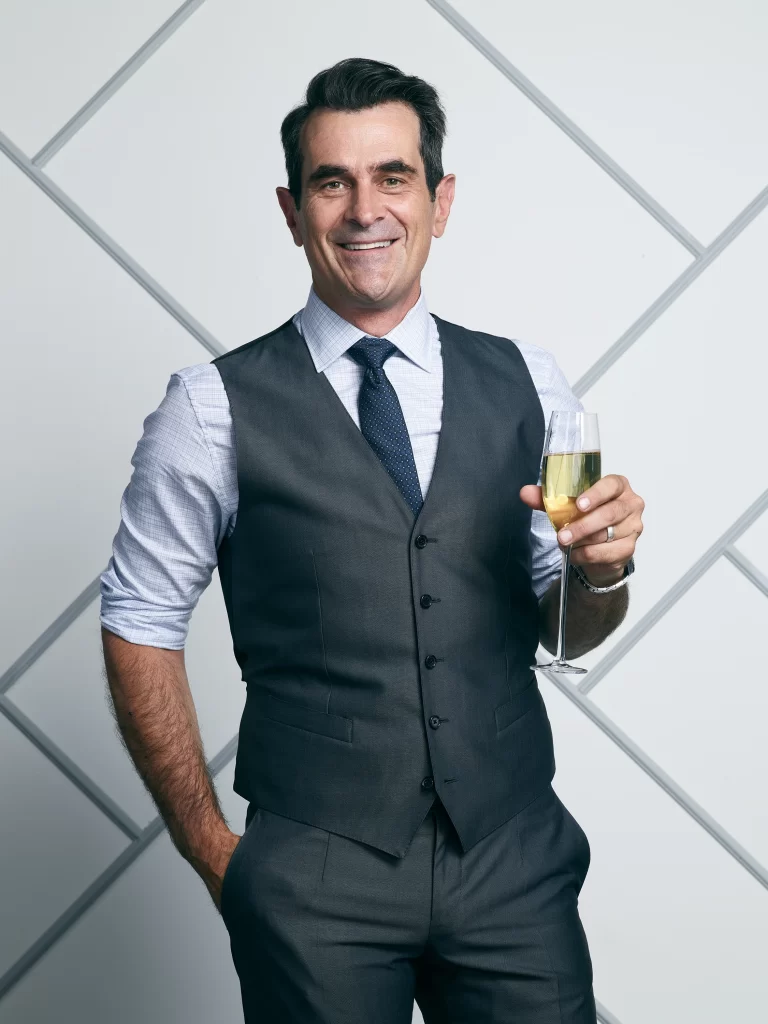 The way Modern Family treats the big five-O is a very healthy approach to a milestone birthday like 50.
Turning fifty is a big deal, and nobody can blame TV characters like Maude and Walter Findlay and Archie Bunker for taking it hard. But fortunately, we've come a long way from Howard Cunningham's reaction on his 45th birthday, which was to contemplate chucking his life aside to go off to Tahiti. While we all react differently to how we feel about being a certain age, and ageism is certainly still a thing, society as a whole, in TV and in real life, seems to feel like you're never too old to try to do just about anything. And for that, we can all be grateful.
Where to watch these shows (at the time of this writing): I always have trouble with this section, when I list a bunch of shows in a blog post versus one or two. Suffice it to say that you can find most of these shows on cable or streaming, though Eight is Enough, I am sorry to say, is inexplicably not to be found virtually anywhere, other than YouTube or by renting or buying individual episodes on some websites like Amazon Instant Video.
Articles similar to this history of aging on TV article: Probably this history of working women on TV.