Editor's note: "Streaming Time Capsule" is a semi-regular feature on The TV Professor, looking at some of the unusual and maybe worthwhile, and maybe not worthwhile, TV show oddities that you can find online. Our latest installment? Dusty's Trail, a TV series that was Bob Denver's follow-up to Gilligan's Island.
I grew up watching -- and adoring -- Gilligan's Island. Once I was an adult, I admit, I didn't find Gilligan's Island quite as hilarious and exciting as I did as a kid. And, yes, I would use the word "exciting." After all, these were seven stranded castaways – on an island! – in the middle of nowhere. As an eight-year-old, that blew my mind.
In fact, when the two-hour TV movie, Rescue from Gilligan's Island, came out in 1978, and when I was, indeed, eight, and my younger brother was six, I remember us being intoxicated with joy. You would have thought that we were being given a million dollars. In fact, based on my memory of how excited I was at the idea of these seven castaways finally being rescued, I'm sure if somebody had said, "Would you like a million dollars, or would you rather see Gilligan and his friends getting rescued from the island?", I would unfortunately have picked TV over the the money. But that's how one ends up writing a blog like The TV Professor.
So when I found Dusty's Trail on a streaming service one late night last year and started watching, I was pretty intrigued. Would it be amusing? Thought-provoking? (Yes, Gilligan's Island can be thought-provoking. Again, you're on a deserted island with a bunch of strangers. What would you do?) Would the series be something I would want to watch over and over?
I'm guessing you can guess the answer, given that Dusty's Trail was never the success that Gilligan's Island was, but keep reading, and I'll tell you all about it. Probably far more than you'd ever want to know.
Today's "TV Lesson" Breakdown: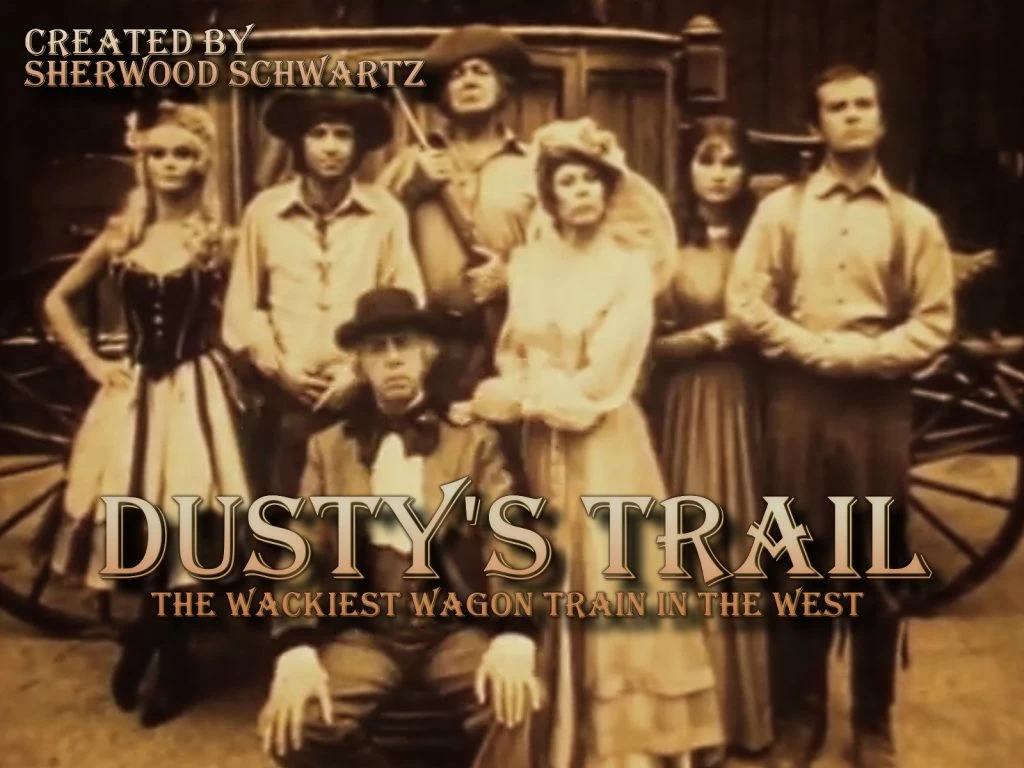 So what was Dusty's Trail?
Dusty's Trail was a comedy-western that aired in syndication – and so it didn't actually land on a network – apparently ABC, CBS and NBC executives were not all that impressed by what they saw. The series aired on various channels across the country from September 1973 to March 1974.
Dusty's Trail was basically Gilligan's Island set in the Old West. As one critic of the time put it -- it was Gilligan's Island with cacti, instead of palm trees.
Which was simultaneously a brilliant and terrible idea.
The series was about seven travelers who became separated from their wagon train -- and then became lost in the Old West.
There was the wagon master, Mr. Callahan, played by Forrest Tucker (in the credits, the show spells it wagonmaster, which is not how Merriam-Webster spells the word; I guess that was a bad sign from the get go). There was Mr. Callahan's mate, a mighty sailor man—er, sorry, his assistant, a shotgun lookout, Dusty, played by Bob Denver.
Then there were the five passengers.
There was a wealthy banker from the East named Mr. Brookhaven, traveling with his wife, Daphne.
Lulu McQueen was a dance hall girl.
Betsy was a school teacher.
Andy, as far as I can tell from the show, was just a smart guy who, in another time, might have been a professor.
Like Gilligan's Island, Dusty's Trail had a theme song, nowhere near as catchy and sung in a slow drawl sort of way. Because of that, you could argue that the musical number chases audiences away… whereas the Gilligan's Island theme song was about as happy-go-lucky as could be and inviting people to watch ("just sit right down, and you'll hear a tale"). The Gilligan's Island song also had multiple people singing, which also somehow feels more welcoming to viewers than one solitary cow poke singing as with Dusty's Trail.
But maybe I'm overthinking this.
The lyrics to Dusty's Trail were as follows:
Let's follow the path of Dusty's Trail,
Oh! Dusty's Trail, Dusty's Trail.
A stage and a wagon heading west.
Part of a wagon train lost from the rest.

Dusty's the reason for their plight.
Thanks to Dusty, nothing's right.
Only the wagon master's hand
Keeps 'em a-rollin' to the promised land.

Oh! The going gets mighty rough
But they don't seem to mind.
It's Californ-i-a, that's the place they must find.
Deserts and rocks are in their way
But they won't stop, come what may.
Mountains and hills that they must scale.
They know they'll make it 'cause they just can't fail.
On Dusty's Trail.
The plot was, as the song suggests, about a wagon train that's lost. It was unable to make it to California in a timely manner because every opportunity they start to get back on track, Dusty gets them lost again, or something along those lines.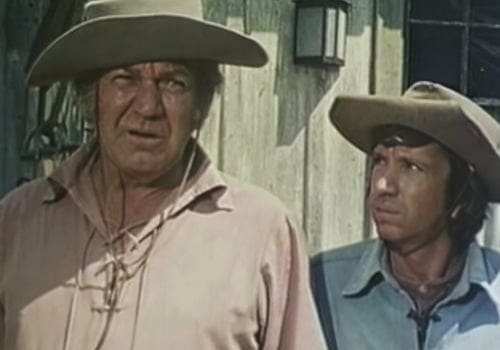 But the series doesn't really adhere to its own premise. There are various episodes where they learn exactly or approximately where they are -- and do little with that information. For instance, in "Treasure of C. Harry Motley," the wagon train crew and passengers learns that they're somewhere in Kansas. Nobody seems to be particularly interested to learn that.
At the end of the second episode, "There is Nothing Like a Dame," Mr. Callahan and Dusty mention having dropped off two cattle thieves with a marshal, who could have surely informed them to the best route to California.
At least with Gilligan's Island, even if the series was completely illogical and unrealistic, it was clear that the marooned castaways truly wanted to figure out how to get off the island and back to civilization. The wagon train employees and passengers seem interested in reaching California but not particularly desperate to get there.
And this show is supposedly set in the early 1870s when, yes, the United States was kind of a wilderness but not that much of a wilderness. In the dozen or so episodes I've watched, there isn't a year mentioned in the show, but according to Wikipedia and various other sources, Dusty's Trail is listed as belonging in the early 1870s. If that's the time period when these characters were roaming the country, Kansas was already a state.
Colorado, to the west of Kansas, would soon also be ratified (1876). In other words, it isn't as if there weren't dirt roads to follow to California at this point.
In fact, the transcontinental railroad was finished in 1869, and so everyone could have bought a train ticket to California. Dusty's Trail might have been a little more realistic if it had been set in the 1850s or 1820s. According to True West Magazine, wagon trains started in the 1820s and hit its peak in the 1850s. There were wagon trains in the 1870s, but it was already a dying industry.
Well, let's move on and discuss the cast and characters some more.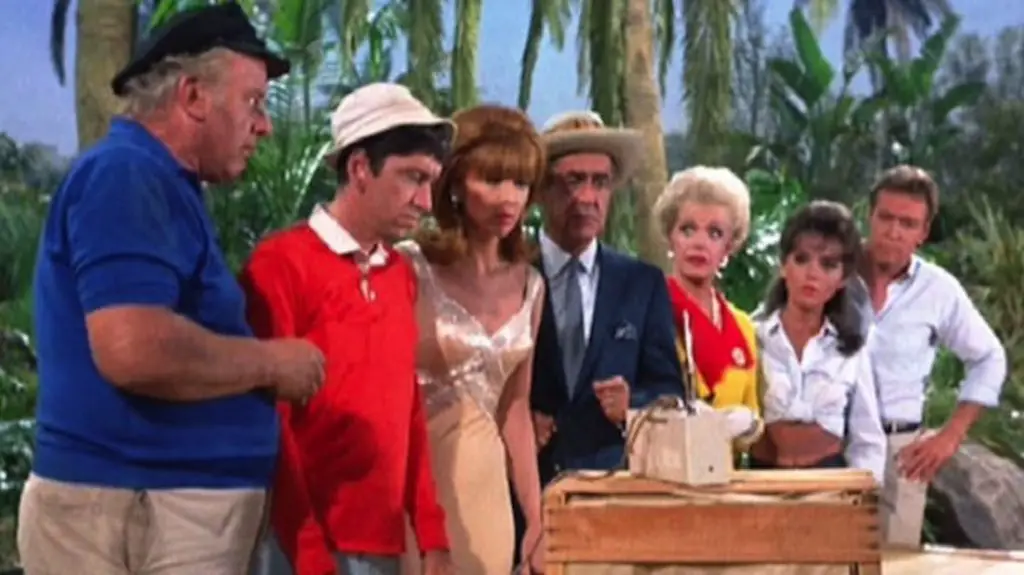 The Cast and Characters of Dusty's Trail
Bob Denver
Bob Denver played Dusty. Denver, of course, had been the star of Gilligan's Island, and before that, Maynard G. Krebs on The Many Loves of Dobie Gillis (1959-1963). Dobie Gillis is a hilarious sitcom that hasn't been mentioned on The TV Professor yet but needs to be discussed, one of these days. Denver was probably never better than on Dobie Gillis, although he did a masterful job as Gilligan on Gilligan's Island. (Whether you love the show or hate it, Denver fully inhabited the character.)
As for Dusty… well, Denver's character was definitely under developed. In some ways, he makes Gilligan seem like a Mensa scholar.
It's easy to see why Denver decided to do the show. Gilligan's Island was airing all the time in reruns, but the actors weren't getting residuals from the show. Denver apparently thought that if Dusty's Trail took off, this time he might actually make some money from the series. Going with that logic, why not participate in this carbon copy of the show?
After Dusty's Trail, arguably, Denver's career never really recovered. He did star, the following year, in a short-lived Saturday morning TV series, Far Out Space Nuts, which lasted 15 episodes. But generally the rest of his life, he was appearing as Gilligan in various reboots and as a guest star in shows. Denver died too young, at the age of 70, in 2005.
Forrest Tucker
Forrest Tucker somehow comes off much better than Denver in Dusty's Trail as Mr. Callahan, the wagon master (basically taking on the role of the Skipper). When this show aired, Tucker was probably most famous for his role as Sergeant Morgan O'Rourke on F Troop (1965-1967), although he had done plenty of other shows, such as guest spots on Bonanza and Gunsmoke. He also had recently been a murder victim on Columbo. He was arguably just as much of a star as Bob Denver, and so he naturally received second billing.
And Tucker really sells it, as the wagon master. If Dusty's Trail is watchable, and it sort of is, it's probably due to Tucker, who was perfectly at home in a comedy western and is believable as a crusty, soft-hearted wagon master. That said, I'm not trying to insult any of the actors – or anybody who worked on Dusty's Trail. The series may have not worked, but you can tell that the actors were trying their best to keep the show entertaining.
That's the thing about this show. The more I watched it, hoping the scripts or production values might improve (they didn't), the more I started to root for the actors to somehow turn the series into something amazing.
After Dusty's Trail ended, Tucker continued his prolific acting career. Dusty's Trail may have not helped his reputation, but it didn't seem to hurt it much. Tucker quickly moved onto guest spots on Marcus Welby, M.D., and Little House on the Prairie. At the time same time Denver did his Saturday morning TV series, Tucker starred in the short-lived (also 15 episodes) Saturday morning show, The Ghost Busters, which I remember very fondly (F-Troop actor Larry Storch co-starred). Tucker went onto do more guest roles such as The Bionic Woman and Police Woman. He never had another lead role in a TV series, though. He also died too young, at age 67, in 1986.
Ivor Francis
Ivor Francis played Mr. Carson Brookhaven, the Mr. Howell clone. Francis had been working in TV since the 1950s, and before that, he had been mostly on Broadway. (So you see, a lot of talent on Dusty's Trail.) Viewers knew him as Kenneth Dragen, a fussy English professor on the TV series, Room 222 (1969-1974). He had appeared on numerous now classic TV shows, like The Odd Couple, Mayberry R.F.D., The Flying Nun and Ironside, among other series.
How does Francis do in Dusty's Trail? Well, he plays a wealthy banker (as opposed to Mr. Howell, a wealthy tycoon), and so many of his lines channeled Mr. Howell that you can't help but compare the two characters and actors. I'd say that Francis acquits himself just fine, but you'd probably have to watch a few episodes to come away thinking that. At first, I just kept thinking, "Well, he's no Jim Backus." But to be fair, who is?
Francis's career doesn't seem to have been hurt in the least by Dusty's Trail, although he would never be a co-star on a series again. Still, he was in a slew of shows, as a guest star, in the 1970s and 1980s, including Happy Days, Kojak, Starsky and Hutch, The Six Million Dollar Man, Little House on the Prairie, Lou Grant, Benson, The Jeffersons and on and on. Like his Dusty's Trail co-star Forrest Tucker, he died in 1986, at the age of 67. In fact, the two men died just three days apart.
Lynn Wood
Lynn Wood plays Mrs. Daphne Brookhaven. It's a pretty thankless role, but Ms. Wood does what she can with it.
Dusty's Trail was probably Ms. Wood's biggest role in her career, but she had done plenty of work before the series -- and would after. She got her start in TV in the early 1960s, appearing on a smattering of shows including My Three Sons and having a nine-episode story arc on a short-lived soap opera called The Young Marrieds.
Throughout the 1960s, she had guest roles on Hawaii Five-0, The Doris Day Show and It's About Time, a cornball series that should probably be profiled on The TV Professor at some point. It was also a 1967 series that Gilligan's Island and Dusty's Trail and Brady Bunch creator Sherwood Schwartz produced. So that likely helped Ms. Wood land the role of Mrs. Brookhaven.
She often wasn't given much to do, other than to look aghast whenever the gang is confronted by bad guys – and to essentially play a Mrs. Howell carbon copy. But she did what she could with the thin gruel of dialogue served up to her every week. She seemed to have fun playing a rich banker's wife in the Old West.
After Dusty's Trail, Ms. Wood would have guest roles in series that included Dallas, WKRP in Cincinnati and Magnum, P.I. She worked steadily into the 1980s but after a seven-story arc as Aunt Janet McKay on General Hospital in 1987, she appears to have had enough and stopped acting, at least on TV or film, according to IMDB.com. She is hopefully healthy and happy and living her best life, wherever she is, at age 89.
Jeannine Riley
Jeannine Riley played Lulu McQueen, a dance hall performer. She was playing the Ginger Grant "movie star" role that Tina Louise played on Gilligan's Island. Ms. Riley may not be a household name today, but she, too, had a robust career before Dusty's Trail. She came on the scene in 1962, with an uncredited role on the TV series Dr. Kildare. From there, she landed a lot of character parts until she landed a role on the sitcom Petticoat Junction. Ms. Riley played Billie Jo Bradley, one of the three daughters, for two years, and then she left to embark on a movie career, and then Billie Joe was replaced by two actresses over the series run (as any Petticoat Junction fan knows, the actresses playing the three daughters were always changing).
The movie career didn't really pan out, though Ms. Riley did get parts, notably in the 1969 film The Comic starring Dick Van Dyke. Mostly, however, she stuck with TV, appearing as a regular cast member on Hee Haw from 1969 to 1971, for instance.
By 1973, Ms. Riley apparently was ready to try a TV sitcom role once again. After Dusty's Trail ended, her TV career continued but with more infrequent appearances. Her last role, according to IMDB.com, was in the 1991 movie Timebomb.
Ms. Riley is 81 and hopefully is also living her best life and doing well.
Lori Saunders
Lori Saunders played Betsy, a school teacher, filling the role that Dawn Wells had as Mary Ann, the farm girl, on Gilligan's Island. Saunders' career started in the early 1960s, playing various roles on The Adventures of Ozzie and Harriet, and then she started taking on tiny roles on TV and in the movies. Her big break came in 1965 when she landed the role of Bobbie Jo Bradley on Petticoat Junction, which shouldn't be confused with the character Billie Jo Bradley, which Jeannie Riley played.
Interestingly enough, Jeannie Riley left the show right before Lori Saunders joined the series, and so the two never did appear on Petticoat Junction at the same time.
Saunders stayed with the series for five years, until it ended in 1970. After Petticoat Junction wrapped for good, Saunders had several roles, playing Elizabeth Gordon a few times on The Beverly Hillbillies (she had been on the series before, playing Bobbie Jo Bradley), and appearing in Love, American Style (Ms. Riley also appeared in that series). But then she took on Dusty's Trail, which appears to have done nothing for her career. After Dusty's Trail, there were no roles for six years, when she then landed a role in a 1980 movie called Captive. And that was it for her TV and film career.
According to IMDB.com, Ms. Saunders will be 80 years old in October, and she lives in Southern California with her husband. She also does a lot of work with charities involving children and animal rights. The TV Professor also wishes her the best and hopes she is doing well.
Bill Cort
Bill Cort played Andy Boone, the "professor" role that went to Russell Johnson in Gilligan's Island. In this case, however, Andy doesn't appear to have any career.
Like many of the others in this cast, Cort got his start in the early 1960s. His first TV role was on Route 66, and he quickly started getting other bit roles, appearing in series like Branded, Adam-12 and It Takes a Thief. He also had an uncredited role on A Big Hand for the Little Lady, a delightful comedy western starring Joanne Woodward, Henry Fonda and Jason Robards that came out in 1966.
Dusty's Trail must have felt like Cort's big, big break. It was his first co-starring role in a TV series, after all. But, alas, the series only lasted 26 episodes (it was supposed to run for 30, but apparently the producers ran out of money). Cort never really got a big break in his TV career, and that's too bad. He did a nice job as Andy, although, once again, this was a meager role.
For instance, in one episode, which I'll get into more later, it looks like we're going to learn that Cort has a dark past. But, uh, no. There's very little backstory to Cort's character.
After Dusty's Trail ended, Cort went onto do guest parts on various shows like in Little House on the Prairie, Family Ties, Three's Company and Hill Street Blues. He also landed more co-starring parts on two more TV series during the 1970s, TV series that became even more obscure than Dusty's Trail, unless you happen to remember The Montefuscos (it lasted nine episodes) or A.E.S. Hudson Street (five episodes).
Sadly, Bill Cort is no longer with us. He also died far too young, in 1993, at the age of 57. His last role was as a recurring character, Headmaster Wallace Thorvald, on The Fresh Prince of Bel-Air.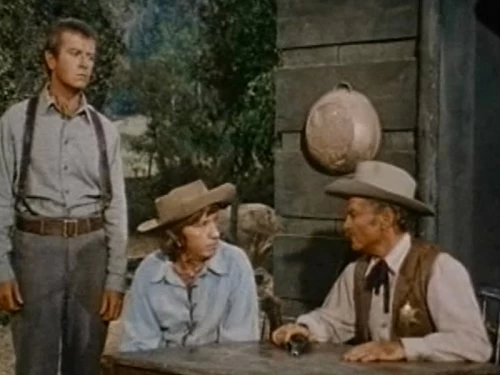 So What Happens on Dusty's Trail? And Is it Any Good?
Well, as noted, Dusty's Trail is a lot like Gilligan's Island – on horses. But I'm not here to trash the series. I realize now that I'd make a pretty bad TV critic. I don't like saying mean things about pieces of art or entertainment that somebody – or a group of people – worked hard on. I'd like to give a gold star to everybody.
Logically, it's true that Dusty's Trail isn't exactly a show deserving of Emmy awards. That said, Dusty's Trail had some interesting ideas, and I do think it had the potential to be a really excellent TV series, and I'll go even farther and say that I'd seriously love to see it be rebooted and done the right way. But, yes, to even call it a show with the potential to be an excellent TV series, you really have to squint.
The first episode, "The Not So Magnificent Seven" begins promisingly enough, if you can ignore the awkward pacing in the episode and entire series, and the fact that wherever you watch the episode – TubiTV.com, YouTube or somewhere else – the quality of the picture isn't likely to be stellar.
In any case, the opening shot shows Dusty steering a stagecoach. Callahan is nearby, on horseback. Three other people (Andy and Betsy and Lulu) are following behind on another stagecoach.
"Whoa," says Dusty. Bob Denver, being the star, gets the first line. He looks weathered. Beaten and, yes, a little dusty from being on this long trail. He looks at a sign of the town, which reads: "Saddleburn Wells. Pop., 114."
The viewer new to this show may well think, "Wow, this is clearly not Gilligan from Gilligan's Island."
Dusty looks at the sign, appearing grim, looking more or less like an authentic western hero. And then he opens his mouth.
"Saddleburn Wells, Pop 114," Dusty says. "I wonder how old Mom is?"
OK, never mind. This is Gilligan all right, or maybe his ancestor.
Callahan wisely ignores Dusty's comment for a moment and looks around before musing: "I wonder where everyone is."
They're in what looks to be an abandoned town. Everybody looks concerned. We get our first shot of the wealthy Howells – I mean, Brookhavens, safely tucked away in the stagecoach that Dusty is driving.
"Looks to me as if we found a ghost town," Callahan says. Cue the spooky music.
Everybody fans out, exploring the town, trying to figure out why the previous residents left. Dusty peers into a saloon and is alarmed by the ugliest dance hall hostess he has ever seen. Callahan looks into the saloon and discovers that Dusty saw a moose head. (Yes, Dusty is that dim-witted.)
Callahan sets Dusty straight. "A moose head," Dusty marvels. "I wonder how fast he was going when he hit that wall."
Callahan looks pained. He looks pained a lot in this series.
Andy, the smart professor-like fellow, and Mr. Brookhaven set off together.
"They haven't been gone very long," Andy quickly surmises. "Look at the blacksmith's forge. The coals are still hot."
"I don't see any horses," Mr. Brookhaven muses. And then he thinks he knows why. "Oh! Perhaps they went on a fox hunt."
Get it? Mr. Brookhaven is rich. That idea is hammered home repeatedly. When Andy suggests that they look for clues at the town's newspaper's office, a pretty good idea, Mr. Brookhaven says, "Good, maybe they'll have a stock market report. C'mon!"
The ladies – Mrs. Brookhaven, Betsy and Lulu – are left to their own devices, and they feel uneasy about Saddleburn Wells.
"I know someone is staring at us. I can just feel it," Betsy says.
"So can I," Lulu says, with a hint of Mae West bravado. "And I kind of like being stared at."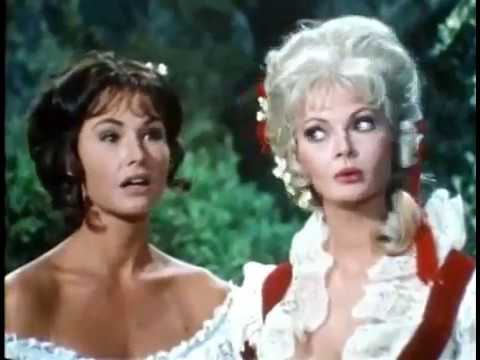 Eventually, the castaways – er, westerners – discover that the town was abandoned due to the notorious Skullner Brothers, armed bank robbers and murdered. They learn this by reading the last issue of the newspaper, printed before everybody ran away.
"So the whole lily-livered town took a powder," says Lulu, who has some of the more colorful dialogue in the series.
At some point, the Skullner Brothers eventually make themselves known. They fire off their guns and send a note tied to a scarecrow on a mule. The note informs the wagon train crew and passengers that they need to give up their gold and belongings or be burned out of the town.
The rest of the episode involves everyone trying to figure out how to get out of the ghost town alive. Dusty runs away, at first, but he quickly returns to Callahan.
"I suddenly remembered it's my job to help you protect everyone, especially me," Dusty says.
Andy suggests reasoning with the outlaws and starts to walk out onto the main street with a white flag.
"The Skullners aren't animals," Andy tells Callahan. "I'm sure they'd recognize the white flag of truce. It happens to be the code of the west."
"Yeah, the code of the west," Dusty says.
Moments later, Andy returns with a white flag full of bullet holes. Dusty looks at Callahan and says: "Maybe the code of the east?"
Mrs. Brookhaven decides that the ladies should band together and talk to the outlaws, who will certainly not dare shoot a woman. Lulu likes that idea.
"Mrs. B., you have more sand in your craw than a gila monster with a long neck," Lulu says.
"Why, thank you," Mrs. Brookhaven says, and the ladies march onto the street, triumphant, returning a few moments later to the saloon, looking disheveled and perhaps covered in gunpower.
Mr. Brookhaven is quite distressed at the sight of his wife. "Daphne, cover up your pantaloons -- if anyone should see you like that, we'd be drummed right out of the country club," he says.
Hey, you know, I'm starting to think that the Brookhavens are rich.
By the way, while I haven't done exhaustive sleuthing into the first country club in America, it seems to be that the first of them popped up in the 1880s, possibly as early as 1882, in Boston, where the Brookhavens are from. If we are going to assume that Dusty's Trail is an authentic and realistic western (humor me), that would mean this show was set in the 1880s, when the wagon train industry was definitely a dying one, and it would have been even easier to find your way to California.
Mr. Callahan devises a plan where everyone but himself will flee – and he'll fight it out with the gunmen. Unfortunately, or fortunately, Dusty accidentally injures Callahan's hands, so his boss can't shoot his way out of this mess. Then, when explaining to Andy how the accident happened, Dusty injures Andy's shooting hand.
Eventually, the name "Bat Masterson" comes up in conversation, and everybody decides to dress Dusty up as the famous sheriff. The hope is that without firing a shot, they can scare the outlaws into giving up.
So soon Dusty is in a suit and wearing a fake mustache – aided by Lulu's makeup kit – and he leaves through a door in the saloon to go fight the Skullner Brothers.
"Poor Dusty. We may never see him again," Betsy says.
"Yes, you will, Betsy," Mr. Callahan promises. "That's a closet."
Moments later, Dusty emerges and marches outside. The plan works, and the gunmen drop their weapons, and Andy grabs a gun and takes them... somewhere... We never see where, but presumably they take them to a sheriff. All because Dusty twirls his cane as Bat Masterson was famous for doing. Well, let's amend that. On the TV western Bat Masterson (1958-1961), the TV character was famous for wielding a cane rather than a gun, but in real life, there's little to no evidence that the legendary sheriff was roaming the Old West with a cane.
So that was the first episode – and inexplicably, I ended up watching probably a dozen episodes of Dusty's Trail for The TV Professor. I shall now cover each one, thoroughly, and… no? OK, well, if you're still with me, I'll breeze through just a little more about Dusty's Trail.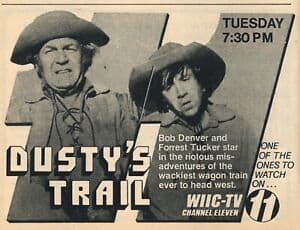 A Little More About Dusty's Trail
As noted, I watched about a dozen of these episodes, and so if you end up checking out the series, here's some of what you'll find.
A near hanging. In the third episode, a marshal is convinced that Dusty is a horse thief – and tries to hang him. It happens near the end of the episode. There's Dusty – again, this is Bob Denver, who once played loveable ol' Gilligan – sitting on a horse with a noose around his neck. Think about that for a moment. This was presumably a TV series directed at children (I'm totally okay with Yosemite Sam firing off guns in a cartoon, but something about a hanging really creeps me out). Seriously, though, it's probably the creepiest image of the entire series.
Instead of island natives, the wagon train runs into Native Americans. By the way, should you watch Dusty's Trail for an authentic look at Native American culture? Probably not. Should you look at Dusty's Trail for an authentic look at anything? Also, probably not.
In one episode, there's a gorilla that has escaped from a traveling circus and captures Betsy because, sure, that probably happened a lot in the Old West. And as you may recall, a gorilla occasionally appeared on Gilligan's Island. But, surely, you're probably thinking, the creators of Dusty's Trail would stop the similarities there, right?
You would be wrong. In the episode, "The Wizard of Ooze," everybody discovers that the wagon train is parked on top of a volcano. Dusty also develops amnesia in this episode. Gilligan's Island also featured a volcano in an episode – and Gilligan developed amnesia in another. As for a volcano in the Old West? Well, there is a volcano underneath Yellowstone, and so the episode is still within the bounds of reality. Barely.
In "The Calvary is Coming," probably one of the better episodes, we learn that Mr. Callahan was once in the army – and later, when he sneaks into the army camp, Forrest Tucker is wearing his old army uniform. It's a clever nod to Tucker's F-Troop days. It also appeared that we were going to get some actual character development at the start of the episode when some characters accuse Andy of being an army deserter. But, no. Igor Francis has some nice moments, infiltrating the camp, pretending to be a general, in order to rescue Dusty and Mr. Callahan, who were caught trying to free Andy.
As it turns out, Andy is barely in the "Calvary is Coming" episode, although he does have a sad looking moment when he – and the actor, Bill Cort – is imprisoned, forced to do heavy labor, wearing chains and being forced to drag what looks like a huge log across some dirt.
Seriously, I'm thinking Cort must have read the script, delighted at first when he saw his character was going to be front and center in the plot -- and then was ultimately crushed when he later realized he had probably fewer lines that anybody in the episode.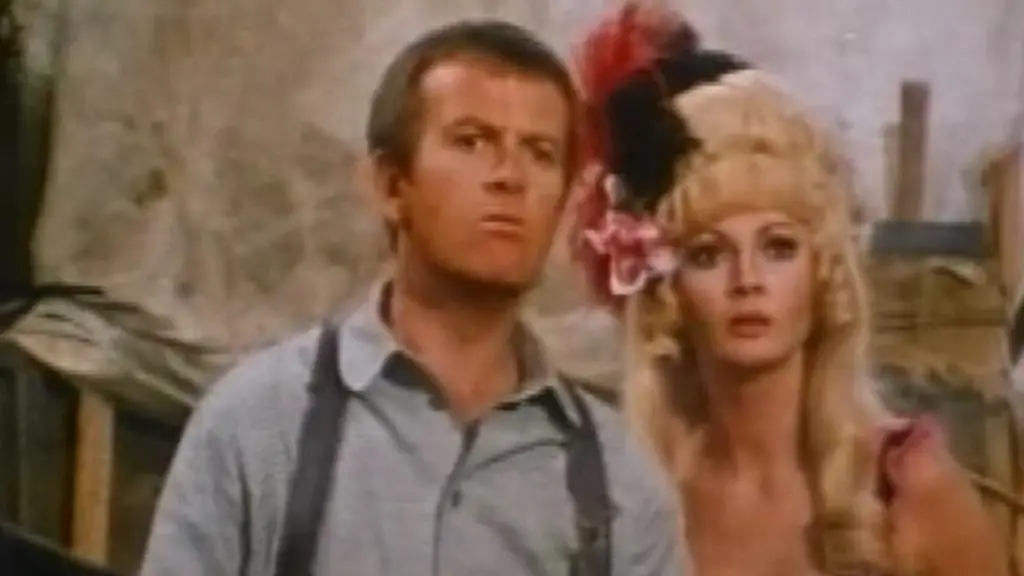 When Dusty's Trail Came Out – and What the Critics Said
James Brown, a reviewer at The Los Angeles Times didn't hate it – though he made it clear that he didn't love it either. Brown said that the series "is a throwback to the days when situation comedies didn't try so hard to be relevant" and that Dusty's Trail "tried only to be funny. Sometimes it even succeeded."
Brown's predictions for the show were a bit off, however.
"As you can probably guess, Dusty's Trail will be popular," he wrote.
Uh, no. That didn't happen.
"It has something for everyone--kids, adults, intellectuals, dogs, cats--anyone. You can do your homework to it, read a magazine while it's on, fall asleep, or catch some of the dialog in the Reader's Digest joke page. One thing you won't have to do is think about it. Television needs its Dusty's Trail for just that reason."
Steve Hoffman, critic for The Cincinnati Enquirer, was a little more blunt about the show, calling Dusty's Trail a "disaster" in an article that ran on October 1, 1973.
OK, Hoffman didn't hold back at all. He wrote that Dusty's Trail was "produced by idiots for the consumption of imbeciles. Bob Denver, no surprise to see, specializes in playing morons. Forrest Tucker must be in financial trouble. Why else would he lend his fine talent to such an asinine offering?"
But other than that, I think Hoffman liked it.
The actors gamely told the media that they had fun filming the series, and they may well have enjoyed themselves. It isn't as if actors can always tell that a TV series or movie is going to be a bomb. Shortly before Dusty's Trail aired, Forrest Tucker, who hopefully wasn't in financial trouble, told The Los Angeles Times, "I'm like a kid with three desserts. I'm having more damned fun with this one than any of 'em."
Tucker talked about the many comics he had worked with and said of Denver, that he "is one of the great ones. He can do anything."
Denver reportedly enjoyed working on Dusty's Trail but seemed to recognize that the series wasn't exactly Shakespeare. Of his character, he told The Los Angeles Times, "He's dumber than Gilligan, if that's possible."
So should you watch Dusty's Trail? You probably know the answer without me telling you. If you loved Gilligan's Island, you're probably already blocking some time on your calendar to sample the show. If you hate Gilligan's Island or are only mildly interested in the series, then steer clear.
For me, the longer I spent time with Dusty, Mr. Callahan, the Brookhavens, Lulu, Betsy and Andy, the more I started to like them, and the more I stuck with the series. Still, like riding in a wagon train, watching multiple episodes of Dusty's Trail is one bumpy ride.
Where you can watch this show (at the time of this writing): As mentioned earlier above, Dusty's Trail can be found on TubiTV.com, a free streaming TV service. Dusty's Trail episodes can also be found on YouTube.com.
The previous "TV streaming capsule": Lucy Calls the President, a 1977 TV special.