It's a Wonderful Life started out as a 1946 feature film, but it has been a holiday staple on TV for generations – and in fact, celebrates its 75th anniversary this year.
And as people who were around to watch TV in the 1970s and 1980s know, for awhile, throughout November and December, in any given week, you used to find It's a Wonderful Life airing on three or four different channels, or more. It was everywhere.
If you're wondering how and why It's a Wonderful Life was everywhere, until one day it was not, The TV Professor will explain all. But if you want the short version of the story, you can blame It's a Wonderful Life not being on TV every minute of the day on the Supreme Court.
In fact, we're about to look at It's a Wonderful Life and its TV history from just about every angle imaginable.
Today's "TV Lesson" Breakdown: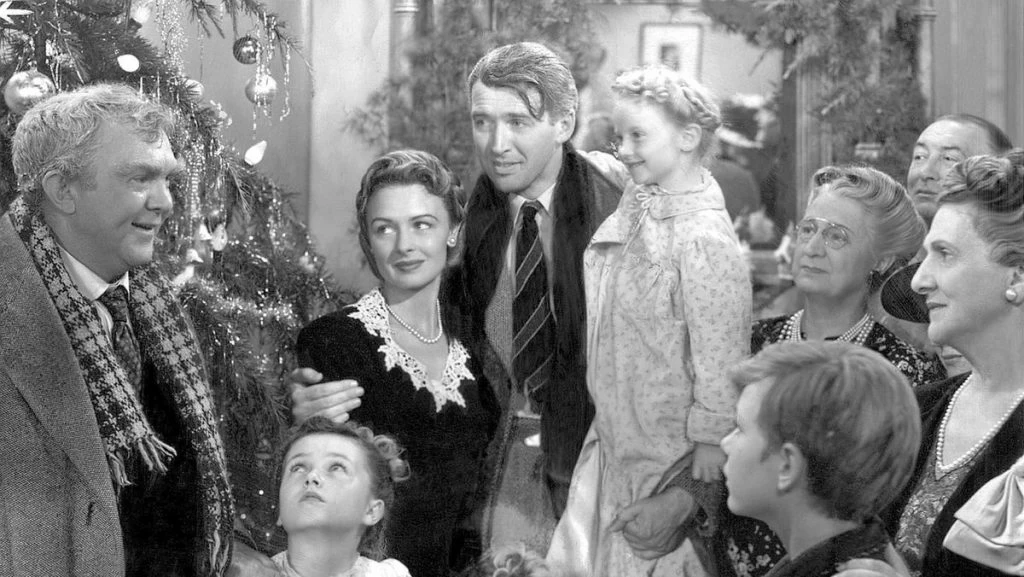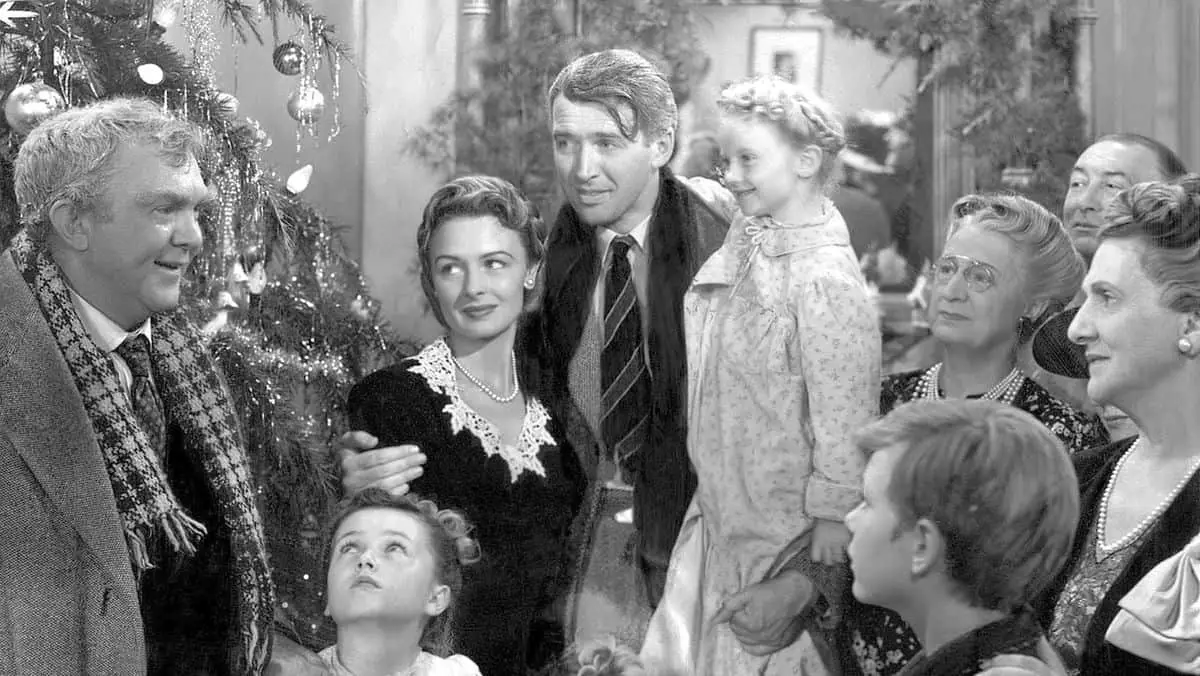 For your poor souls who have never watched It's a Wonderful Life
You've never seen It's a Wonderful Life? No idea what it's about? Oh, you don't know what you're missing. In case somehow you haven't seen it, the quick basic plot line is this:
A nice and decent guy named George Bailey (James Stewart) is eager to leave his small town and make something of himself in the world. Due to family commitments, he never manages to leave his home town of Bedford Falls, however.
Things go particularly badly for him one Christmas Eve, and George Bailey decides the world would have been better off without him. In fact, George decides to jump off a bridge into a freezing river.
Fortunately, before that can happen, a guardian angel named Clarence steps in and cleverly gets George Bailey to stop thinking about ending his life. Still, George casually remarks that he wishes he had never been born, and Clarence decides to grant him his wish.
So George Bailey gets to see what the world would be like, if he had never been around, and he gets a whole new appreciation for his life and life itself.
It's a Wonderful Life was a sleeper hit
As you may know, a "sleeper hit" is a Hollywood term that refers to a movie, TV show, song or another piece of entertainment that isn't a blockbuster right away, but eventually over time, everyone starts to realize that – wow, people really like this.
It's a Wonderful Life has a reputation for being a bomb at the box office, but it seems off-base to call it a flop, even in its early days. I think it's more accurate to call it a sleeper hit.
For instance, the Hollywood trade publication Variety noted on January 1, 1947, 10 days after the movie was released, said, of It's a Wonderful Life: "Raves for this one and box-office is responding accordingly at gigantic $24,000."
It also, in the same issue, referred to It's a Wonderful Life as being in the top 10 grossing films of the last weekend.
The movie also garnered five Oscar nominations – and the reviews around the country were strong.
Weeks later, you can find references in Variety to the movie not doing as well. Still, the movie made money, and audiences were going to see it.
The movie was also popular enough that it was turned into an abridged radio play during the Christmas season of 1947, and Jimmy Stewart and Donna Reed reprised their roles. In fact, they performed their parts in several productions, sometimes lasting 30 minutes at least one was 60 minutes. Stewart once said in an interview that they did the radio play five years in a row.
It's hard to imagine that happening if the movie had been considered a dud.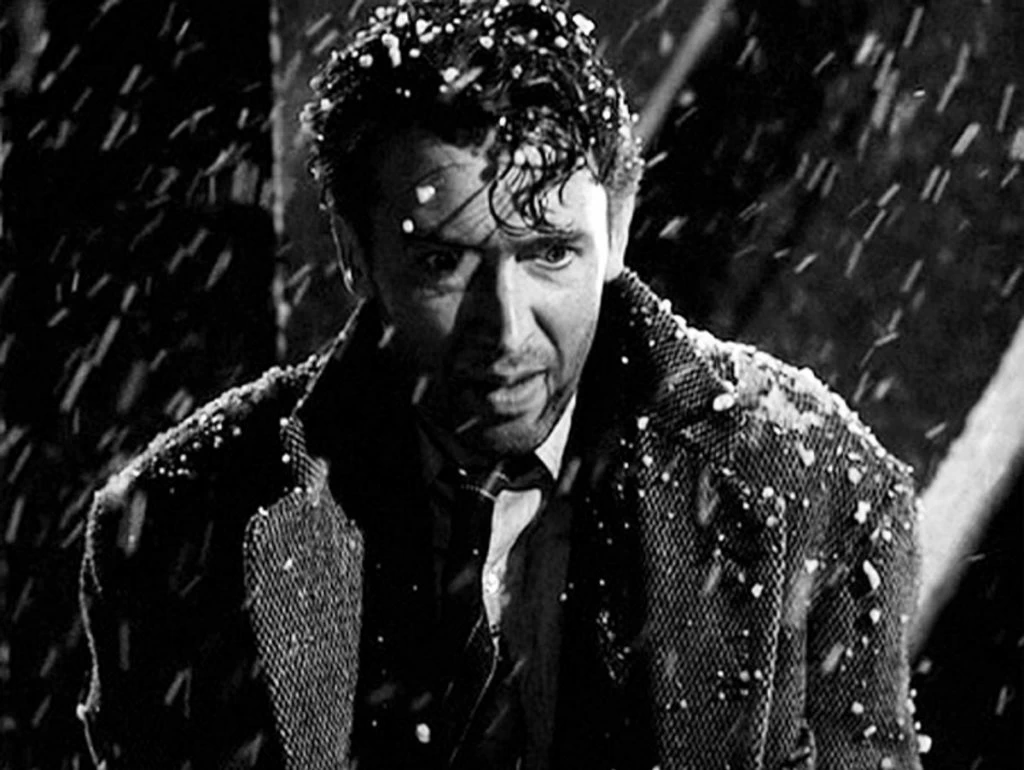 It's a Wonderful Life first aired on TV in 1956
That's as early as I've found it in newspaper archives. A Los Angeles TV station ran It's a Wonderful Life on April 9th and the 12th at 1 p.m.
On May 26, The Cincinnati Enquirer published an ad for It's a Wonderful Life and said that tonight's broadcast would be the first ever. Since Los Angeles had already run the movie, they were likely referring to a broadcast on their own station, which was then part of the ABC network. In any case, 1956 appears to be the first year that It's a Wonderful Life started to make its way on TV.
That said, one gets the sense that it either ran quite a bit after that, or that there were possibly earlier times the movie ran on TV. Because in 1957, Jimmy Stewart did an interview with The New York Times and said that It's a Wonderful Life, "which I made with Frank Capra after we both got out of the army, has been on television many times."
In 1957, it had been on for many times over many years? Or did Stewart mean that many stations had aired it in the last two years? Judging from the newspaper archives, it had aired many times in the last two years.
"I've seen it, and I think it is very well adapted to TV," Stewart continued, with his take on It's a Wonderful Life. "I've had more comment and favorable reaction to this picture on television ten years after it was made than when it was first shown in theatres. It seems to please audiences more on a little screen."
At any rate, by 1957, 11 years after the film aired, It's a Wonderful Life was already something of a TV staple for audiences.
Stewart admitted in the interview, though, that his first impression of television wasn't very favorable. He said that it was 1950 when he was in a New York hotel room. He turned on the TV and saw a "jumble of noise and confused action."
Stewart thought, "If this is television, Hollywood has nothing to worry about."
And then Stewart realized he was watching a film he had never gotten around to seeing but one he was familiar with -- Pot o' Gold, a 1941 movie... starring Jimmy Stewart.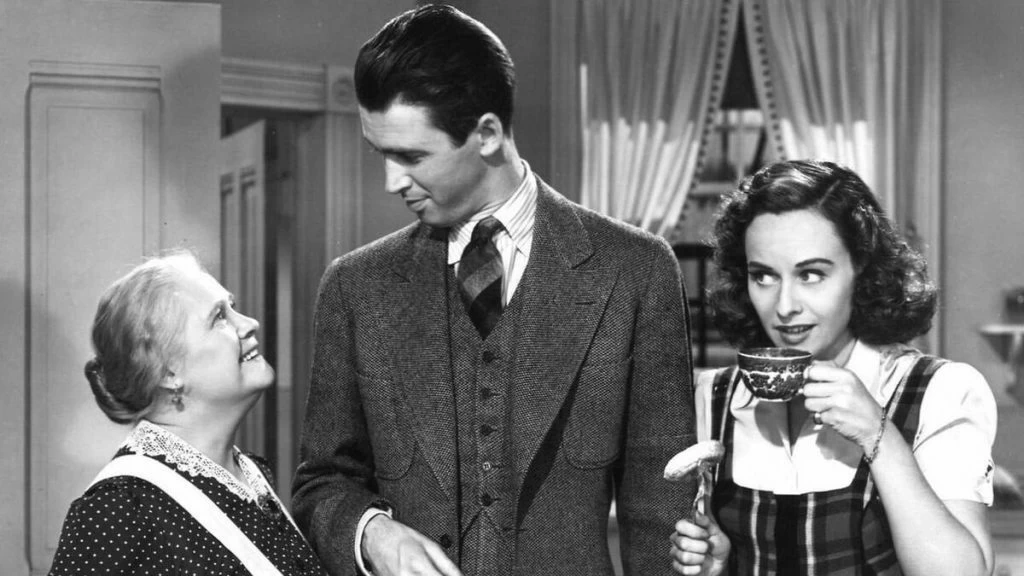 1974 was a pivotal year in It's a Wonderful Life's history
So It's a Wonderful Life continued airing on TV, throughout the year, during the 1960s and early 1970s, but it usually turned up on various stations across the country in December.
In 1973, Stewart told TV columnist Bob MacKenzie that of his then 76 movies, It's a Wonderful Life was his favorite.
"I guess it's a sentimental favorite. Frank Capra made it, you know, and I remember he called me over to his house one night, and he said, 'Now, Jimmy, this picture starts in heaven, see, and you're going to commit suicide when a guardian angel comes down and... Gee, it sounds pretty awful, does it?'
"I said, 'Frank, if you want to make a picture that starts in heaven and has a guardian angel, I'm your boy.'"
But in 1973, Republic Pictures, the studio that made It's a Wonderful Life, forgot to renew the copyright on the film. So in 1974, it went into the public domain.
Once TV stations learned that It's a Wonderful Life was part of the public domain, TV stations across the country figured that they could air the movie without paying anyone a dime. And it was clearly popular, so why not show it? Why not show it a lot?
It didn't happen overnight, but as the 1970s and 1980s chugged along, slowly but surely, It's a Wonderful Life was on TV – everywhere.
Marlo Thomas made a movie based on It's a Wonderful Life
Why not? After all, It's a Wonderful Life was in the public domain.
So in 1977, Marlo Thomas remade It's a Wonderful Life into a TV movie for ABC called It Happened One Christmas. She played the Jimmy Stewart role. Cloris Leachman was the guardian angel. Wayne Rogers was Thomas's husband. Orson Welles was the villain.
"I love it rewritten for woman," she told a newspaper. "The pressures are different, but when you wish you'd never been born, it doesn't matter if you're a man, woman or a frog. The story is so strong -- wishing you'd never been born, getting the wish and then realizing how much our life has meant."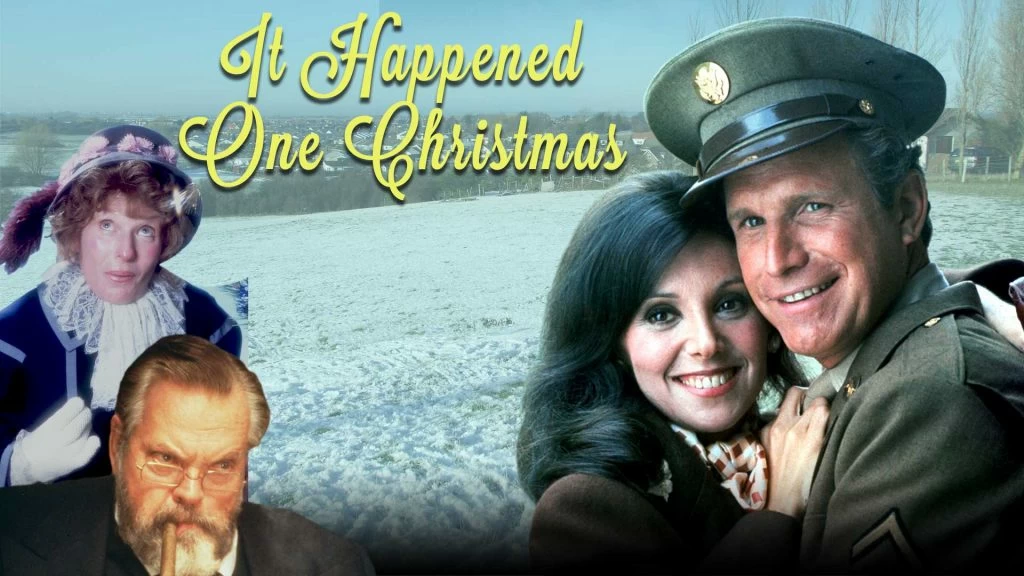 It's a Wonderful Life was everywhere.
You couldn't get away from the movie. No TV station (that I know of) did what TBS would do for A Christmas Story and played It's a Wonderful Life for 24 hours straight, though one suspects it probably did happen. But It's a Wonderful Life certainly filled a lot of holes in TV schedules every December.
For instance, in Fairfield, Iowa – just to pick a city at random – on December 23, 1983, Channel 6 played the movie at 12:30 p.m. At 1:30 p.m., in the same city, it was on Channel 11. At 11 p.m., it was back on Channel 6.
It was like this across the country. Pretty much throughout December, you couldn't go a day or two without finding It's a Wonderful Life on some TV station somewhere. If you wanted to watch It's a Wonderful Life and didn't have a videotape of the movie handy, you never had to worry. It would be on at some point. This was pretty useful during an era in which streaming was a few decades off.
It's a Wonderful Life was colorized.
And why not, Ted Turner apparently figured. The movie was in the public domain. Like Marlo Thomas had done, Turner could take It's a Wonderful Life and do with it what he wanted. Besides, everybody loved It's a Wonderful Life. They might love it even more once it was in color.
So in 1985, It's a Wonderful Life was colorized.
Well, while some people probably did enjoy seeing It's a Wonderful Life in color, one person who definitely did not like it was its director – Frank Capra.
"This monstrosity is an embarrassment to me and my friend, James Stewart," Capra said in a newspaper interview. "They splashed it all over with Easter egg colors and they ruined it. Even the villain looks pink and cheerful. The story, therefore, has been changed."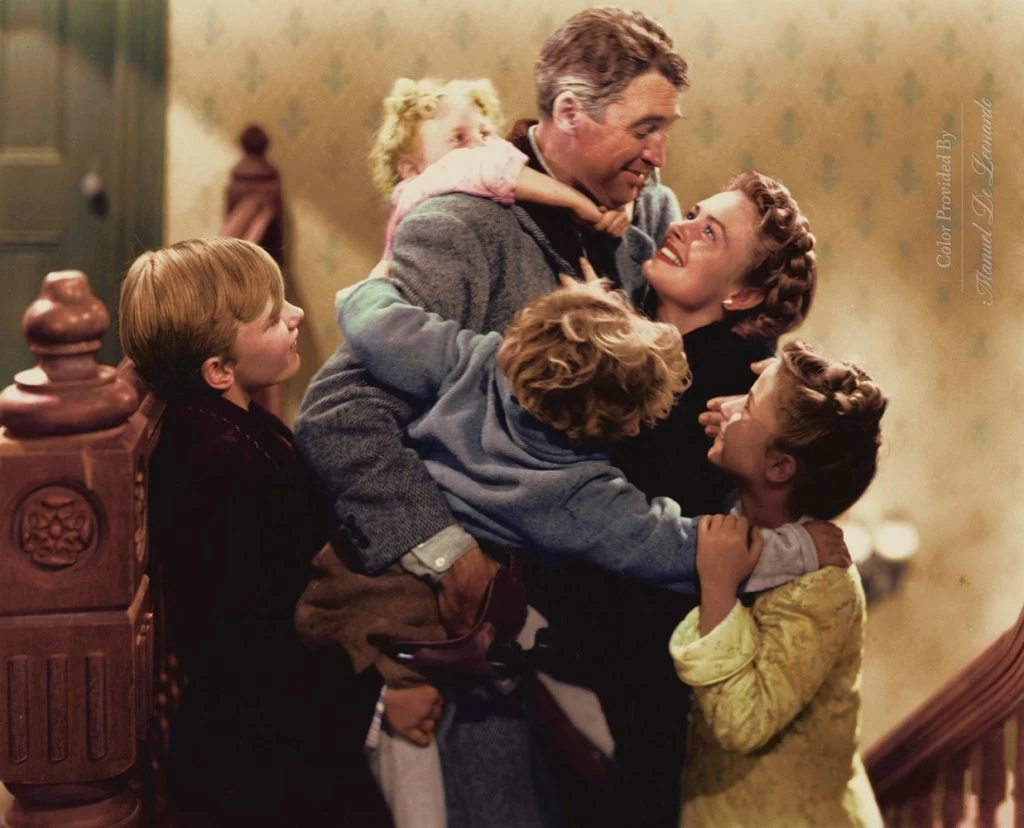 The Supreme Court gets involved
Only the Supreme Court didn't get involved in the way you might think. There was no It's a Wonderful Life versus the People.
What did happen is so complicated and convoluted that I'll keep things short because I don't want to put everyone to sleep. But there was a lawsuit over another movie and copyright issues, and the Supreme Court's decision wound up making Republic Pictures think that they had a shot of wresting back control of It's a Wonderful Life.
Well, there's a little more to it than that. Basically, a literary agent, Sheldon Abend, got angry (or was happy and saw dollar signs) after he saw a movie, based on his client's short story, air on television. His client had died but Abend owned the copyright to the short story and felt that he should have been consulted (translation: paid) before the movie wound up on TV.
The movie? Rear Window, which also starred James Stewart. The short story? "It Had to be Murder," by Cornell Woolrich, who died in 1968.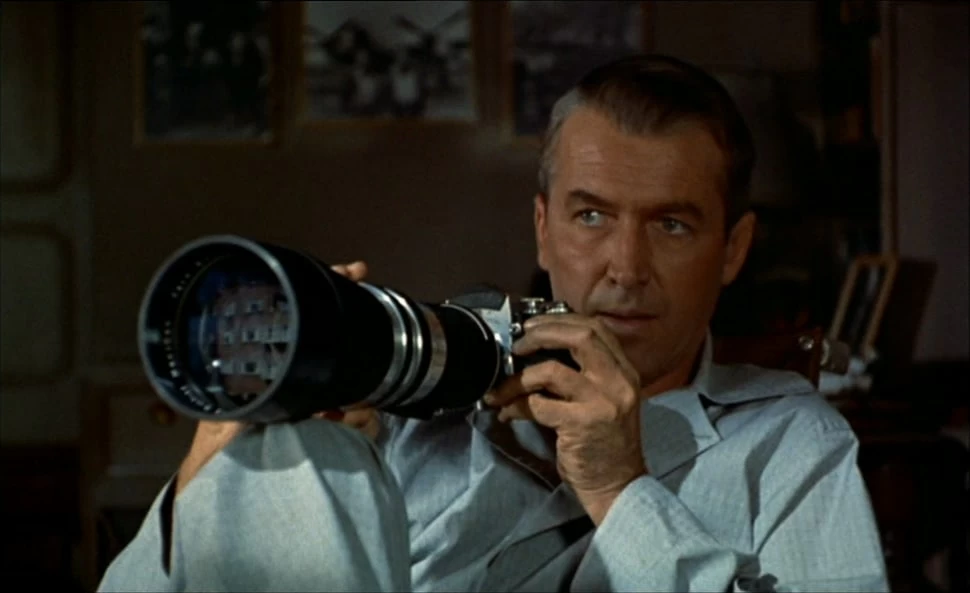 The Supreme Court sided with Abend. So Republic Pictures made sure it secured the rights to the music for It's a Wonderful Life and the short story that it was based on – a 1943 short story, "The Greatest Gift," by Philip Van Doren Stern. Once that was done, feeling confident in their legal standing, Republic Pictures began sending out letters to TV stations airing the film as well as production companies selling video cassettes of It's a Wonderful Life.
"We're trying to resolve this without filing 200 lawsuits. We would win all of them, but we're trying to do this amicably first," James Tierney, attorney for Republic, told a reporter in 1993.
It was a smart strategy. TV stations just wanted to have some free programing and save a few bucks. Going to court with Republic Pictures, over the ability to show one movie for free, wasn't exactly a winning financial strategy.
Soon, Republic Pictures had convinced the entertainment world that they owned the rights, once again, to It's a Wonderful Life. If they wanted to show the movie on their TV station, they would have to talk to Republic Pictures first.
Which is how NBC came to paying a small fortune in 1994 to secure the exclusive rights to show It's a Wonderful Life on NBC and NBC-owned TV stations – and why you don't now see it airing dozens of times a month on dozens of stations.
That's probably what led to, in 1997, TBS showing the 1983 movie, A Christmas Story, over and over and over on their station.
Ever since 1997, they've aired A Christmas Story 12 times over 24 hours, from Christmas Eve to evening on Christmas Day. Sure, maybe they would have done that, anyway, but once TBS lost the rights to show It's a Wonderful Life – remember, TBS colorized it, or if you prefer, hired a company to colorize it – the executives apparently felt that they had to come up with some sort of memorable Christmas holiday movie hook.
It's a Wonderful Life influenced TV shows
Naturally, with It's a Wonderful Life being everywhere on TV, eventually TV series were going to comment on it.
Some of the TV series that incorporated the movie into an episode included...
Dallas. The entire series in 1991 ended with a spirit showing J.R. Ewing what life would have been like for the people around him if he had never been born. It turns out that everybody's lives would have been much, much better.
Married… With Children. They took a similar tack in an episode, showing that everybody's lives without Al Bundy would have been a lot classier, with better grades at school and wonderful home cooked meals.
Moonlighting. In the episode, "It's a Wonderful Job," Maddie gets to see what life would have been like if she had closed the detective agency.
And, well, rather than go through every plot line that has been touched by It's a Wonderful Life, suffice it to say that Night Court, Psych, Smallville, Switched at Birth, That '70s Show, NCIS and many more series have tweaked the "I wish I had never been born" formula for their own devices.
The It's a Wonderful Life cast on TV
As noted, It's a Wonderful Life was a movie – filled with movie actors. But as you likely know, many of the actors had some pretty significant roles in TV. And since this is, after all, a TV blog, I thought I'd run through some of the other ways that the It's a Wonderful Life actors made an impact on television, beyond being part of a film that is now a holiday classic TV staple.
Donna Reed – Mary Bailey
Let's begin with her first since she arguably had the most successful TV career of her It's a Wonderful Life peers. As most people probably know, Donna Reed went onto star in The Donna Reed Show, which aired from 1958 to 1966. It's worth noting that The Donna Reed had a pretty cool Christmas episode of its own, titled simply, "A Very Merry Christmas." I'm not saying it matches It's a Wonderful Life, but it has as a guest star, the great silent film star, Buster Keaton, and the two throw a party for children in a hospital ward.
While Donna Reed's TV career tapered off after The Donna Reed Show, she spent a season on Dallas, taking over a role for an actress who had health problems. Reed played Ellie Ewing, J.R. Ewing's mother. When Barbara Bel Geddes's health issued passed, she returned to the show, much to Ms. Reed's understandable dismay. She was fired in 1985, despite having signed a three year contract. She sued and settled for $1 million. But soon Ms. Reed had other, more pressing problems. In 1986, she died of pancreatic cancer.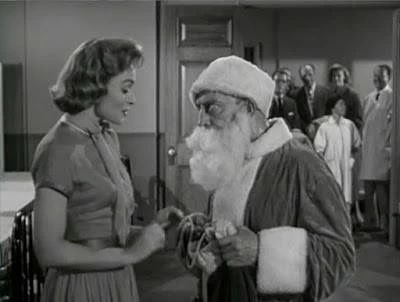 Jimmy Stewart – George Bailey
Jimmy Stewart was known far more for his work in the movies than on TV, but he was no stranger to the small screen. After a lifetime of making movies, Stewart tried starring in a sitcom, The Jimmy Stewart Show in 1971. Unfortunately, reviewers didn't like it, and audiences stayed away. He made another attempt again at TV with Hawkins, a mystery legal drama that ran from 1973 to 1974. These were 90-minute movies, and unfortunately, only eight of them aired.
While those TV series were Stewart's main contributions to TV, along with his beloved appearances as a guest on The Tonight Show, it's worth noting that in 1957, he directed and starred in a television production called Trail to Christmas. It aired on GE Theatre. Stewart played a cowboy who told a runaway kid the story of "A Christmas Carol." It was a version of the Scrooge story, set in the Old West.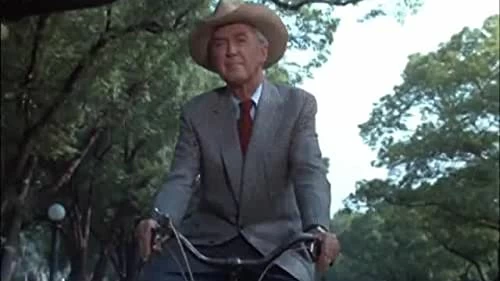 Lionel Barrymore -- Mr. Potter
Lionel Barrymore, who died in 1954, did almost no television throughout his career. He was strictly a movie legend -- except for his last role, in 1954. He played Father Time in an animated TV movie -- directed by the It's a Wonderful Life director Frank Capra. It also starred Eddie Albert, future star of Green Acres.
Thomas Mitchell – Uncle Billy
Thomas Mitchell was one of cinema's greatest character actors, co-starring in movies like Gone With the Wind, Stagecoach, Mr. Smith Goes to Washington, among many others. But almost as soon as TV became a viable medium, Thomas Mitchell was guest starring in TV shows. He even had a couple of his own TV series, a sitcom called Mayor of the Town (he was the mayor) and The O. Henry Playhouse (Mitchell played O. Henry).
But Mitchell's biggest contribution to television history was a role he originated but didn't get to play on TV. In 1962, he starred as Lieutenant Columbo in the stage play, Prescription: Murder. It was Mitchell's last role; he became sick and died before the year was up. But arguably, Columbo exists because of Mitchell. The writers of the play initially were convinced that the star of the play was the killer, played by Joseph Cotton. But Mitchell stole so many scenes that the playwrights realized what they had in the character of Columbo.
It's also worth noting that Mitchell created some memorable Christmas TV moments beyond It's a Wonderful Life. In 1955, a TV version, The Miracle on 34th Street, was made of the classic 1947 film, Miracle on 34th Street, which is arguably as beloved as It's a Wonderful Life. Mitchell played Kris Kringle.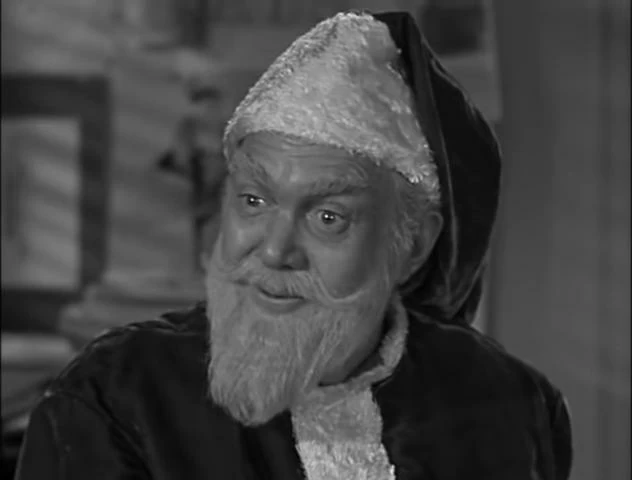 Henry Travers -- Clarence, the Angel
Travers is one of the few main actors from It's a Wonderful Life to have not done any television, mostly because he retired right around the time TV was starting. His last film was in 1949, and he died in 1965 at the age of 91.
Gloria Grahame – Violet Bick
Gloria Grahame played Violet Bick, the "bad girl" with the heart of gold in It's a Wonderful Life. She had a thriving movie career in the 1940s and 1950s and then in the 1960s, 1970s and 1980s had a thriving career as a character actress, mostly appearing in TV series, including The Fugitive, Daniel Boone and Mannix. She died way too young, a victim of breast cancer, at the age of 57.
Frank Faylen – Ernie Bishop
Frank Faylen played Ernie Bishop, the cab driver, in It's a Wonderful Life. He went onto have a memorable role as Herbert T. Gillis, beleaguered father on The Many Loves of Dobie Gillis (1959-1963). He then turned up in a number of movies and TV series, including My Mother the Car and The Beverly Hillbillies. He also reprised his Herbert T. Gillis role in the 1977 TV movie, Whatever Happened to Dobie Gillis? His last role was a 1978 Quincy episode, and he passed away at the age of 79 in 1985. Like many of the actors in It's a Wonderful Life, he lived long enough to see the film go from a sleeper hit into a piece of cherished Americana.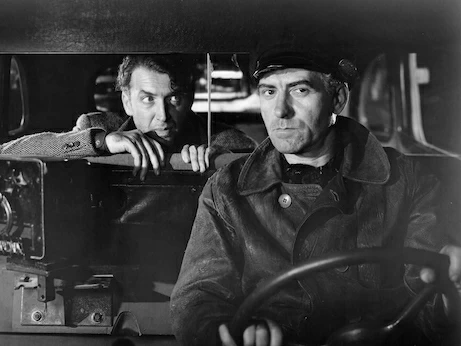 Bert, the cop
Bert, the cop, was played by Ward Bond, who went onto star as Major Seth Adams, the wagon master in the popular TV series, Wagon Train (1957-1965), which is still airing in reruns today. Bond died way too soon, of a heart attack in 1960 at the age of 57.
But his legacy lives on, not just with It's a Wonderful Life and Wagon Train, but every time Bert and Ernie do a routine on Sesame Street. Actually, it's apparently just a coincidence that Bert and Ernie on Sesame Street were named after Bert the cop and Ernie the cab driver, but try telling that to, well, everyone.
H.B. Warner -- Mr. Gower
H.B. Warner, who played Mr. Gower, the druggist, also had no TV credits, but what a career. Born in 1876, he began working in silent films, appearing in his first movie short in 1900. He died in 1958.
Frank Albertson -- Sam Wainwright
Sam Wainwright was George Bailey's friend, and rival, of sorts. George was always unfavorably comparing his life to Sam's.
Albertson had a prolific TV career starting in 1950. He was in all sorts of things, from a Mister Peepers episode, to Bachelor Father. He played a part in Leave It to Beaver and The Untouchables. He did the occasional movie part (he had a small role in Psycho). One of his last roles in 1964 was as Colonel Watson in The Andy Griffith Show episode where Gomer joins the Marines.
Incidentally, I haven't been able to quite confirm it, or find enough details around how and why it didn't happen, but apparently, Alan Hale, Jr., the future Skipper on Gilligan's Island, was supposed to play the Sam Wainwright part.
Todd Karns -- Harry Bailey
Todd Karns played George's kid brother Harry, who closed out It's a Wonderful Life with his toast: "To my big brother George, the richest man in town."
Karns had a pretty solid TV career once the 1950s came along, although much of his TV work has been forgotten. He played Jackson Jones in an early TV sitcom, Jackson and Jill (1949-1953), and then he also (at the same time) co-starred in Rocky King, Detective (1950-1954). His last TV role was in 1956, but he had a long and productive life. In 1971, Karns moved to Mexico and started a theater, where he produced and directed shows until 2000, when he died at the age of 79. Karns was also a prolific and talented painter.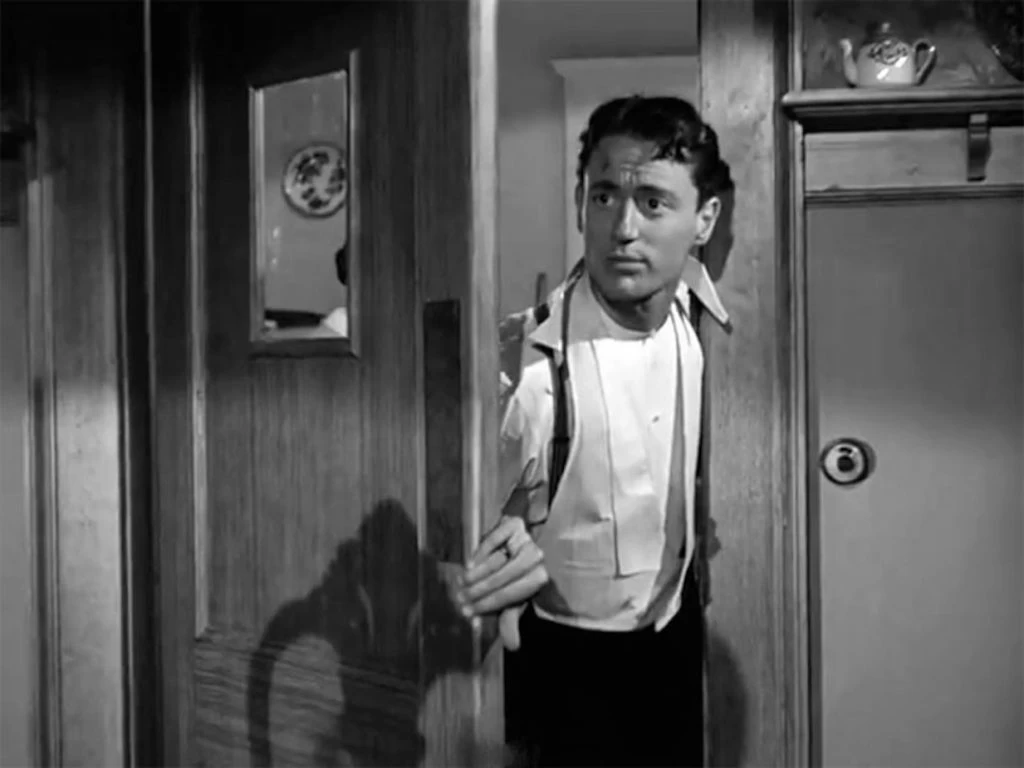 Samuel S. Hinds -- Pa Bailey
Samuel S. Hinds died two years after It's a Wonderful Life hit theaters. The actor who played George Bailey's father never did do any work on TV, but just so I don't leave him out, and to give him some connection to television, we'll mention that Hinds had a small role in the 1948 feature film The Boy with Green Hair, which starred Dean Stockwell, future co-star on Quantum Leap.
Beulah Bondi -- Ma Bailey
Beulah Bondi's career took off in the 1930s, as a character actress. What's interesting is that Bondi sort of became typecast -- as Jimmy Stewart's mother. It's a Wonderful Life was the fourth film she had played Stewart's mom. After It's a Wonderful Life, Bondi continued working in the movies -- but as the 1950s came, she started appearing in TV series as well. Her first TV role was a guest spot in The Doctor, a medical anthology series. Throughout the 1950s and 1960s, she appeared in Alfred Hitchcock Presents, Wagon Train (but after fellow It's a Wonderful Life alum Ward Bond had passed on), Route 66, Perry Mason and various other series. Bondi stated to slow down in the 1970s, but she still took occasional roles. She had a guest part in The Jimmy Stewart Show as -- you guessed it. She also played Martha Corrine Walton, in two episodes of The Waltons. She was the wife of Zeb's brother Henry. It was her last role. Bondi died in 1981 at the age of 92.
Mary Treen – Cousin Tilly
Yeah, I guess I'm including just about every actor in the movie. Cousin Tilly worked at the Bailey Building and Loan, where George Bailey spent most of his working days. After George says, "A toast to Mama Dollar and to Papa Dollar, and if you want to keep this old Building and Loan in business, you better have a family real quick," Tilly quips, "I wish they were rabbits."
Anyway, if Cousin Tilly looks familiar, it's probably because she has been in dozens and dozens of classic TV shows, including The Brady Bunch (she played Kay, a friend of Alice's), Happy Days, Laverne & Shirley and The Fall Guy. She was also in three episodes of The Andy Griffith Show. Remember the first episode of the series when Rose, the housekeeper retires, and Opie is all sad? That was Mary Treen (and then Treen later showed up as Clara Lindsey for two more episodes). She was in just about everything -- Dennis the Menace, Wagon Train, The George Burns and Gracie Allen Show. Well, you get the idea.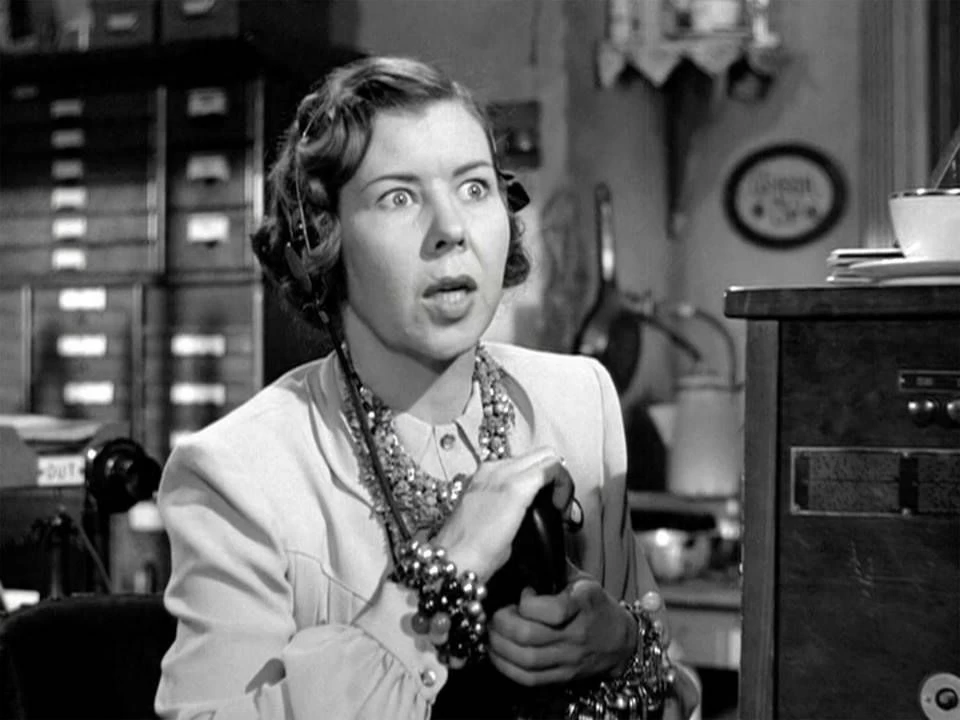 Dick Elliott -- guy on a porch
Dick Elliott had a small role, but, boy, it was memorable. He was the guy in the white T-shirt sitting on the porch. After listening to George talking to Mary for awhile, Elliott's character says, "Why don't you kiss her instead of talking her to death?" And then, a few moments later, Elliott grumbles, "Oh, youth is wasted on the wrong people."
If Elliott looks familiar, he should. You've probably seen him in a number of TV shows throughout the 1950s. He started his career in the movies in the 1930s but in the 1950s, he was a go-to character actor in many many TV series, among them The Lone Ranger, The Mickey Rooney Show, Captain Midnight, I Married Joan and I Love Lucy. This guy was in demand. Fans of The Andy Griffith Show will remember him as Mayor Floyd Pike. He died during the series second season, in 1961.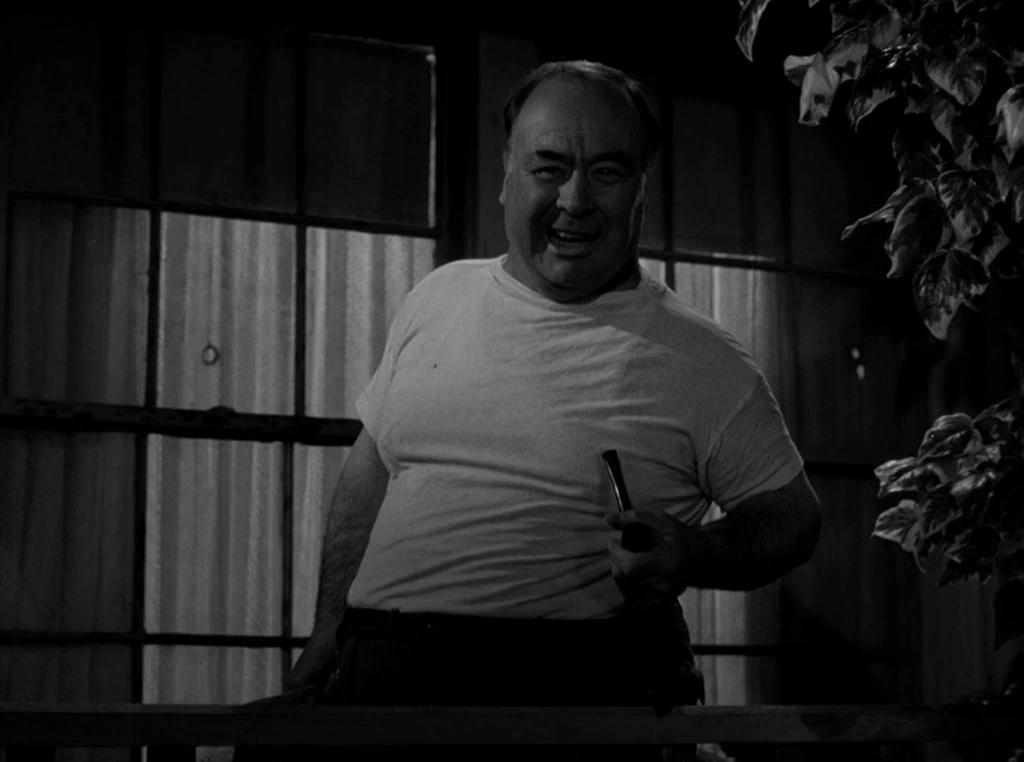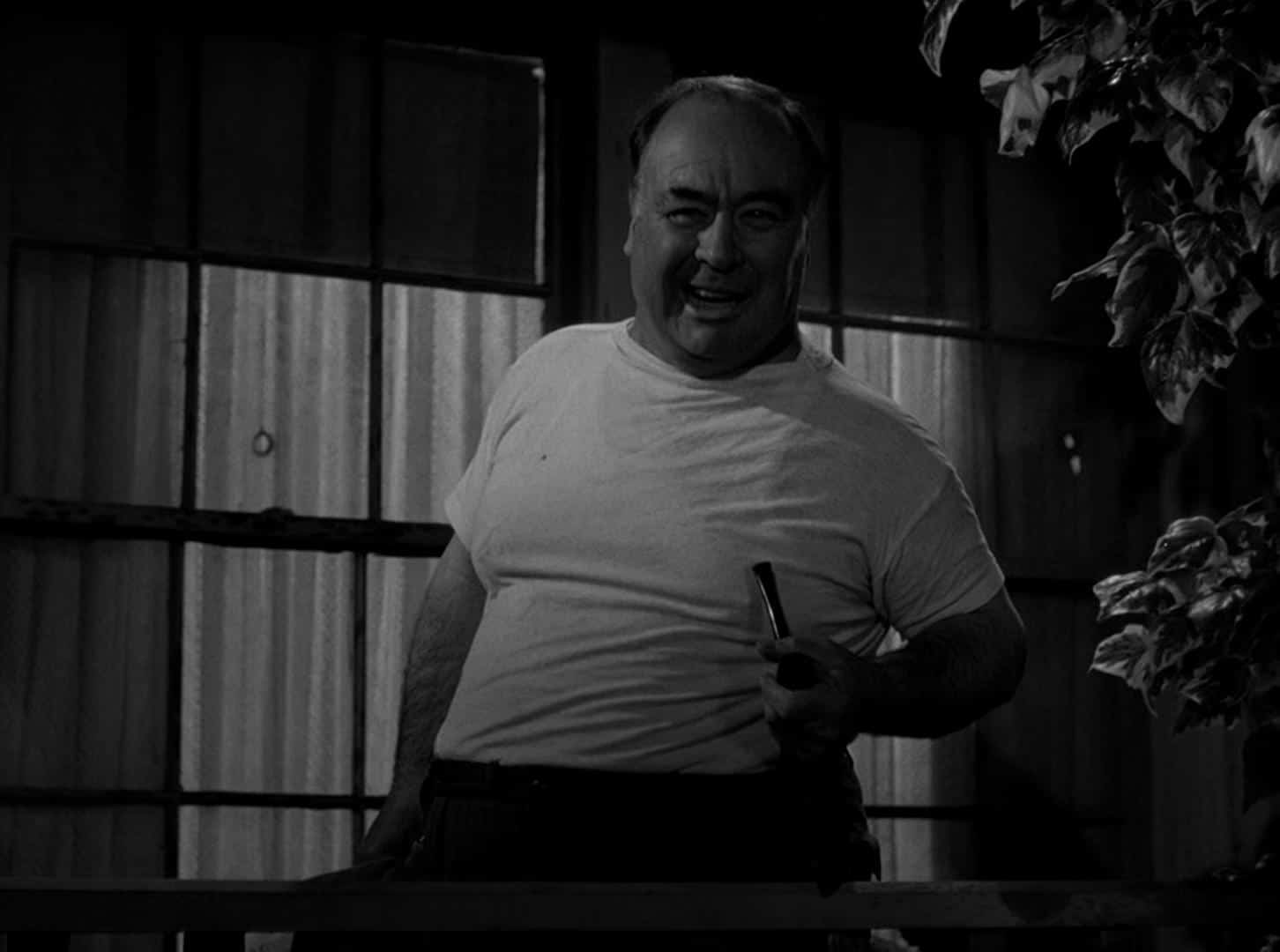 Sheldon Leonard -- Nick, the bartender
Finally, we can't leave out Sheldon Leonard. He had a great scene, with some memorable lines, like, "Hey look, mister. We serve hard drinks in here for men who want to get drunk fast, and we don't need any characters around to give the joint 'atmosphere.' Is that clear, or do I have to slip you my left for a convincer?"
Leonard had the biggest TV career of them all, although it was mostly as a TV producer and director, though he still played guest spots up into the early 1990s. Leonard created The Andy Griffith Show and Gomer Pyle: USMC. He was an executive producer on The Dick Van Dyke Show. He was a producer on The Danny Thomas Show and created I-Spy. Sheldon Leonard was a TV legend.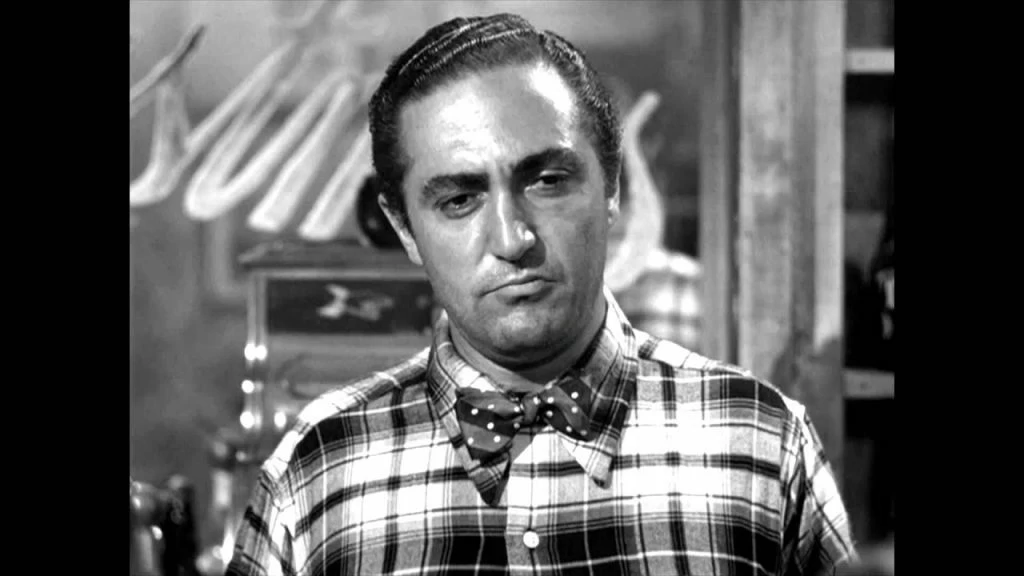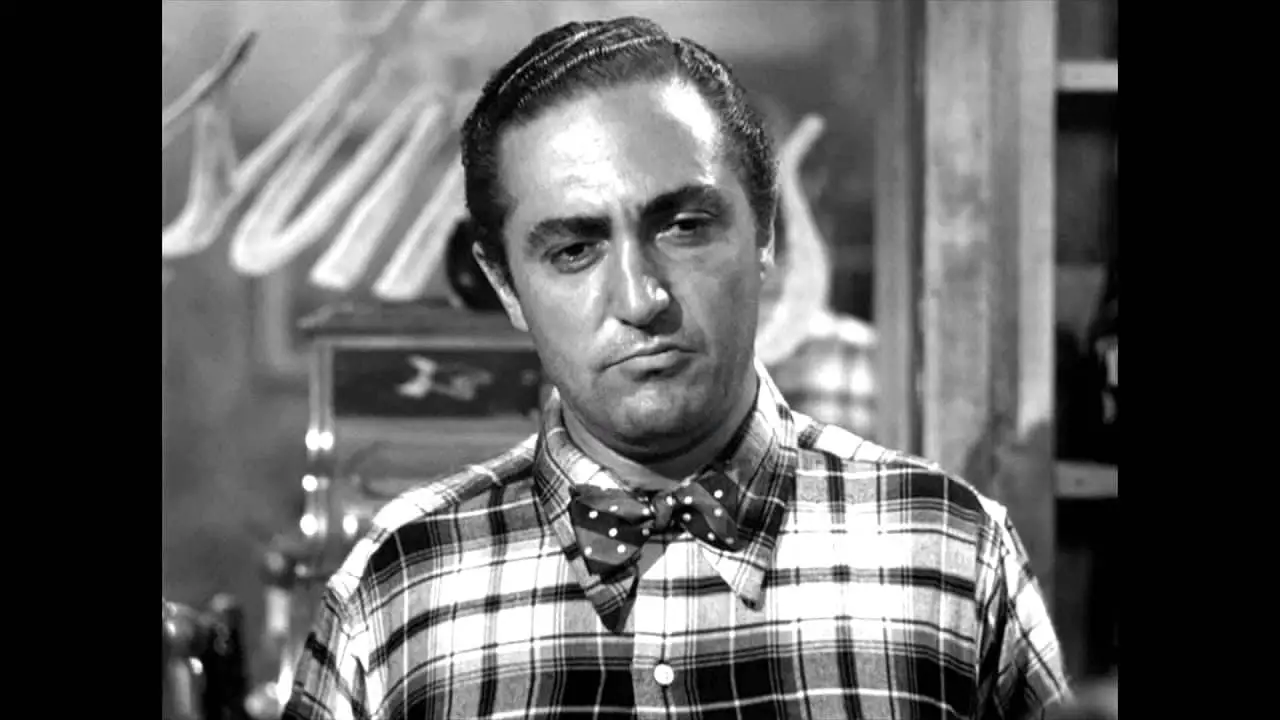 It's a Wonderful Life's TV Legacy
It's a Wonderful Life's uplifting message – that we all touch each other's lives, often in profound and meaningful ways – is its true legacy.
But there's doubt that the movie also helped to shape the Christmas TV viewing experience as we know it.
In 1958, Cecil Smith, the TV critic for The Los Angeles Times, wrote, "There's been a very logical attempt in TV to establish Christmas traditions -- that is, to produce Christmas shows that can be repeated, that people will look forward to seeing again year after year. The most notable example is the opera, 'Amahl and the Night Visitors,' which was sung for the ninth year last Sunday."
So if you gather around the TV with your family for your favorite Christmas specials, this isn't something that happened entirely by accident. The broadcast networks were hoping something like that would happen.
Radio first tried to turn It's a Wonderful Life into a Christmas staple with its annual live broadcasts of a shorter script – and then of course, the movie became regular viewing around the holidays in the 1950s and 1960s.
Meanwhile, TV offered up what they could for Christmas specials and in the 1960s, finally started knocking out some classic hits with staying power, like Rudolph the Red-Nosed Reindeer (1964), A Charlie Brown Christmas (1965) and How the Grinch Stole Christmas (1966). Whether it had any direct bearing on those TV specials or not, It's a Wonderful Life played a significant role in creating the modern day tradition of sitting down with your family to watch a Christmas special.
Of course, with the good comes the bad, and it's probably the case that every hokey and subpar Christmas movie probably owes a debt to It's a Wonderful Life.
That isn't an insult against It's a Wonderful Life. It's one of the best and maybe the best Christmas movies ever made – and therein lies the problem. For years now, we've had a lot of cable and streaming channels churning out Christmas movie after Christmas movie, desperately hoping to create the same magic. Often they miss the mark.
For good reason. Attempting to top the charms of George and Mary Bailey, and Clarence the Angel and Uncle Billy – well, it's a noble effort but almost a fool's errand. You can't blame Hollywood for trying, though, and many Christmas movies are entertaining, but very few Christmas movies are on a par with the Frank Capra classic. It's a Wonderful Life is simply, like the title suggests, a wonderful movie.
Where to watch It's a Wonderful Life (at the time of this writing): NBC will, as they always do now, show It's a Wonderful Life twice in December -- on December 4, from 8 to 11 p.m., and the same times on December 24. Updating to mention that it's also airing on the cable channel USA, at 8 p.m., on December 15. The movie is also available to stream for free on Amazon Prime for its members, and among other places, the classic feature is free (with ads, of course) on TubiTV.com.
Articles similar to this It's a Wonderful Life piece: Well, generally, The TV Professor focuses only on TV, but you may enjoy this look at Bloodlust, a 1961 feature film starring Robert Reed, future father on The Brady Bunch.