Sure, you can turn on the Food Network or watch old episodes of Julia Child's cooking show, but you can also pick up cooking tips by watching TV characters navigating the kitchen.
After all, some TV characters are chefs (Monica from Friends; Jack Tripper on Three's Company; Sookie St. James on The Gilmore Girls), and other TV characters who are… I hate this word but will go with it, foodies (Lieutenant Columbo loved to cook, as we see in "Murder Under Glass," and also never met a bowl of chili that he didn't love), and still plenty of TV characters who love to eat (Ben Matlock adored his grape soda and hot dogs, and another Ben, Ben Wyatt on Parks and Recreation was a calzone fanatic).
So there's a lot to work with here. If you're looking for cooking tips from TV, we've got plenty of examples.
Today's "TV Lesson" Breakdown: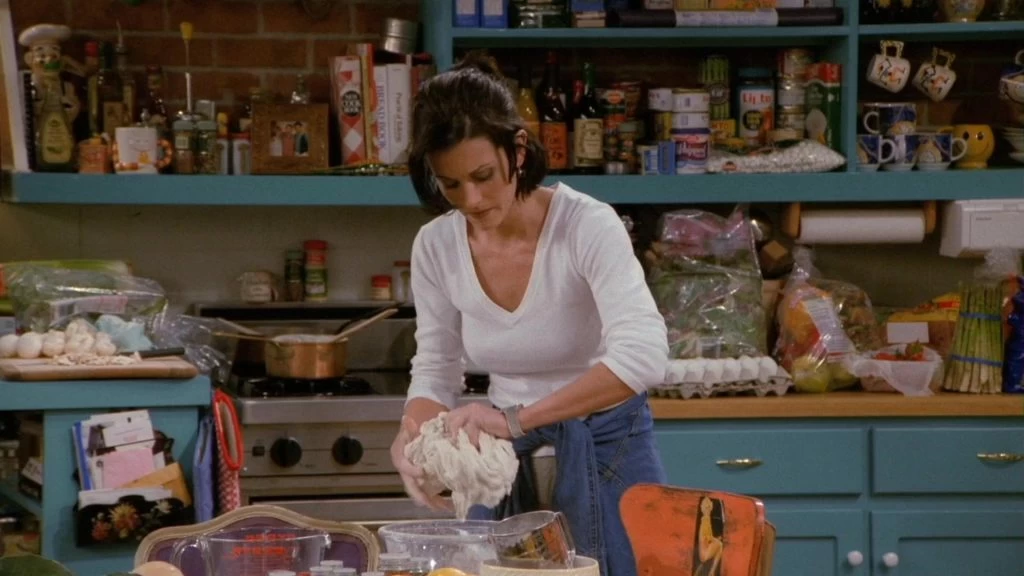 Don't try to be good at cooking everything, just master one thing.
If you don't see yourself as an amazing cook who can do it all, you may want to try working hard on getting at least one or two dishes right. It's a lot easier to become really good at making one or two meals than, well, everything. Then you can always branch out and try to improve on other entrees.
Now, I will say right here, that my family and friends know that I'm not one who should really offer anyone cooking tips. I've burned everything from chicken to spaghetti. I can get into trouble even when I'm not cooking. I once came home and set a bunch of grocery bags on the stove and accidentally turned on one of the burners, catching some of our sacks of food on fire. Still, mastering one dish has worked well for several TV characters.
For instance, take Mel Sharples. Mel on the 1970s and 1980s sitcom, Alice, was trashed for his food, and you half wonder how the diner stayed in business. Well, it was Mel's chili. It was so good that the actor Art Carney, in an episode where he played himself, almost agreed to be the spokesperson for a deal to sell Mel's chili in grocery stores (he backed out when he learned Vera was a distant relative and going to be part owner of the enterprise; Art had a policy about working with relatives). Mel also wound up doing a cooking demonstration on Dinah Shore's talk show.
So Mel knew how to make chili. He just apparently couldn't make about anything else.
Or consider Jack Tripper. Unlike Mel, Jack was an excellent chef, but he did have one dish that he often seemed to turn to whenever he wanted to impress somebody – Coq au Vin, which is a French chicken dish that's braised with wine, lardons (a type of bacon), mushrooms and sometime garlic.
Have a secret ingredient.
Out of all the cooking tips on TV, this seems to be a must. Every TV character who knows their way around a kitchen has a secret ingredient.
Seriously, it's a big thing on TV. Here are just a few examples, in no particular order, and I'm sure I'm missing many...
On The Waltons, in "The Fledgling," an episode in season 4, John-Boy enjoys some hamburgers. The waitress who runs the coffee shop and diner that he is at shares that the secret ingredient in the burgers is red wine. So the next time you're making burgers, you may want to give that a shot.
Also in The Waltons, in the episode, "The Prize," Olivia bakes a raspberry cake, but she is frustrated because the general store is out of almonds, and Aunt Polly's recipe calls for almonds in the frosting. Olivia is disappointed because she is entering the cake at the county fair and wants the recipe to be "zippy."
That's when Esther, the grandmother, reveals one of her cooking tips -- er, baking tips? Esther says that the original recipe never had almonds in it. The frosting actually had a secret ingredient – rye whiskey.
"I don't like to say it, but, uh, it was delicious," Esther says.
"Grandma, I'm surprised at you," Olivia says.
"Well, it's not against the law since Prohibition's been repealed."
Esther then takes some rye whiskey from the grandfather's secret stash, to add to the frosting, and of course, later, he's wondering who filched his whiskey.
In the episode, "Give Me Your Walls," from The Dick Van Dyke Show, Rob and Laura Petrie hire a painter, who basically moves in for a week and does everything but paint. The painter is Vito, played by the accomplished character actor Vito Scotti. At one point in the episode, Vito makes some delectable French toast, and he reveals that his secret ingredient is vanilla extract.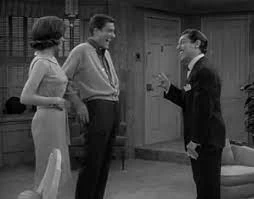 In a Frasier episode called "Frasier Grinch," Daphne Moon reveals that Grammy Moon's famous flour pudding boiled in a cloth bag had a secret ingredient – alcohol, once again -- explaining: "She'd soak it for hours in rum, then ignite it in a blinding flash. As soon as she came out of the kitchen with no eyebrows, we knew dessert was ready." Daphne also mused, "You know, to this day the smell of burning hair puts me in the holiday spirit."
In an episode of the 1970s series The Odd Couple, "They Use Horse Radish, Don't They?", Felix Unger is entering his roast beef with "gravy a la Felix" into a cooking contest. His secret ingredient? A cup of beer and a teaspoon of dry mustard.
On The Office, in the episode, "Casual Friday," Kevin Malone makes his famous chili. Kevin's secret ingredient? Undercooked onions. Upon sharing that tidbit, alas, Kevin then spills his chili all over the floor near Jim's desk.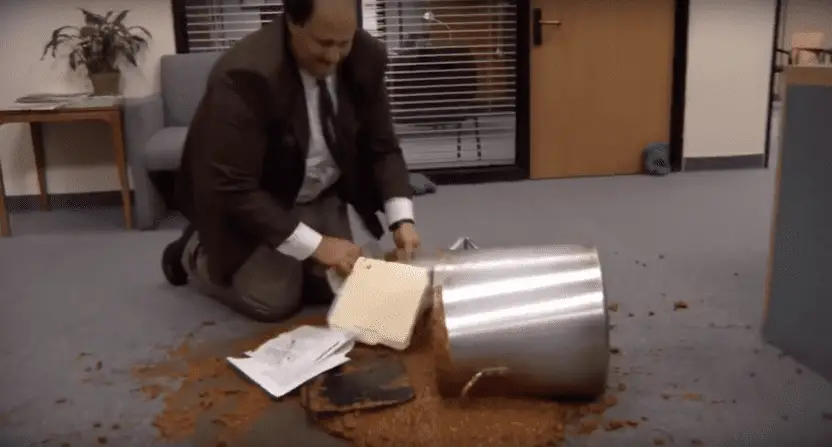 In The Sorpranos, mobster Ralph Cifaretto, shortly before some, um, misfortune befalls him, which happened a lot on this show, says that the "secret ingredient" to making scrambled eggs is to use sour cream.
In Gunsmoke, Chester's secret ingredient for his coffee is cayenne pepper. According to Chester, the pepper gives the coffee body.
In "Grandma Jack," a Three's Company episode, we learn that Jack Tripper's secret ingredient for delicious chocolate chip cookies is to put some candy in it. (He also uses walnuts and nutmeg.)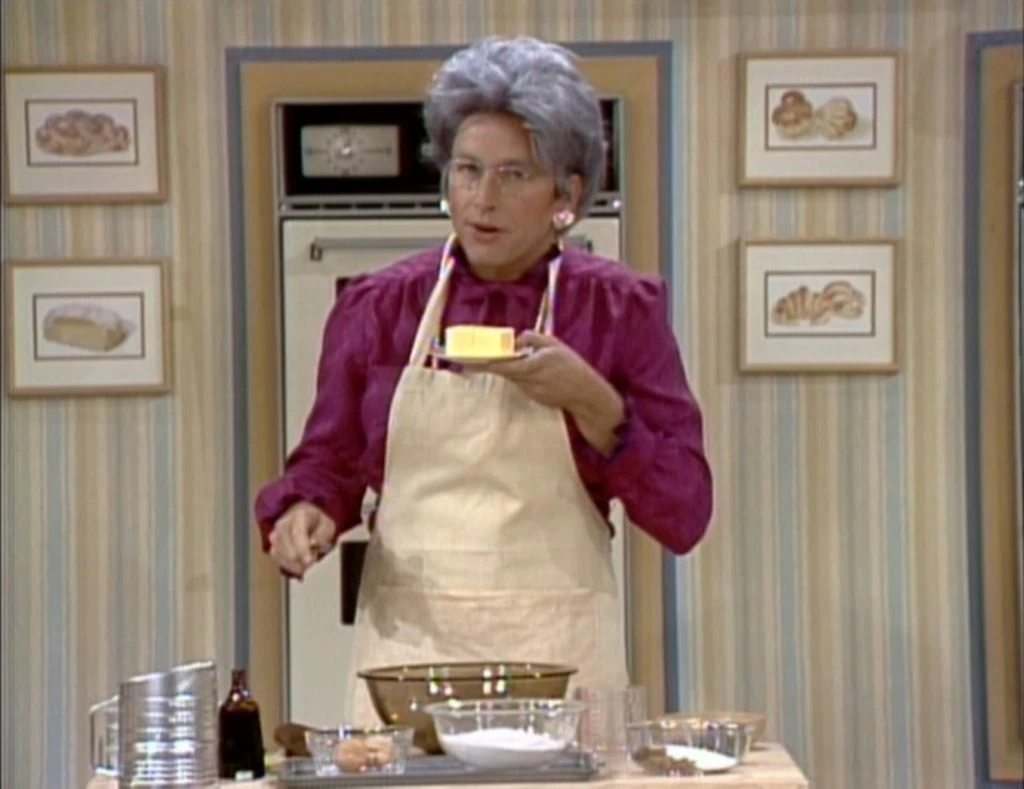 Obviously, to come up with a winning recipe, a secret ingredient needs to be the right secret ingredient. But clearly if you experiment and stumble upon the right secret ingredient, you'll at least make food that's memorable.
Make a dish that pays homage to your roots.
I don't know if that'll make you a better chef, but maybe a more interesting one – and it makes sense to cook what you know. In an episode of ER, Dr. Luka Kovač mentions to Abby Lockhart that for the Christmas holiday party, "I'm making Croatian bread and turkey."
Kovač, of course, is from Croatia.
Find a new twist on an old favorite.
This is really just an extension of a secret ingredient, I suppose, but I'm thinking of how Monica made turkey sandwiches after Thanksgiving. The episode is, "The One with Ross' Sandwich," and we learn that Monica makes some incredible turkey sandwiches.
"Her secret is," her brother Ross says, "she puts an extra slice of gravy soaked bread in the middle. I call it the Moist Maker."
How good is it? Well, Ross takes his sandwich to work, and a colleague eats it. And when Ross finds out, he loses it – to the point that eventually his boss wants him to see a psychiatrist. Then when Ross learns that his boss took the sandwich – and didn't even finish it, throwing some of it away – he gets so angry that he is forced to take a sabbatical from work.
Don't judge Ross too harshly. He was under a lot of stress with a divorce and recently being evicted. Plus, it was a really good sandwich.
Give your diners what they want
In the Friends episode, "The One Where Underdog Gets Away," Monica is hosting Thanksgiving for all of her friends for the first time – it's the first season – and she decides to make a meal that reminds her friends of their own family's Thanksgiving. For instance, Ross wants lumpy mashed potatoes, and Joey wants tater tots. Phoebe is getting mashed potatoes with peas and onions, like her mom used to make.
Anyway, they don't actually get to enjoy the meal due to getting locked out of the apartment before dinner – long story, but it involves a Macy's Thanksgiving parade balloon, Underdog, drifting away – but it was a nice sentiment, and clearly, if they had managed to eat the dinner, it would have been delicious.
Presentation is important.
One of the more obvious cooking tips, but just something to keep in mind. As Felix says in the aforementioned episode of The Odd Couple, "A meal should not only taste good, it should look good."
Have high standards for your food.
Obviously a good idea, but if you want somebody to emulate, you could go with the Soup Nazi on Seinfeld.
"You are the only one who understands me," Yev Kassem, the guy everybody calls the Soup Nazi, laments to Kramer, in the episode titled, "The Soup Nazi."
"You suffer for your soup," Kramer says.
"Yes, that is right," Kassem says.
 "You demand perfection from yourself, from your soup," Kramer says.
And Kassem asks: "How can I tolerate any less from my customer?"
What are these high standards? Well, the soup is extremely delicious, it's made clear in the episode, "The Soup Nazi." So Kassem has high standards in how he makes his soup. But Kassem gets the nickname "the Soup Nazi" for the strict rules in how customers are supposed to order their food.
"All right," says George Costanza, trying to make sure he understands everything correctly. "So you hold out your money, speak your soup in a loud, clear voice, step to the left and receive."
"Right," Jerry Seinfeld says. "It's very important not to embellish on your order. No extraneous comments. No questions. No compliments."
Later, by the way, Elaine discovers the Soup Nazi's recipes. Some of what's in his wild mushroom soup, if anybody wants to try to make it, is 5 cups of chopped porcini mushrooms, half a cup of olive oil, three pounds of celery and chopped parsley.
Work with fresh ingredients
The TV Professor is a major Muppets fan. Watch any episode of The Muppets, and there's bound to be a segment with the Swedish chef, trying to stuff a live animal, often a chicken, into a pot. Maybe you don't need to work with ingredients that fresh, though.
Find a good food supplier
For instance, Alice Nelson on The Brady Bunch had Sam the Butcher, who she eventually marries – not on the show but sometime between the last episode of the series and the 1981 TV movie, The Brady Girls Get Married.
Sookie St. James in The Gilmore Girls also has a supplier. Sookie starts off the show as a chef at the Independence Inn, and she has a produce supplier, Jackson. Actually, she ends up marrying him, too.
So finding a good food supplier is apparently not just a smart cooking strategy but a pretty good way to find romance.
Have the right cooking tools.
I'm sure there are many other examples, but in many episodes, it was established that SpongeBob SquarePants wouldn't be the cook he was without his beloved spatula.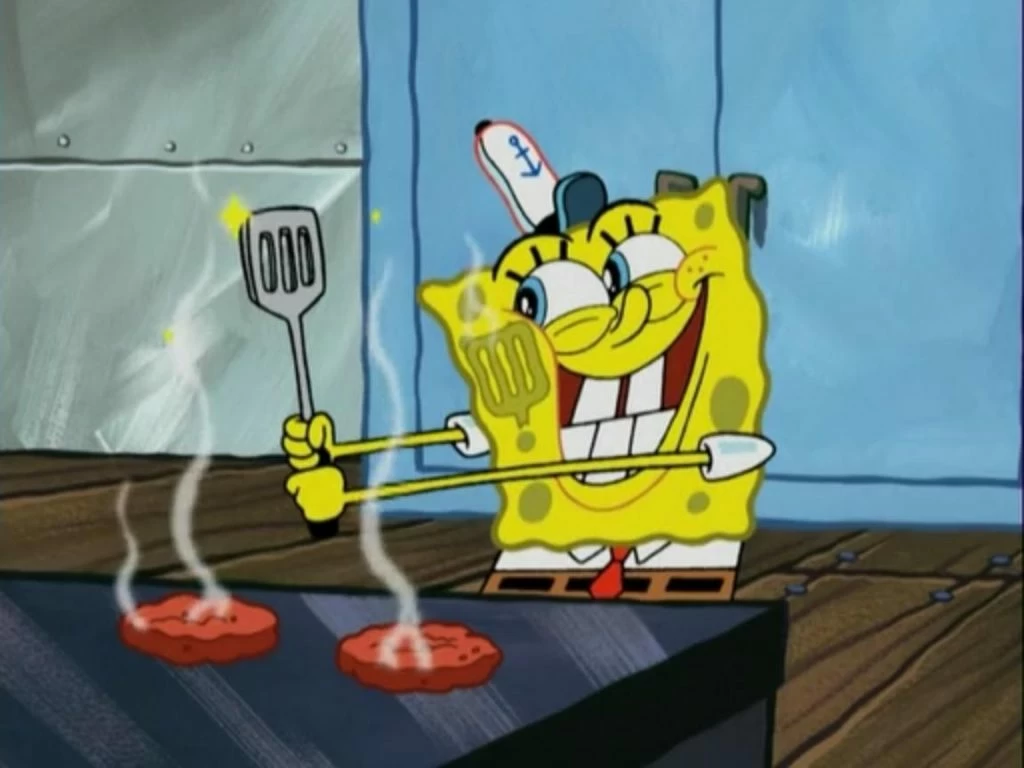 Be creative with your cooking
And easy going. In the episode "A Tale of Poes and Fire," from The Gilmore Girls, we learn that Luke knocked some cayenne pepper into Sookie St. James' hollandaise, and they wound up coming up with a new menu item – Cajun Eggs Benedict.
They could have been horrified, but they ran with it, and they loved it.
Her supplier, Jackson, who turns into a boyfriend and then husband, is also someone who pushes creative cooking, although for him, he suggests it when it makes good business sense. In one memorable scene in the episode, "Kill Me Now," Jackson reveals that he doesn't have strawberries for Sookie. He has blueberries.
"Well, I've gotta make strawberry shortcake for two hundred people, so I think I'm gonna need strawberries," Sookie says.
Jackson: "Use the blueberries."
Sookie: "To make what?"
Jackson: "Blueberry shortcake."
Sookie: "There's no such thing."
Jackson: "Hey, the world was flat until somebody took a boat trip."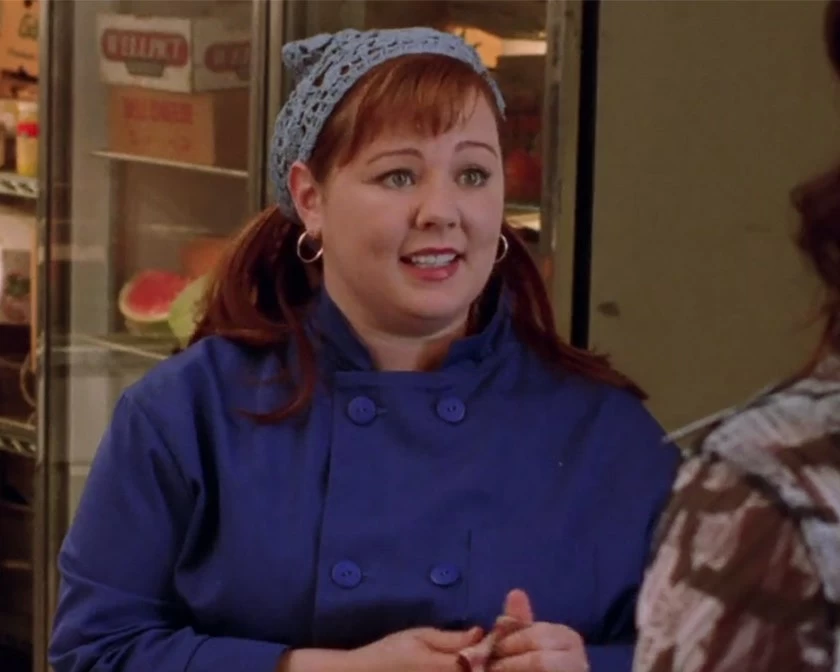 In Conclusion...
So, look... there's a lot of TV out there, and I can't watch it all. I'm sure I've missed some excellent cooking and baking advice (and I'm happy to hear anything you've learned about cooking from TV characters in the comments section), but to sum things up, probably the most important thing to remember is that if you want to be a better cook, find a dish you really like to make and look for a secret ingredient.
That, and when you come home from the store, maybe don't put all of your bags of groceries on the stove. That's a free bit of advice from yours truly.
Where you can watch these shows (at the time of this writing) for cooking tips: I usually try to offer up where the aforementioned TV shows can be watched, but in this case, with about 5 million shows mentioned, or so it feels, um, suffice it to say... you can find them all at various streaming websites or on cable.
Articles similar to this one: This is the only blog post offering cooking tips or anything like that on The TV Professor, but in terms of tone, you may want to try "How to be Organized," in which Monica Geller is, once again, a character to emulate.