If there was a hall of fame for TV theme songs, the one for the sitcom Alice and belted out with abandon by actress and singer Linda Lavin, would surely deserve an exhibit. It wasn't only a catchy tune – it was a self-improvement call to arms and a blueprint for a better life.
So if you're curious about how the Alice TV theme song came to be – and also want to a roadmap to improve your station in life, well, keep reading.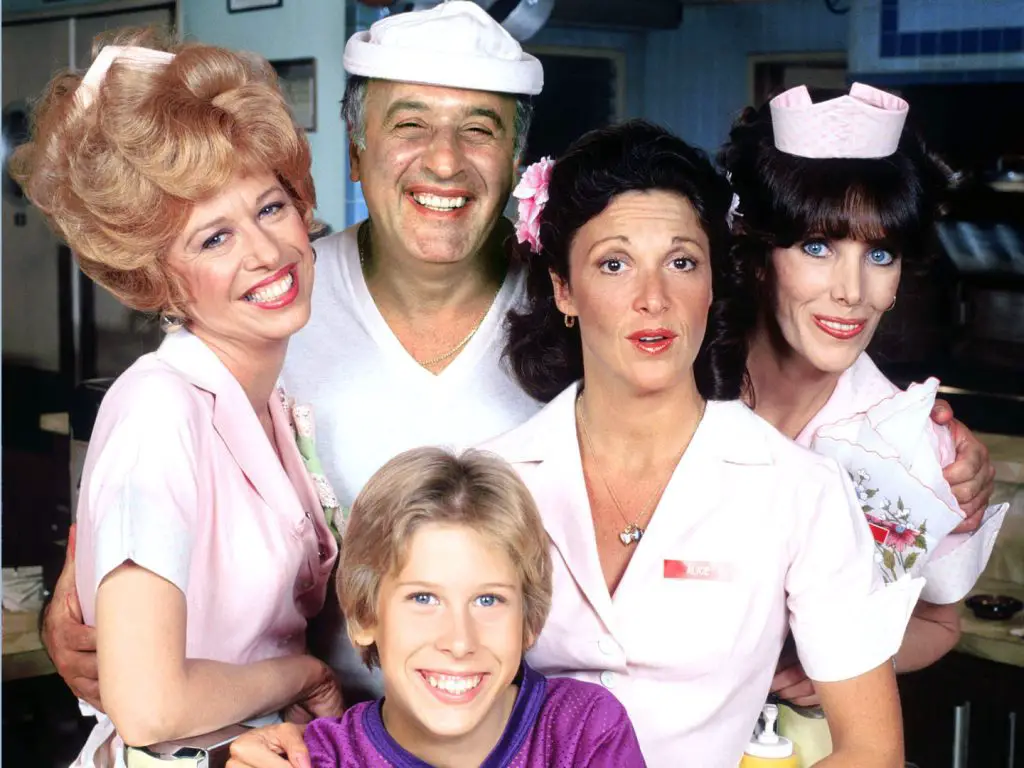 Today's "TV Lesson" Breakdown:
How the TV series "Alice" Came About
Alice was a sitcom through and through, with banter like this exchange...
Vera: Mel, what's today's special?
Mel (proud): Mexican goulash.
Vera: What's in it?
Alice: Yesterday's special.
Or consider this dialogue between Alice and Henry, a regular at the diner.
Alice: Henry, this is no time to go off your diet.
Henry: Oh, yes, it is. My wife, Chloe, said she won't make love to me until I lose ten pounds. So, gimme lots of whipped cream.
But while Alice was very much a sitcom, it had its roots in a 1974 comedy drama motion-picture, Alice Doesn't Live Here Any More, directed by Martin Scorsese. The movie starred Ellen Burstyn as a widow, and the screenplay was written by Robert Getchell, who would also write the pilot sitcom. The idea to turn the movie into a TV series came from the Alice movie producer, David Susskind.
It wasn't a crazy idea. M*A*S*H, for instance, was originally a movie, and that sitcom was a huge hit when Alice debuted. On the other hand, there was the 1973 sitcom Bob & Carol & Ted & Alice, based on the 1969 movie. That only lasted 13 episodes. Susskind had to hope that audiences would be more receptive to Alice than Bob & Carol & Ted & Alice.
And, of course, when you're going to create a sitcom, whether based on a movie or not, you need a TV theme song.
And how the TV theme song "Alice" came about
David Shire was hired to write the music for Alice. At this point, Shire was something of a TV composing legend, or at least he was very prolific.  He had done a lot of music for TV shows like The Virginian and McCloud. He scored the music for a 1971 episode of Ironside. But as the '70s marched on, Shire really saw his profile rise. He composed the music for the Oscar-nominated 1974 movie The Conversation starring Gene Hackman and The Taking of Pelham One Two Three, a thriller starring Walter Matthau; and in 1976, the year Alice, the TV series, debuted, so did All the President's Men, a film Shire scored.
The lyricists, Alan and Marilyn Bergman, were also TV theme royalty. They had written the lyrics for the Maude, theme song, for instance, and Good Times. With Alice, once again, they would hit it out of the park.
Because Ellen Burstyn, of Alice Doesn't Live Here Anymore fame, wasn't interested in working on a sitcom, Linda Lavin was sought out for the title role – and she wound up singing the sitcom's theme song.
Lavin was an excellent choice (at least, if you're a fan of Alice, you probably think so) – and a smart pick. She was just becoming known to TV audiences as Detective Janice Wentworth on Barney Miller. She appeared in five episodes, three in 1975, a year before Alice, and then two more in 1976. She also in 1975, it's gotta be noted, played a woman named Alice on the detective TV series Harry O and that same year appeared in a guest spot in the sitcom Rhoda.
But mostly, Lavin was known for her work in musical theatre in the 1960s, a career she forged at the start of the decade, singing in Manhattan nightclubs.
Her big break came with the 1966 stage musical, It's a Bird...It's a Plane...It's Superman, which was a well-reviewed Broadway flop. Lavin co-starred as a secretary named Sydney and had a big number called, "You've Got Possibilities."
And Linda Lavin certainly had possibilities. The same year Superman was kryptonite to audiences, Lavin also starred in the first national tour of the musical, On a Clear Day, You Can See Forever, and the following year, she broke into television by co-starring in the 1967 TV movie musical, Damn Yankees!.
And then nine years later, in 1976, Lavin lands a role about a waitress who is pursuing a singing career. It was a good fit for the actress. But if you don't remember a whole lot of singing in Alice, that's because the series sort of changed its direction early on.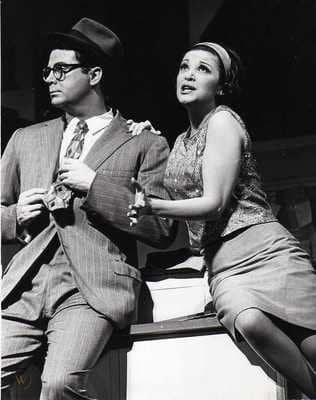 Fun Little Factoid about Linda Lavin
If you've ever been to Colonial Williamsburg, years ago, they used to show visitors a 37-minute orientation film. I doubt they show it now, and I don't remember seeing it a few years ago when I went with one of my daughters. But I do remember seeing it when I visited Colonial Williamsburg in the early 1980s.
Anyway, the orientation film that Colonial Williamsburg used to show was about a fictional Virginia planter, John Fry, who sides with the British but then eventually teams up with the rebel patriots. It was filmed in 1956, and Fry was played by Jack Lord of future Hawaii 5-0 fame, and Linda Lavin – a student at the College of William and Mary – was an extra in the background.
I figure, like, one out of every 32 readers who read this blog will find that interesting, but, okay, moving on.
How "Alice" became less about singing, and more about waitressing
It was probably inevitable. You have five main actors – and a teenager in a supporting role – and there's not a lot of time to cram in a lot of singing into a show. But that was originally the idea, that there would be singing in every episode.
"The original concept was that Alice would do some singing, play the local Ramada Inn, but concepts change," Lavin told the Associated Press in 1977. "It felt that she should be resigned to finding stimulation from her life and job as a waitress in a diner because she has a boy to raise. They thought it [the singing dream] was too frustrating to work on. Also, that people don't want to listen to somebody sing in a sitcom for five minutes. I think the idea is, when her son gets through high school, then she could pursue her dream -- if we're on the air long enough."
That is, incidentally, exactly what happened. In the very last episode of the series (sorry for the spoiler, but it's been almost 40 years), which aired on March 19, 1985, and at a point when her Alice's son Tommy was in college, the waitress and aspiring singer landed a recording contract and moved to Nashville.
Not that Lavin never sang on the series – she did many times. But over the course of the sitcom's nine-year run, Alice's dreams of being a singer was rarely the focus of the show.
As Linda Lavin told a reporter in 1976, "I believe that there are thousands of very talented people who never become famous, for a lot of different reasons. There are many reasons why a person with talent and a dream of success is never discovered. It would be due to circumstances, the person's own attitude or just dumb luck. But I think that if a person isn't famous for their talent, it doesn't necessarily mean they're not good at it."
She added: "I'll sing as well as I can, because Alice is a good singer. She's one of those people who have talent, even if no one outside her friends ever knows it."
And the following year, in 1977, Lavin expanded on the idea that the show wouldn't be focused on Alice's singing dreams. Lavin told The Los Angeles Times, "There's a strong feeling that people don't want to sit down every week and watch a woman who wishes she was somewhere else, doing something else. They feel viewers have enough of that in their own lives."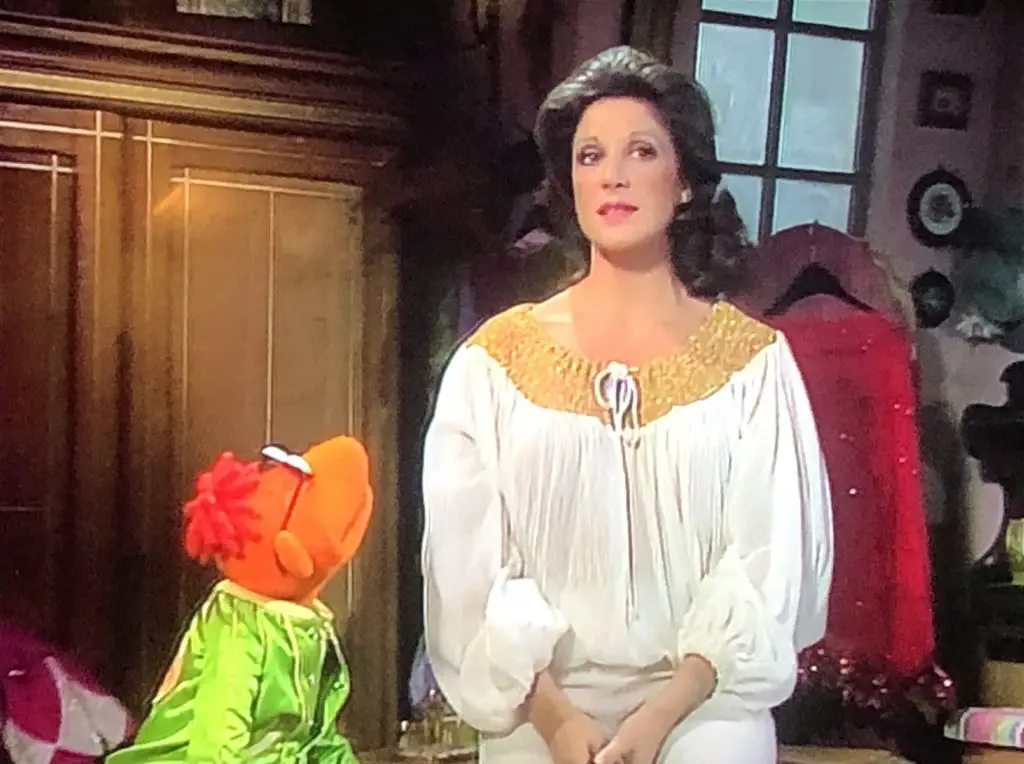 The main cast members of "Alice"
I can't not mention some of the other actors in Alice, even if they don't feature that much in its theme song, other than appearing in it, in random clips. So here we go:
Vic Tayback
Vic Tayback played Mel of Mel's Diner. He was in the 1974 movie Alice Doesn't Live Here Anymore, and if you've never seen the movie, and you're a fan of Alice, you ought to catch it one day if you ever get the chance. It's surreal, seeing Vic Tayback as Mel in this comedy drama that, tonally, is nothing like the sitcom. Tayback was an in-demand character actor almost as soon as he started acting professionally in television in the late 1950s. He was imminently watchable and appearing in supporting roles in the movies and TV, in series like The Brady Bunch, The Mary Tyler Moore Show, Columbo, The Love Boat and much more.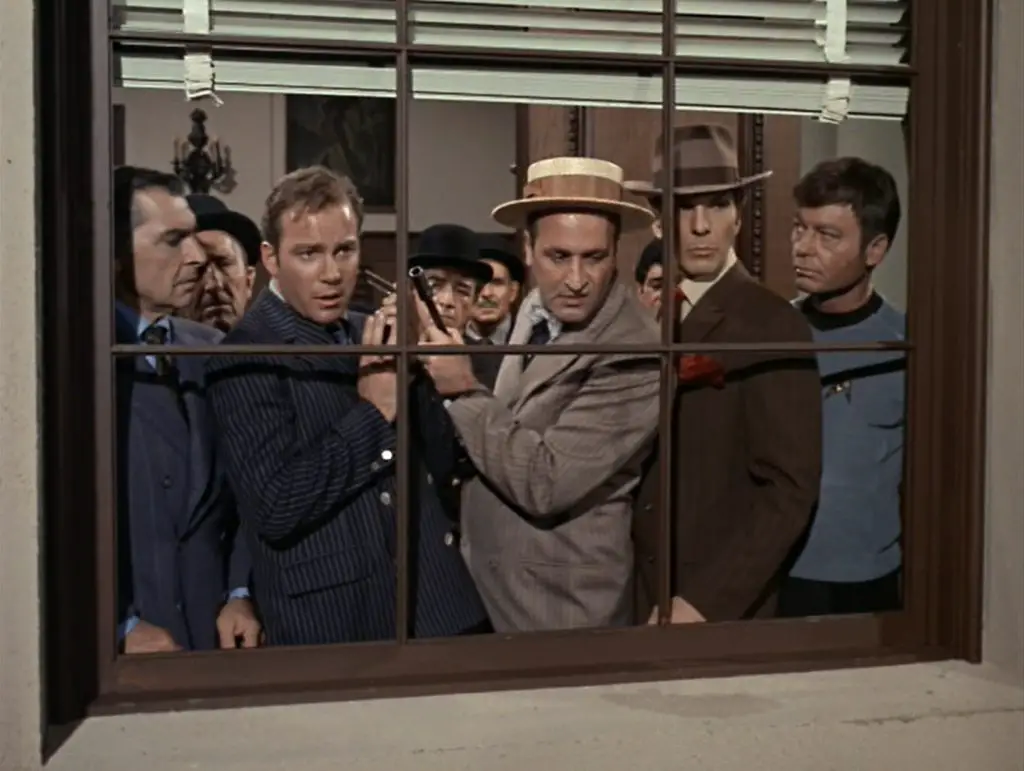 Polly Holliday.
She played Flo. Ms. Holliday had supporting roles in a few movies when Alice came out – and quickly became a household name. People loved her catchphrase, "Kiss my grits." Well, most people.
Noel Holston, a TV critic for The Orlando Sentinel, wasn't impressed. In his review of the series' pilot, he wrote of the "kiss my grits" phrase – he already seemed to sense it was going to become a thing, "I hope we've heard the last of it and its like. If the waitresses in the television version can't use real-life phraseology, then, please, no substitutions. They only make 'Alice' sound phony, something the series, even with drastic departures from the original, doesn't necessarily have to be."
Still, overall, Holston was a fan of the show, saying that it "could turn out to be one of the best new series of the season, especially if the slightly bittersweet tone of the preview episode is retained."
And while Holston didn't like "kiss my grits," he was an instant fan of Polly Holliday, writing: "She's one to watch, a real find, a brilliant, natural comedienne who looks like a cross between Carol Burnett and Marcia Wallace and talks like a truck-drivin' Minnie Pearl."
Arguably, nobody had seen anyone like Flo on TV before Polly Holliday came along. Flo was a take charge sort of woman, who didn't suffer fools gladly, a street-smart woman who loved dating men and wasn't shy about it. Her love life was often commentary on the show, such as in this exchange in an episode where the waitresses and Mel decide to break their bad habits.
Florence: Well, all right, I'll go along, Mel. I'm willing to give up the thing that means most to me.
Mel: That's bad news for half of the guys in Phoenix.
Florence: I was talkin' about coffee!
Lavin said of Flo in a 1979 interview with The New York Post: "She talks about sex a great deal, like guys in the '50s used to brag about their conquests. Whether she is actually engaging in all the sex she talks about is an interesting thing."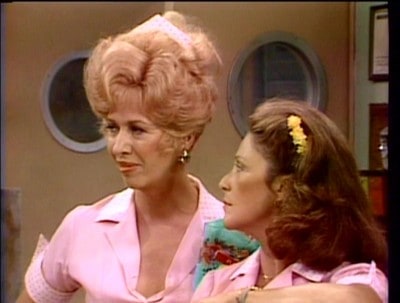 Beth Howland
Beth Howland played the very anxious, somewhat high-strung, but loveable and kind, waitress, Vera Louise Gorman. "Vera wants to please everyone," Ms. Howard said in 1978, describing her character to a Chicago Tribune reporter.
Howland was born on May 28, 1939, in Boston and after graduating high school, headed to New York City, quickly finding parts.
(I'm assuming IMDB.com is correct about her birth year. In 1970s articles, Howland claimed she was born in 1941, likely wanting to appear a little younger to casting agents.)
Throughout the 1960s, Howland was mostly on the stage, though she did appear in TV ads – she was the Salem Cigarette girl. In the early 1970s, she began getting guest spots on TV with some regularity, like appearing on Love, American Style and Cannon. And if things had worked out differently, she might have never been on Alice and instead been the star of her own show. A newspaper article from the 1970s describes Howland as filming three different pilots for a show that never got picked up by a network.
But Howland persisted and still performed on stage, and in fact, it was a number she sang in the Stephen Sondheim musical, "Company," that got her the part on Alice. (That song, if you are curious, is called, "Getting Married Today," sung by a nervous bride; Vera, of course, had her own nervous way about her… in one of the first scenes of the show, she throws a box of straws into the air, a clip that made its way into the montage on the Alice theme song.) Alan Shayne, president of Warner Bros. Television, saw her perform the song and knew she'd be perfect for the role of Vera.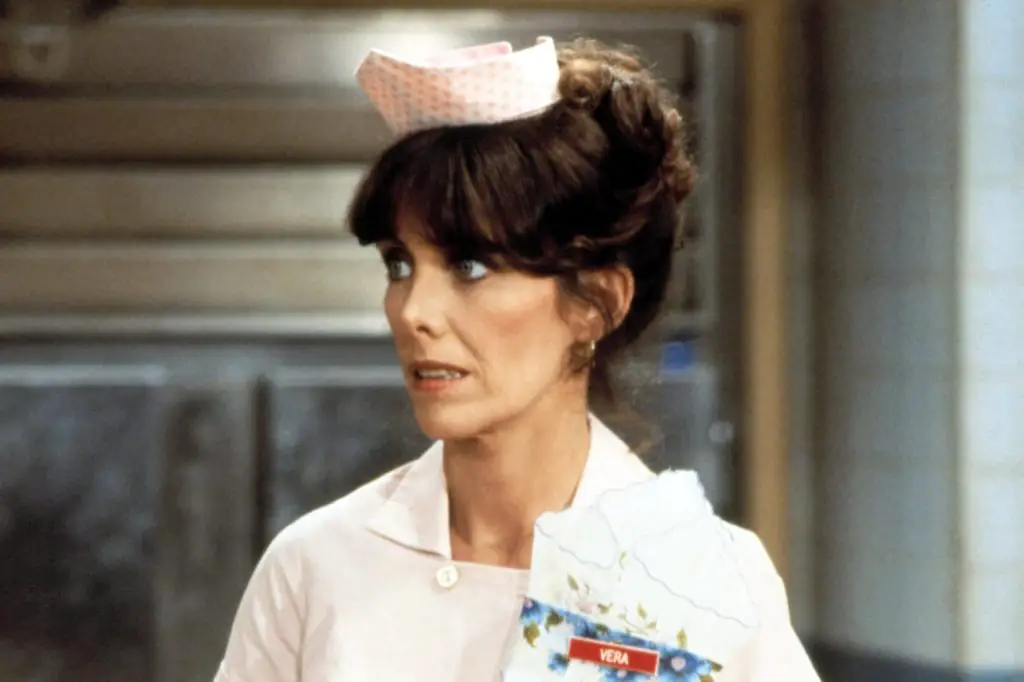 Philip McKeon
At first the role of Tommy was going to be played by Alfred Lutter III, a child actor who co-starred in Alice Doesn't Live Here Anymore – as Tommy – and of the memorable baseball players in the 1976 film The Bad News Bears. Lutter was going to play the same role in the series – and, in fact, did, in the pilot episode. But by the time the actual first season was going to shoot, the producers decided Lutter was too old.
Enter Philip McKeon. Linda Lavin saw him perform on stage and thought he would be great for the role. McKeon was on the show kind of sporadically, starting with the second season, compared to the adult actors.
"He's diminished," Lavin said in a newspaper interview, of her fictional son appearing on the series less. "He'll be in occasionally. But I'll miss working intimately with him. We became so close. Philip's a fantastic actor."
After Alice ended – and make no mistake, McKeon was on the series and in most episodes – but it was just never anywhere close to the adult actors – the young actor ended up in radio, first in Los Angeles and later in the Austin, Texas area. He died way too young, in December of 2019, at the age of 55, of a lengthy –and undisclosed – illness.
What the critics said about "Alice"
The fans loved the show – Alice aired on CBS, after all, nine years. TV critics? They were not entirely on board, giving the show mostly ho-hum reviews when the series first debuted.
Tom Shales of The Washington Post: "Remember how great Diane Ladd was in the movie? Don't expect Polly Holliday to be quite as great. Or great at all. Don't expect much of anybody on 'Alice.'"
Cecil Smith of The Los Angeles Times wrote: "I wouldn't bet too heavily on 'Alice.' Miss Lavin over the titles sings the theme song: 'There's a new girl in town with a brand-new style...' I wish it were so."
Owen McNally, TV critic for The Hartford Courant, was a little more encouraging, writing, "There's nothing really new or surprising here at first--just pretty straight forward comedy stuff, perhaps even a bit better than most. And Linda Lavin is delightful as Alice in this spinoff series from the 1974 hit movie, 'Alice Doesn't Live Here Anymore.'"
The Lyrics from the "Alice" TV theme song
OK, we've come this far. We've gotta talk about the lyrics.
They changed almost every season.
After combing numerous articles and books about the TV sitcom Alice, I don't know why the lyrics to the theme song kept changing. My educated guess is simply that Lavin enjoyed singing, and back in the day, when TV theme songs were a big hook to draw an audience in, it probably did help with ratings a little when the song was suddenly a little different. Corny as it sounds, when my younger brother and I were kids watching the show, we'd get excited during the new TV fall season, and Alice would come on, and holy moly, the lyrics have changed, and the singing is a little different!
When you are 7 and 9 years old, you don't have a lot of pressing issues in your life. So a slightly tweaked TV theme song is kind of exciting.
TV networks knew what they were doing.
So about the lyrics.
Here they are.
Seasons 1 and 2
Early to rise, early to bed.
In and between I cooked and cleaned and went out of my head.
Going through life with blinders on, it's tough to see.
I had to get up, get out from under and look for me.
There's a new girl in town and she's looking good.
There's a fresh freckled face, in the neighborhood.
There's a new girl in town, with a brand new style.
She was just passing through,
But if things work out she's gonna stay awhile....ba ba bum bum bummmm
Season 3 and 5 (season four lyrics are coming up)
Used to be sad, used to be shy
Funniest thing, the saddest part is I never knew why...
Kickin' myself for nothin' was my favorite sport
I had to get out and start enjoyin' 'cause life's too short
There's a new girl in town, 'cause I'm feelin good.
Got a smile, got a song, for the neighborhood.
there's a new girl in town on her own two feet
and this girl's here to say
with some luck and love life's gonna be
so sweeeeeeeeeet!
Season 4 and 6 through 9
I used to be sad, I used to be shy
Funniest thing, the saddest part is I never knew why...
Kickin' myself for nothin' was my favorite sport
I had to take off, start enjoyin' 'cause life's too short
There's a new girl in town, 'cause I'm feelin' good.
Got a smile, got a song, for the neighborhood.
Things are great when you stand on your own two feet
and this girl's here to say
with some luck and love, life's gonna be
so sweeeeeeeeeet!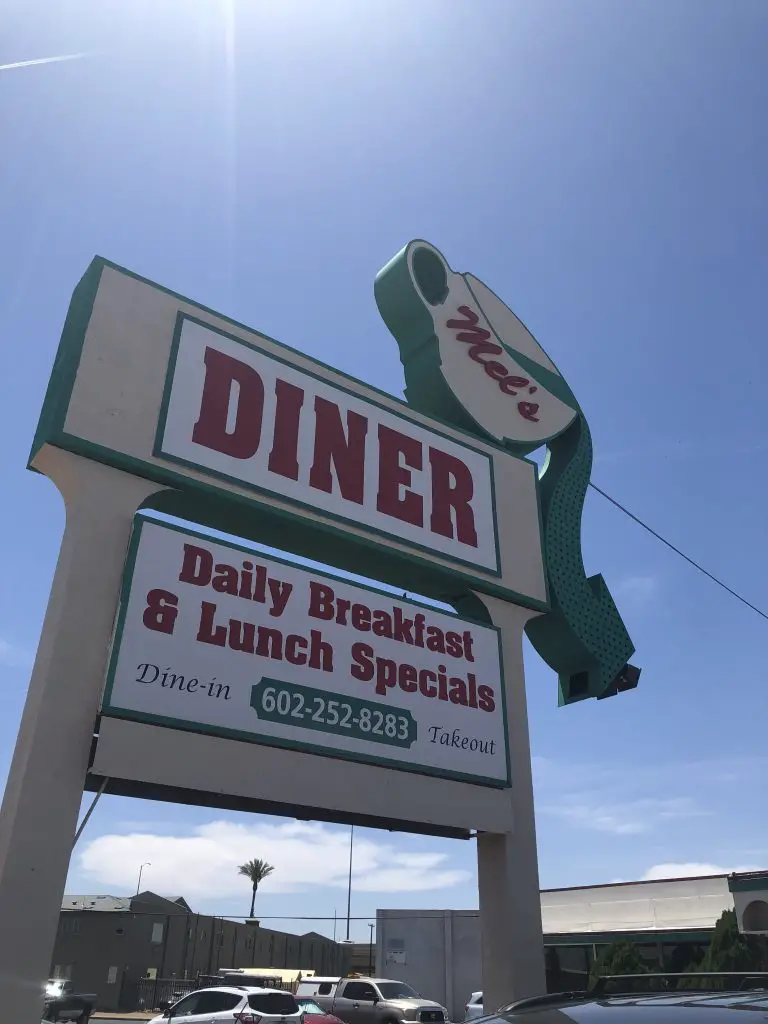 All the self-improvement lessons stuffed into the "Alice" theme songs
Hey, I said at the beginning of this that the Alice theme song was a self-improvement call to arms and a blueprint for a better life.
I wasn't kidding. There are tons of lessons in the song on how to lead a better life – basic, sure, but still good ones. Follow these, and it's hard to argue that your life won't improve. Here they are:
Get a good night's sleep. "Early to rise, early to bed…"
Life's too short. Do more than your daily chores. Live a little. "In and between I cooked and cleaned and went out of my head."
It's always best to have an open mind. "Going through life with blinders on, it's tough to see."
Better living is all about self-discovery. "I had to get up, get out from under and look for me."
If you're stuck in a rut, move somewhere else. "There's a new girl in town, and she's looking good…"
Everybody could benefit from therapy or self-introspection. "Used to be sad, used to be shy
Funniest thing, the saddest part is I never knew why..."
Don't beat yourself up. "Kickin' myself for nothin' was my favorite sport…"
It's healthy to be open to new experiences. "I had to get out and start enjoyin' 'cause life's too short…"
Your happiness is contagious. "Got a smile, got a song, for the neighborhood…"
It's important to be independent. "Things are great when you stand on your own two feet…"
Your success isn't guaranteed, but stay optimistic, anyway. "With some luck and love life's gonna be so sweeeeeeeeeet!"
Now, tell me, if we all followed those rules throughout our lives, wouldn't we all be better off?
Where to watch Alice (at the time of this writing): Alice works well for anybody starting or ending the graveyard shift, I guess. Alice, starring Linda Lavin, Polly Holliday, Vic Tayback, among others, can be found on the cable station Antenna TV at 1 a.m., EST, Monday through Friday, and Saturday at 6 a.m.
Articles similar to this Alice story:  Maybe you'd like to read about the history behind the Laverne & Shirley theme song?