The Love Boat TV theme song was an ingenious piece of art. Heck, the entire Love Boat TV series was. Yes, I said it. The Love Boat was art.
If you're of a certain age, I know you either agree with me, or you will, sooner or later, if you really think about the show – and especially if you start contemplating The Love Boat's theme song.
But first, a little about the entire series, which aired on the ABC network from 1977 to 1986. There had never been a show quite like The Love Boat, and there hasn't been anything quite like it since, though, yes, Fantasy Island came close – and why the producers didn't ever have the Love Boat dock on Fantasy Island is beyond me. It seems like a real missed opportunity.
Anyway, for those who aren't familiar with the show, The Love Boat was part anthology series with its different main characters every week while also being sitcom-like with its core cast of characters and the laugh track. And yet there series wasn't an hour-long sitcom: There was often overwrought melodrama sprinkled throughout the show, often with melodramatic orchestra music in the background to highlight an especially dramatic scene.
But The Love Boat wasn't only a mix of an anthology, sitcom and drama. Occasionally, in keeping what was a cruise does, there were (often frankly forgettable) musical numbers. The show was also often a travelogue. Usually, the series took its passengers and viewers to Puerto Vallarta, Acapulco and Mazatlán, but sometimes the ship and show went to far-flung countries such as China and Australia. The Love Boat was even part reality show – it was filmed on a real cruise ship. And the extras? They were usually real-life, cruise passengers paying for and sailing on a Pacific Princess cruise ship.
The Love Boat was a mix of almost every genre available, save maybe the western. It even had some fantasy elements, such as when Mickey Rooney appeared in a Christmas episode and apparently was some sort of Christmas angel.
But it was the Love Boat's theme song that was the audience's first exposure to the show, and there was certainly a lot talent wrapped up in that 1 minute and 33 second soundtrack.
For good reason. Back in the 1970s, TV theme songs were extremely important, if you wanted to attract audiences away from the handful of other stations you might otherwise check out. If the theme song had stunk, The Love Boat would have sunk.
But instead, a group of musicians came up with something that would make a big splash.
Today's "TV Lesson" Breakdown: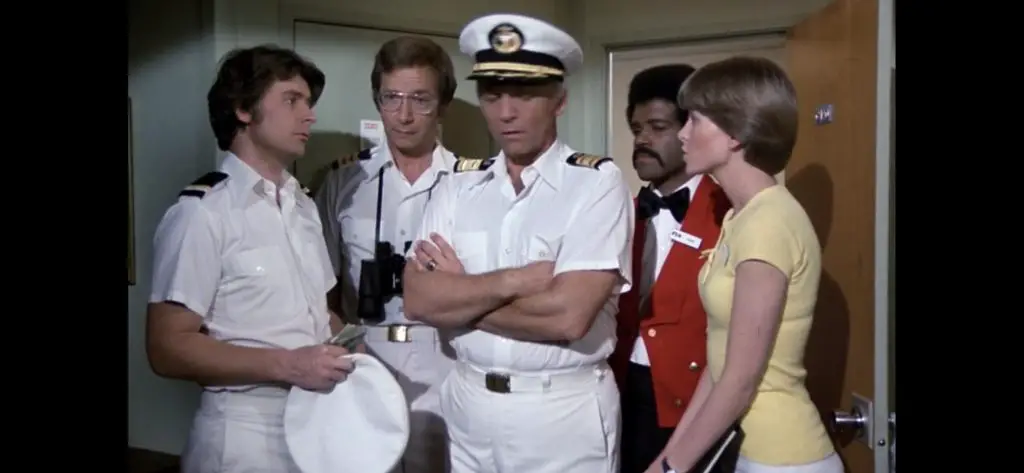 How the Love Boat theme song came to be
Well, first, to really get to where we need to go, we should probably discuss a little about cruises and their history.
Cruises go way back. Rich folks were sailing on cruises as far back as the 1840s – traveling to exotic locations not because they wanted to move somewhere but just to go explore. And when the rich did want to simply travel, from one place to another, they would often take a luxury liner. The Titanic wasn't a cruise per se, not in the way you would go on a cruise today, but with its glitz and glamour, it certainly (all too briefly) had elements of today's cruise ships.
And, in fact, in a 1977 episode of The Love Boat, we follow around an elderly couple (played by Ray Bolger, famous for being the Scarecrow in The Wizard of Oz and Harriet Nelson of The Adventures of Ozzie and Harriet fame) who survived their first "cruise" on the Titanic, and because of that, Assistant Purser Burl "Gopher" Smith starts to fear that they might be a jinx.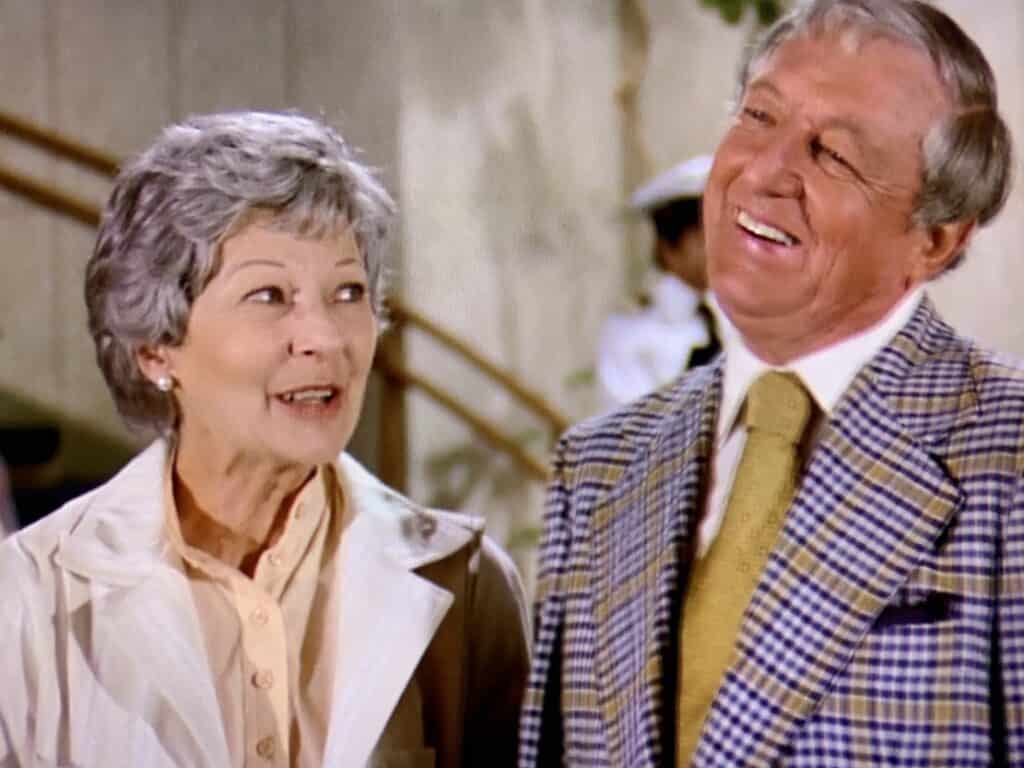 By the 1960s, cruises had become popular and luxury vacations for not just the loaded but middle class folks. A society columnist for The Los Angeles Times named Krystal Pool described the appeal of cruises in a 1970 column: "No longer are they pushing destination points. The idea today is cruising, and once you're on board--this ship, anyway--you can learn Spanish, have a party (just call the purser). Practically any activity or anything you can think to do is offered aboard the luxury liners today. From gambling to eyeing a first-run movie, your day can be fun-filled."
Pool wrote the column from the ""Lido deck of the Princess Carla, bound for Mexico," and she observed, "A cruise is a convenient way to meet a man. Unless they jump overboard, you have a captive audience. Of course, you might have to fight off other females, since girls usually outnumber the men 2 to 1, but Prince Carla hostess Geraldine Saunders told me more than one shipboard romance has resulted in a trip down the aisle."
Geraldine Saunders, who went by the pen name Jeraldine Saunders, was the perfect person to interview for the newspaper column. Saunders was the country's first full-time female cruise director, and she was just four years away from publishing a book called The Love Boats.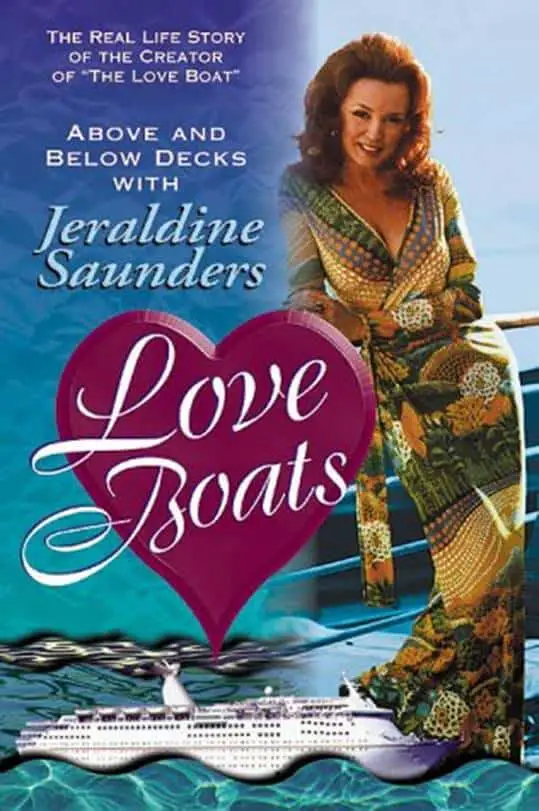 From there, the ABC network purchased the rights to her book, and Saunders was able to stop working on cruises – and instead spent the next couple decades or so, traveling on cruises with her husband. Saunders would lecture on cruises, telling everybody her own personal history and how she was the real-life Julie McCoy, who, of course, was the cruise director on the Love Boat and played winningly by actress Lauren Tewes.
OK, but what about The Love Boat theme song? Right. So ABC decided to turn the book Love Boats into a TV movie called The Love Boat. It came out in 1976, and the cast looked wildly different than the cast would on the TV series. Ted Hamilton, an Australian actor, played the captain. Dick Van Patten was the doctor. Sandy Helberg was Gopher. Terri O'Mara, an actress, played the cruise director.
You may not recognize some of those names of the crew (other than Dick Van Patten, future father on Eight is Enough), but you probably would recognize some of the guest stars playing the passengers: Tom Bosley (Happy Days), Don Adams (Get Smart) and Karen Valentine (Room 222).
There was a theme song for the TV movie The Love Boat, but it was only the music – without the famous lyrics.
In his memoir, composer Charles Fox said that the TV movie was described to him as "Love, American Style on the water." If you've seen both The Love Boat and Love, American Style (1969-1974), a breezy anthology romantic comedy TV series, you'll think, "Yeah, that tracks."
(Fox, incidentally, was the composer of the Love, American Style TV theme song as well as other hit shows like Happy Days and Laverne & Shirley. Small wonder that for awhile, he was the go-to guy if you were an ABC network executive in search of a hit. Some other TV series theme songs Charles Fox wrote include The Paper Chase, Wonder Woman and Me and the Chimp (OK, they were not always hits).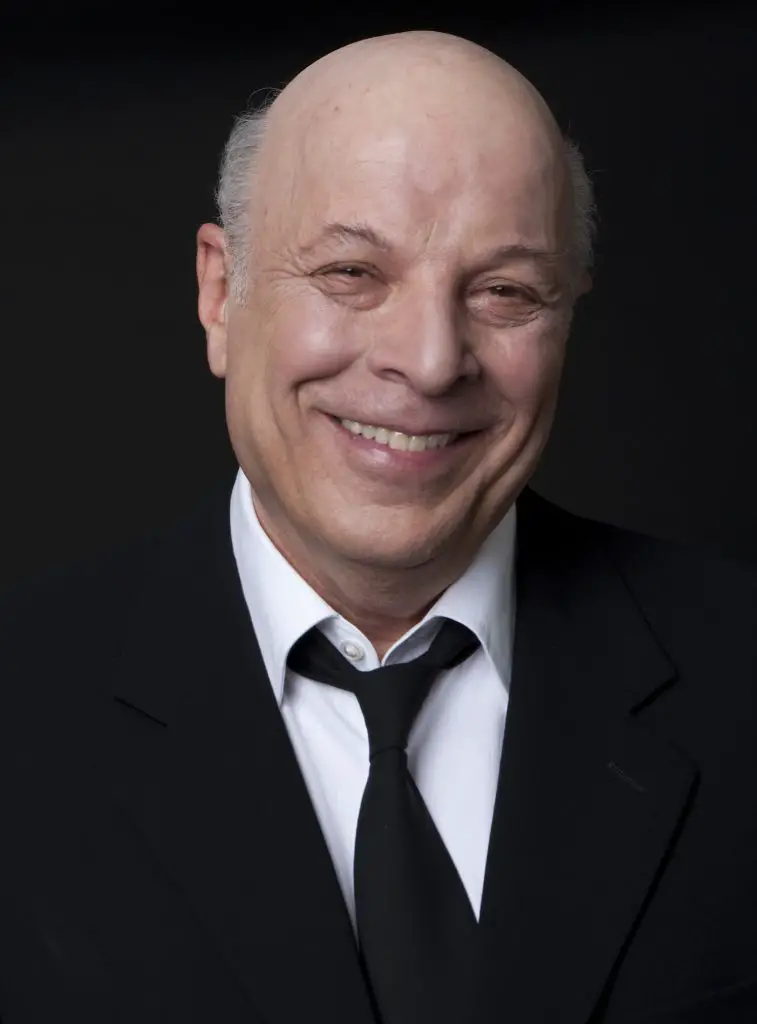 The first Love Boat TV-movie did very well in the ratings, enough to inspire two more Love Boat TV movies.
The second Love Boat movie (called The Love Boat II) started to look like the series that you're probably familiar with. Bernie Kopell played Doctor Adam Bricker. Fred Grandy took on the role of Gopher. Ted Lange was Issac the bartender. An actress named Diane Stilwell, who would have a pretty steady acting career from the 1970s through the 1990s, played Sandy Summers, the cruise director, and Quinn K. Redeker played Captain Madison. Redeker was later well known for stints on Days of Our Lives and The Young and the Restless.
Guest stars included Hope Lange, Celeste Holm, Ken Berry, Robert Reed and Marcia Strassman.
Then came the TV-movie The New Love Boat, and finally Captain Stubing (Gavin MacLeod, fresh off his role as Murray on The Mary Tyler Moore Show) came aboard, and so did Julie McCoy (Tewes). Passenger guest stars in that movie included Georgia Engel (The Mary Tyler Moore Show), Pat Harrington, Jr. (Schneider on One Day at a Time), Phil Silvers (from The Phil Silvers Show) and Audra Lindley (The Ropers).
After that, ABC wisely decided to stop making TV movies and, instead, sail full steam ahead with a TV series. It was then that composer Charles Fox said to the executive producers Aaron Spelling and Doug Cramer that they should consider adding lyrics and a singer to his instrumental theme.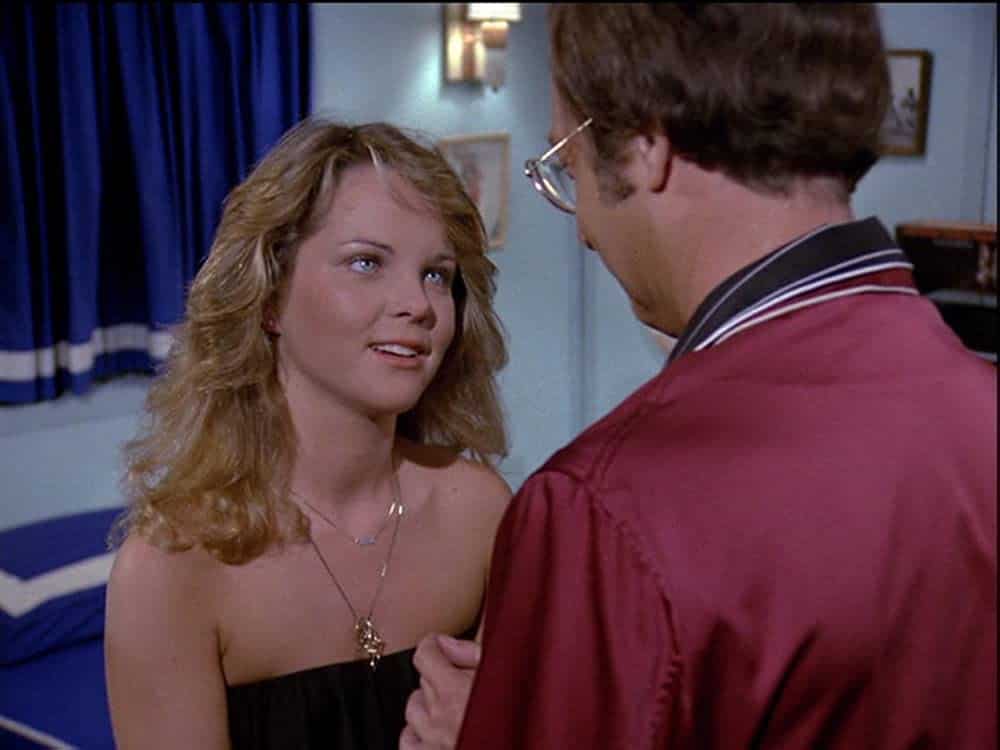 The Lyrics of The Love Boat
OK, so let's take a look at the Love Boat lyrics, and then as we tend to do with these TV theme songs at The TV Professor, we'll analyze them to death – and then we'll explain how Paul Williams got involved in writing the song, "The Love Boat Theme."
These are the full lyrics to the TV theme song, and, yes, reading them will make the song seem insanely short:
Love, exciting and new
Come aboard. we're expecting you.
And, love, life's sweetest reward.
Let it flow, it floats back to you.
The Love Boat!  -- soon will be making another run
The Love Boat! – promises something for everyone.
Set a course for adventure,
Your mind on a new romance.
And love – won't hurt anymore
It's an open smile, on a friendly shore.
It's, love! Welcome aboard, it's looooove!
That's it? Yeah, that's it.
Breezing through the lyrics, you wouldn't think it, but the actual theme song lasts for 1 minute and 33 seconds. The singer, Jack Jones – who we'll get to in a moment – wasn't in a hurry when he belted out the song. The theme song feels longer, at least to my ears.
There is a longer version that Jones sang for audiences during his stage show, after he released a version of the theme song as a single in 1979, but what you just read is the version you get on the TV series.
And, of course, seeing the lyrics written down, it all looks kind of… silly. And, sure, The Love Boat song was silly, but Paul Williams knew what he was doing. At this point in Paul Williams' career, he had already been phenomenally successful. He wrote "We've Only Just Begun," a single by the Carpenters. Rolling Stone placed it on their list of, "The 500 Greatest Songs of All Time." He had penned "Cried Like a Baby," the catchy Bobby Sherman song that came out in 1971. And, well, Paul Williams had done a lot of songs up to this point – although in three years would become a songwriting legend (if he wasn't already) with his songs for The Muppet Movie, especially with "The Rainbow Connection" and "Movin' Right Along."
Granted, with three Love Boat TV movies to watch, Paul Williams was able to familiarize himself with the show, and he clearly knew how to write hit songs. Maybe it isn't all that surprising that he was able to create lyrics that seem to fit perfectly with Fox's music. But I still posit that what Williams did was impressive.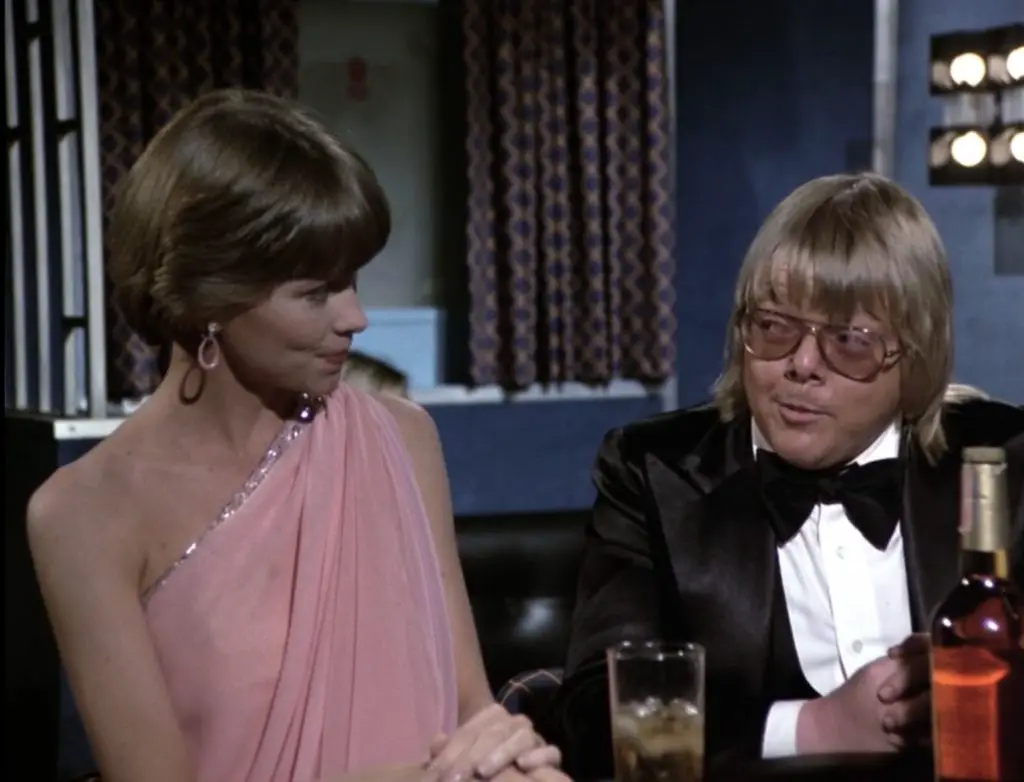 Analyzing the lyrics of The Love Boat
There may not be as much to analyze as the lyrics in, say, the All in the Family or Maude theme songs with all of its historical references, but The Love Boat lyrics are worth analyzing as a piece of storytelling. The song does a very credible job of giving the viewer a heads up on what the show is all about – and in generating excitement to watch the series. If you really look at the lyrics, it's no wonder that The Love Boat was a ratings juggernaut for 10 seasons.
So, here we go. Let's take a look at these Love Boat lyrics:
Love, exciting and new
Come aboard. we're expecting you.
And, love, life's sweetest reward.
Let it flow, it floats back to you.
(In that one stanza, The Love Boat is promising the TV viewer that you're going to experience something exciting and new, and with "come aboard, we're expecting you," the show is literally declaring that you're one of the passengers, one of the cast and part of The Love Boat family.
You also have to admire Williams' references to water and cruises, without actually mentioning the ocean or a cruise. A lesser composer might have come up with something like, "This is a cruise, on the ocean, and if you don't cruise, you lose…"
And this is why I'm writing a blog post about a theme song and don't write theme songs.
Also worth noting that in the first stanza of the song, Paul Williams has also set up some high stakes for the show. He makes it clear that if you're on this cruise you have a chance at love – life's sweetest reward. If you don't get it, well, you've just missed out on a once in a lifetime opportunity. Arguably, most TV shows flop when the stakes for the characters aren't all that high.)
The Love Boat -- soon will be making another run
The Love Boat – promises something for everyone
Set a course for adventure,
Your mind on a new romance.
(And to get TV audiences to stick around and not switch that dial, Williams writes, "The Love Boat soon will be making another run," instead of saying, "Hurry, the show is about to start, don't change the channel." And The Love Boat is also telling the 1970s audience what they're about to get if they do stick around – they'll get a show with something for everyone, as long as you like adventure and romance.)
And love – won't hurt anymore
It's an open smile, on a friendly shore.
(The Love Boat is making it clear that this is a feel-good show, while acknowledging that love and romance is hard and not something everybody gets, and that it's full of tragedy and tears, but not here. The Love Boat will make all of that romantic agony go away. In a way, the song is almost suggesting that the Love Boat is a mythical place where everybody's dreams can come true. And if you know the show well, you know that's pretty much on target.)
It's, love! Welcome aboard, it's looooove!
(The Love Boat's final entreaty. You've watched the opening credits. Now stick around for the show and enjoy the ride. You're welcome here.)
It was Charles Fox's idea to ask Paul Williams to write the lyrics. It was a wise move.
Singing the Love Boat theme song
According to Charles Fox's memoir, he and Paul Williams thought Jack Jones would be perfect to sing the Love Boat theme song. Williams said something similar to the St. Louis Post-Dispatch in 2002: "Charlie Fox and I wrote that, and we called Jack and said, 'Would you come sing this? It's for a pilot for a series that probably won't last four episodes.' We thought, 'What in the hell are they gonna do with a cruise ship?' And it lasted 11 years. I mean, it's playing right now somewhere."
Jones, obviously, said yes – and was soon singing it at all of his stage shows. His fans expected it of him.
Jack Jones was born into Hollywood. His father was Allan Jones, a leading man on Broadway in the 1930s – a fine singer and actor. One of his movies, One Night in the Tropics, became the movie that introduced the comedic team of Abbott & Costello. But we digress.
At this point in his career, Jack Jones was already a popular singer with a lot of success behind him. For instance, he had a huge hit in 1963 with "Wives and Lovers," a song by Burt Bacharach and Hal David. Jones also became well known for his performance of, "The Impossible Dream," a song from the musical, Man of La Mancha, but one turned into a hit on the pop charts in 1966. We could go on, but you get the idea. Jones had a thriving career well before The Love Boat sailed into his life.
Jones knew the song was cheesy, but it was cheese everybody enjoyed. In 1988, he told a reporter, "Love Boat saved me with a lot of young kids, pre-teens. The recognition is not negative. Paul Williams wrote the song and asked me to do it. But I gotta admit, when I do that song in a show, I always say, 'I hate that song.' The show was silly and frothy."
Silly and frothy or not, Jones was a fan of the show, enough that he would end up playing a character in an episode on The Love Boat. In fact, Jones came up with his storyline and suggested it to the producers. He and his father, Allan Jones, appeared together as father and son singers in a 1980 episode. The two play Rich and Bob Braddock, a father and son who haven't spoken to each other for years. But of course, before the episode is over, The Love Boat will work its magic on them and reunite them.
Paul Williams appeared on the series two years earlier, playing a bachelor who has to marry within a week to get a $3 million inheritance. He would be in another episode two years after Jack Jones, playing a treasure hunter of sorts.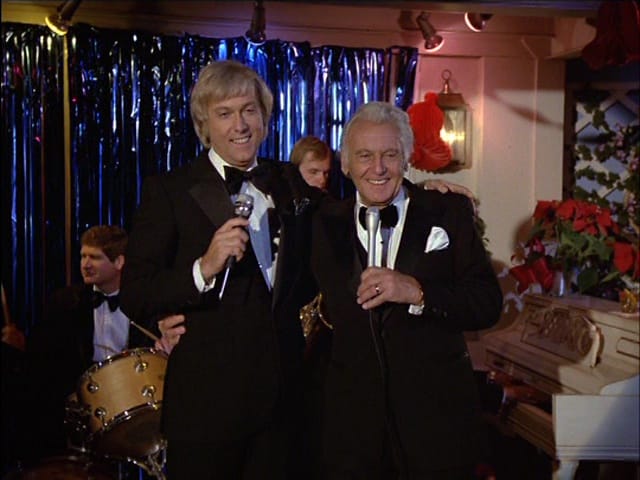 The Dionne Warwick Year
During the final season of The Love Boat, perhaps in an attempt to freshen up the show and save it from being a final season, the producers decided to update the song. The legendary Dionne Warwick was asked to perform it. Warwick had hits like "I Say a Little Prayer" and "Do You Know the Way to San Jose?" She had performed the year before on, "We Are the World."
Look, in retrospect, it seems insane to have replaced Jack Jones' rendition of The Love Boat, but if the producers were going to give it a shot, you couldn't blame them for going with Dionne Warwick. And she did her usual amazing singing, but ratings were down and a new version of The Love Boat theme song simply wasn't enough to encourage audiences to tune in. They were moving on, and it definitely didn't help that after nine years of airing on Saturday nights at 9 p.m., The Love Boat was moved to Friday nights – at 10 p.m.
That time change was likely the show's death knell. Saturday nights at 9 p.m. was a family friendly hour, perfect for the likes of The Love Boat. Friday nights at 10 p.m., not so much.
According to Charles Fox's memoir, Jack Jones was not thrilled to be bumped from the show and replaced with Dionne Warwick. "I don't think he ever forgave me for doing so, even though I had no choice," Fox wrote.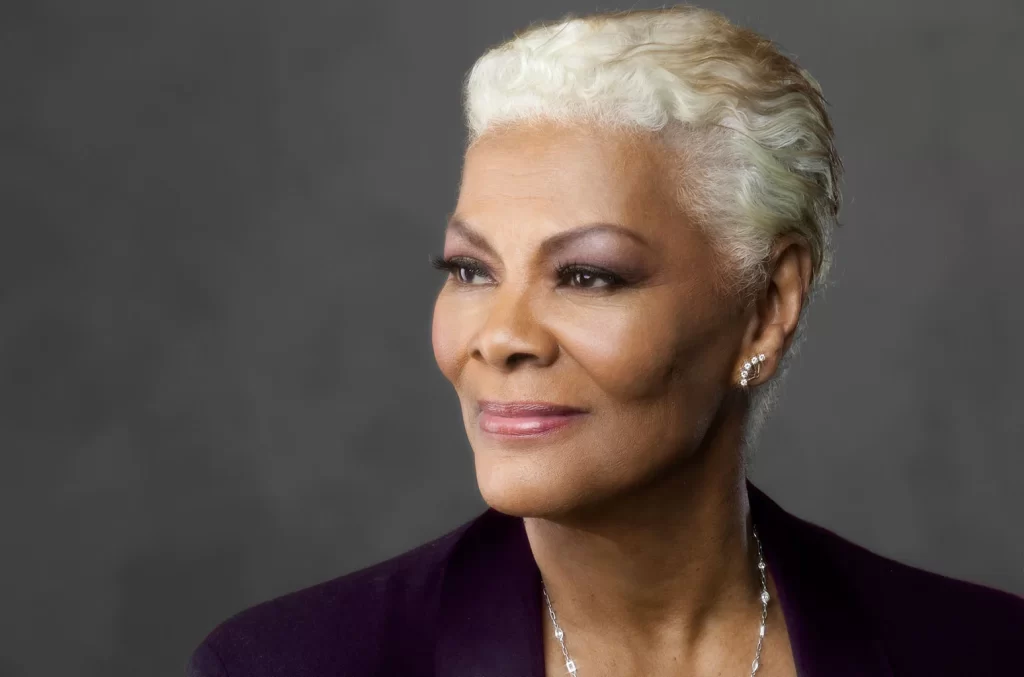 How "The Love Boat" Changed Everything
OK, I don't know if The Love Boat changed everything -- like, I don't think it affected trees or supermarkets, for instance -- but I have to wrap this blog post up somehow, and the show must have changed some things.
The Love Boat certainly changed the lives of the actors who played the crew – and this would be a good moment to say something about them, since obviously the show had plenty more going for it than just a catchy theme song.
Gavin MacLeod was well known as Murray Slaughter on The Mary Tyler Moore Show, but the rest of the cast a mix of TV veterans and unknowns. Yes, Bernie Kopell was pretty familiar to TV audiences before he took on the role of Dr. Adam Bricker, but he was hardly a household name. He had played Siegfried in 14 memorable episodes of Get Smart, and he had appeared in a slew of TV shows in the 1960s and 1970s, including McHale's Navy, The Lucy Show, Petticoat Junction, The Beverly Hillbillies, The Dick Van Dyke Show, Green Acres and much, much more. But aside from a costarring role in the cast of the short-lived sitcom, Pins and Needles, this was his first big part as a cast member on a network TV series.
Ted Lange, who would play Isaac Washington, the bartender on The Love Boat, was also pretty well known, at least to anybody who watched That's My Mama!, a sitcom that aired from 1974 to 1975 on ABC, cancelled in the middle of the second season. Lange co-starred as a friend of the son on That's My Mama!
Fred Grandy's first TV appearance was on a 1973 episode of Love, American Style (and isn't that kind of ironic, given how The Love Boat was described?). He had appeared on Maude and in a 1975 episode of The Mary Tyler Moore Show and a smattering of other shows. But The Love Boat was definitely what made Fred Grandy a household name and one of the most familiar faces on TV throughout the 1970s and 1980s.
Cynthia Lauren Tewes was about on par with Fred Grandy's career when she landed the role of a lifetime -- that of cruise director, Julie McCoy.
(On the show, Tewes was billed as Lauren Tewes, a suggestion from a college drama professor. Tewes liked Lauren Bacall, and so, there you go. But in recent years, she has gone by Cynthia Lauren Tewes. Lauren Bacall never made it into an episode of The Love Boat and rarely did TV in the 1970s and 1980s, but she did appear in a 1979 episode of The Rockford Files. But we digress.)
Tewes had some guest appearances on TV shows, like Police Story but, well, she explained how her career was going pre-Love Boat in a 1978 newspaper interview: "I was living in a crummy apartment, had no job and didn't know beans about this business, and then I discovered I was going into job interviews with the wrong attitude, thinking about all the time I'd studied and waitressed to support myself, and I still wasn't getting work. I finally learned they would buy me if I acted like myself and not some act I put on."
Soon after, Tewes said, she wound up on Charlie's Angels, and then as a bad guy on Starsky & Hutch, and then she appeared on Family and finally the third Love Boat movie that became the pilot for the TV series.
Jill Whelan, who played Captain Stubing's daughter, Vicki, came a year after the show set sail, but we can't leave her out. Whelan was 11 when she landed the role of Vicki. She was primarily known for being on some commercials, including a popular one for M&M's candy, an appropriate brand to be associated with when you're getting that first sweet taste of success.
But The Love Boat changed more than the actors' lives. It exposed a generation or two to some of the greatest performers of the 20th century. Just some of the celebrities from the heyday of Hollywood glamour to board the Princess Pacific included Ginger Rogers, Carol Channing, Ray Milland, Don Ameche, June Allyson, Eve Arden, Dana Andrews, Pearl Bailey, Ralph Bellamy, Ernest Borgnine, Nanette Fabray, Donald O'Connor, Jose Ferrer, Joan Fontaine, Red Buttons, Ruth Gordon, Anne Baxter, Greer Garson, and we could go on and on.
And, of course, there were up and coming stars on The Love Boat, like Kirstie Alley, Teri Hatcher, Janet Jackson, John Ritter and Tom Hanks (actually, he wasn't even up and coming at this point; it was his first TV role).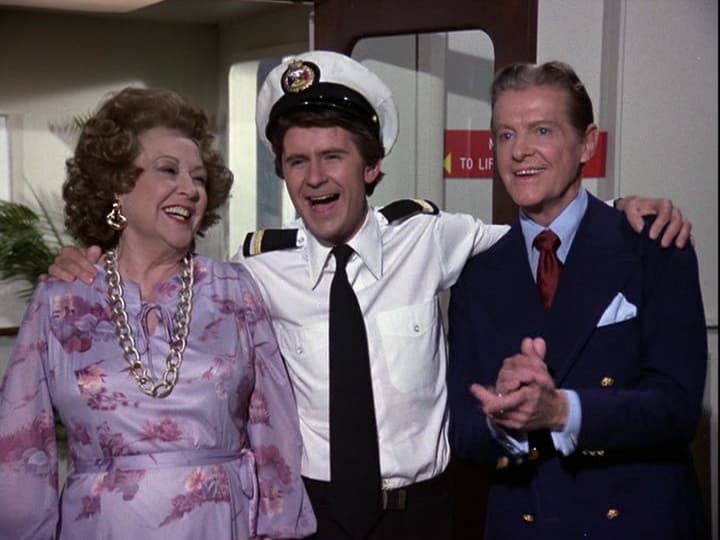 And while The Love Boat did not create the cruise industry, it certainly influenced it. According to a 1989 article by The Fort Lauderdale News & Sun-Sentinel, in 1977, when The Love Boat first aired, 835,000 people took a cruise. By 1988, a couple years after the series had ended, 3 million passengers a year were going on a cruise. As plenty of people have pointed out, The Love Boat was basically a free advertisement every week for the cruise industry, and when cruises ran television ads, they naturally sought out to place them during the hour that The Love Boat aired.
Over the years, Hollywood has made a few clumsy stabs at replicating The Love Boat's success. The network UPN in 1998 aired Love Boat: The Next Wave, which lasted about a year. Most of the original cast members came back for the show, though Fred Grandy sadly did not, and so viewers watched a romance unfold between Julie McCoy and Doc. Please – no offense to Doc or Bernie Kopell, who was fantastic on the show, but everybody knows that Gopher and Julie were meant for each other. Am I wrong?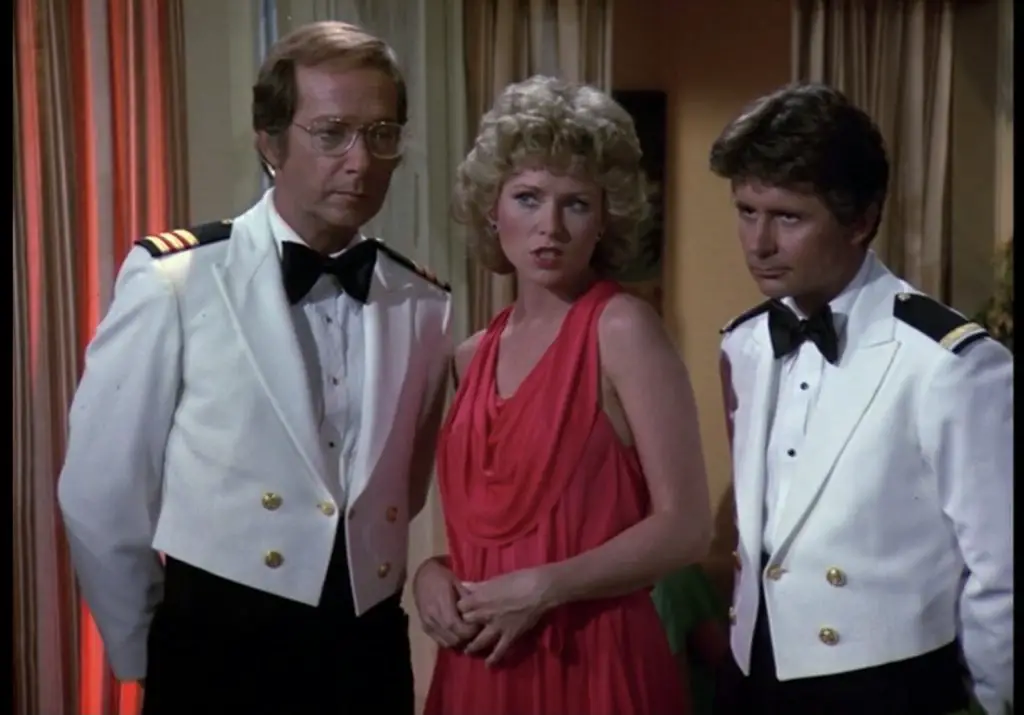 And in 2022, CBS aired The Real Love Boat, a reality dating competition show that was filmed on a Pacific Princess Cruise ship, just like The Love Boat was.
You would think that a new version of The Love Boat would work today, with all the rebooting and sequels going on. But if Hollywood ever attempts it, they'll need to bring back that theme song in its entirely. No eight second ditty – they'd have to bring the entire one minute and 33 seconds Love Boat theme song, maybe with Jack Jones and Dionne Warwick belting out a duet.
Where to watch The Love Boat (at the time of this writing): PlutoTV has five seasons of The Love Boat that you can watch on demand – and it has a channel playing The Love Boat 24 hours a day. The Love Boat can also be found on the cable channel MeTV, airing on Sundays at 5 p.m., EST.
Articles similar to this Love Boat article: Maybe you'd like a look back at how the Three's Company TV theme song came about?