Editor's note: "Streaming Time Capsule" is a semi-regular feature on The TV Professor, looking at some of the unusual and maybe worthwhile, and maybe not worthwhile, TV show oddities that you can find online. Our latest installment? Jeannie, the animated cartoon from 1973, which was based on the 1960s TV series, I Dream of Jeannie.
Sometimes, I don't know whether to pity my kids that they didn't grow up with the type of cartoons that Generation X did, or if they got lucky. Exhibit A – the 1970s cartoon Jeannie.
If you remember it from your youth and watch it today, it's a surreal experience. It's a lot of fun to see it again. But it is a strange trip down Memory Lane.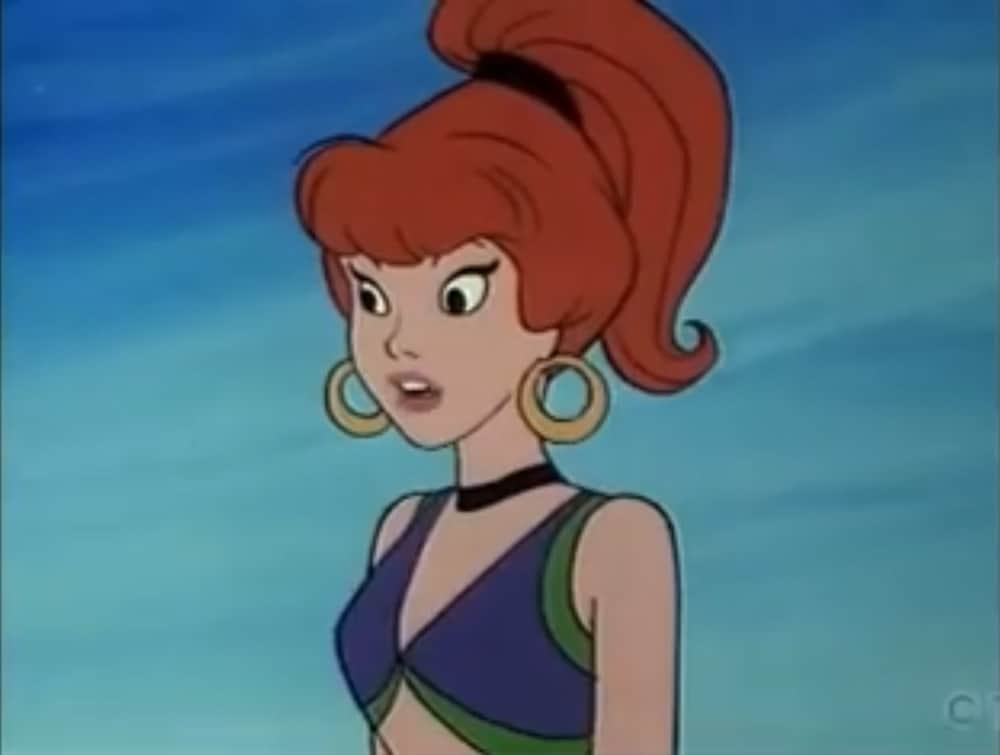 As you may or may not know, Jeannie was an animated version of the 1960s TV series, I Dream of Jeannie. It's also worth noting that Jeannie featured the early voice talents of Mark Hamill, who went on to do something almost as cool – you know, the whole Luke Skywalker and Star Wars thing.
So here we go, probably almost everything you ever wanted to know about Jeanne.
Today's "TV Lesson" Breakdown:
What Jeanne was about
The cartoon had very little to do with the TV series that inspired it, I Dream of Jeannie, which starred Barbara Eden, Larry Hagman and Bill Daily. In the cartoon, just as in the live action TV series, a male finds a bottle on a beach and rescues from it, a genie named Jeannie (played by Julie McWhirter).
The male, in this case, is Corey Anders (played by Mark Hamill), a teenage boy, and he has a pal, Henry Glopp (Bob Hastings).
So that's a lot like the relationship between Tony Nelson and his friend, Roger Healey, both captains and then majors in the Air Force. Meanwhile, Jeannie does resemble Barbara Eden's Jeannie (albeit the cartoon Jeannie has red hair instead of blonde) and has a similar personality.
And unlike I Dream of Jeannie, Jeannie has her own friend and sidekick, a genie-in-training named Babu.
That said, on the TV series I Dream of Jeannie, we did get to sometimes meet other genies that Jeannie knew, and so having Babu as a pal was arguably in the spirit of the TV series.
There was a villain of sorts in Jeannie just as there was on I Dream of Jeannie. S. Melvin Farthinghill (played by Tommy Cook) was a rich kid who had a sneaking suspicion that Corey was hiding a genie. It was the type of role that Hayden Rorke played as Colonel Alfred Bellows on I Dream of Jeannie, who always knew something fishy and magical was going on with Major Tony Nelson but could never figure out what it was.
Still, mostly, the cartoon was nothing like the live-action TV series. In each episode of Jeannie, the four characters – Jeannie, Corey, Henry and Babu – would find themselves in new misadventures as magic and the real world collided. That's the series in a nutshell.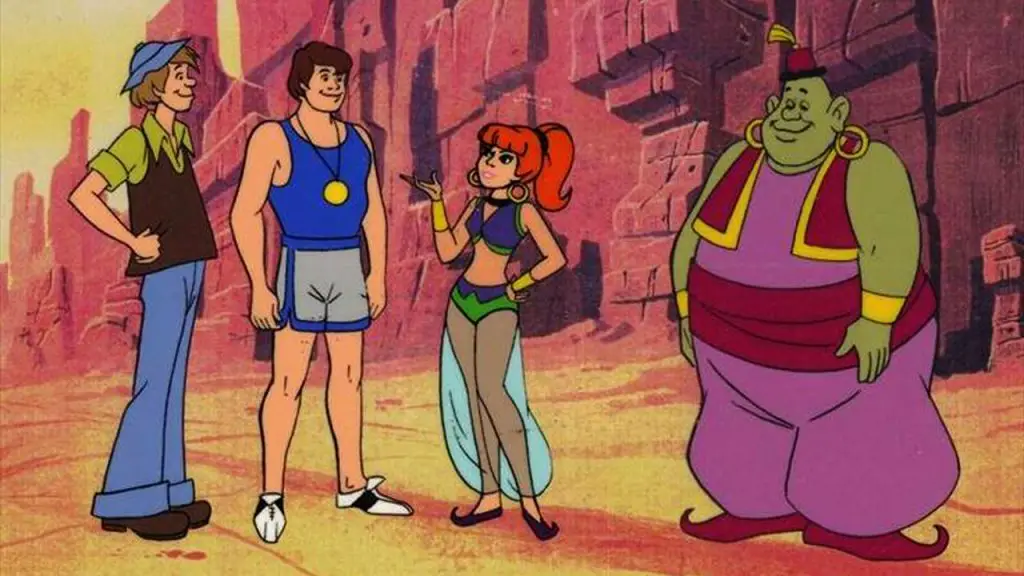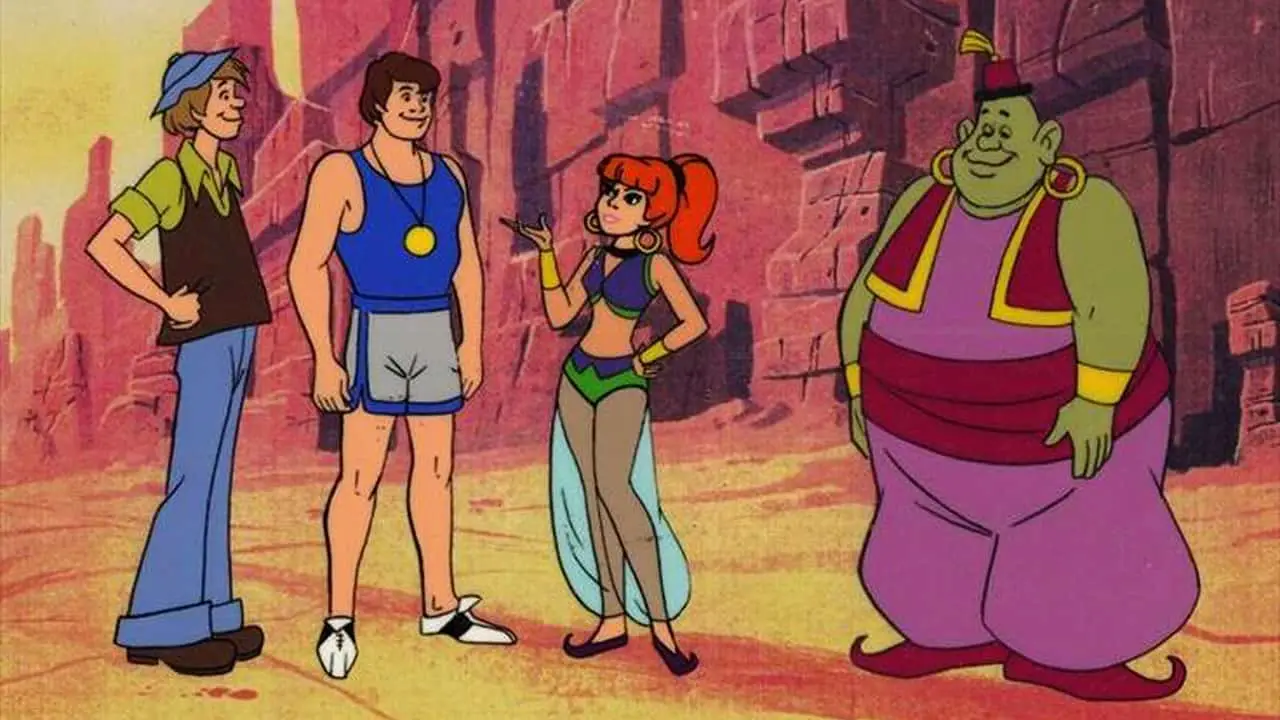 Where Jeannie fits into TV cartoon history
Jeannie's existence arguably is due not to I Dream of Jeannie but because of The Brady Kids, a TV cartoon series that started running in 1972 and ended in 1974.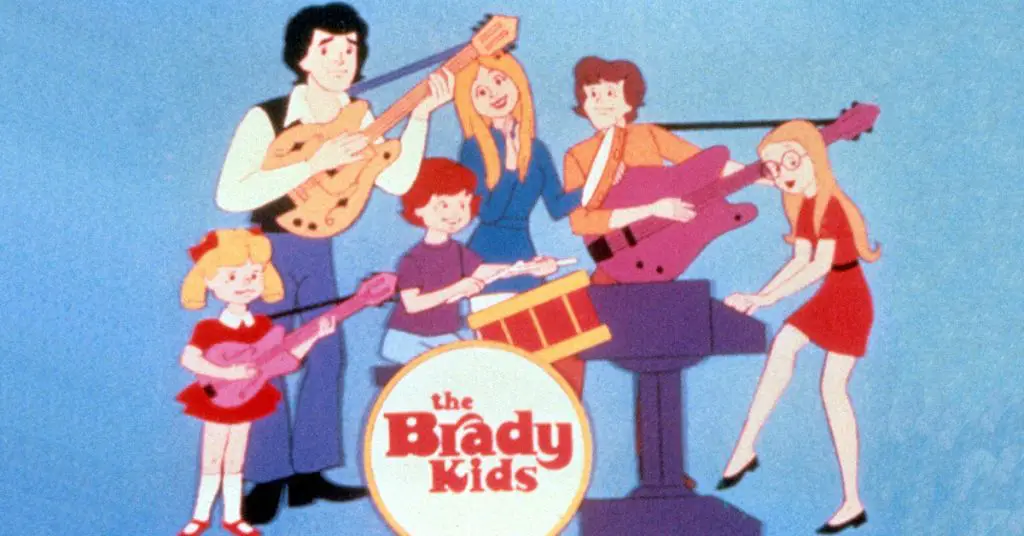 Either that, or something was in the water in Hollywood, because shortly after The Brady Kids began airing, just about TV show imaginable, it seemed, was being reworked up as a cartoon. For instance, in 1972, The Nanny and the Professor, which was briefly a live-action sitcom from 1970 to 1971, aired as a cartoon movie on Saturday morning. In 1973, there was another animated movie, Nanny and the Professor and the Phantom of the Circus.
That year of 1973 was a watershed year in this "live-action TV series becoming cartoons" trend.
In 1973, not only did Jeannie come on the air, but so did My Favorite Martians, a cartoon based on the 1960s live-action TV series. Emergency + 4 also began airing, an animated version of the hour-long drama Emergency! (1972-1977). And so did…
Well, hey, let's make this cartoon TV history easier to follow and go with a bulleted list of the TV series that were coming out around this time.
The Brady Kids (1972-1973).
Jeannie (1973-1975).
My Favorite Martians (1973-1975).
Star Trek: The Animated Series (1973-1974).
Lost in Space. (Don't remember this one? That's because only a TV pilot was made; the series wasn't picked up. You do remember it? Then maybe you were watching when it aired as part of The ABC Saturday Superstar Movie series on the Saturday morning of September 8, 1973.)
Emergency + 4 (1973-1974).
The Mini-Munsters. (Same deal as Lost in Space. A pilot episode was filmed, with Al Lewis, who played Grandpa on the live-action series, offering up his voice, but it didn't catch on and aired as part of The ABC Saturday Superstar Movie series in 1973.)
The Addams Family (1973-1975).
That Girl in Wonderland (1973). This wasn't a pilot episode. It was just intended to be an animated TV special, but it's beyond weird that somebody at ABC thought, "Sure, kids will love a cartoon based on That Girl," a sitcom that aired from 1966 to 1971, and one that was family-friendly but definitely aimed at grownups. Basically, Marlo Thomas provided the voice for Ann Marie, or rather, in this cartoon version, Annie Marie. In the cartoon, Annie Marie is unemployed and looking for work as a secretary. She finds a job at a publishing company and is given an assignment to come up with an idea for the company's big Christmas book release, which becomes an excuse to put her into classic stories, like Alice in Wonderland and The Wizard of Oz. Ann Marie's boyfriend, Donald, is in the cartoon, though he's played by another actor. Anyway, moving on…
The New Adventures of Gilligan (1974-1975).
Partridge Family 2200 A.D. (1974-1975).
I think that covers all of the TV series that were turned into cartoons in the 1970s, although I haven't mentioned the TV shows that were turned into cartoons in the 1980s (but I will).
In the first half of the 1970s, these TV shows as cartoons were everywhere on the three big networks, and often, what made these animated TV counterpart cartoons so much fun for audiences is that the actual actors were voicing the TV characters. For instance, The Brady Kids were voiced by the child actors who were on The Brady Bunch, and on Emergency +4, the actors Randolph Mantooth and Kevin Tighe were voicing the characters they played on the live-action series, Emergency.
My Favorite Martians, on the other hand, had different actors voicing the parts, though interestingly enough, the voice of the Martian, Uncle Martin O'Hara, was played by Jonathan Harris, who starred in the live-action series Lost in Space.
The Star Trek cartoon also had most of the original cast (they all apparently would have been hired if it weren't for budget concerns), including William Shatner, Leonard Nimoy, DeForest Kelley, James Doohan, Nichelle Nichols and George Takei.
The New Adventures of Gilligan also featured most of the original cast of Gilligan's Island, although another actress played the roles of Ginger and Mary Ann, and Partridge Family 2200 A.D. (think The Partridge Family meets The Jetsons) had a mix of the original actors (Danny Bonaduce, Suzanne Crough and Brian Forster) acting with professional voice actors. That said, Susan Dey voiced Laurie for two episodes – and then was replaced by another actress.
In the last half of the 1970s, the networks stopped focusing on turning in their network shows into cartoons, which is probably why nobody ever made an animated Quincy cartoon, or one of The Rockford Files. Well, seriously, the way things were going…
(Along those lines, in 1980, a TV pilot was made based on the character from Rhoda called Carlton Your Doorman, but it was never intended to be a Saturday morning cartoon. It was planned as a prime time cartoon for grown ups.)
So, anyway, in the 1980s, after five years or so of the trend dying down, the networks suddenly decided that they did, after all, want to continue turning in TV properties into Saturday morning cartoons.
So suddenly there were quite a few TV series that were turned into animated shows, and in most of the cases, the original actors were voicing their cartoon counterparts:
The Fonz and the Happy Days Gang (1980-1982)
Laverne & Shirley in the Army (1981-1982)
Mork & Mindy/Laverne & Shirley/Fonz Hour (1982-1983)
Gilligan's Planet (1982-1983)
The Gary Coleman Show (1982-1983, capitalizing on his Diff'rent Strokes fame)
The Little Rascals (1982-1983, not exactly a TV series, but close enough: their movie shorts were syndicated on TV and shown all the time)
The Dukes of Hazzard – the Dukes (1983-1984)
It's Punky Brewster (1985-1986)
ALF: The Animated Series (1987-1988)
ALF Tales (1988-1989)
Then there was one last gasp near the end of the period in which TV networks aired Saturday morning cartoons, with new episodes of The Addams Family running on ABC from 1992-1993, but that was really due to the popularity of the The Addams Family feature film that came out in 1991, as opposed to a new nostalgia for the TV series.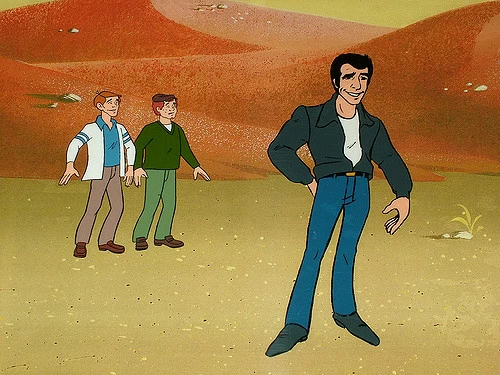 Back to Jeannie… So What Happens on Jeannie?
For the most part, Jeannie really is kind of like an animated situation comedy, though watching it from an adult's perspective gives it a whole new twist. In 1973, Chicago Tribune TV columnist Clarence Petersen wrote about Jeannie, My Favorite Martians and what he called "situation cartoons," and observed: "You will notice that in each case the kids in the cast are teenagers. That is not because the cartoons are aimed at teenagers. They are designed for little kids who can hardly wait to become teenagers."
True enough. But watching Corey Anders makes me recognize that he's also the perfect model of what a lot of middle-aged men wishes they had been like as a teenager.
I mean, Corey rides a motorcycle. He surfs. He plays golf. And he looks like a movie matinee idol. Oh, and in at least one episode, we learn that Corey has an A average. In fact, you might almost hate him if it wasn't for the earnest "I'm just a normal teenage boy" delivery Mark Hamill gives Corey.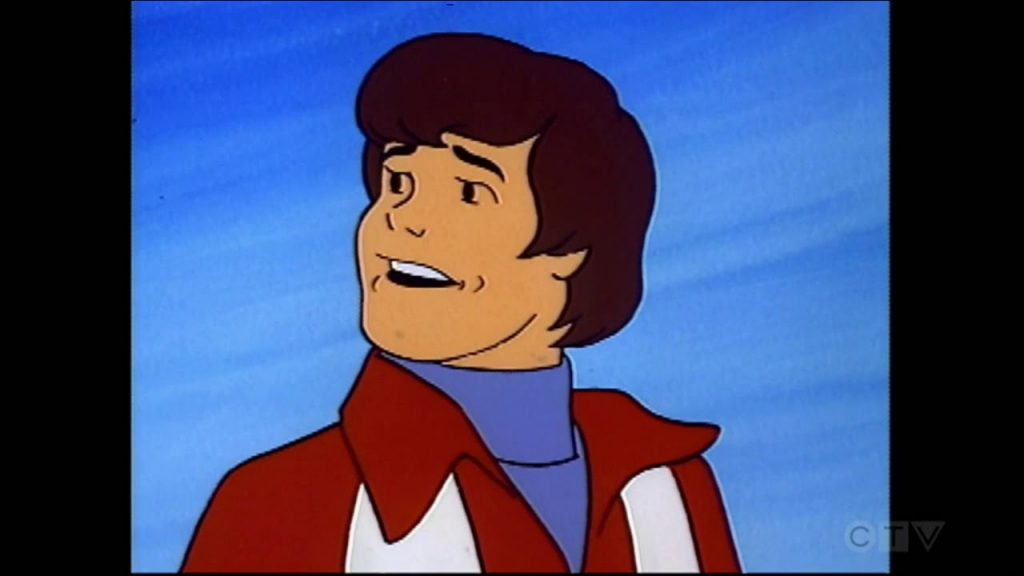 The plots are definitely sitcom-ish, and indeed, many of the Jeannie scriptwriters had written for sitcoms, including I Dream of Jeanne. In the episode, "Helen of Troy," the town library is closed, and Corey can't research the famed historical figure for his term project. Jeannie uses her magic to bring Helen of Troy to the modern world, and hijinks ensue. What, she couldn't have magically whipped up a few books on Helen of Troy for Corey to read? And wasn't that pretty much the plot of the future film Bill & Ted's Excellent Adventure?
In "The Sailors," Tony and Roger – I mean, Corey and Henry – enter a sailboat race with an attractive young lady named Barbie. Jeannie is not pleased, and so she uses her magic to take Barbie's place, and in the process gets them disqualified from the race. And then, of course, Jeannie has to make things better, so Corey can get back into the race.
Another episode, "The Blind Date," almost at first plays out like a future episode of Three's Company. Henry's mother wants him to find a date for his cousin, who is coming into town. Apparently, instead of visiting with relatives, Henry's mother thinks the cousin should go on a date. Sure. OK. We'll go along with that.
Thus, Larry asks Jack – er, Henry asks Corey if he'll go out with his cousin, Bunny.
Corey isn't too interested. He isn't a fan of blind dates, and he's even less excited when he asks, "Is Bunny pretty?"
Henry's response isn't exactly encouraging. "Pretty darn smart, let me tell you," Henry says. "Straight A's and everything."
"That's not what I asked you," Corey says. "Besides, I don't like going out on blind dates."
"Listen, Corey, you gotta realize, looks aren't everything," Henry says.
Henry eventually fishes out a picture from his billfold. It's a four-year-old photo, taken with a bad camera, we are told, and Bunny looks like an overweight-ish elementary school kid, though if the photo is four years old, she's probably in middle school. Corey is definitely not interested.
Jeannie pops in and seeing the photo and realizing this Bunny isn't any sort of competition for her own affections, encourages Corey to take the poor kid out.
To Corey's credit, and since Henry says he'll pay for the date, he agrees to take Bunny to a carnival.
Naturally Bunny turns out to be a knockout, and Corey is delighted, and Jeannie is jealous and tries to break them up. Corey isn't pleased and orders Jeannie back into her bottle as a punishment. Then later, the cartoon kind of turns dark when Corey's mom comes into the garage with an elderly junkman looking for bottles.
Corey's mom gives away Jeannie's bottle to the guy, who plans on taking all of the bottles he is collecting to the recycling plant. There, his bottles will be crushed, melted and turned into new bottles. Jeannie is pretty worried.
Meanwhile, at the carnival, Bunny ends up dumping Corey for a marine.
Corey and Henry head back to the garage where they realize Jeannie is missing and learn about the recycling plant. The sitcom cartoon then turns into a rescue mission as Corey and Henry team up with Babu to go rescue Jeannie from certain doom. They fail, and that's the end of the TV series.
OK, I kid. Corey rescues Jeannie in the nick of time – and I think I actually remember this episode from my childhood. It is kind of exciting, if you try and look at it from a little kid's point of view. I mean, Jeannie keeps doing magic, to keep her bottle from winding up in an incinerator – but how long can she keep it up? Fortunately, Corey grabs the bottle and saves the day.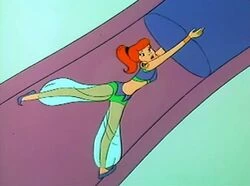 Later, Corey, Henry, Jeannie and Babu go back to the garage and discuss the day's events. Just before Corey's mom shows up, however, Babu and Jeannie disappear. Corey's mom is happy to see that her son found his bottle – and chastises him. "And next time dear, you mustn't be so careless, losing things. It's a bad habit."
Corey and Henry trade bewildered glances. After all, Corey's mom gave the bottle away. But she leaves, and Jeannie reappears to say, "She is right, master. Losing me is a very bad habit. But a good habit would be to keep the bottle collectors away from my bottle."
And then the three laugh, in that bewildering hearty way that countless TV shows would do throughout the 1960s and 1970s, where somebody would say something just barely amusing, and then everybody just laughs and laughs, and the episode fades out.
More Jeannie weirdness. In fact, so… so much Jeannie weirdness.
Granted, the cartoon was just being true to its I Dream of Jeannie TV roots, but there's definitely no way that this cartoon would have been greenlit to run today. Jeannie calls Corey her "master," and he does, at times, kind of treat her like a pet, rather than a girlfriend.
After Jeannie messes up Corey's date with Bunny, utilizing some of her magic, he tells her, "Now, go home and stay in your bottle."
"Oh, master," Jeannie says, sadly.
"I mean it, and don't come out until I let you out," Corey says.
"Yes, master," Jeannie says, and she disappears.
In the "Helen of Troy" episode, Helen of Troy actually asks Corey, of Jeannie: "Is this your slave?"
"Yeah, sort of," Corey says.
"Have your slave fetch me a drink," Helen says.
Corey then says: "Slave, fetch Helen a drink."
Jeannie doesn't look happy. Corey starts to backtrack, probably because he recognizes that if Jeannie wanted to, she could turn him into a gerbil: "What I mean is…"
Henry interrupts. "I'll get it," he says, rushing for a drink.
"No, I'll get it," Babu says, and off he goes.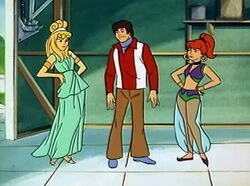 Stray Observations about the cartoon Jeannie
Corey Anders was a very athletic fellow. You gotta give Jeannie credit for giving kids a pretty good role model, in some ways. I've mentioned that Corey was a straight A student. Well, he was definitely into physical fitness.
The first episode in the series involves a surfing contest. The second one is about an athletic competition against a military academy. The third episode, Henry and Corey are working at a ski resort. The fourth episode is called "Survival Course" and involves camping and roughing it outdoors.
After that, the plots get further away from physical fitness, but Corey always seems to be doing something athletic. One episode opens with Corey playing tennis table with Henry, and there's a basketball net in the driveway, and Jeannie often hides in a canoe hanging from the top of the garage. Corey has a pair of boxing gloves hanging in his garage. When it came to fitness activities, Corey could apparently do it all.
Babu was 1,500 years old. And yet, he still wasn't a genie, first class. Joe Besser was the voice of Babu. Besser, as Three Stooges fans know, was one of the Three Stooges. After Curly Howard died, Shemp Howard replaced him.
After Shemp Howard died, Joe Besser stepped up and became the third third Stooge, teaming up with Moe Howard and Larry Fine. Besser, as was mentioned in this The TV Professor post about the Three Stooges and a failed TV pilot, eventually left the trio to take care of his wife, who was ill, and Joe DeRita became the fourth third Stooge.
Oh, and I would be remiss to not mention Babu's catchphrase, "Yapple dapple!" He would say it... well, on just about any occasion.
Mark Hamill sung the Jeannie theme song. Before Jeannie came long, Hamill had already had racked up quite a number of impressive guest spots on TV series such as The Partridge Family, Room 222 and Cannon. When Jeannie aired in 1973, Hamill was 22 years old – the lead in an animated song and singing its theme song. Not a bad way to begin a storied acting career.
The lyrics to the Jeannie cartoon went as follows:
Hot doggin' it up, riding a curl (We see Corey on a wave, surfing.)
not thinking I'd be meetin' a girl.
Then wham!, I went (We see Corey wiping out on his surf board.)
But that fall wasn't all... in a bottle was a chick only two inches tall...
Out came Jeannie, wow! And junior genie, Babu!
Jeannie! (We see Corey calling for her.)
Yes, master!
That last line was spoken by Jeannie, followed by a grin from Corey, who knows he is living the life that many teenage boys dream of. I imagine somewhere in 1973, Gloria Steinem channel surfing, stumbling on the cartoon and simply shaking her head.
Where to watch Jeannie (at the time of this writing): Crackle.com, which is free and has the entire series on its website and app. Meanwhile, scattered episodes of I Dream of Jeannie can be found in scattered places, such as TubiTV.com.
The previous streaming time capsule: Mister Peepers. The next "streaming time capsule" is Bloodlust!, a cheesy horror film starring Robert Reed from The Brady Bunch. (And if you really enjoyed reading about Jeannie, you might also enjoy The TV Professor's recent take on Mighty Mouse and the early days of Saturday morning cartoons.)