Maybe it's too easy and obvious of a financial blog post, but if you're looking for money management tips, look to The Honeymooners. Ralph Kramden can show you what not to do.
As you know if you've watched The Honeymooners (1955-1956), Ralph Kramden was a bus driver and a guy who always wanted to get ahead in life but never quite managed to. If you haven't ever seen it, you should definitely check out the classic TV series sometime, though most of the episodes seem to only be on YouTube.com, right now.
Ralph makes a ton of financial errors throughout the series, but let's focus on a few of his qualities that certainly make him human – but can be detrimental to your financial well being.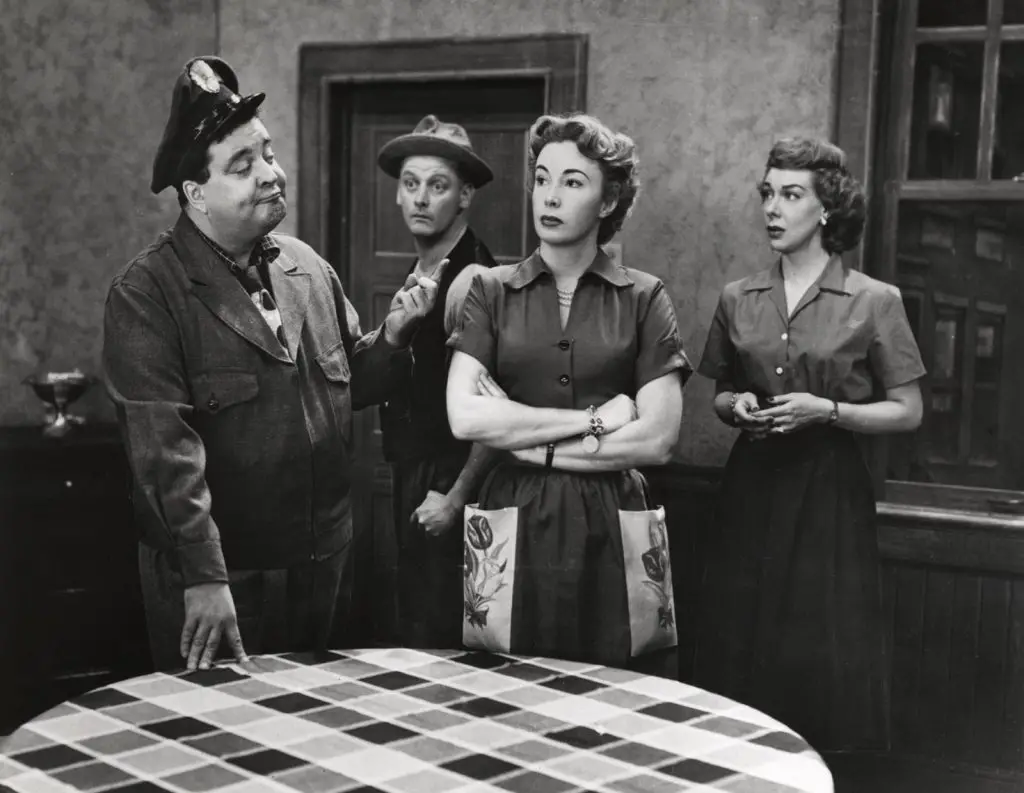 Try to not make assumptions. Ralph Kramden makes a lot.
I know I can relate to this, and I suspect we all can. I've taken out a number of loans in which I've assumed the terms were better than they were. That happened a lot in my 20s when I really had no business taking out any loans. I seriously don't feel like I truly understood how loans worked until I was, well, buried in debt.
But I made bad assumptions in other ways, if you don't mind a quick personal anecdote.
In the early 1990s, before the internet was a typical thing and you could research companies, I had recently moved to Los Angeles and knew I had to get off my parents' car insurance policy and onto my own.
So one day, I heard a radio ad for some cheap car insurance – and I think I was in the right to assume that it was a reputable company. I don't think radio stations knowingly allow criminal enterprises to run radio ads (but maybe I'm still naïve).
Anyway, I didn't do any research on the company. I just called them up in the phone book, spoke to somebody and assumed for a couple years that I was sending money to a reputable insurance company, until I was in a car crash, filed a claim and learned from a government agency that I had been sending a check every month to some "business" in the Caribbean.
So I speak from experience when I say – it isn't smart to make a lot of assumptions when it comes to money.
One of the best examples of how you make trouble for yourself when you make assumptions occurs in the episode, "Ralph Kramden, Inc."
It's quite an episode.
Ralph convinces his neighbor and best friend, Ed Norton, to lend him $20 by telling him that it isn't a loan. Instead, Norton will be investing in Ralph Kramden, Inc. He'll end up making not just his $20 back but 20% of Ralph's profits.
It's a very clever way of getting Norton to lend him $20 – and cheerfully. After all, Norton is now the vice president of Ralph Kramden, Inc., and very excited.
A week later, Norton isn't so excited and decides he wants his $20 back. Ralph ends up offering 35% of the profits in his "corporation," and Norton excitedly jumps at the chance – and, of course, Ralph doesn't have to pay back $20.
"I gotta admit, you put it over on me that time, Norton," Ralph says.
But then a rich-looking attorney drops by and informs Ralph that an elderly lady he used to help on and off the bus has died, and she hasn't forgotten his kindness – and has included him in the will. That's when we learn that the lady was worth $40 million.
Now, a rational person would have been excited – who wouldn't be? But Ralph immediately assumes he is going to inherit $40 million, instead of, say, $40,000 or four bucks. He goes right to that $40 million.
Norton makes the same assumption, assuming that he now will receive 35% of Ralph's $40 million.
Both men faint in excitement.
Later, Alice, generally always level-headed, points out that they don't know how much Ralph will get. It might be "in the hundreds," she says.
"All I'm saying is don't count all your chickens before they're hatched – and don't forget that Norton gets 35 percent of those chickens," Alice says.
Norton comes by later, clearly assuming he'll be rich, too. He is planning a second honeymoon to Niagara Falls with Trixie, only this time – they won't have to hitchhike.
So, the long and short of it is, Ralph and Norton spend a lot of time and energy assuming that they are about to hit the jackpot. Ralph also spends a lot of time trying to convince Norton that he shouldn't take 35 percent of the $40 million. He should leave it in Ralph Kramden, Inc., and watch the money grow.
The next day, Ralph and Norton both end up at the reading of the will. Two servants get some money (the butler receives $50,000, and the maid gets $25,000… maybe I'm reading too much into it, but it seems to be yet another case where the woman gets paid less than the man for the same type of work). A nephew who gambles a lot – he gets $1.
And then the attorney reading the will says, "And to Ralph Kramden, I leave my fortune."
Ralph understandably goes nuts. "I'm rich, I'm rich!"
The lawyer gets him to calm down and continues reading the bill, saying, again, that Ralph will be "entrusted with my fortune."
Ralph is beyond excited.
And that's when he learns that he has inherited the old lady's pet parrot, Fortune. Ralph is presented a cage with the parrot in it.
As noted, assumptions and money are not a good mix.
Ralph does not take the news well and ends up fainting.
So does Norton.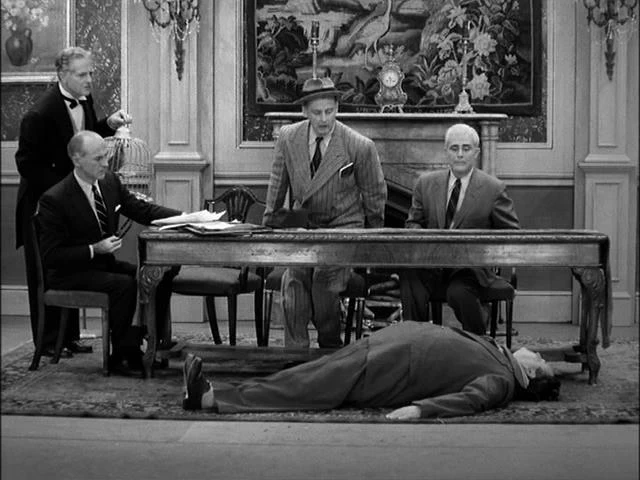 Try to not panic easily. Ralph Kramden does.
This is also not a good idea when it comes to money, or really – anything. Yes, money woes can be stressful. Very stressful. But our imaginations are often far worse than the reality.
In another episode of The Honeymooners, "The Worry Wart," Ralph Kramden gets a letter from the Internal Revenue Service. He assumes, at first, that it's his refund check for $42, which he plans on using for a two-week fishing vacation with his wife, Alice.
(Forty two dollars went a lot farther in 1956 than it does now.)
Ralph is soon living in mortar terror, especially when Alice says, "It's probably nothing."
"Probably nothing? Probably nothing?!" Ralph roars. "Look, Alice, if it was nothing, they would've sent me a letter saying... 'Dear Mr. Kramden, don't come down tomorrow.' What do you mean nothing? This isn't the Girl Scouts, you know. They don't want me down there to buy cookies. This is the United States Government, the Treasury Department. They don't want me down there to shake hands with the Secretary of the Treasury."
Later, in the middle of the night, Ralph is trying to figure out what he must have done wrong when he prepared his taxes.
Alice tries to reason with him. "Ralph, you're letting this thing get the best of you," she says. "Now, will you stop worrying? Whatever it is you did wrong, Ralph, you'll find out tomorrow. And losing a night's sleep is not gonna to help the matter any."
"Oh, I suppose getting a night's sleep is gonna fix everything up fine," Ralph says, standing up from the table. "Sure, I'll go down there tomorrow aid they'll say, 'Mr. Kramden, did you get a good night's sleep?' And I'll say, 'Sure.' They'll say, 'Well, that's fine, let's call off the investigation.' They're not interested in sleep. Their job is taxes. They're not gonna send me to jail for insomnia."
This is a case of panicked assumptions.
In any case, Ralph spends a sleepless night worrying, and when he goes to the IRS's office, he learns… he forgot to sign his tax form and would he mind signing it?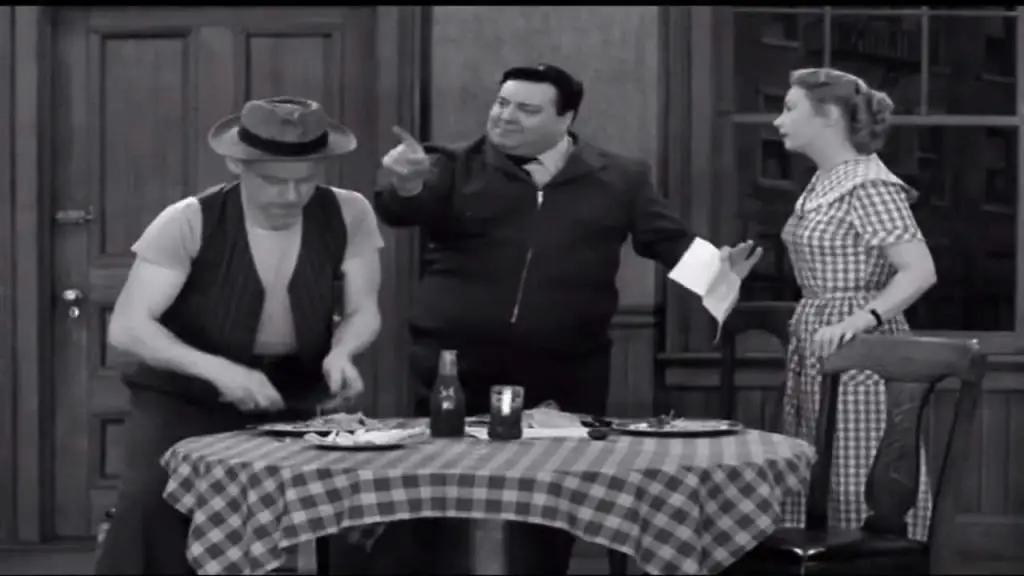 Patience is a virtue when it comes to your money.
It's too bad Ralph Kramden didn't have more patience. It would have served him well. Ralph definitely had the initiative and ambition to be a successful entrepreneur. But arguably, a lot of his get-rich quick schemes failed – spectacularly – because he didn't do enough preparation. If he had been content with becoming rich a little more slowly and thinking things through, maybe some of his ideas would have worked.
For instance, in The Honeymooners' episode "Better Living Through TV," Ralph learns of a household device that pretty much does it all. It's a can opener, but it has various attachments and will do tasks such as taking corks out of bottles, core apples and scale fish. It has a screwdriver attachment and can cut glass. It even has a little attachment to help people remove corns from their feet.
Ralph wants his best friend Norton to go into business with him, selling this device. Norton is not too impressed. When Ralph first brings up the business venture, Norton says, "Here we go again."
"What kind of a crack is that?" Ralph asks.
"I can't stand to make a fortune again. I'm going broke," Norton says.
Ralph gets irritable, angry that Norton is reluctant to become business partners "just because a couple of my ideas went a little sour before."
A little sour? Norton says, "That's the biggest understatement since General Custer said, 'Over the hill -- I think they're friendly Indians.'"
Ralph explains his idea, and it's not half bad. There are 2,000 of these can openers in a buddy's warehouse, just sitting there in storage. If Ralph pays a $200 storage fee, he can have the can openers for free. As Ralph sees it, they'll sell them for $1 each and will make $2,000. Ralph and Norton will make $1,800 in profit.
"We can't lose," Ralph says.
"Can't lose, huh?" Norton retorts. "That's what you said when you bought the parking lot next to where they were building up the movie house there. You said, 'People going to the movies got to have a place to park their car.'"
Ralph looks annoyed. "How did I know they were building a drive-in theater?"
See, if Ralph had been patient enough to do some research on the movie theater construction, he would have avoided that mistake.
In any case, Norton points out that they both have jobs and don't have the time to go door-to-door, selling these 2,000 can openers. Ralph agrees – and says that he checked with the local TV station and for $100, he and Norton can get some air time to do a commercial for their can openers. Ralph figures they'll sell out in about five minutes.
When Norton realizes he'll be on TV, he's sold on the idea. But Ralph, of course, has to sell Alice on the idea, too. He talks a lot about being the king of the castle, but if he is, Alice is the prime minster. Ralph doesn't do much without Alice's blessing.
Ralph argues his point, telling Alice that this can opener business is "the biggest thing I ever got into."
"The biggest thing you ever got into was your pants," Alice cracks.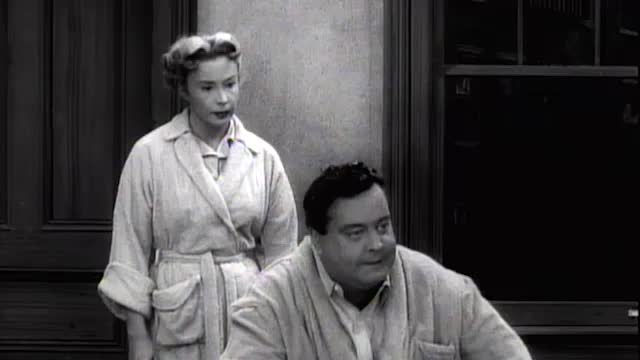 Alice points out some of the other get-rich-quick schemes of Ralph's that went nowhere, like his idea that would do away with electric lights – wallpaper that glows in the dark. Apparently, they also wasted some money on a uranium field in Asbury Park and no-calorie pizza.
We never see Alice give in, but apparently she does -- because Ralph and Norton get their five minute live TV commercial.
You do get the sense that if Ralph had been a professional actor instead of a bus driver, maybe they would have had a good chance at selling 2,000 of these can openers. Ralph, however, confidently told Norton that they didn't need an announcer – they could save money by doing the commercial themselves. Well, Ralph gets stage fright – and the TV commercial is a disaster.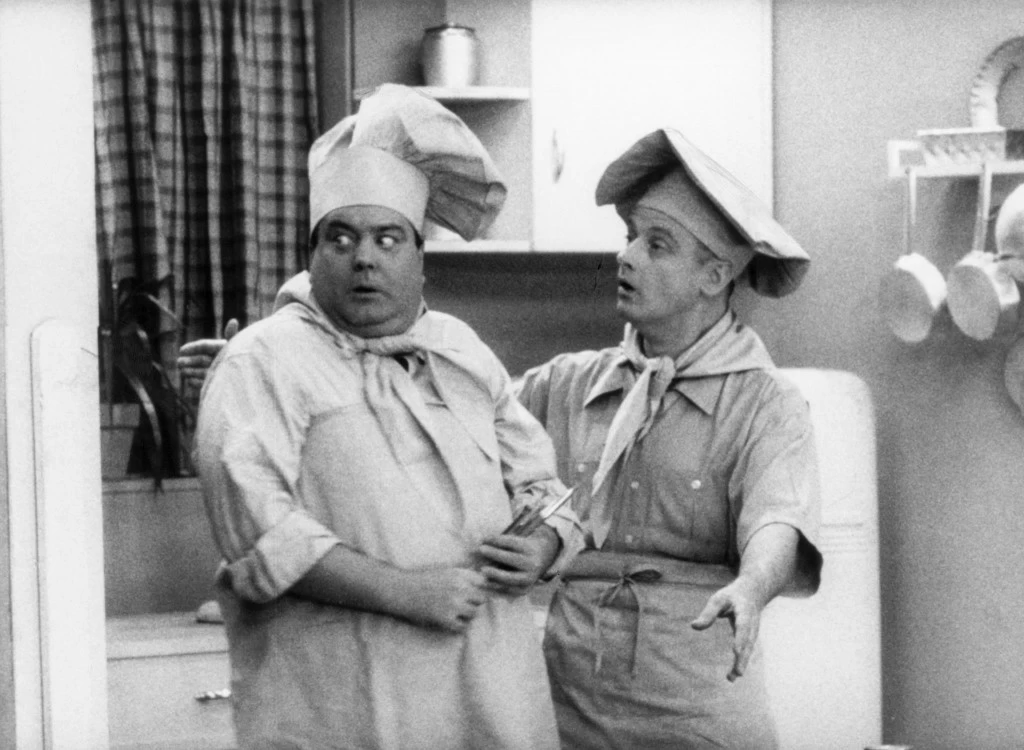 We never see what happens after the TV spot is finished, but it's safe to say that Ralph, Alice, Norton and Trixie each lost $150 – and were the owners of 2,000 can openers.
Where you can watch The Honeymooners (at the time of this writing): I found The Honeymooners on Facebook, like this one of "Ralph Kramden, Inc." None of the big streaming services seem to be currently carrying the show, which is an utter shame.
Articles similar to this one: This, I think, is the first blog post to mention Ralph Kramden and The Honeymooners, but you may want to check out this one on what TV characters do with unexpected money.