If you're afraid of dentists, you're in good company – certainly as far as your favorite TV characters are concerned. Numerous series, especially classic TV shows, have featured dentist-heavy plots.
Which means that if you're looking for tips on how to handle yourself the next time you go to the dentist, we've got a lot to work with.
So consider this your "how to get over your fear of the dentist" self-help guide.
Today's "TV Lesson" Breakdown:
First, an important PSA on dentists
I'm the first to admit that I don't go to the dentist enough – and probably need this guide more than anyone. I generally dread going, mostly because I'm worried what the cost will be. I have yet to encounter a health plan that properly covers dental work, probably due to being self-employed. I've always managed to get my kids to the dentist on a regular basis, but I haven't been so great about it myself.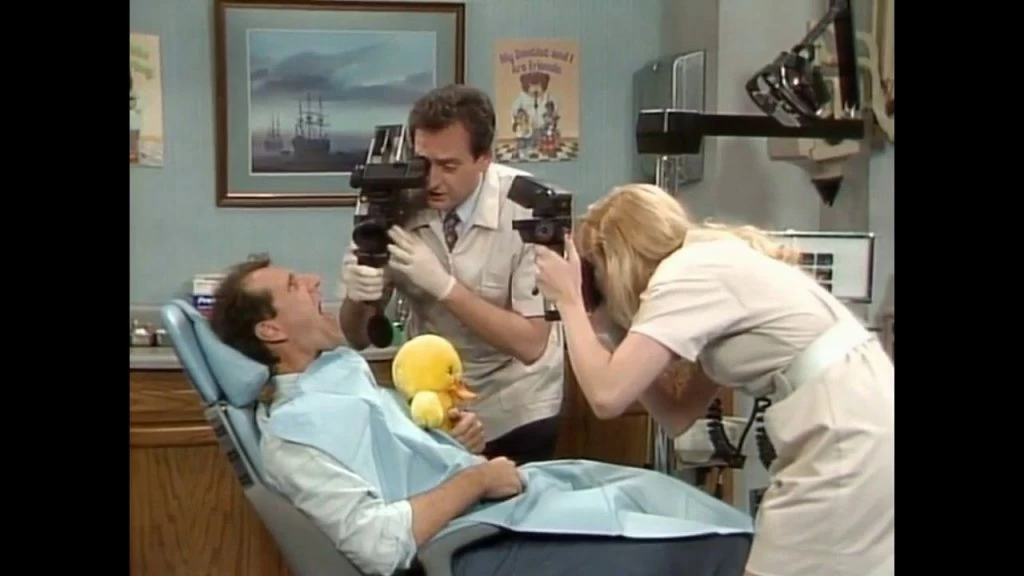 And no wonder some patients get nervous about going. Especially if you haven't been visiting regularly, you know that a bad day at the dentist's office can mean…
staggering out of a pricey office visit knowing you need to return to have cavities filled, or to get a root canal, which will be even more expensive.
being on the receiving end of a lecture about the lack of care you're putting into brushing your teeth.
getting a lot of stuff put in your mouth, and unfortunately, none of it is food.
On the other hand, dentists can save lives. There are some really tragic stories out there about patients dying from infected teeth. And while I have vivid memories of one bad dentist I experienced in my early 20s, almost 30 years ago, I have to admit, most of mine have been pretty great. I wish I lived closer to my old college roommate, who has his own dental practice.
If you live anywhere near Louisville, Kentucky, I can wholeheartedly vouch for Dr. Todd Peter, in terms of his character and intelligence. I haven't actually had him work on my teeth, but I wouldn't hesitate to.
(Hey, what's having your own blog good for if you can't do some free advertising for your college friends?)
So we all agree, right? It's important to go to the dentist. Still, if you want to conquer your fear of going to the dentist, let's see how a bunch of TV characters handled themselves.
Show Up
Well, that's the most important part, isn't it? And while a lot of TV characters are afraid or leery of going to the dentist, the fact is – a bunch of them do ultimately make an appointment. Just a quick list of some TV episodes that focus on TV characters going to the dentist, or the aftermath of a visit, in no chronological order at all. I'm just including this list here in case you find it interesting:
Al Bundy in Married… with Children went in an episode, for a toothache.
Rob Petrie in The Dick Van Dyke Show breaks a tooth and sees a new dentist, which becomes awkward later since his neighbor, Jerry Helper, is his usual dentist.
Mister Ed (yes, the horse) has a toothache, and he goes to see a dentist. Well, a veterinarian dentist.
The Fonz from Happy Days went to the dentist for a toothache.
Alice in Alice went for a chipped tooth.
Jack Tripper from Three's Company, for an infected tooth.
Fred Sanford in Sanford and Son went to the dentist for a toothache.
Balki on Perfect Strangers goes to the dentist, for a toothache.
In a Family Matters episode, the Winslows' nephew, Richie, goes to the dentist for a checkup.
In the second season of Full House, Stephanie goes to the dentist to get her first cavity filled.
Mike in The Middle goes to the dentist for a toothache, and of course, for much of the series, his wife, Frankie, works as a dental hygienist.
On The A-Team, Murdock fakes a tooth emergency, so he can get his hands on nitrous oxide to use, in order to blow up some bad guys.
Sister Bertrille (Sally Field) in The Flying Nun sees a dentist for a toothache.
In Welcome Back Kotter, poor Gabe comes out of a dentist visit learning that he has three abscessed teeth, which will require a $1,400 root canal. He then has to get a second job, wearing a chicken costume at a restaurant.
On The Brady Bunch, the Brady kids and parents presumably went to the dentist a lot (and we see Mike going in an episode). Marcia fell in love with her dentist, and as fans know, she later saw an orthodontist for her braces.
Even Gilligan on Gilligan's Island went to the dentist. Of course, the Professor serves as the dentist in the episode, and Gilligan kind of had to go. Explosives were used as fillings for his teeth. OK, long story…
I'll stop there. If I tried to find every single example of a TV character going to the dentist, we'd be here all day. But you get the idea. TV characters go to the dentist a lot, and we should all make an effort to go more regularly, myself included.
What you don't want is an experience like Al Bundy had on Married… with Children. We learn that Al Bundy had spent a lifetime avoiding the dentist, and never going only made matters really bad for him once he finally went. Small wonder that the dentist instructed his assistant to take photos of his patient's mouth for posterity, saying: "Now make sure you get a shot of the head, so we know it's a human mouth."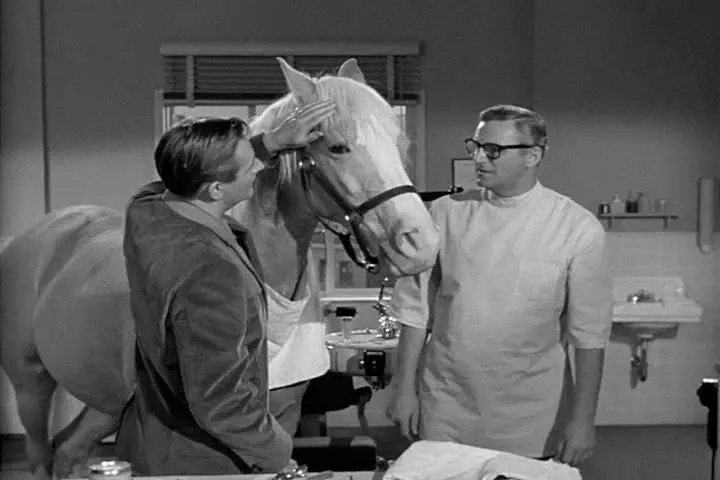 Recognize That Some Fear of the Dentist is Natural
According to Al Bundy, anyway. In the aforementioned Married… with Children episode, Kelly asks her father if he's afraid of the dentist.
Al says, "Kelly, I'm a grown man. So, yes, of course, I'm deathly afraid of the dentist."
Don't Listen to the Negative People
This is good advice for anyone, any time, frankly, but definitely if you're going to the dentist. If you share that you're nervous to go to the dentist with friends or family, don't be surprised if some wiseacre starts telling you a story about somebody they know who went to the dentist – and things didn't go well.
For instance, in Full House, Kimmy (the Eddie Haskell of the 1980s) tells Stephanie that after a classmate Kathy Santoni went to the dentist, "she came out with her mouth wired – had to eat through a hole in her throat."
We hear nothing else about Kathy Santoni in the episode, but presumably Kimmy was either making that up, or got her facts mixed up, perhaps after this classmate or friend wound up getting braces.
Anyway, tune out the Kimmy Gibblers in your life.
Don't listen to your overactive imagination
I'm not saying you don't have reasons to be a little nervous. Maybe you've had a bad experience at the dentist, and you're building a case for not going on that one lousy encounter. But what? Are you going to never go?
In the Three's Company episode, "Jack Goes to the Dentist," we learn that Jack's fear has been keeping him away from making an appointment. As he tells Janet, "I am not afraid to go to the dentist. I'm afraid of being at the dentist."
He adds: "When I hear the sound of that drill something happens to me."
So imagine yourself at the dentist – and that everything is going fine. And it probably will go fine.
Janet does just that with Jack, helping him to envision being at the dentist and everything is calm and pleasant, almost like at a spa. Jack looks very pleased and serene. Then Terri turns on the coffee grinder, which sounds like a drill, and it scares Jack half to death. So perhaps make sure you do your imagining somewhere other than a coffeehouse.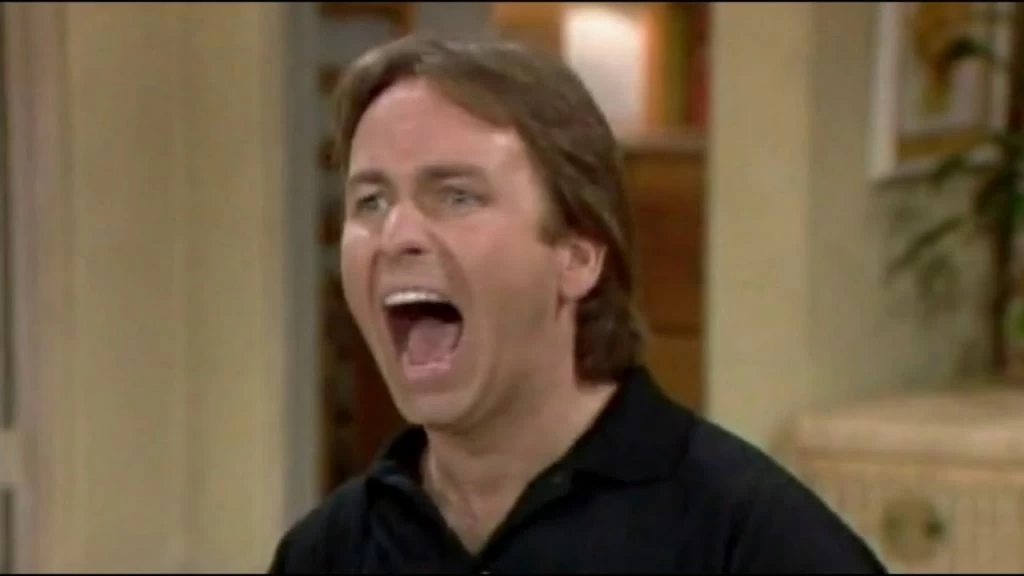 Take Along a Friend or Family Member for Moral Support
If you're dreading the trip, why not make it fun? Bring your spouse, go with your kids, ask a best friend to come along with you. You could get lunch afterwards and make a day of going to the dentist.
When Sister Bertrille in The Flying Nun goes to see the dentist, she has the Reverend Mother Superior (Madeleine Sherwood) accompany her for morale support. When Balki went to the dentist in a Perfect Strangers episode, his cousin Larry accompanied him, in order to calm his nerves; and when Richie on Family Matters was anxious about going to the dentist, next door neighbor Steve Urkel chaperoned his visit.
Of course, if your life is like a sitcom, maybe you should leave everyone else behind and go solo. In The Flying Nun episode, Sister Bertille and Reverend Mother Superior end up being hypnotized by the dentist and misadventures ensue for the rest of the episode. Balki and Larry end up making a mess of the dentist's office, and when Urkel goes with Richie, there's a laughing gas incident with the usual hijinks you might expect.
Discuss any fears with the dentist
This one is certainly important. I don't need to tell you that most dentists have plenty of practicing in managing patients' fear and making sure exams are as pain-free as possible. But it's a good idea to give your dentist a heads up on how you're feeling.
When Sister Bertille winds up in the dentist's chair, she asks Dr. Paredes (Bernie Kopell, later the doc on The Love Boat) if he could not touch her tooth.
"How am I going to examine it without my touching it?" Dr. Paredes asks.
"Isn't there some other way?" Sister Bertille asks.
"I'll try," he says.
And so Dr. Paredes hypnotizes Sister Bertille and, accidentally, the Reverend Mother Superior. I doubt something like that will happen to you, but your dentist will probably use some sort of strategy or technique designed to alleviate your anxiety.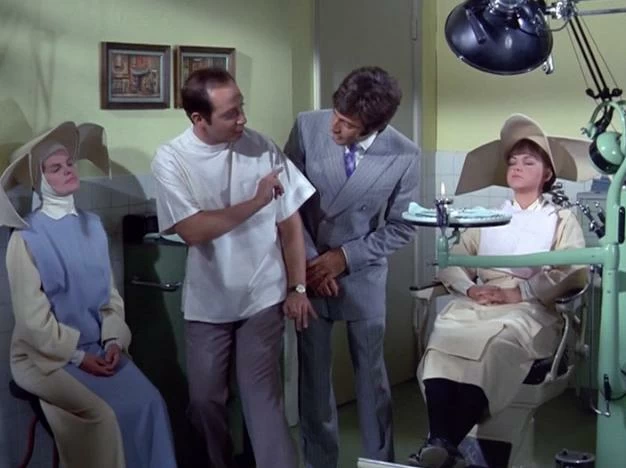 Assume That All Will Go Well
Look, it probably will. Even TV shows, which aren't always known for being, um, realistic, suggest that that's the case.
When Jack Tripper goes to a follow up appointment to see his new dentist, Dr. Greene, he goes not realizing that his roommate Terri has broken up with him or knowing that the dentist believes Jack is the reason for the breakup. (The night before at Jack, Janet and Terri's apartment, Dr. Greene saw Jack, wearing pajamas, sleepily going from his bedroom to the bathroom, and of course, being Three's Company, he jumped to conclusions.)
"You know, I usually use a little novocaine to kill the pain," Dr. Greene says.
"Bless you," Jack says.
"But in your case, ahh," Dr. Greene says, shrugging it off.
Things, indeed, don't look good for Jack. Dr. Greene is green with envy, believing Jack and Terri are a couple, and he is clearly upset.
"I lay awake all night, thinking. Thinking of what I could do if I ever got Pajama Boy in my dentist's chair," Dr. Greene says. "But, hey… I am a professional. However, we all have our breaking points."
The scene cuts to Janet and Terri, and the television audience assumes that Jack is doomed. But when he comes out, he's just fine, and his teeth are, too. Dr. Greene may have had some colorful ideas of revenge, but when it came down to it, he gave Jack first-class dental treatment.
As Dr. Greene explains to Terri and Janet, who burst into the waiting room assuming the worst, "I am a professional. I took the Hippocratic oath." He then pauses and muses, "No, that's for doctors. Gee, I took something."
In fact, perhaps feeling a little bad that he did initially make his patient nervous about his behavior, like the wisecrack about not using an anesthetic while working on his teeth, Dr. Greene later calls the roommates' apartment. Terri answers the phone, and when Jack learns she is talking to Dr. Greene, unfortunately, he jumps to conclusions as well, grabbing the phone and telling the dentist to lay off her and to never call them again. He hangs up.
That's when Terri says that Dr. Greene had been calling to say that he wasn't going to bill Jack for the dental appointment. Clearly, that gesture of goodwill won't be happening now, however, and Jack looks like he is in more pain then ever. When it comes to being afraid of going to the dentist, we really are our own worst enemy.
Where to watch these shows (at the time of this writing):  I usually try to mention where to watch the series mentioned in my blog posts, but… it's nearly impossible when I mention a gazillion shows. You may want to check out PlutoTV.com (which is free; supported by ads), where they have a "Three's Company" channel that plays 24/7.
Articles similar to this "afraid of going to the dentist" one: Nothing quite like this one on The TV Professor, but if you're really afraid of going to the dentist, maybe you'll need a vacation and could use vacation tips from TV characters.