I was watching a Popeye cartoon called Plumbing is a 'Pipe,' on Turner Movie Classics recently. (I feel like there may be a joke in that title, but other than the cartoon being about plumbing and pipes, and Popeye smoking a pipe, I admit that I don't get it.) Anyway, in one scene, I noticed a calendar on the wall at Olive Oyl's house. Later, when Olive Oyl called Wimpy, the plumber, he, too, had a wall calendar.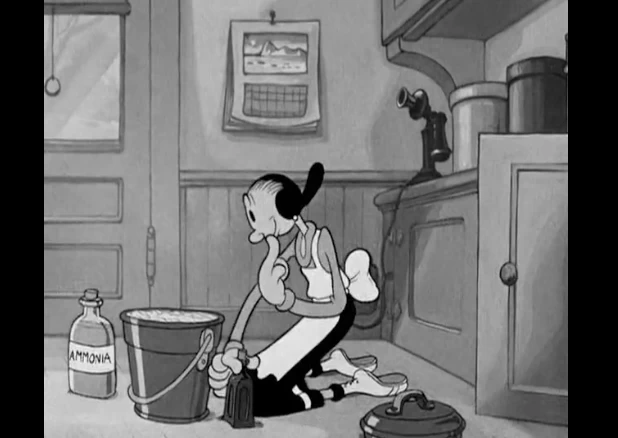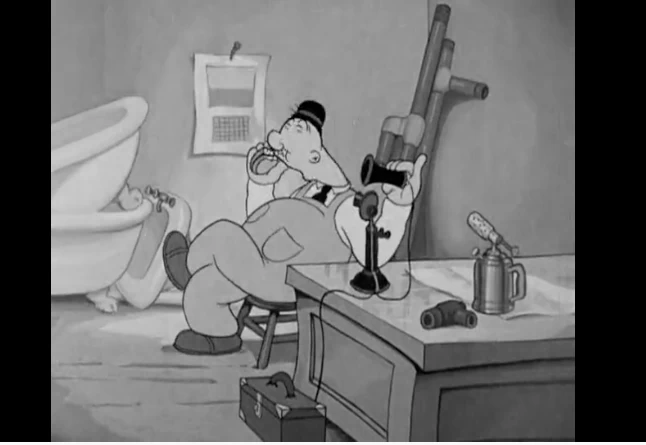 Sure, maybe that was the illustrators being a little lazy. Maybe they couldn't think of anything else to put in the background. Still, given that this cartoon first aired on June 17, 1938, I found myself wondering, "When did wall calendars first become a thing?"
It's a weird quirk of mine, but I often find the history of ordinary objects – like staplers and paper clips – more interesting than major historical events.
I also recognize that Popeye cartoons were originally cartoons shown in movie theaters. There's a good argument that they don't belong on a classic TV blog. But I figure we've all grown up watching Popeye on television, and I saw this cartoon on a cable TV channel.
So I did some digging. I wouldn't now call myself an expert on the history of wall calendars, but for those of you who are curious, here's what I can tell you.
Today's "TV Lesson" Breakdown:
Wall calendars have been around since at least the 1800s.
In a Nashville American newspaper article, dated February 17, 1897, the paper mentions that Clerk Sam Holtsinger found an old wall calendar in Dandridge, Tennessee. It was a calendar from the year 1869.
The dates, the newspaper reported, are exactly the same as those of the 1897 calendar. The paper also told us what Holtsinger planned to do with the calendar: "He is making it useful as well as ornamental."
So we know that wall calendars at least existed in 1869, and probably earlier than that. And judging from what was making news in 1897, life in Nashville, Tennessee was a simpler time.
The first wall calendars were probably lithographs.
That is, the first wall calendars were 12 small monthly calendars painted on thin metal, often with a painting above them. These were popular in the 1800s. In fact, there are a number of references in newspapers throughout the 19th century, mentioning lithograph companies making calendars. Initially, paper calendars were probably considered too expensive to produce.
In any case, businesses seem to have caught on quickly, coming around to the idea that glancing at the wall and knowing what day it was could serve as both a nice gift and a year-round advertisement for the public.
For instance, on December 24, 1901, The Nashville American had this write up: "The Nashville, Chattanooga & St. Louis Railway passenger department has issued a very handsome large wall calendar. It is possibly the handsomest ever issued by the road. It shows in the center a picture of a modern up-to-date passenger train leaving a tunnel and below that the engine Tennessee, capturing during the Civil War by Andrew's Raiders, is represented, showing the great improvement that has been made in equipment in the short period of forty years."
Before wall calendars were popular, pocket calendars were the rage.
A pocket calendar is just what it sounds like: a calendar that fit in your pocket. Many of them appear to have been perpetual calendars. An 1834 article in the "Daily National Intelligencer," a Washington, D.C. paper, refers to "The Gentleman's Pocket Calendar," which was a ten-year calendar. In 1854, there were a number of newspaper ads running for "Tipping's Metallic Perpetual Pocket Calendars," which offered calendars covering an entire century, the years 1801 to 1899. You could buy one for $2.
By the 1890s, however, you wouldn't have been surprised to see a calendar on a wall.
As "The Sunday School Times" declared in 1893,
"The wall-calendar is a necessary part of the furnishings of every household and office in the neighborhood…"
Wall calendars were originally seen as a sign of modern times, maybe too modern.
Well, at least one person in the early 1900s felt that way.
Once again, from The Nashville American, but this time, from January 14, 1916, an anonymous writer commented, "In some respects, it was an evil day when the almanac was superseded by the calendar."
As the writer explained, "The almanac was a library. The calendar is a piece of pasteboard with a few bold figures on it."
The disgruntled writer also pointed out that many adults had educated themselves by reading the almanacs, but thanks to the calendars, "children grow up in dense ignorance."
The writer did concede that "the calendar has some advantages, chiefly aesthetic. The almanac never would have harmonized with a room finished in old rose and furnished with bird's-eye maple."
A weird story about the topic at hand that I found in The Cincinnati Post.
In 1927, at the Equitable Gas Company in Pittsburgh, there was an explosion – a major one that killed people and injured many. Meanwhile, a fragment of metal from the exploding tank shot through an office window at the Vernon D. Price Vinegar Company.
The metal landed on the wall calendar, sticking the landing on the box for November 14 -- the date of the explosion.
Back to Popeye.
Ah, yes, Popeye. Anyway, all of this means that when audiences were cheering for Popeye the sailor man to pull out his can of spinach and fix Olive Oyl's plumbing, if any audience member noticed the calendar on her wall – or in Wimpy's office – they wouldn't have thought much of it.
But I do like to imagine an elderly moviegoer in 1938, maybe our anonymous Nashville American writer, watching Popeye battle the burst pipes and noticing the background and muttering, "$%!@ wall calendar. Why doesn't anybody use the almanac?"
Where you can watch Popeye: (at the time of this writing): You can find it on MeTV, usually Saturday mornings. HBO Max also has Popeye cartoons available to stream.