You wouldn't think you could learn any history from Gilligan's Island, and grant you, it isn't easy to find much. I have a lot of affection for the series, which I adored as a kid, but it's not exactly a deep show. But you can use the episode "Will the Real Mr. Howell Please Stand Up?" as a pretty good springboard to learn about the history of identity theft.
Today's "TV Lesson" Breakdown:
The Plot of "Will the Real Mr. Howell Please Stand Up?"
For those who haven't seen the episode or have forgotten it, Mr. Howell learns from the castaways' ever-useful radio that Mr. Howell has been rescued. This is a surprise, of course, since Mr. Howell knows full well that he is still stranded on a deserted island.
The Mr. Howell that was rescued is, of course, an imposter. That said, when we hear the voice on the radio, this imposter sure sounds like Mr. Howell (Jim Backus, an underrated national treasure if there ever was one, plays both characters).
The imposter tells the world that he's the only survivor of the S.S. Minnow, and soon, we learn that the fake Mr. Howell is selling the real Mr. Howell's stocks and property.
Take fake Mr. Howell is doing this, to get filthy rich, just the way identity thieves do today.
There's more that happens in the episode, with the, um, very believable plot twist of the fake Mr. Howell later finding himself shipwrecked on the island. Still, that's the gist of it: somebody steals Mr. Howell's identity.
Anyway, I'm recounting this because when I recently turned on an episode for something to half-watch while cleaning, I found myself thinking, "Was this just a silly episode of Gilligan's Island or was identity theft an actual problem back in the 1960s? How long has identity theft been going on, anyway?"
A Few Statistics on Identity Theft
Just in case you're wondering, identity theft is an insanely common problem today.
I can't find any statistics on how common it is to wind up a deserted island and have an imposter steal your identity, though. That's apparently still pretty rare.
Identity Theft Has Been Around a Long While
We won't get into the whole history of identity theft. Still, as you can imagine, before our lives were so intertwined in social media and everything went digital, it was pretty easy to fake somebody's identity. If you go way back, to the 1800s, stories in newspapers turn up mentioning criminals who are cashing fake checks. Of course, that happened a lot in the 1900s – and it's still happening.
But as a phrase, "identity theft" hasn't been around all that long. According to Wikipedia, the words "identity theft" were coined in 1964, the same year, incidentally, that Gilligan's Island went on the air. "Will the Real Mr. Howell Please Stand Up" aired in 1966, an episode title inspired by a phrase in the game show, "To Tell the Truth."
"To Tell the Truth" originally ran from 1956 until 1968. Since then, it has appeared in various iterations and is still on television, on ABC. The show features people pretending to be a real person, along with the real person, and you have to guess who is telling the truth. At the end of the show, the moderator would always say, "Would the real [name of the person] please stand up?"
Assuming Wikipedia is right, the phrase, "identity theft," probably first popped up in an Associated Press article in 1964.
In 1964, the Associated Press ran an article about four Americans who suffered a theft of their identities ("identity theft" was mentioned in the headline). Two Russian spies were accused of using four Americans' identities (two men and two women) to help them live their spy lives in the United States undetected.
But I doubt that incident inspired the plot of the "Will the Real Mr. Howell Please Stand Up?" episode.
In any case, identity theft, while nowhere near as pervasive as it is now, was happening frequently during the 1960s. In 1967, the wire service UPI reported that stolen and forged credit cards had been on the rise for the last 18 months. The problem was attributed to Mafia bosses in five cities (New York, Chicago, Boston, Newark and Buffalo). Credit card companies were losing $30 to $60 million a year, the article said (I can't really link to it; I found this on NewspaperArchive.com, a paid service).
Weird Tale of Identity Theft Several Years Before Gilligan's Island
In 1960, Glenn Lavis Castle, a native of Danville, Illinois, was arrested for posing as Dudley Nichols, an accomplished Hollywood screenwriter and director. Among other movies, Nichols wrote Stagecoach and Bringing Up Baby. In the late 1950s, 64-year-old Nichols was dying of cancer and likely unaware that Castle was traveling the country and world, pretending to be him. Castle, as Nichols, got himself invited to lavish parties and hobnobbed with people like columnist Art Buchwald and Paul Getty, the oil billionaire.
Among his many scams, Castle would pull out a baseball with a forged signature of President Eisenhower. Then he would tell people at parties that he was raising money to teach Italian kids to play baseball. And the guests would pull out their checkbooks.
Castle was finally arrested for stealing $125,000 worth of American Express money orders from a printing plant of the International Business Machines Company. Castle, 41 years old, had been already arrested 30 times for larceny, forgery and parole violations. After his arrest, he talked to a reporter and was refreshingly honest about his dishonesty: "I'm just a genuine fraud... It takes a lot of work to be a genuine fraud."
The Great Imposter
There are a lot of famous identity thieves throughout history. One of the more well known ones was Ferdinand Demara (1921-1982).
Demara's life was told in a movie called The Great Imposter, a 1961 movie starring Tony Curtis, which was based on a 1959 biography.
There's so much to say about Demara, but in a nutshell, he wound up taking on a lot of jobs without any experience, including that of a civil engineer, an assistant warden at a Texas prison, a hospital orderly, a lawyer and a teacher. Demara was even a monk, twice. He even posed as a surgeon during the Korean War, without being trained as one (though he did have some medical experience). While you want to be mad at him for that, given that he saved the lives of every patient he came in contact with, you really can't be.
I would also be remiss in not mentioning that Demara once appeared on an episode of To Tell the Truth. As noted, it's catch phrase, "Will the real [name of somewhat famous person] stand up?" was the title episode of this particular Gilligan's Island episode.
How Mr. Howell handled identity theft – and how we should
How should we handle identity theft? The Federal Trade Commission outlines steps that you can take if you click here, but generally experts suggest calling your bank right away. That's assuming your credit card or debit card has been filched. It obviously gets trickier if, for instance, somebody has filed taxes in your name and made off with a tax refund in your name. In that case, the IRS suggests calling them immediately.
But the main thing is to take some action quickly. Contact whatever organization – your bank, the police, the IRS – is in the position to help you. An identity theft problem is only going to get worse, and it won't go away on its own.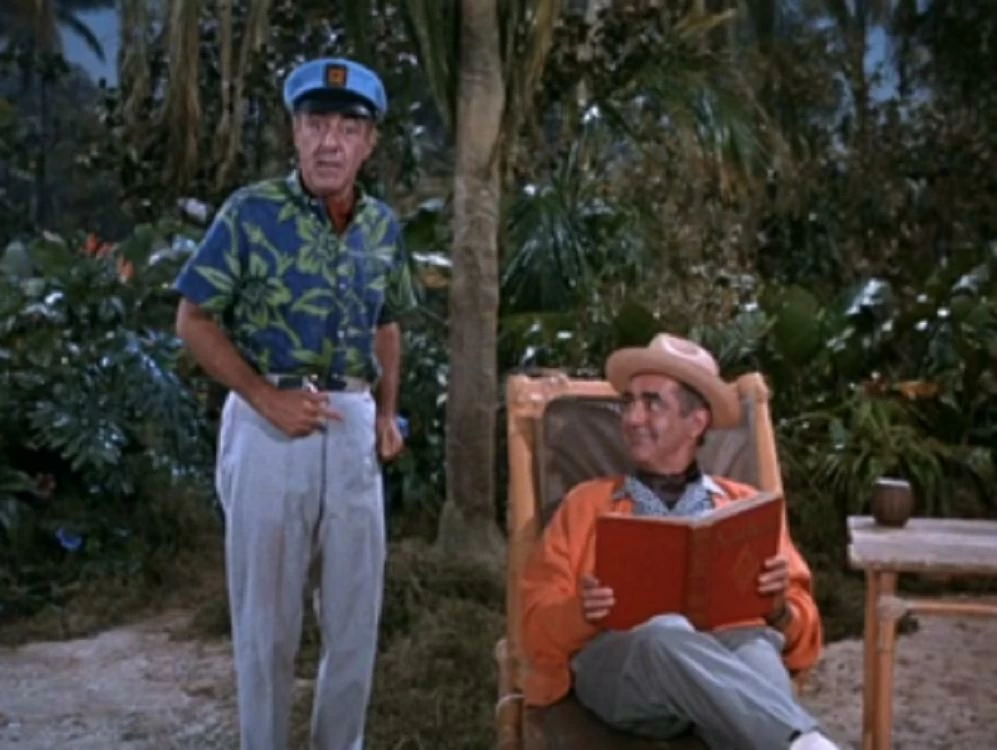 As for how Mr. Howell handled things, I'd say he handled his identity thief as well as he could, given the circumstances.
Later on in the episode, the fake Mr. Howell shows up on the island and bonks Mr. Howell over the head with a coconut. The counterfeit Howell drags the real one into the jungle – and changes clothes with him, so he can fool the other castaways.
It all works out in the end, of course. The ever-useful radio reports that the authorities have figured out that the fake Mr. Howell's signature doesn't match that of the real Mr. Howell's.
And once everyone figures out who is who, the castaways chase the fake Mr. Howell, who jumps into the lagoon and swims away.
The real Mr. Howell tries to swim after him, but evidently fearing he won't survive the Pacific Ocean, the castaways prevent him from giving chase.
Lovey Howell, his wife, says, "Oh, let him go, Thurston. What's the difference?"
The Skipper interjects: "That's right, Mr. Howell. What's the difference? He can't spend any more of your money even if he is rescued."
"Well, he can't, can he?" Mr. Howell roars. "He's wearing my pants, and my wallet is in the back pocket!"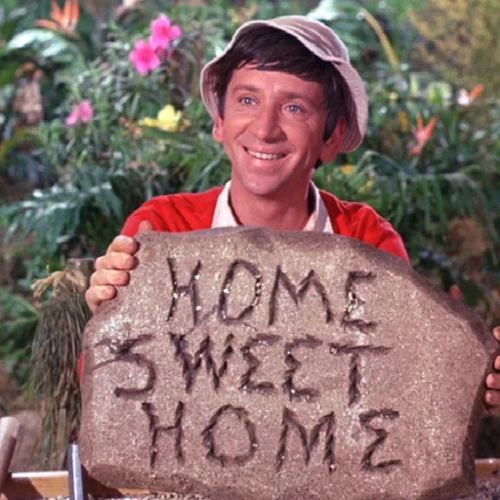 Where you can watch Gilligan's Island (at the time of this writing, anyway): As my Generation X peers know, Gilligan's Island used to be on just about every channel known to man, almost around the clock, or so it seemed. Now, not so much. But you can find episodes on Sunday afternoons on the cable channel, MeTV.
Articles similar to this one: Perhaps you'd like to read about the history behind the Gilligan's Island episodes featuring Wrongway Feldman?