Once upon a time in television land, there was a guy named Bob Williams who, along with his sad-eyed springer named Louie, had a dog act. Audiences loved them, and they were both pretty famous, appearing on TV sitcoms like Here's Lucy – but today, I think it's safe to say, Bob Williams and Louie have become a barely remembered footnote in Hollywood history.
I caught them both some time ago in a rerun of Here's Lucy – and admit that I was completely underwhelmed by their appearance on the show. But before long, I started researching Bob Williams and Louie, because I just kept thinking, "I must be missing the humor in this act. There's got to be some reason Lucille Ball invited this guy and his dog on her show."
So if you're interested in learning something about a long forgotten dog trainer who used to be world famous on TV and once performed for the Queen of England, well, you've come to the right place.
Today's "TV Lesson" Breakdown: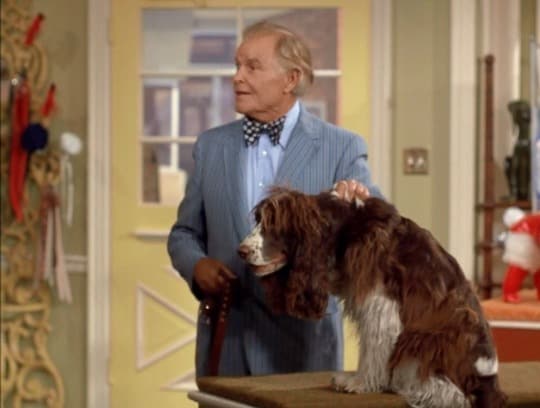 Bob Williams on Here's Lucy
Let's start with where I first encountered Bob Williams, and, no, he is of no known relation to The TV Professor. As noted, I discovered Bob Williams, the dog trainer extraordinaire, by watching Here's Lucy – all of the series episodes can be found on quite a few streaming channels. I watched the episode on TubiTV.com.
So Bob Williams is featured in season six of Here's Lucy (yeah, six seasons; it may not be remembered in the way that I Love Lucy is, but it was a very successful show), in the fifth episode, which was titled, "The Bow Wow Boutique."
We learn at the start of the episode that Harrison Carter (Gale Gordon), Lucy's boss and brother-in-law, has purchased a pet shop, The Bow Wow Boutique, which he hopes to soon sell for a profit.
"Oh, Harry, to you, man's best friend is money," a disapproving Lucy says.
Mr. Carter soon reveals that he is hoping to get a phone call from Bob Williams. "He's the man who has that fabulous dog act," Carter says.
"Really?" Lucy asks.
"He's also the man I hope to pawn off the boutique on," Carter says, and then when Lucy shoots him a disapproving look, he says, "Uh, onload the place on."
"Try swindle," Lucy says.
"He's the one I hope to sell it to at a reasonable profit," Carter says.
It isn't long before one of Mr. Carter's pet store employees drops by the employment agency where Mr. Carter and Lucy work, informing his new boss that he has quit. So Mr. Carter badgers Lucy into filling in for the weekend, and she agrees, but not before getting him to cough up fifty bucks. Lucy the convinces her daughter Kim (Lucie Arnaz) to help her.
We learn that Lucy talked Kim into it by asking if she wants to go shopping. Kim said yes, and her mom brought her to a pet shop to work there -- and shop, if Kim had any interest in purchasing some dog treats. So be careful the next time any of your relatives ask you if you want to go shopping.
All of this plot is designed, of course, to create an episode that offers up an excuse for Bob Williams, then 64 years old, to show up, and he does, with his dog, Louie, and they do some of their famous act.
Only the thing is – and what I didn't know but what 1973 TV audiences generally were well aware of – Bob Williams and his dog, Louie, didn't do any dog tricks. They were famous for what they didn't do.
"No, no, we don't do tricks. That's for an ordinary dog act," Bob says at one point to Lucy and Kim. He is clearly enjoying himself, a twinkle in his eye and sporting a bow tie.
But maybe Bob and Louie should have done some tricks for Here's Lucy.
Because in the course of the show, we see two of Louie's "tricks," and they are the most underwhelming dog tricks I've ever seen.
The problem wasn't with Williams, Louie, or Here's Lucy but the issue of trying to do what Bob did in a half hour sitcom. There wasn't the time available in a sitcom, with its jokes and plot, that a TV audience really needed to watch Bob Williams interact with Louie. Because once you realize Williams actually was a brilliant dog trainer, the act becomes amusing and kind stunning, really. If you don't recognize that, it looks like Williams is failing miserably and has a no-talent dog.
In Here's Lucy, Bob Williams has Louie pose as a statue, which seemed to me like the lamest trick ever, but then I realized, there's no way my dog would remain still, in a statue pose.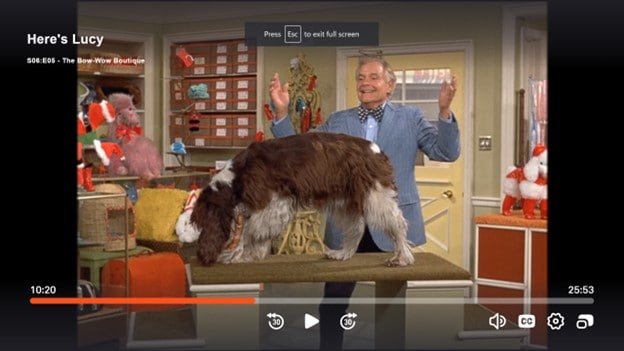 Later, Williams commands Louie to jump, and the dog won't do it. Williams comes off looking like a dog trainer who doesn't know what he is doing, and all I could think was, "Why did Here's Lucy invite this guy on their show?"
But I started looking on YouTube and finding Bob Williams and Louie doing their act on variety shows from the 1960s, and you start to realize – oh, wow, this truly took some talent.
After all, if you've ever had a dog, think about what would happen if you were on a stage with a studio audience, and you said, "C'mon, jump!" Your dog would either jump – or maybe chase the cameraman -- or run into the crowd of people. But in Williams' dog act, when he got all excited, Louie would sit or stand still, looking utterly clueless and bored. Bob Williams would be running around, smacking a table, urging Louie to jump – and Louie would have none of it. He'd just sit there.
To teach a dog to not chase you, to not react when all you're doing is reacting, to make him come off as bored when you're happy as can be – there's a lot of skill in trying to make a dog look like he has no talent.
My dog Rigby, during his younger days, used to jump on my parents and knock them over. My mother wouldn't bring her mother over, who was then pushing 90, because she was worried what Rigby might do to her. To teach a dog to ignore you when you're frantically calling, "Come on, boy," is a skill that I know I will never possess.
But in watching and re-watching the Here's Lucy episode, the brilliance of Bob Williams and his dog Louie completely escapes me. On his appearances on variety shows, his brilliance is more evident.
Most of Williams' act was him trying desperately to get Louie to perform -- and Louie, looking at him, completely disinterested. Somehow, the act worked. People loved them.
In any case, I owe a debt to the underrated Here's Lucy because it spurred me to learn more about Bob Williams and Louie, a human and canine comedy team that may well have been the most successful dog act in TV history and yet are almost completely forgotten about today.
Back when Bob Williams and Louie Used to be Famous
When I first saw "The Bow Wow Boutique" episode, I kept thinking that Bob Williams in 1973, guest starring on Here's Lucy and being treated like a big deal by the show, he must have been pretty well known to television audiences. And he was, as I discovered, once I started digging into his life, poring through old newspapers and going into Ancestry.com, and looking at his census, birth and death records.
I'm sure plenty of people in 1973 had no idea who Williams was – he was nowhere near the household name that Lucille Ball was and still is – but plenty of people were aware of his fame when he appeared on Here's Lucy. By this point, he was nearing the end of a long career, and he and his dog (not the same dog) had appeared on TV with a fair amount of frequency throughout the 1950s, 1960s and 1970s.
Over those years, Williams and his dog appeared on The Mike Douglas Show, The Garry Moore Show, The Jack Parr Program, The Ed Sullivan Show, The Ghost & Mrs. Muir, The New Phil Silvers and The Don Knotts Show, among others. When he appeared on The Jack Parr Program, sometimes called The Jack Parr Show, in 1965, Williams was a guest on a show with Bill Cosby, Joan Rivers and the Muppets. Not bad company, at least at the time; Cosby's downfall was still decades away.
Here's Lucy, in many ways, seems to be the pinnacle of Bob Williams' career, in terms of exposure. In 1973, Here's Lucy was one in the top 10 of the most popular shows on TV. He wouldn't do many more high-profile TV shows after that, but his and Louie would remain in demand. Four years later, for instance, he and Louie were performing in Las Vegas at the Sahara – opening for none other than George Carlin. The Las Vegas Sun called Bob Williams and Louie's act "15 minutes of pure hilarity."
But you never hear about Bob Williams today, and so that's why I started trying to learn more about him. And as it turns out, his dog act got started way before the likes of Lucille Ball, Ed Sullivan, Don Knotts got involved.
How Bob Williams and His Dog Act Got His Start
Bob Williams was born in St. Marys, Idaho, on December 22, 1909. He doesn't have much of a paper trail, however, until the early 1930s when he was living in California and working as a lifeguard in Santa Monica. Or, depending on what you hear, he worked in Venice – or maybe he was at both beaches, given their proximity to each other.
The story goes that there was a seal that would show up on the beach, and Williams got pretty good at mimicking seals and would "talk" to one of them. Somehow that got him thinking that maybe he should start working with animals, and he came up with the idea of doing a dog act.
Depending on the story you believe, Williams then befriended a homeless Malamute Chow, or a friend brought him a two-month-old puppy from China. The latter is something that Ed Sullivan, when he was an entertainment newspaper columnist, mentioned in a piece about Williams in 1935.
However Williams found his dog, the dog's name was Red Dust. Red Dust? Well, during his lifeguard days, Williams had become friends with the young actress Jean Harlow, and she named the dog Red Dust, after her 1932 film of the same name. So if you don't like the name, blame her.
Williams apparently called him Reddy, but his stage name and name on his dog license was Red Dust.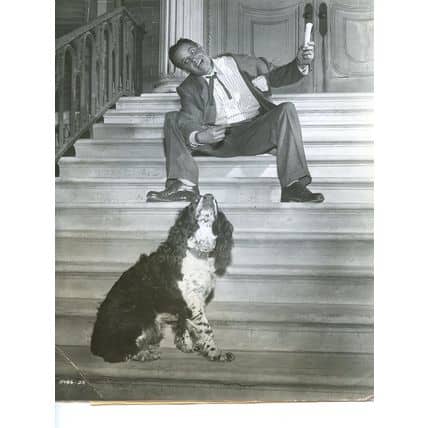 Williams and Red Dust hitchhiked to New York City, for unknown reasons, but New York City was certainly an excellent place to be, if you were aspiring to be in vaudeville. Three days after arriving in the Big Apple, Williams and Red Dust auditioned with Earl Carroll's Vanities, a big hugely successful Broadway revue – a vaudeville show – that began in the early 1920s and was still going strong in the 1940s, especially with the attention received by two movie musicals inspired by his shows. Tragically for Carroll and vaudeville, he died in an airplane crash in 1948.
Bob Williams and Red Dust started working for Carroll in the early 1930s, right around the same time future television stars Milton Berle and Jack Benny did.
"Carroll didn't like our act," Williams recalled years later. "The thing he went for were my ad libs when the chow wouldn't do his tricks."
The audience enjoyed the ad libs, too.
"One night, after Red Dust missed cue after cue, I was embarrassed and turned to the audience and said, 'He didn't do it, did he?' They liked the mistakes and my frantic efforts to cover them up better than the chow's tricks," Williams said.
Bob Williams, Red Dust and Great Dog Acts in History
Williams was hardly the first entertainer to come up with a dog act. You can find references to dog acts in newspapers from the late 1800s. In 1912, Don the Talking Dog was very popular on vaudeville. He was known for being able to utter a few German phrases, or at least when he would bark on command, it sounded as if he was speaking the language.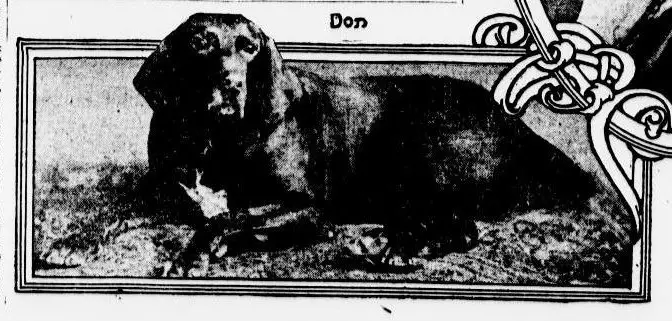 Around the same time, Dick the Dog was a popular act; his trainer tied a crayon to his paw, and the animal would "draw" pictures. Another canine, Dan the Drunken Dog, around the same time, would act like he had imbibed a few too many cocktails from his dog bowl.
By the time the 1930s came around, dog acts were a main staple of any vaudeville show. Vaudeville, for those who aren't familiar with the term, generally described an evening's worth of family entertainment with numerous acts, from singers and dancers to comedians to, yes, dog acts. It was often what people did for entertainment – before television existed.
Williams started to realize he had something, and he began leaning into the idea of his dog not doing tricks, which was actually not even an original idea at this point. In 1921, a performer named Al Mardo became famous for his act with his dog, Flash, who would do nothing but sit on the stage, looking bored. Mardo would, like Williams, do his act for decades, into the 1970s, and he would appear on TV, too, but he had nowhere near the TV career that Bob Williams did.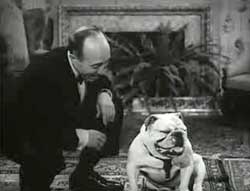 Apparently, the world of dog acts could get, er -- ruff. Lorraine and Roy Rognan, a husband and wife vaudeville dance team, had a dog, Jiggs, as part of their act. Apparently, they were bitter rivals with Bob Williams, according to an account making the rounds in newspapers in 1960. So much so that years earlier, in Atlantic City, Williams and Roy Rognan got into a fight. Williams, who among his many talents was a former amateur boxer, reportedly removed some of Rognan's teeth.
But Back to Bob Williams's Biography…
Bob Williams would work for Earl Carroll for the rest of the 1930s and was still drawing a paycheck from him at least until 1940, according to his registration for the draft card (Williams, however seems to have managed to avoided actually being drafted).
In 1934, ads were promoting Bob Williams and Red Dust as "a man and his educated dog." By 1935, Williams and Red Dust were earning $350 a week. In today's dollars, that would be $7,500 a week. Red Dust was presumably eating the best dog food money could buy, and that was the year Williams, 26, married 22-year-old Helen Folsom, a stage actress. She played a showgirl in 'Hold Your Horses," which opened in 1933, and a passenger in "Anything Goes," which opened in 1934.
Some of what the audiences loved, beyond Williams being flabbergasted when his dog wouldn't do tricks, was the canine's apparent elasticity. In 1937, The Joplin Sunday Globe described Red Dust as "the dog that makes himself go limp enough for a chorus girl to use him as a lady's fur neckpiece."
In 1939, the Amarillo Globe referred to the dog act in this way: "A show girl walks on the stage with a gorgeous red fur draped around her shoulders. Bob Williams walks over and starts to feel the fur. It's alive! He grabs the neck piece off the show girl and the dog 'Red Dust' stands on his front paws in Bob's hands. They call him Red, the 'boneless dog.' That name suits him fine. He does stunts you'll call unbelievable. The writer says, 'Yeah, we know, you've seen dog acts! But, mister, never one like this!'"
By 1942, Hollywood was starting to take an interest in Bob Williams and Red Dust, with newspapers reporting that Williams signed a picture contract. If that was true, well, it took another 10 years before the two were actually in a movie.
Actually, Red Dust would never become a Hollywood star. It's still a bit of a mystery to this day as to what happened, but on Easter Sunday in 1944, when Red Dust would have been probably pushing about 12 years of age, at a double engagement in Chicago, the dog evidently – probably backstage – ate some rat poison.
Red Dust's death was almost career suicide for Williams, who was earning $1,250 a week. In today's dollars, that would be over $21,000, or a little over a million a year.
Williams, as the Associated Press noted at the time, had trained no understudy.
He would not make that mistake again.
About six weeks after Red Dust died, Williams, who had by now divorced Helen Folsom, married Ann Corio, a burlesque star.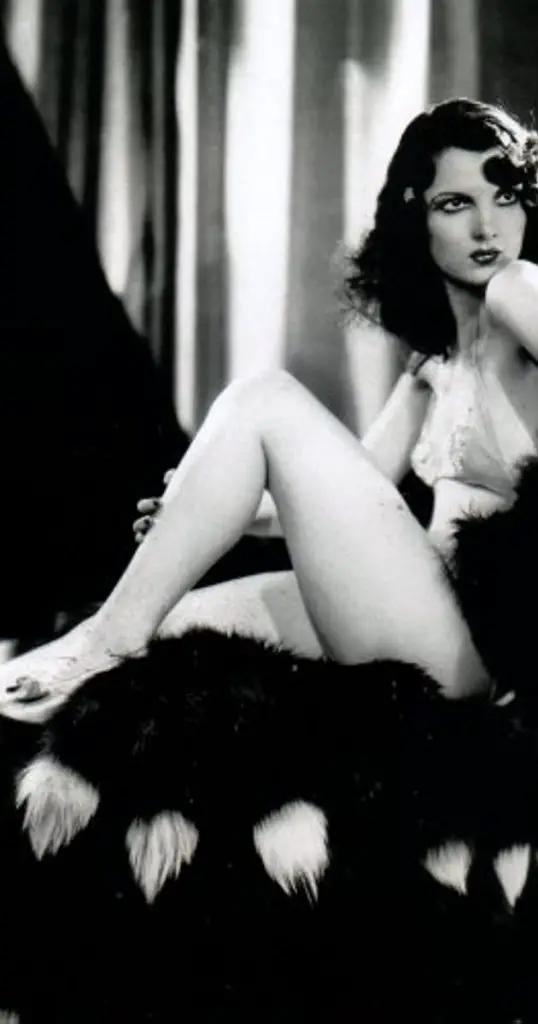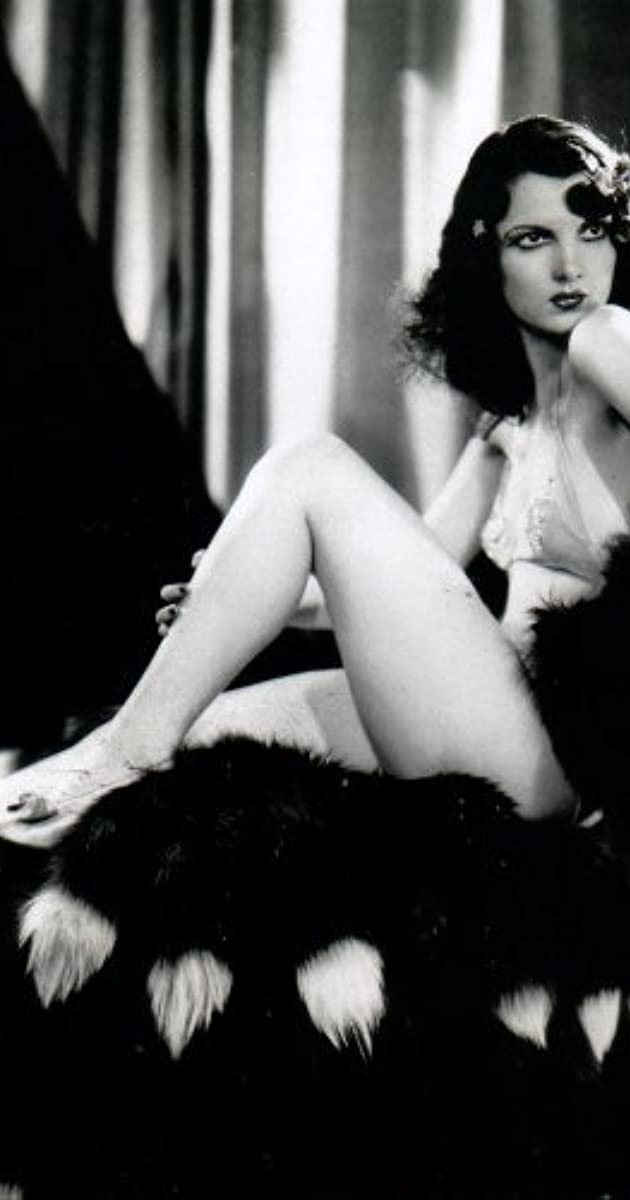 And by the following year, Williams had found a new Red Dust, a tiny Springer spaniel, the runt of the litter. He gave his dog the same name – Red Dust, with the nickname Reddy – and he quickly went to work, teaching the animal not to do any tricks. They quickly, once again, became a headline act in vaudeville shows and "smart supper clubs" as a newspaper put it.
And in 1952, ten years after the movie-picture contract rumors began, they began to surface again – after Williams and Red Dust joined a big vaudeville show starring Judy Garland, who was mounting a comeback after some career problems due to her drug addiction problems.
The show was good for Garland's movie career – but also for Williams and Red Dust. The comedy duo co-starred in the 1953 movie musical The Stars Are Singing, starring Rosemary Clooney and Italian actress Anna Maria Alberghetti*.
(After writing that, I immediately thought, "Wait, I've heard that name on The Mary Tyler Moore Show." If you're thinking the same thing, in one of the many memorable moments on the series, Ted Baxter comes up with a knock-knock joke involving Anna Maria Alberghetti. The joke goes:
Knock Knock.
Who's there?
Anna Maria Alberghetti
Anna Maria Alberghetti who?
Anna Maria Alberghetti in a taxi honey.
The punchline is sung to the tune of "Darktown Strutters' Ball," a 1917 song, recorded many times.
Ted thought the knock-knock joke was hilarious. As I recall, everyone else enjoyed it, too. But I digress.)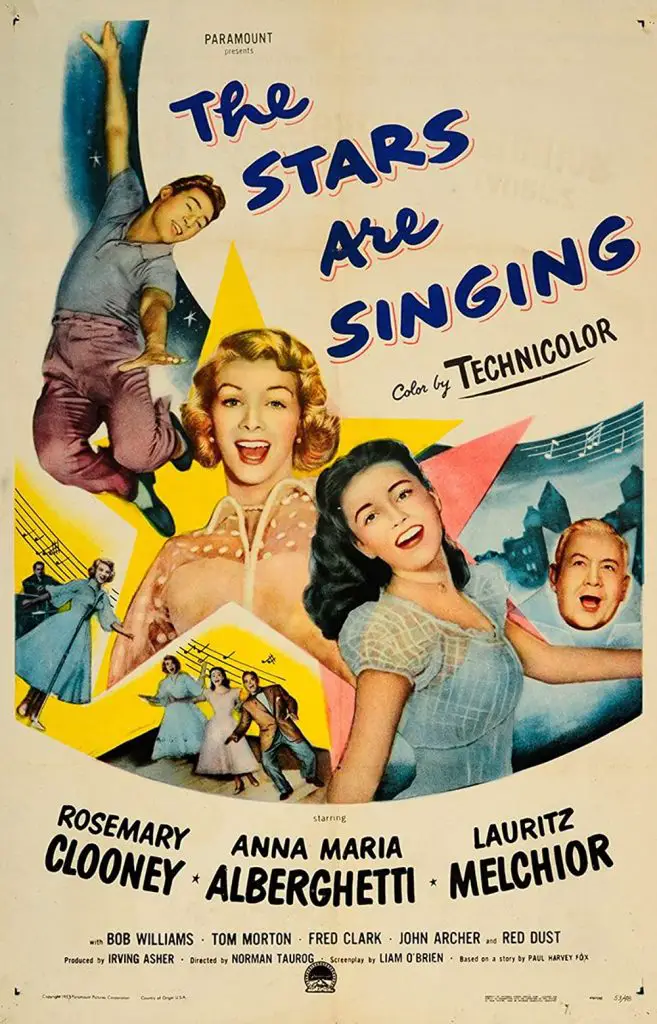 The exposure that Williams received in Rosemary Clooney's movie, The Stars Are Singing, certainly helped his career, but he was reluctant to do his dog act on too much TV.
In 1953, Williams shared his thinking with a reporter. "It looks like a good way to earn money easily at first glance, but we have no intention of playing to so many people at one time," Williams said. "When you break it down, we'd be giving away our act for pennies per customer. In pictures, we play real characters. We only throw in a couple of gags. That way, I can go on for a long time. I've even been asked to play leading roles without Reddy, but I never will."
Williams performed his dog act with Red Dust throughout the 1950s, mostly on stage but sometimes on TV, all the while training at least two other dogs.
If anyone reading this remembers seeing Bob Williams on TV with a dog, chances are, you remember him with Louie, who was his co-star on Here's Lucy as well as TV appearances in the waning days of the 1950s and throughout the 1960s. You may also remember Hula, a dog that appeared with Williams in one episode of the long-forgotten 1961-1962 sitcom called The Hathaways, which starred Peggy Cass and Jack Weston as the "parents" of performing chimpanzees. But at this point, it was usually Louie at Williams' side.
Louie came into Williams' life in 1953, a milestone year for the dog trainer. In 1953, The Stars Are Singing was released, and Williams and Ann Corio divorced. Williams would never marry again.
Louie was a springer spaniel puppy, given to Williams by Jerry Lewis's first wife, the singer Patti Palmer.
How did Louie get his name? Bob Williams probably chose it because his full name was Robert Louie Williams. Perhaps Williams picked the name because his dogs were the closest things he had to children. Williams never became a father.
On the other hand, some people said that Louie was short for Lewis, as in Jerry Lewis.
By 1959, Williams had replaced the second Red Dust with his new partner -- Louie. The following year, Williams and Louie performed for Queen Elizabeth in London, in Lord Mountbatten's living room.
The audiences of the 1960s seemed to have loved Bob Williams and Louie as much as the audiences had during the 1950s, 1940s and 1930s. A review in the Bluefield Daily Telegraph on July 12, 1963, reviewing a repeat of The Jack Paar Program, stated: "This is the funniest dog act ever! Louie's tremendous talent lies in -- well, just lies! He has mastered the art of relaxation to the point of falling apart, in spite of his master's rapid-fire exhortations!"
Louie retired in 1967 and passed away in 1970. His successor, also named Louie, continued right where the first Louie left off. The second Louie, for instance, in 1970, appeared as himself on The Johnny Cash Show, The Don Knotts Show and The Ghost & Mrs. Muir. The following year, Williams and Louie popped up two more times on The Don Knotts Show and then in 1973, they did their star turns on Here's Lucy.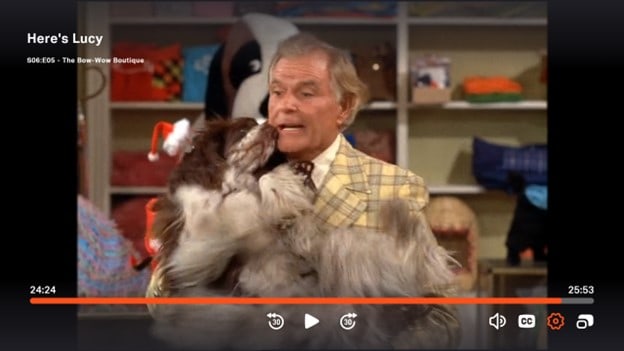 Dog Training Tips from Bob Williams
Over the years, Bob Williams offered up a few nuggets on training and being a pet owner. So, in case it helps any dog owners struggling to communicate with their furry friends:
It isn't your imagination. Some dogs are smarter than others. Williams once told a reporter, "A dog learns to do things much the same way that some people would learn a geometric problem. Basically, some grasp it much easier than others."
Food is an integral part of training. Sure, we all know that, but here's what Williams told a reporter about working with Red Dust: "I feed Red whenever he is hungry, which is the way to keep a dog happy. Red enjoys working and seems to enjoy motion-picture work more than on stage. Whenever we travel, Red is like any other normal dog. He sticks his nose out the window and sees what is going on."
Practice, practice, practice. And then practice some more. Training, in other words, takes time. "It was difficult to get him to do the opposite of my commands," Williams told a reporter. "I almost gave up 500 times. How I did it is a trade secret."
If a trick doesn't work, don't blame the dog. And don't get mad at your dog. "You know, there's no such thing as a bad dog. Only bad parents," Williams said. OK, he said that not in real life but on Here's Lucy, when talking to Lucy Carter and her daughter Kim (Lucille Ball and daughter Lucie Arnaz). That said, I have a feeling he said that line to a lot of people in real life, too.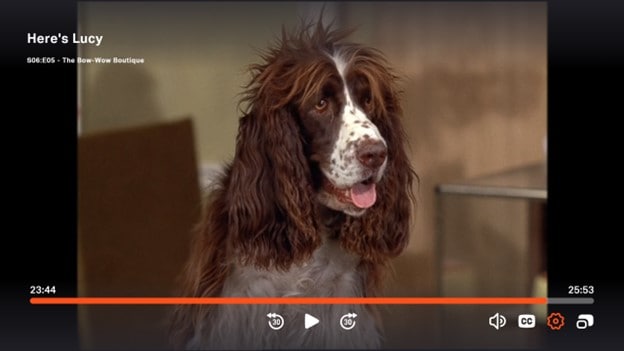 Bob Williams' Connection to Lucille Ball, Before "Here's Lucy"
This is pure speculation on my part, but my guess is that Bob Williams and Lucille Ball knew each other long before he appeared on Here's Lucy – or they at least had plenty to talk about behind the scenes when he was on the show.
Lucille Ball came to New York City in 1932, right around the time Williams himself arrived with Red Dust. Ms. Ball also for a brief time worked for Earl Carroll, Williams' main employer for years. For some reason, she adopted the stage name Diane Belmont and began working for Carroll's revue, but was soon – according to several Lucy-centric sources – fired by him.
She seemed to do okay for herself, though.
Bob Williams and Louie, After "Here's Lucy"
Not long after Here's Lucy aired, Bob Williams and Louie turned up on The Flip Wilson Show. Still, for the most part, their TV careers were over, and they would go back to focusing on entertaining live audiences. The following year, for instance, they would be the opening act for an up and coming country star named Merle Haggard.
In any case, Bob Williams and Louie never had trouble finding work. By this point, Bob Williams and his dog co-stars had performed at Radio City Music Hall in New York City, the famous cabaret in Paris, the Lido and the Palladium in London.
They also had been in plenty of less stellar nightclubs, the kinds where hecklers show up. Williams once said that hecklers would sometimes throw rolls and sugar at Louie, apparently hoping to foil the dog's concentration.
Often, Williams would try a gentle wisecrack on the heckler, like, "I'd like to put you in my act, but I don't need any more dogs."
And while adults loved his dog act, children didn't, according to Williams. "Kids get embarrassed for me. They keep waiting for the dog to do a trick right. The dog never does; the kids become upset," he said.
In 1976, Williams and Louie appeared in a Jerry Lewis and Lynn Redgrave musical called "Hellzapoppin." It folded before it reached Broadway, but that certainly wasn't Williams' or Louie's fault. In 1977, as earlier noted, they were the opening act for George Carlin. The following year, Bob Williams and Louie would perform once again for Queen Elizabeth in 1978. Well, it was Bob Williams' second time meeting the queen. It was this Louie's first time.
The following year, Williams and Louie co-starred in "Sugar Babies," a Broadway musical headlined by Mickey Rooney.
By about 1980 or 1981, however, Williams retired. Perhaps he was dog tired – hey, give me a little credit that this only the second dog pun I've dropped – but it's just as likely that Louie was ready to call it quits. Assuming that Williams wasn't by now working with a third dog named Louie, the canine performer would have been getting up there in years.
There isn't much known about Williams' life in retirement. He doesn't appear to have done any media interviews, and there appear to be no news stories or death notices when Louie passed away.
Presumably, Williams lived very comfortably in Malibu. An extremely wealthy man, Williams would have had plenty to keep him busy in retirement, between his many properties that he owned, the many horses he bred and, of course, his dogs.
With no children or grandchildren, nor any wives, it seems like a safe bet that he probably had dogs as his companions throughout his retirement and perhaps until his death. In the early 1970s, a newspaper mentioned that Williams had it written into his will that if he died before his dogs did, his house would go to his housekeeper, Barbara Robinson, who would remain living there and would watch over the dogs.
When his career was still going strong in the 1970s, Bob Williams was asked about his gift for training dogs, and he offered a few clues, but he wouldn't quite say how he did it.
"I don't disclose my secrets to anybody," Williams said. "My methods are top secret. There's no other act like this one anywhere. But when I retire, I'll have a message for all dog owners. It's a frighteningly simple way of getting along with dogs. No, it is nothing like training horses. Horses are entirely different. You condition them as you condition an athlete. But dogs? There's got to be a meeting of the minds. Between both you and the dog. How do you get it? Ah, that's the secret. And I'm not telling it yet. Say, maybe I'm the only guy doing an act like this because nobody else wants to do it. Wouldn't it be a kick if nobody cares when I finally get ready to tell all about dogs?"
That may have been the case. After his brief run on "Sugar Babies," Williams doesn't seem to have had a big retirement party. Williams and Louie the dog certainly didn't do a farewell tour. It may be that they simply stopped booking gigs, and for the first time in his life, or since childhood, Williams was able to spend time and play with his dogs, rather than structure a lucrative business model around them.
Williams died on June 16, 1991, at the age of 81, out of the spotlight for over a decade. There appear to have been no obituaries written about his passing.
But while the world may have moved on, Bob Williams and his multiple dogs, particularly Red Dust and Louie – certainly made their mark. They also made a lot of people laugh, which is quite a legacy to leave behind. But Bob Williams should give every hapless and frustrated dog owner some measure of hope. If you've ever tried to teach your dog a trick or strained to get your furry family member to listen to you, and you've failed miserably, you can take comfort that you are not alone. In fact, you may just have a future in show business.
Where to watch Bob Williams and Louie the dog (at the time of this writing): As mentioned, they can be found on TubiTV.com. Check out the sixth season, fifth episode. They can also be found in various places on YouTube, like here, and here.
Articles similar to this Bob Williams story:  You might enjoy this look at Anna May Wong, a former TV actress (but mostly film actress) also somewhat forgotten over the years but going through a resurgence with her face being on an American quarter. Or you may enjoy this TV Professor post about having a wild animal as a pet.